Finale Schedule
Sun, 9/20- 8p
Wed, 9/23– 9:30-11p Finale = Winner of Big Brother
VANESSA WON PART 1 Of THE 3 PART HOH
Part 2 of 3 – Liz and Steve will compete against each other
Part 3 of 3 – The winner of part 2 competes against Vanessa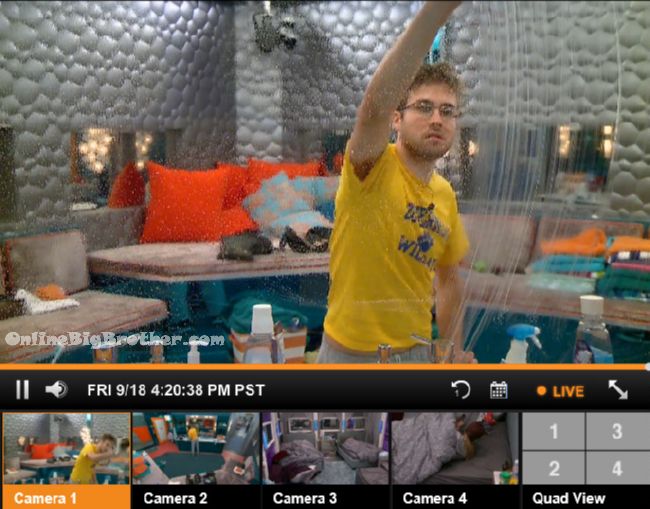 4:20pm Production tells Steve to clean the bathroom mirrors. Steve says he'll do a terrible job because he hasn't been able to figure out how to prevent the streaks
Sign up for CBS All Access and watch over 6500 episodes for ONLY $5.99! Try it FREE for 1 MONTH!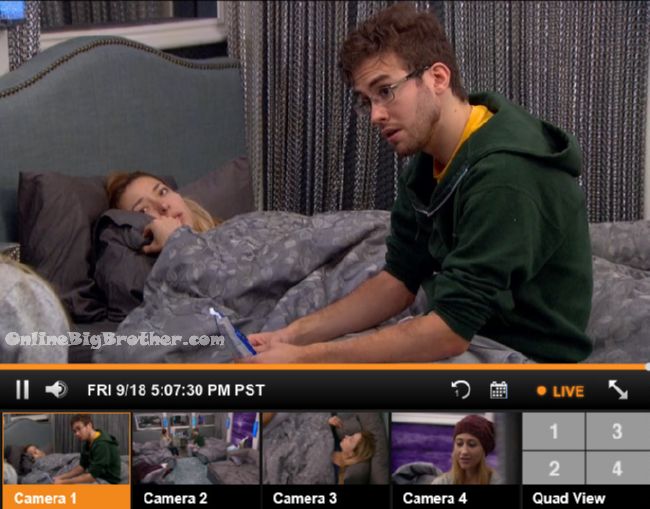 4:31pm Liz meets up with Steve in the kitchen. Steve says Big BRother is not happy with how he cleans the bathroom mirror they keep asking him to clean it. Feeds cut after Big BRother tells him to stop talking about production..
They get into a conversation about working out at college.
Liz says Jmac came in here with no muscles and he left with a nice little body.
Steve – and some back hair
Vanessa gets called into the Diary room. Steve and Liz get excited thinking that the HOH competition part 2 is starting.
Liz – No, it's just for her (Vanessa) meds
they make their way to the bedroom to lay down. The conversation starts on final 3's being the biggest loser. Steve says Janelle was final 3 twice and she's not a loser. Adds Enzo and Kevin were final 3 they're not losers but Victoria from last year was a loser.
Vanessa comes back says she's seeing a doctor they are going to give her more meds, "Muscle relaxants"
Vanessa saying her neck is so sore.
liz – you look like you have a brace on you
Liz – What if he flirts with Jackie in the Jury house and doesn't like me anymore
Steve – what are the chances of Clay going with another girl
Liz – 90 (%)
Steve – really .. .I would say 5 (%)
5:15pm Steve explains to Liz how Broadway plays scripts are rented
Liz – nice to be a play write
Steve says if you write a musical that lands on Broadway you make a lot of money.
Steve goes on about how play writes will all go broke if people would just copy the scripts. He explains all the levels of royalties you have to pay for a production. Each ticket sold, each seat filled, theatre capacity, Number of copies of scripts. All this is subject to royalties.
Steve says it's the same as buying your music from itunes as opposed to sharing it with your friends.
Steve – you are stealing from the musicians and engineers
5:38pm talking about Kids shows
Vanessa – remember when James called you Hey Arnold
Liz – ya f****g a$$hole .. .I don't have a football head
[envira-gallery id="133930″]
Back off Steve #BB17 @DawgsBigBrother pic.twitter.com/9rdOeUqOVl

— OnlineBigBrother.com (@bigbspoilers) September 19, 2015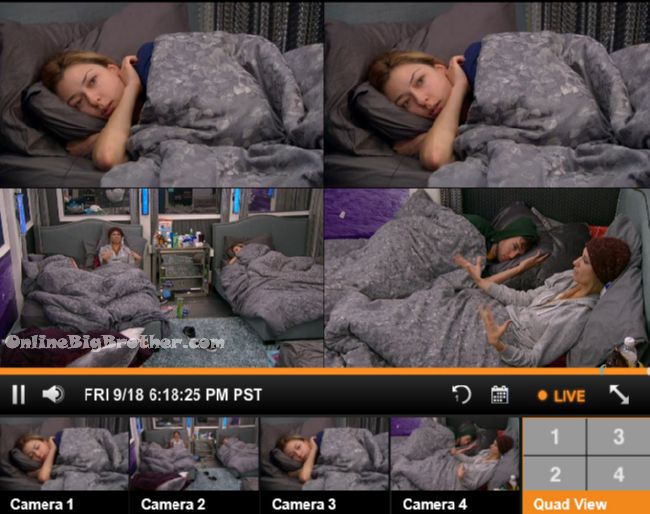 6:18pm Bedroom Final 3
Vanessa going over the details of Nazi concentration camps. Explaining all the horrible things that took place in them..
6:34pm Vanessa says she's going to teach them how to count to ten in "French, Russian, Hungarian, Italian, and German"
Steve – I'm going to bed (LOL)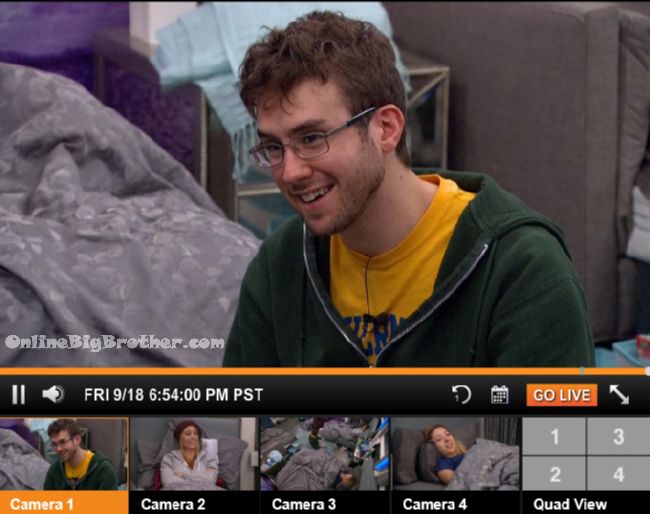 6:54pm
Vanessa – Do you have any bruising between your legs liz
liz – no
Vanessa – if you saw me in a bikini you would see it
Steve – you never went into the pool this year once
Vanessa – I went in twice.. I'm not wild about swimming in a pool with lots of people that's not my thing.
Steve and Liz say how much they are looking forward to hanging out with Jace
Steve – I want to drink with Jace I really do, I love him so much.
Liz – Steve has a man crush on Jace
Steve – I have a man crush on Jace..
Liz – really
Steve – Yes, I have a man crush on Jace
Steve – stop raising your eyebrows Vanessa .. I know what you're thinking your answer is no I want to be 100% clear about that.. however I love Jace so much
Liz – you don't have a man crush on Clay but you have a man crush on Jace
Steve – Jace is kinda guy I would hang out with
Steve – I have a soft spot in my heart for Jace
They start talking about Jmac's game. Steve says all of Jmac's alliance were flops, Clay/Shelli/Becky.
Steve- he worshiped her (Shelli) so much he was willing to throw BOB's for her
They start talking about the goblins, Meg's number 1 was Jackie then James then Becky.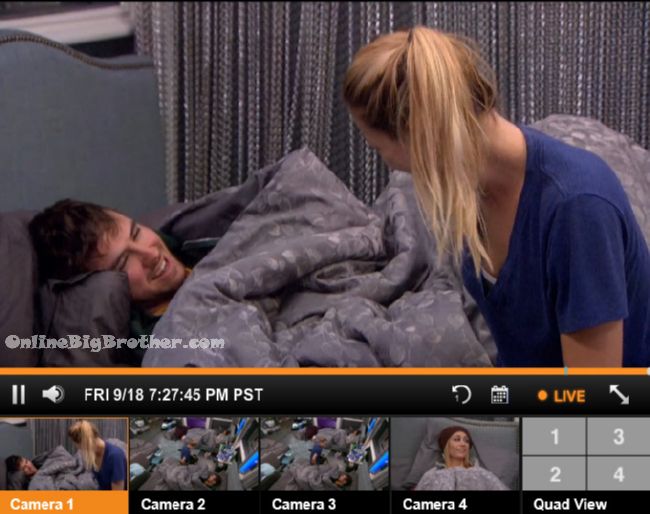 7:26pm Liz says they are still building in the back yard.
Liz – I don't think this comp is happening tonight.
Liz jumps on Steve
Vanessa – he thinks h'es sneaky.
Liz – Steve took a dump last night and when he wiped it was red
Vanessa – WHAT..
they tell him it was the die
Vanessa – what he ate it
Steve – it was in my a$$ crack Vanessa
Vanessa – you need to clean your a$$hole
7:58pm Feeds cut most likely for part 2 HOH
10:48pm NO
If you've enjoyed the spoilers please consider a donation using the drop down box below.
[polldaddy poll=9082767]
[polldaddy poll=9063299]