PART 1 HOH WINNER: Nicole
PART 2 HOH: Cody Vs Enzo
PART 3 HOH: Nicole Vs ? (Part 2 Winner)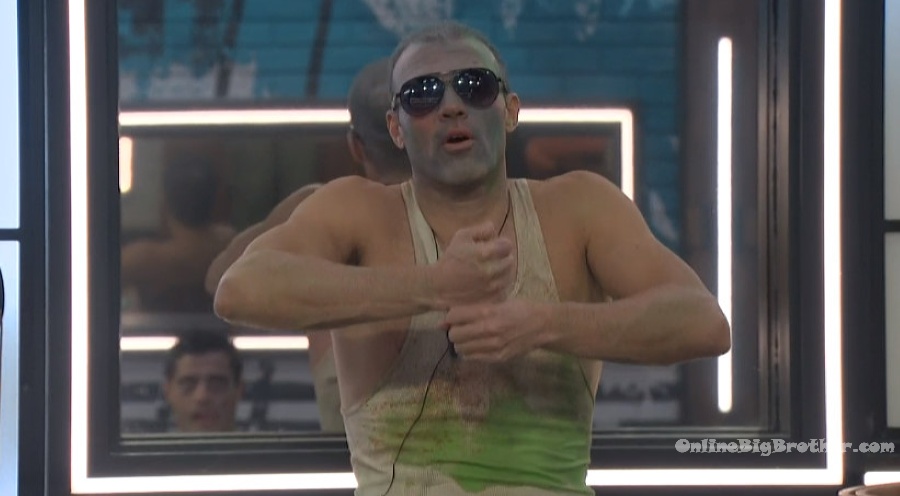 10:36pm – 11:10pm The live feeds return. Enzo talks about how the spinning really got to him. That moon made fall into sit down. Cody – hitting that thing spinning 180 miles an hour every single time .. why is he just grazing it and I am getting dragged by this thing. Enzo – what was that thirty? Thirty five minutes!? Cody leaves to shower. Enzo to himself – That's it! I have to move to comp two! Enzo – This is it. This is my destiny now. This is my fate. I've got to beat Cody. Enzo leaves to shower next.
Nicole to the cameras in the kitchen – A girl won the 1st part HOH! I'm as shocked as you are! Cody comes back to eat with Nicole. They chat about the comp. Cody – you won the first HOH. If I was in your spot I would be f**king hyped! They continue talking about the comp. Nicole – the feeders are shook! There is no way I would have won that. Cody – well you just did!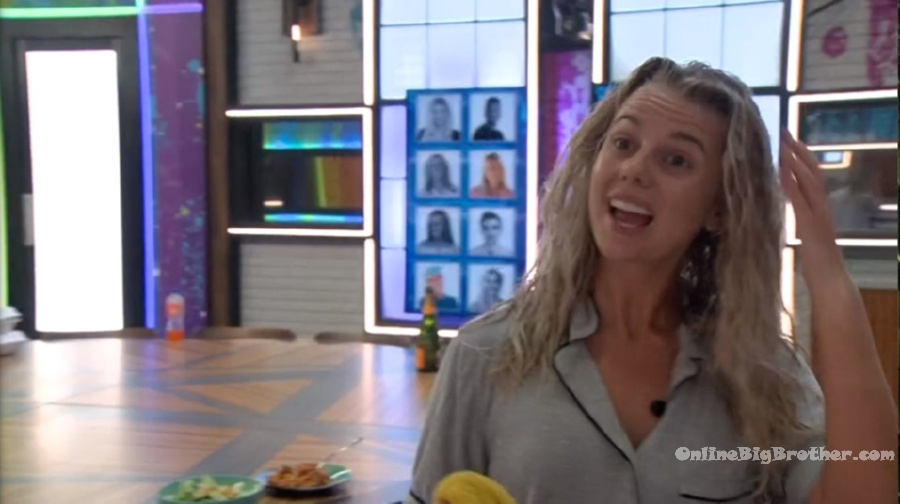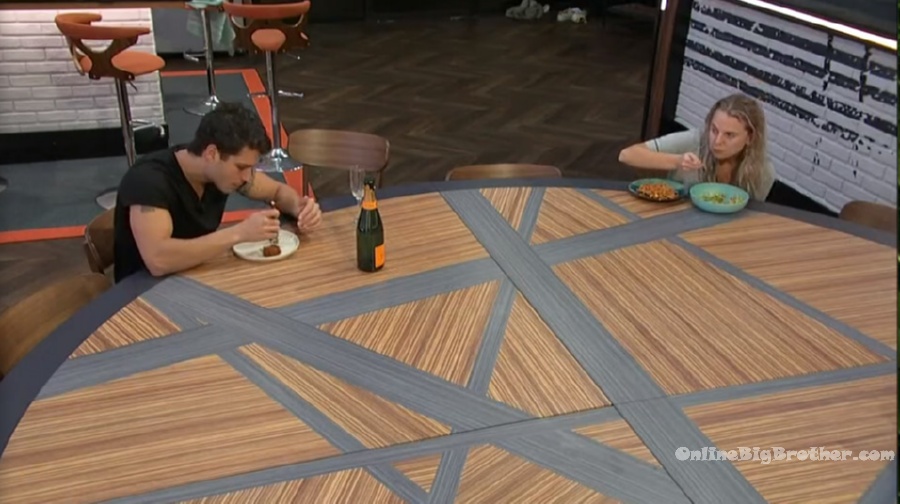 11:40pm The final 3 are sitting around the kitchen table talking about the HOH comp. Cody – all the moon did was propel me into the wall. Enzo – I hate ropes! F**k that sh*t yo! The only comp I hate this year was this scary go round. Cody – that was brutal. That was not what I though! The f**king MOON! I want to spear it down. Enzo – I just hated that comp all the way around. The best part of that comp was laying in the dirt and coming up and doing zombie sh*t. Everything else sucked! Once I saw it I was like I don't have a shot in hell.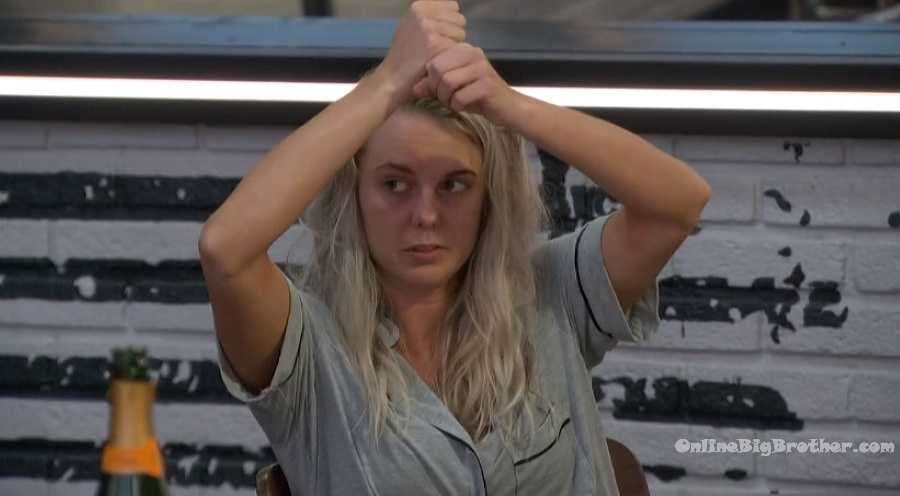 11:50pm Kitchen. Enzo talking to himself.
Enzo – f**k man. Whatever YO! I'm f**king tired yo! I am ready to get on a flight and go F**king home. I'm f**king tired man. This sh*t is too long Yo! Too Long! Cody joins Enzo. Enzo – I am f**king exhausted. Plus getting sick (spinning around in the HOH comp) f**ked me up. Seeing the kids today too .. today was a sh*tty day man. Cody – what do you mean ..seeing the kids was a great thing! Enzo – yeah it was a great thing but it kind of f**ked me up too. Cody – it did? Enzo – yeah because I just want to get the f**k out of here now. Cody – right.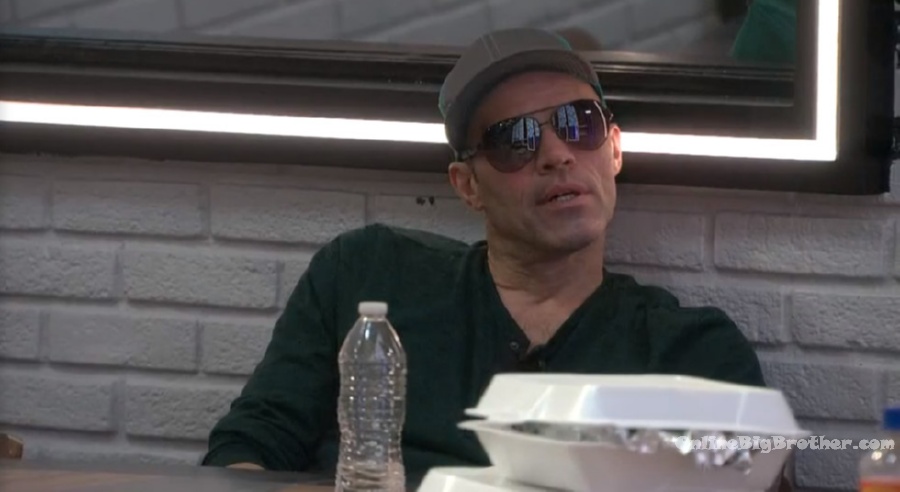 12:09am Bedroom. Enzo talking to himself.
Enzo – Oh my god! My season is over! If I don't win this comp.. its done! Sh*t! I don't want to talk to anybody after this. I just want to go f**king home! Seeing my kids f**ked me up! F**K! He starts studying the days / events of the season. F**k I am in trouble.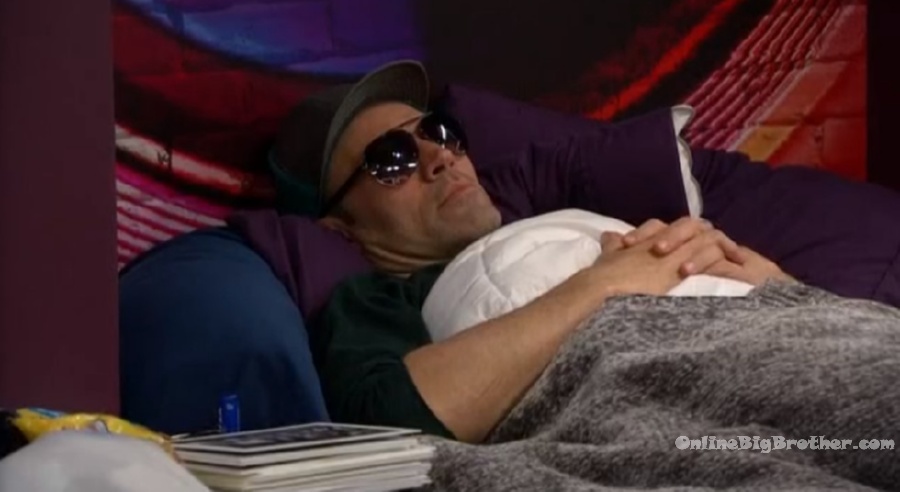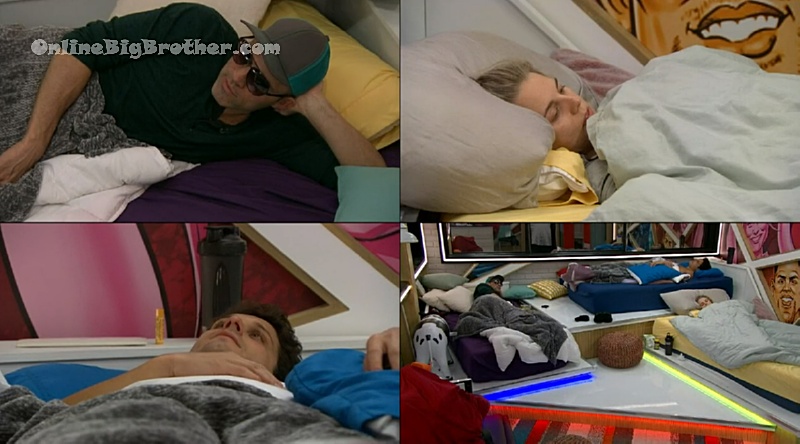 12:36 am Chit chat..
They talk about Victor in his "montage" during the show today.
Nicole – he looked terrible
Cody – ohh shit
Enzo – yeah he was missing you
Nicole – he looked sad but I always think that. My parents would look sad too and they told me they weren't. Christie didn't look sad (Cody's GF)
Cody – yeah Christie looked happy that I was gone.
Cody goes on being sarcastic about how happy she was he was gone.
Cody – she's probably getting sad that I'm coming back.
Enzo says his kids looked like they didn't want to do the video.
They laugh.
Nicole – Vic has been on this show before so he knows what he should or shouldn't do and he still does it.
Cody – what he do
Nicole – he knows I'm going to disect.. this is one of the hardest things I've ever done. what is?
Cody – not having you with him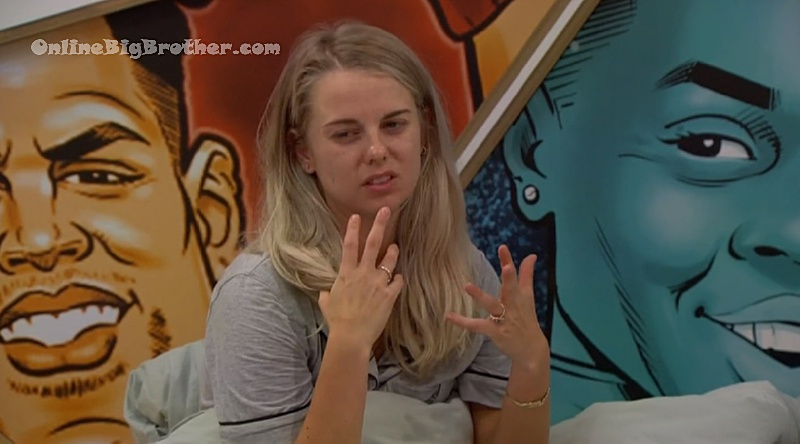 2:26 am Chit chat about jury votes.
Nicole – there's nothing I'm worried about coming out at all but if someone wants to sabotage someone in jury they can totally do that
Enzo – yeah
Nicole – for sure.. nobody did that on our season everyone was cool
Nicole goes over the tough questions in BB18 "I was very nonchalant and giddy I thought it was so cool I was in the final 2 I didn't overthink I was that nervous it was so weird"
Nicole – I didn't sit on the block until final 4 so I thought that was a big thing
Nicole – Paul made me seem small
Enzo – in his speech?
Paul – a little bit.. not bad but I was like OKay ..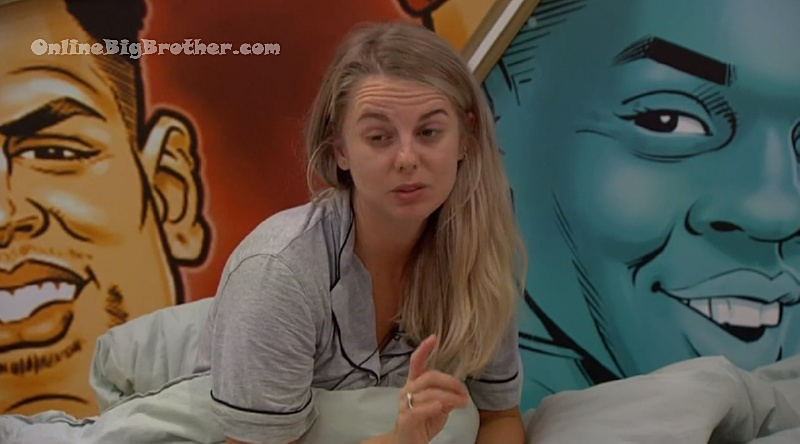 Nicole says Paul told James something when he was evicted that made James not vote for Nicole "And it was a lie that's how smart Paul was"
3:00 am Zzzzzzzzzzzzzz
8:57 am sleeping yo
9:52 am Lights on everyone sleeping.
Show your support by making a donation.
If you've enjoyed our live feed updates this season, please consider donating 🙂
Any amount is greatly appreciated! Without your support this site would not be possible.