PART 1 HOH WINNER: Nicole
PART 2 HOH: Cody Vs Enzo
PART 3 HOH: Nicole Vs ? (Part 2 Winner)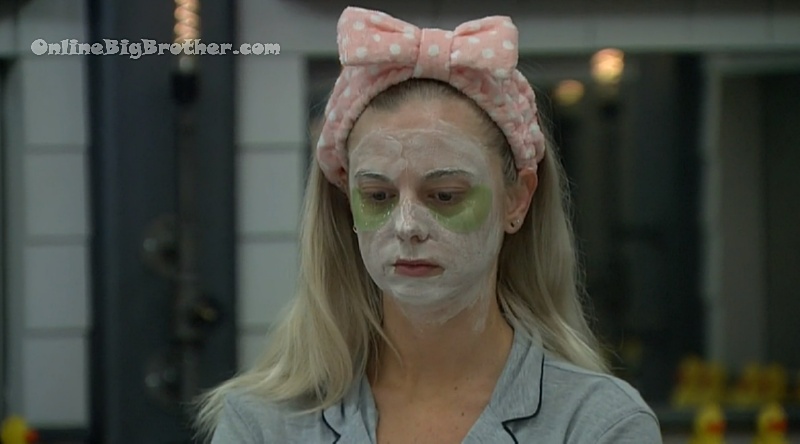 10:20 am Nicole up applying her mask for the day.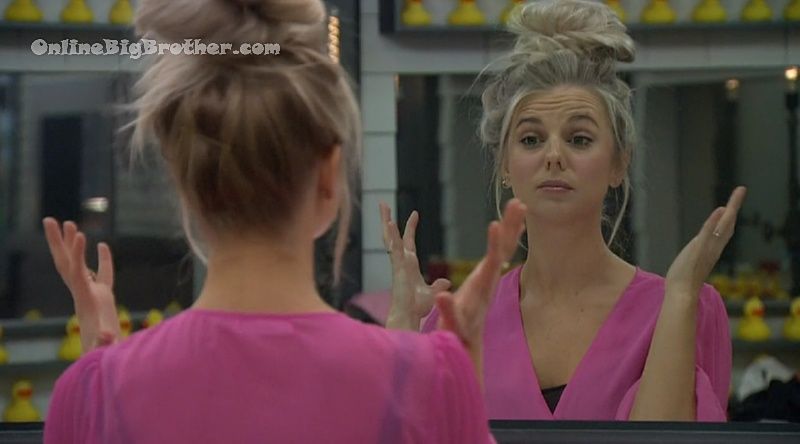 11:12 am all done.. muttering to herself about making her eyes bigger
Nicole practices smiling wishes her eyes were bigger pic.twitter.com/qirqRfFHLl

— OnlineBigBrother.com (@bigbspoilers) October 23, 2020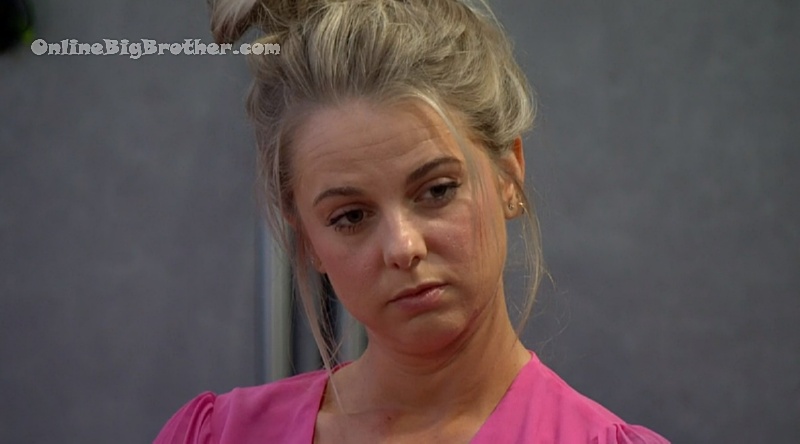 12:16 pm Nicole and Enzo
Enzo explaining why Christmas was pissed at him.
Nicole goes on about wanting Christmas to come to her wedding.
Nicole says the only reason she said things about Christmas is because she was pissed about her voting against her.
Enzo impersonates Christmas thinking that Nicole was going to backdoor Cody.
Nicole – I was never going to backdoor Cody.. that good we convinced him
Enzo impersonated Memphis saying he thinks Nicole will backdoor Cody.
Nicole – we fooled Christmas and Memphis just like that.. that's good gameplay.. we weren't thinking about it we were just wanting them to think we were thinking about it.
Enzo says on his season people would sneak up to talk to the HOH This season everyone sat around like a "Doctors office" waiting for their turn.
Enzo – I hate that
They bring up how Fake Da'Vonne, Christmas when they fawned over the HOH Basket contents "Ohh my god you got that!"
Enzo brings up how upset he was at David for taking the money on the veto when he was on the block.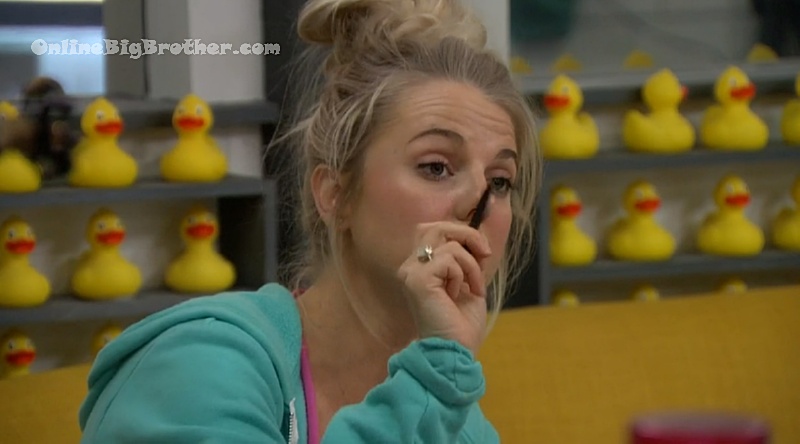 1:05 pm Nicole and Cody debating if an avocado was ripe, overripe or just right.
1:21 pm Chit chat about the season
They bring up that Memphis had muscle relaxants 6 times a day and massages twice a day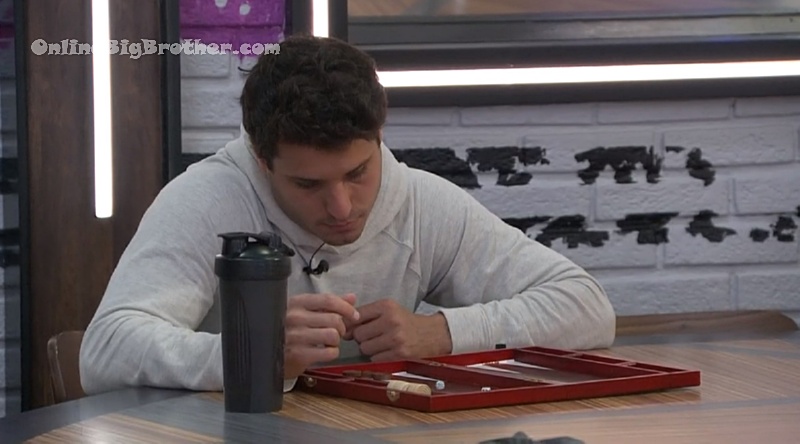 2:48 pm Cody plays one player backgammon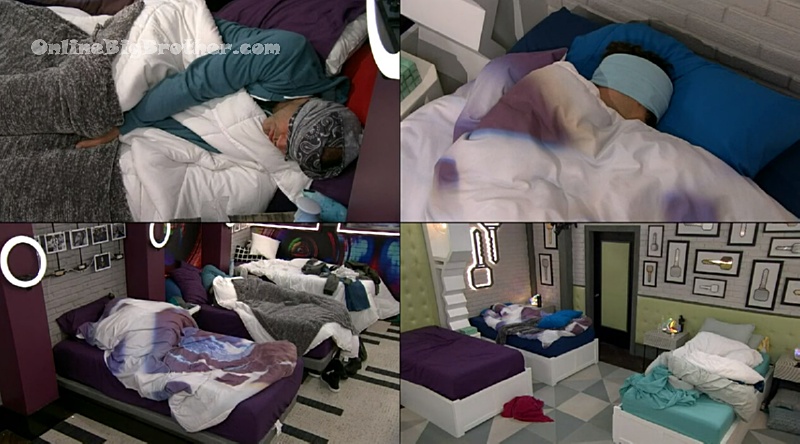 4:20 pm
5:00 pm Enzo and Cody are sleeping. Nicole looking around in the fridge.
5pm Enzo and Cody are sleeping..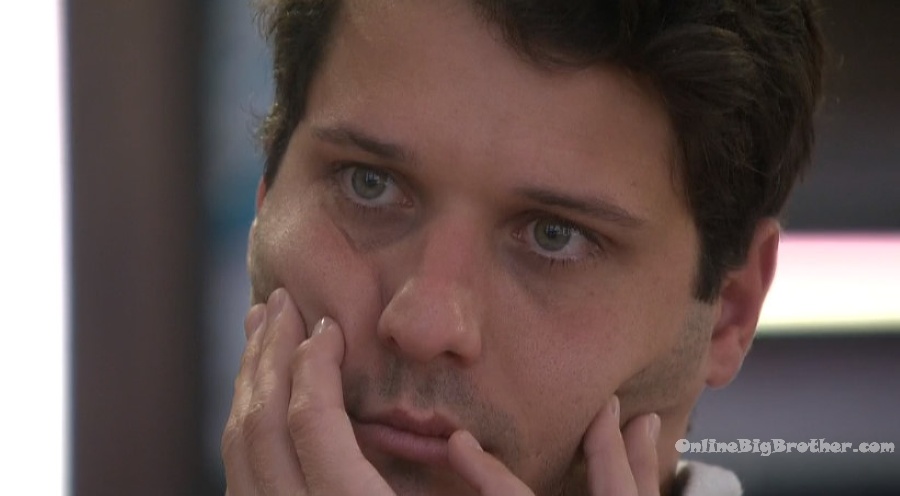 5:08pm Kitchen. Cody and Nicole.
Nicole is making dinner for herself.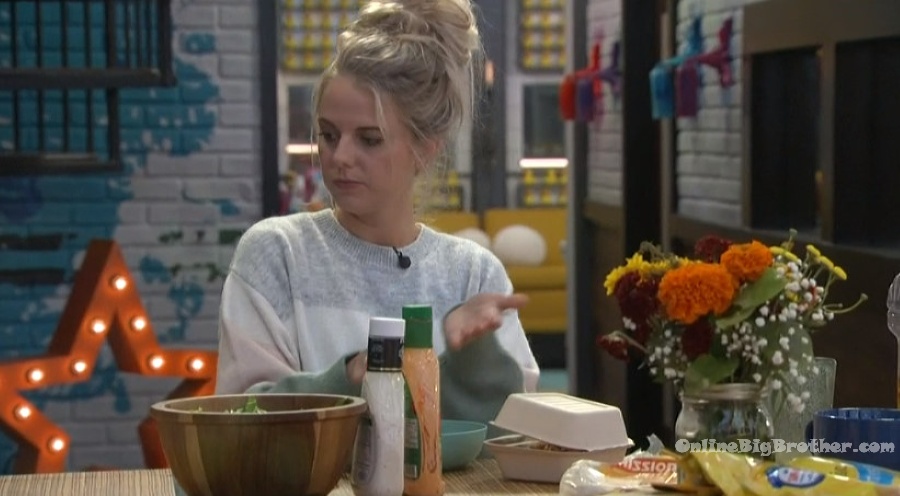 7:40pm Nicole and Cody playing backgammon. Meanwhile Enzo is still sleeping..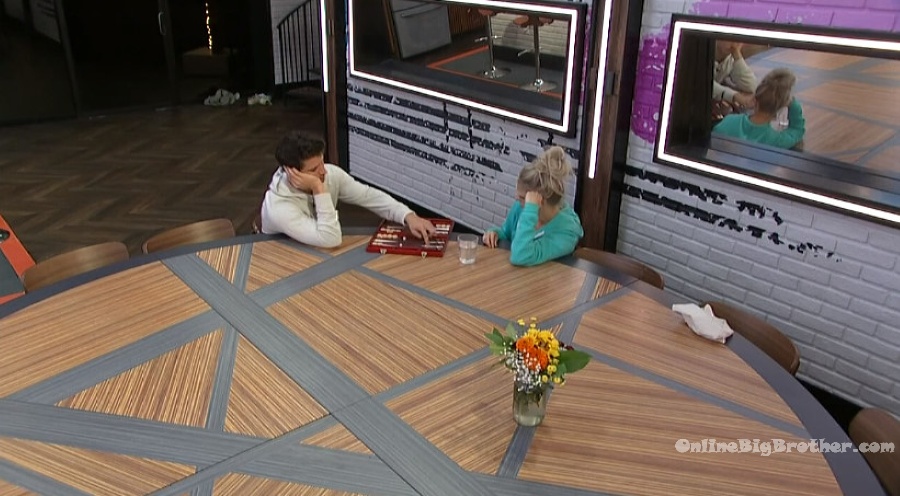 8:20pm – 8:30pm Cody studying the past events of the season..
8:40pm Big Brother gives the house guests donuts. Nicole is so excited. Big Brother you're the best! I have never felt more blessed! This is so cool!

9:18pm – 9:40pm Storage room. Enzo is finally up and moving around the house. Enzo – I've got to win this next comp. If not they got me. If not they got me. That's it! He heads to the kitchen where Nicole and Cody are playing backgammon. Cody comments on how Enzo went to bed at 3pm and is just getting up now..

10:45pm – 11:30pm
Enzo and Cody chatting on the living room couches. They move to the kitchen. Enzo – Me and you pissed of Dave. We pissed off Christmas. We pissed off Memphis. We pissed off Ian. Dani is mad at us. DaVonne is mad at us. I don't know where Tyler is at?! I lied to him all that week. He didn't know what the f**k was going on. At that point I don't care if you win or I win because you're my dude. Cody – yeah. Enzo – I don't give a f**k yo! Do you know what I mean?! Cody – yeah. Enzo – same thing if its you and her in the questions and she cuts me ..she knows I'm giving you my vote. That's it. It is what it is. Cody – I don't even what to think about that. Enzo – yeah I know. I don't want to answer the questions .. you got third place again HUH?! I don't want to deal with that sh*t! Whatever yo! Cody – its not happening. Enzo – I don't think so Yo ..because if I make the questions .. if you make the questions that's it you know what I mean!? Cody – yeah.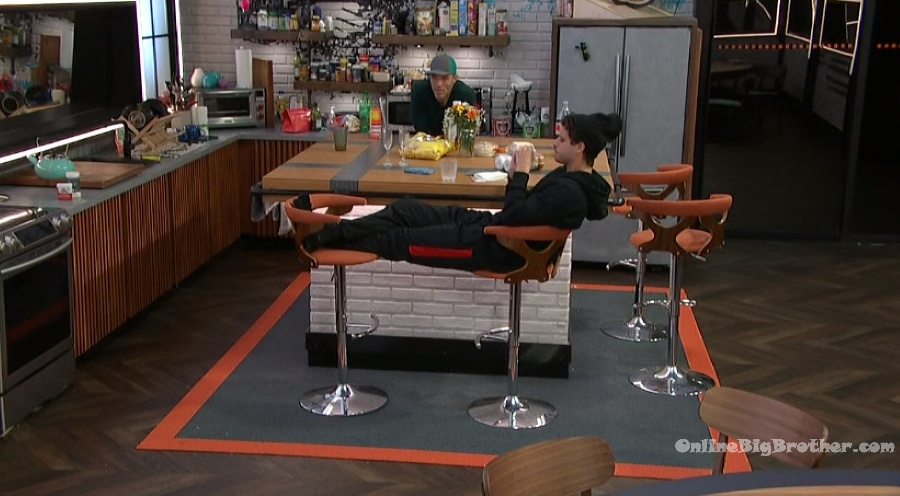 11:54pm Kitchen. Nicole and Cody.
Nicole – you got this (Part 2 HOH) tomorrow. Nicole heads to bed.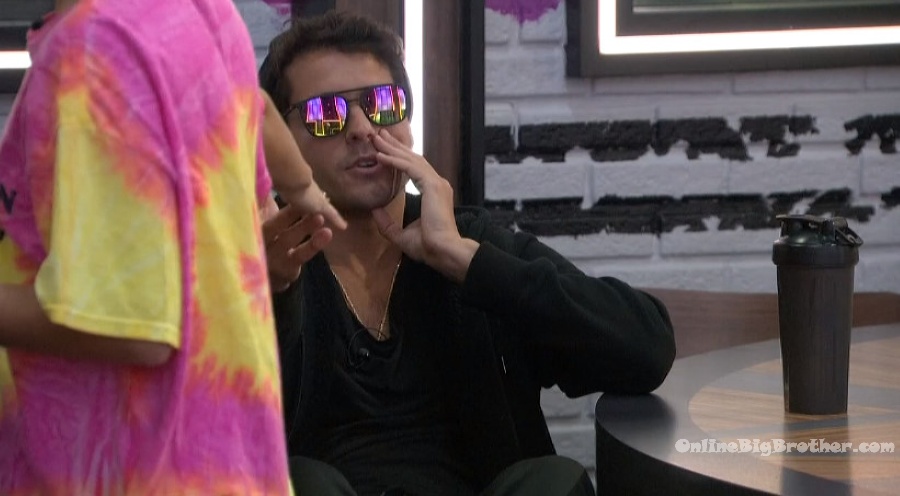 12:05am Cody studying the memory wall / past events / days of the season..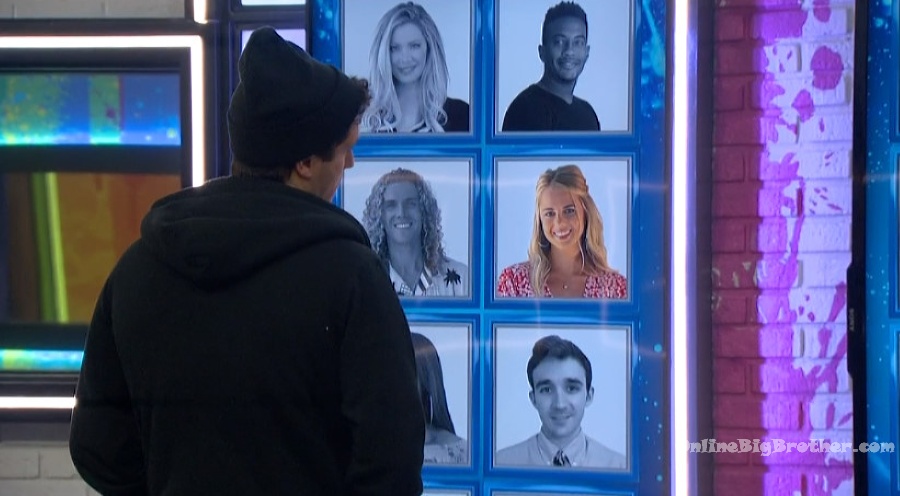 8:42 am Zzzzzzzz
10:24 am Zzzzzzzzzzzzzz
11:04 am lights on still zzzzzz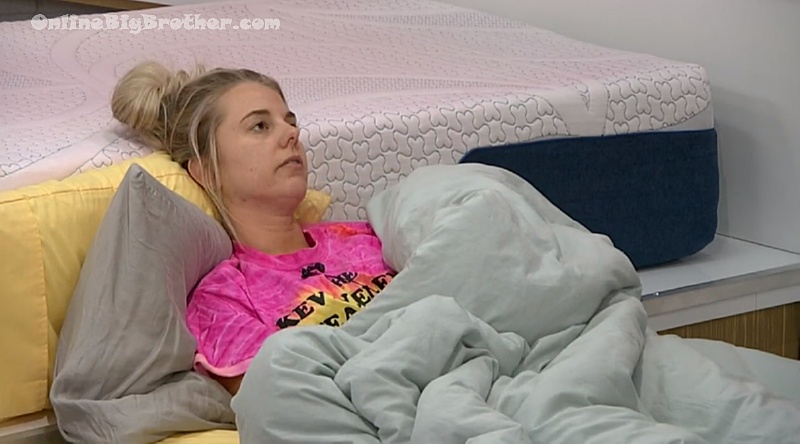 11:09 am Nicole
"Can you please go on revolve and purchase me a finale outfit and then.. I'm going to try and talk to production to see if we can work something out because my dress does not fit anymore I gained weight.. "
Feeds cut. When we're back Nicole is talking about drinking protein shakes today
Nicole – there's no way I will fit in that dress UGH.. and I have my wedding coming (ohh?)
11:42 am
Nicole's face cleaning begins.
12:15 pm Enzo sleeping, Cody studying the memory wall. Nicole probably practicing facial expressions in the bathroom.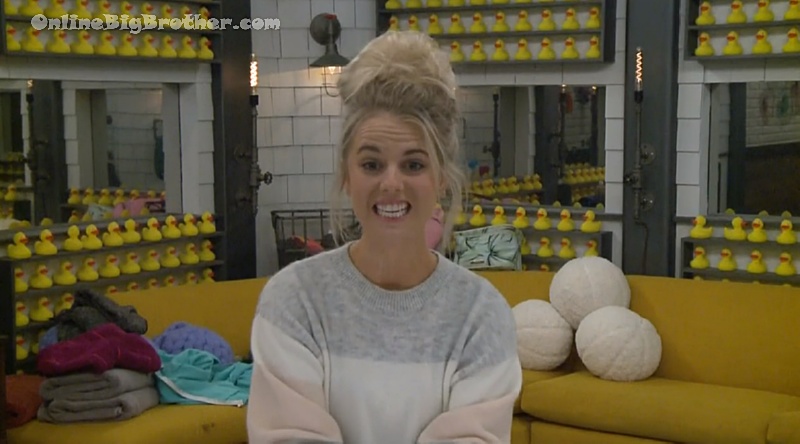 12:52 pm
1:24 pm All feeds on Cody playing backgammon by himself.
2:25pm – 3:35pm The final three are waiting for part 2 of 3 HOH to start. Enzo was working out. Nicole and Cody played a game of backgammon. Enzo joins them. Enzo – this season everyone was in an alliance to take out people in their alliance .. that's what this season was about. This season was just bananas. I was just waiting to get backdoored. They start recounting the past events of the season. Nicole to Enzo – was it a lot different playing with 13 Vs 16 people? Enzo – yeah this was a lot especially with being locked in a lot.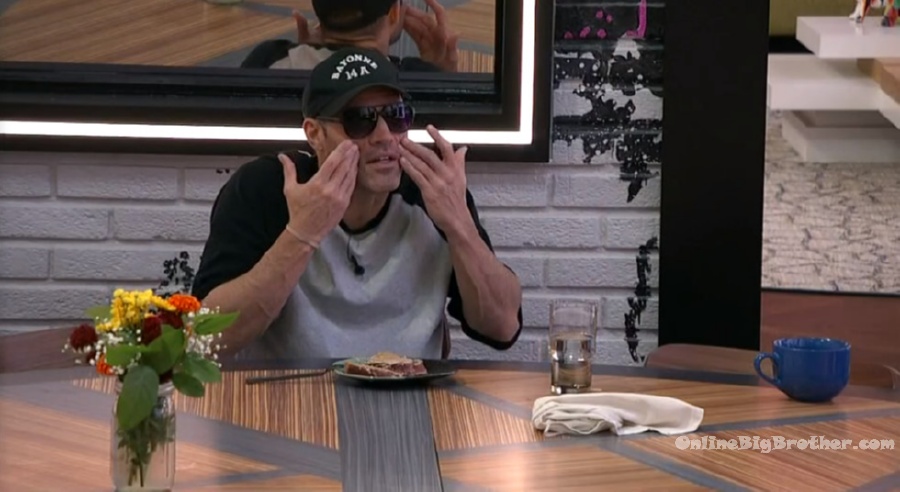 3:50pm Enzo is showering. Cody and Nicole play backgammon again..
4pm – 5:20pm The house guests are napping..
6:25pm Cody playing backgammon with himself. Nicole is still sleeping and Enzo is pacing back and forth outside the HOH room kicking the ball.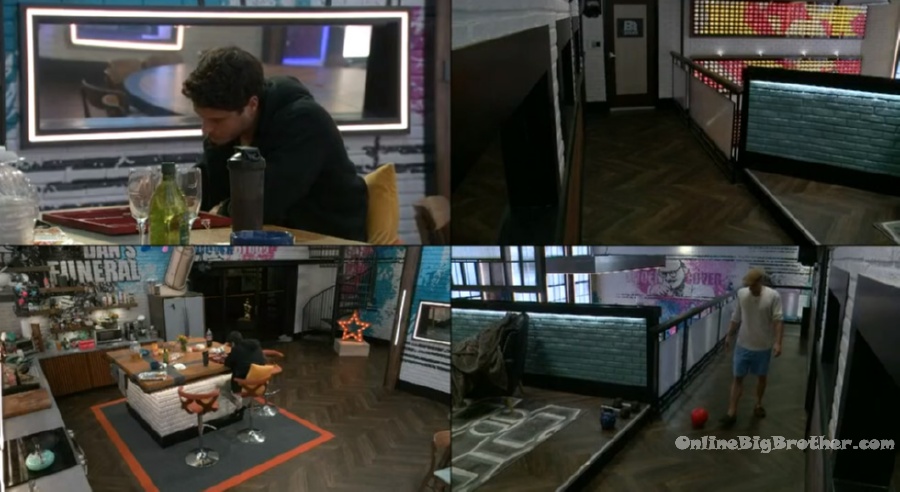 6:34pm The live feeds switch to the kitty pound. Part 2 of the 3 part HOH competition is happening now! Cody and Enzo are going to battle it out to see who will compete against Nicole in part 3..
9:12pm Still blocked.
10:26pm Nothing yet..
Show your support by making a donation.
If you've enjoyed our live feed updates this season, please consider donating 🙂
Any amount is greatly appreciated! Without your support this site would not be possible.