Head of Household Winner – ENZO
Nominations – Nicole & Christmas
Power of Veto holder – Cody
Power of Veto Ceremony –
Live feeds —-> Grab your Live feeds here. Try it free.
Rank the houseguests —-> Big Brother 22 Ranking
Another Slow day on the feeds. Cody still plans on evicting Christmas tomorrow.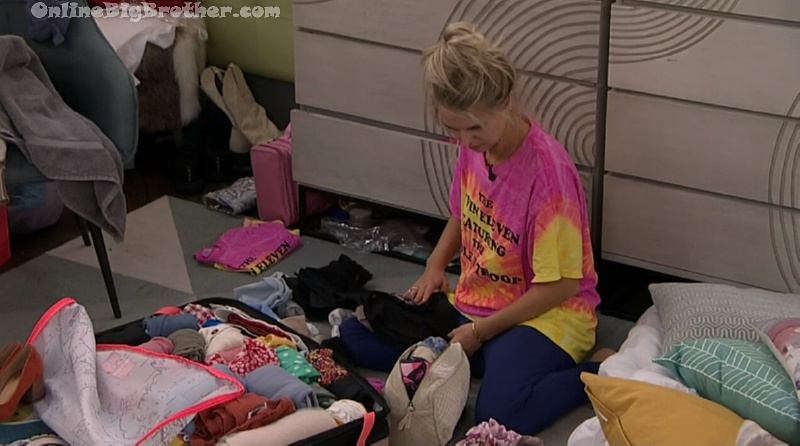 1:00 pm Coins packs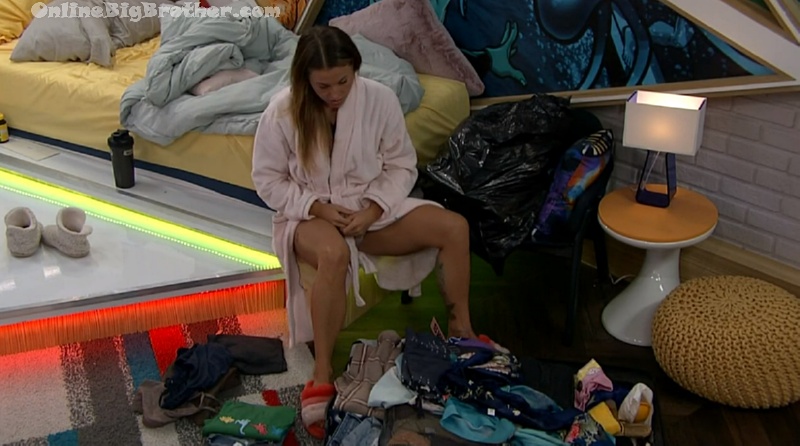 2:00 pm Christmas packs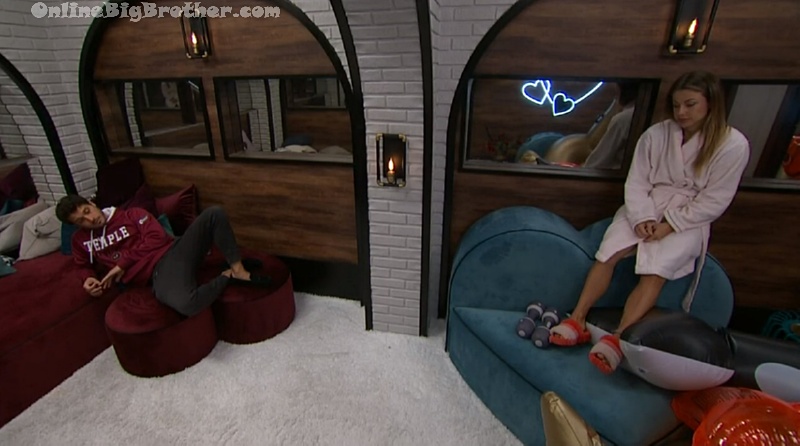 2:09 pm Christmas and Cody
Christmas – I know you have a lot to think about and you need to do what's best for your game and you know where I am I wanted to check in with you and you know like. It was today Enzo said something that was very kinda like I hadn't even thought of this is Nicole's third time and if she goes to final 3 for a second time it's pretty significant. I don't think you are going to get somebody voting against her because they don't want to see her win
Cody says on a "returner" season he doesn't think people will vote based on what people did in previous seasons.
Adds if he went with Nicole to the final 2 and Nicole won he would think "ohh I'm on a season where people voted based on past seasons not the current season"
Christmas – I started thinking per-jury person and what their vote will be even though she has some marks against her in jury. Kevin openly said he would vote for her if she made it to the end.
Christmas – Da'Vonne and her.. Da'Vonne knew she had backstabbed her and still gave her a hug on the way out and she has Dani campaigning for her and repairing that relationship to Da'Vonne.
Christmas – you and David Clashed the whole time umm.. Dani, I think you had a good relationship with Dani. I don't know what that was. Nicole also had a good relationship with her. Umm.. Ian, they were both winners. He's going to look at her move as a really strong game move now that he's stepped away from it and calmed down about it.
feeds cut.. when we're back.
Cody is talking about if people base their vote on competition wins alone then he would have beaten Derrick. "if that was the case paul would have won both his times. I don't think Comp wins are a thing I think there's more going on"
Christmas says if it comes down to her which guy she can beat it'll be a crapshoot "Enzo goes have great jury management I know he's burned me I'm sure he's burned, other people. You have great comps you had good jury management you ruffled some feathers. I have ruffled a lot of feathers. I have a few comps like.. I'm sure Dani is campaigning against me. No matter what you may not believe me right now but I am telling you if I am in that final 2 and it's my decision I am choosing you.
Cody – yeah
Christmas – 100% and I don't know what I need to say or do to really lock in with you
Cody says if he gets to final 2 it'll be a toss-up. Points out everyone thought Tyler was going to win his season and he lost. Cody thought Paul should have won both his seasons and he lost.
Christmas – If I go to final 3 it's like you are guaranteed final 2
Feeds cut. when we're back Cody is alone in the room.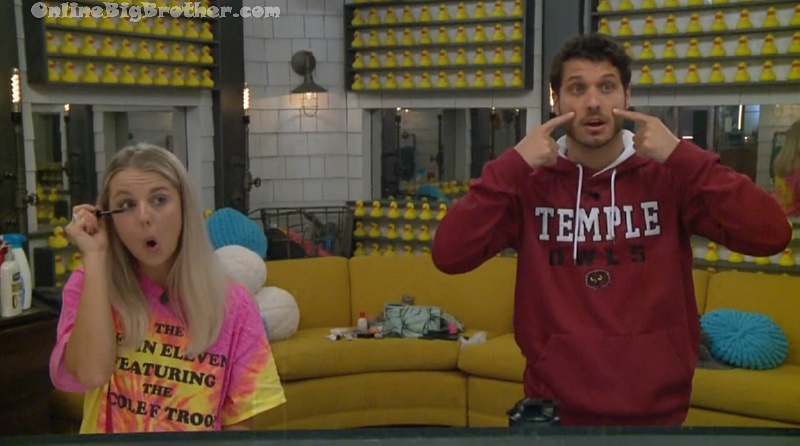 3:10 pm Cody and Nicole
Nicole says Christmas is annoying her
Cody – she was like Kevin has said he will vote for her. like she has her relationships
Nicole wonders how Christmas knows this but not her she feels that is something Kevin would have told her.
Cody – she's like I think Ian will definitely vote for her because I think he'll have time to settle down
Cody – I'm like it's very possible
Nicole – she's going hard. His messy gameplay has already taken her too far
Cody – no her lucky gameplay has taken her too far she's been on the block with people that needed to go over her
Cody – she was given lives and so many opportunities to actually like win the comp and push herself forward.
Nicole says she thinks Memphis would have taken Enzo to the end. "But he thinks I was the worst so .. but I can't see him wanting her to be there" (Christmas)
Feeds cut to stars. When we're back..
Nicole – she's grabbing at straws
Cody going on about how it's insulting that Chritsmas and Memphis kept telling Nicole they want to take her to the end because she sucked this year and would be an easy person to beat.
Cody – I think you've done a ton of sh1t
Nicole – I do wish I would have done more it's very hard for me to accept
They talk about how Christmas didn't "know sh1t"
Nicole – she's still clueless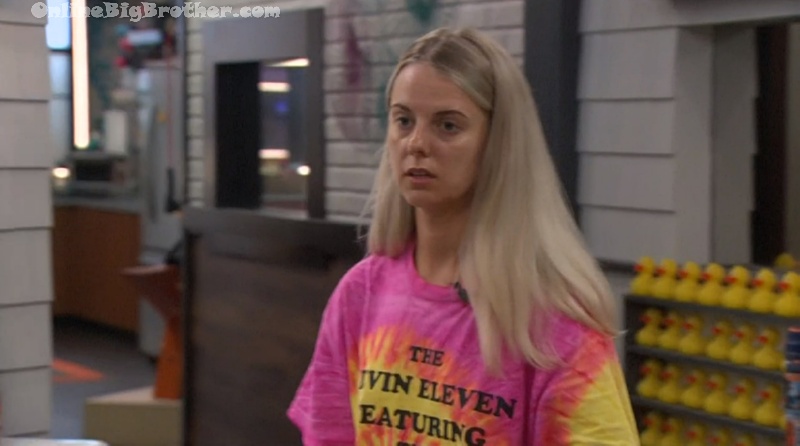 Chit chat about how shitty the lighting is in the house. Nicole mentions how easy guys have it as she continues her 3 hours makeup/skincare routine. Cody mentions how he ridiculous the makeup can be sometimes "on set".
Cody – I don't want it to look like I'm wearing makeup and sometimes it's so obvious
Nicole – I've never noticed a guy wearing makeup in a movie.
Cody – on guys you're only supposed to powder so the shine is gone.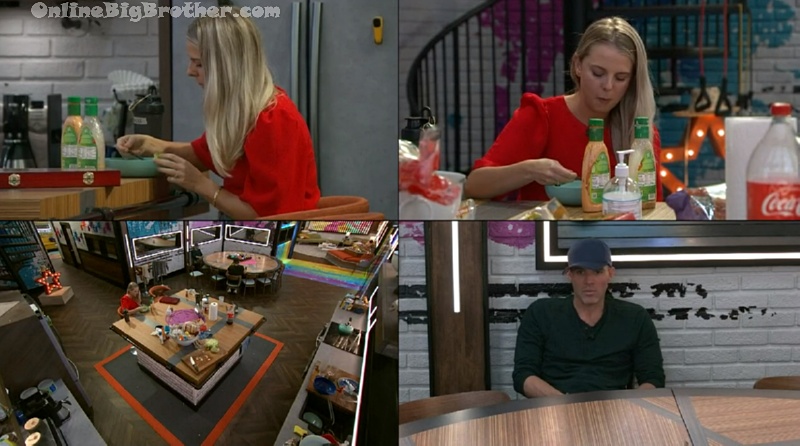 4:28 pm Meal time..
Enzo talking about what he'll do after the show "maybe I'll hit a bar Sunday night. Watch the game Sunday night grab a couple beers for the first time. I'll face time you guys the final four. I'll do that when I'm really drunk so I make an a$$ outta myself"
Feeds cut..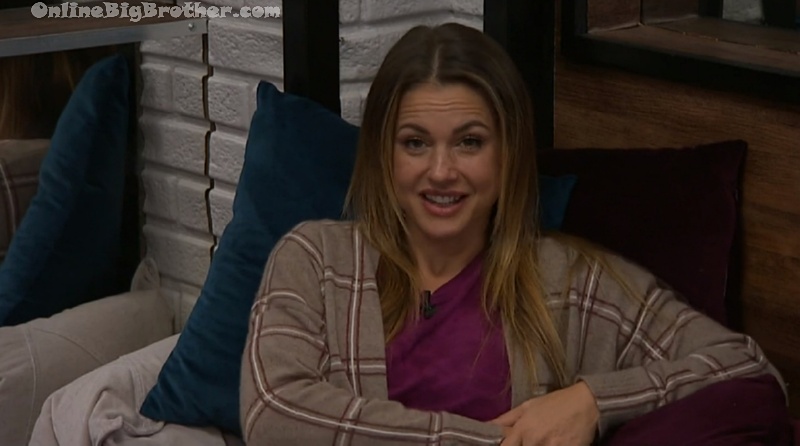 5:35 pm
Christmas – I like team sports.. I like to have my team I'm a team Christmas player but this is an individual game that you have to have teammates for but then you have to turn on your teammates. That's insane that's bizarre. I'm so grateful I'm in final 4 I cannot really express like I'm really proud of myself. I came in here and saw who was in here and went oh my goodness. theirs some heavy players in here. Dans not here, Pauls not here, Josh is not here, Kaycee is not here whatever like.. doesn't matter There is still potent and very dangerous players in this game and I am happy to be considered one of them now. I feel like I was definitely overlooked in my last season and understandably so but I hope that you guys as viewers in America view me as the Big Brother player that you guys thought I could be and a bit more. I love this game and I'm not ready for it to end for me yet.
(this conversation with the viewers continues )
6:30 pm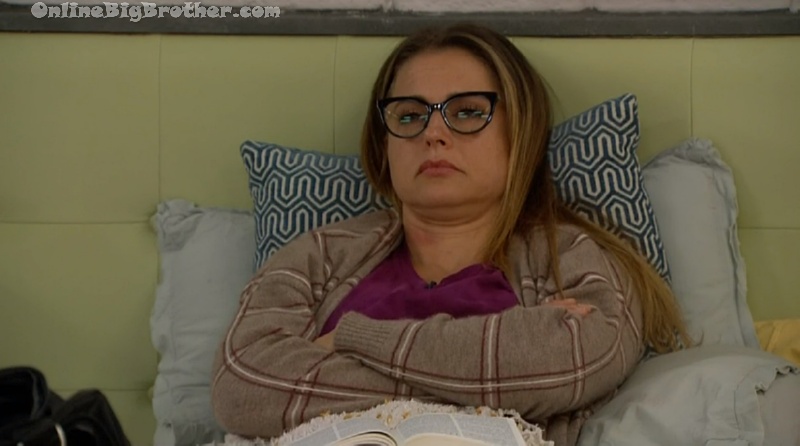 7:00 pm
8:45pm The house guests are lazing around the house. Christmas is reading the bible / sleeping. Cody and Nicole are playing backgammon. Enzo and Christmas are playing chess.
9:35pm – 11:20pm Bathroom. Enzo and Cody. They're recounting the past events of the season and past seasons. Enzo – you can't tell me that you and me aren't going to be sitting in the final two. There is no way!? No way! I don't give a f**k! There is no way! Cody – everything just worked. Enzo – everything fit together. Enzo, Nicole and Cody head up to the HOH room. Enzo and Cody play chess. The conversation turns to talking about survivor.
11:30pm The house guests head to bed..
Show your support by making a donation.
If you've enjoyed our live feed updates this season, please consider donating 🙂
Any amount is greatly appreciated! Without your support this site would not be possible.