Head of Household Winner – ENZO
Nominations – Nicole & Christmas
Power of Veto holder – Cody
Power of Veto Ceremony –
Live feeds —-> Grab your Live feeds here. Try it free.
Rank the houseguests —-> Big Brother 22 Ranking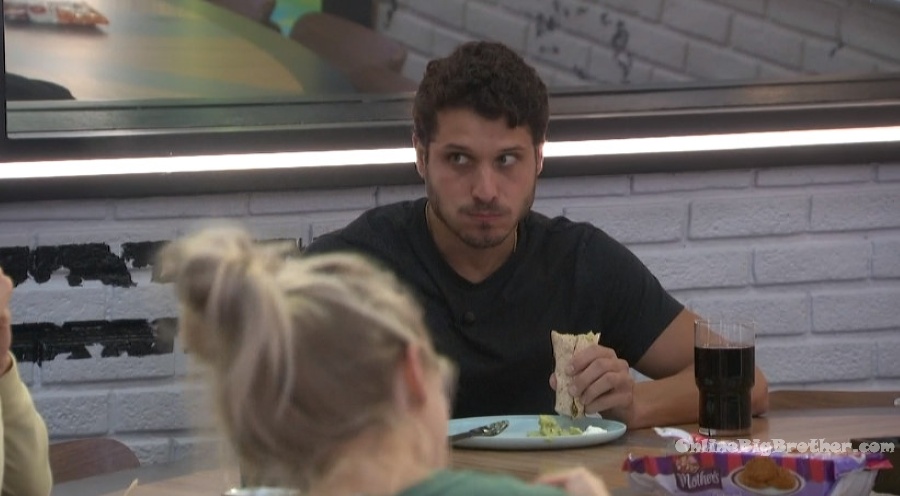 7:05pm Kitchen. Christmas Cody, Enzo and Nicole.
Enzo – I just feel like I am having way more fun this time around. Nicole – yeah. I think it is way more fun to not have a showmance. Enzo – oh yeah? I never had a showmance. Christmas – I thought I was your showmance. Cody – yeah you and Christmas were getting pretty intimate today! Nicole – were we? Cody – yeah. Christmas – you and Enzo were too! Cody – yeah that was a little much for me. Enzo – I would have given him a whole face thing but he didn't want me to. Christmas – you weren't taking it serious. Enzo – I was definitely taking it serious.. you weren't. Cody – no you weren't. Enzo – you couldn't handle my soft hands. Big Brother blocks the feeds. Enzo – I just want to get the f**k out of here already! Seven more days. Cody – no eight! Christmas – Seven full days.. Live day is not a full day. We don't go to sleep here. Enzo – I am going to be so happy to pack. I am going to take every picture down in the photo room. Christmas – You have such a stack up there. Enzo – I do. Its a good thing .. when you go to the bathroom.. Christmas – did you rub one out to those photos! Enzo – NOOOOOOooo! Christmas – okay just asking!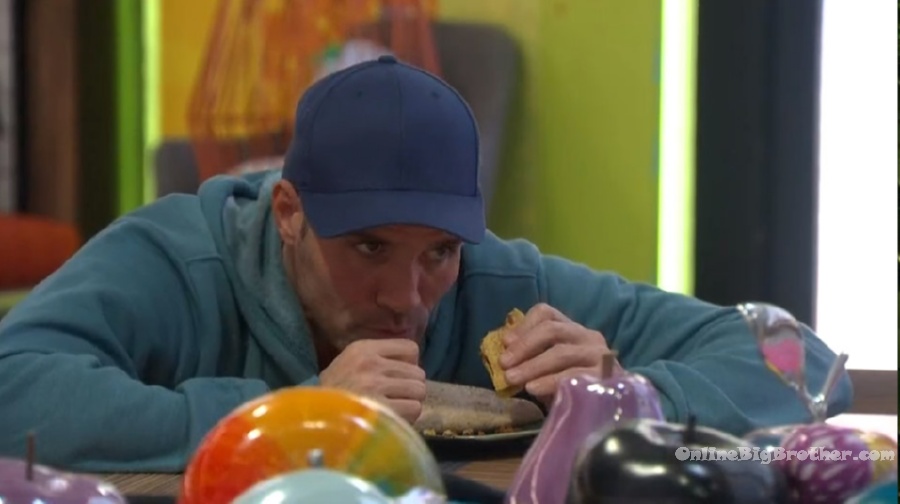 7:35pm Cody, Nicole and Enzo play hide and seek. Nicole hides in the HOH room. Enzo hides under the kitchen table. Cody is looking for them. Nicole then leaves the HOH room and hides in the storage room cabinet. Enzo finds her (see photo below).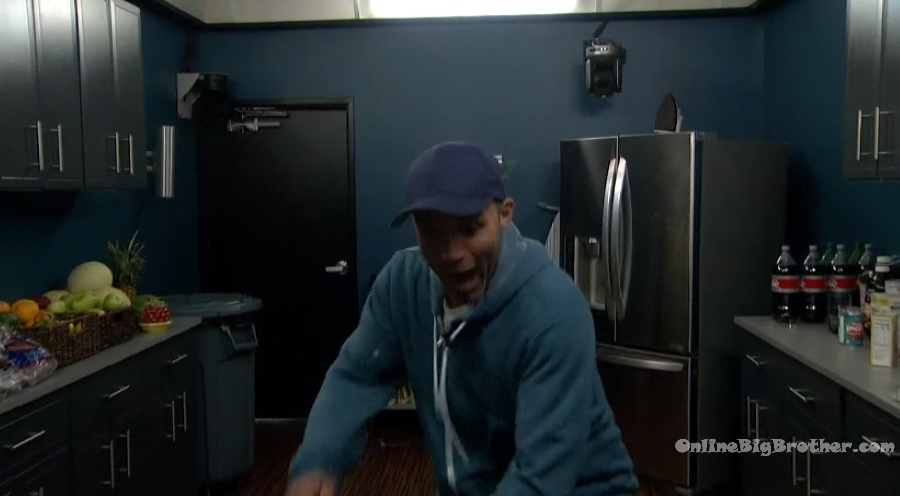 8:30pm Cody is talking about soccer. Christmas and Cody sit down to play backgammon.
9:18pm Bathroom. Enzo and Nicole.
Enzo – Cody was like are you telling her like that she has hope? What do you want me to tell her?! I'll tell her that she is gone then. No, no, no.. then what the f**k do you want from me?! She keeps coming to me like do you know anything?! I don't know know nothing! Talk to him.. he has the power. Why is it on me!? Like what the f**k!? He has the power not me!
Christmas – I don't want to keep bugging you but this is down to the end and I want to clean some sh*t out. What you asked me yesterday .. or the day before yesterday.. I can't remember when it was. One obviously I am here to play comps but I am also here for my family. You know how I feel about my family and that is f**king number one. Cody – yeah. Christmas – And I think you have a similar relationship with your family where you would f**king do anything for them. Cody – yeah. Christmas – so with that in mind .. I have to do whatever I have to do for my family to make sure that I go to the next round. I was very shocked to go up on the block this week. I was furious with Enzo. When I went up on the block before for him.. he told me that he was never going to put me on the block again and that he owed me one big time! Cool.. early in the season .. I get it. He reinforced that after the triple. He knew from Tyler. Tyler came to me right before the vote telling me that they have the votes to flip it. In the bathroom, Enzo confirmed it. That was why I voted the way I voted. Enzo changed his mind last second. After, I was like what the f**k Enzo!? What happened?! He flipped back his vote because he didn't want to piss off Memphis. Memphis would come after him. And he promised me, I won't come after you .. like I know that exposed you a lot. Whenever I get HOH again, I am not putting you up again. Like I have your back. Enzo has been wanting to get Nicole out since the very beginning of the season. And then when he didn't, I was like what the f**k!? So that was the triple. Fast forward to.. the pumphin seesaw .. he threw that because he knew he was in good standing with you and with Nicole. And then he put me up. He said that he wanted to go to final two with me because he knew he couldn't win against you or Nicole in jury. I tell you this because you know how I play and I already promised you that if I stay I am going to fight like hell to win and take you to final two. I am not even asking you to promise to take me to final two .. you can take whoever you want to. Even if we are in final two you will sweep the whole competition because of the entire game you have played. Cody – I don't think you're throwing him under the bus .. I think you're just talking. I think you've been duped constantly.. which is a sh*tty thing to feel.
9:35pm – 10pm Christmas reading the bible.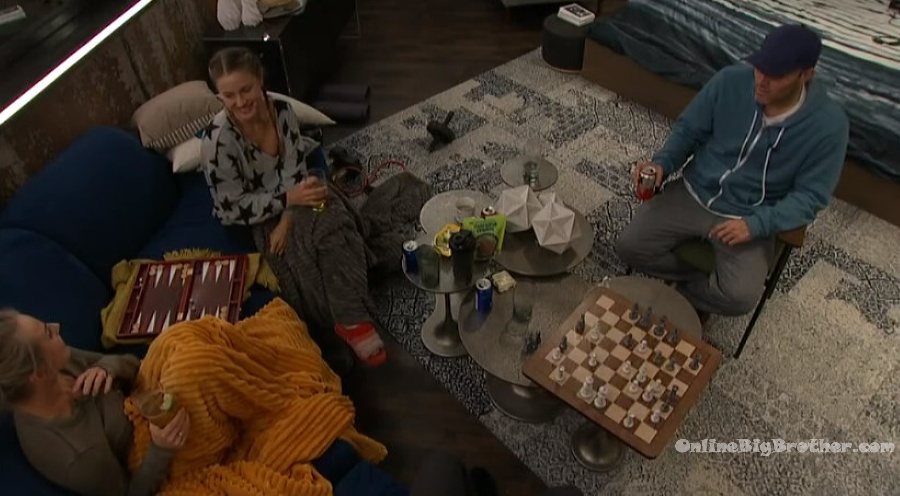 10:05pm – 12am HOH room. Christmas and Nicole are playing Backgammon. Enzo and Cody are playing chess. Nicole – I love each and everyone of you. This is by far the coolest final four ever. You know how I had to move my wedding back for this experience and I am glad I did because this is friendships I am going to have forever and I am still getting married. And now I have three really awesome guests and their plus ones. And no, I seriously love you guys and I hope that I stay in touch with each and everyone of you. Enzo – I hope so too. They all cheers. They sit around playing "Truth, Dare or Consequences" and talking about other random things.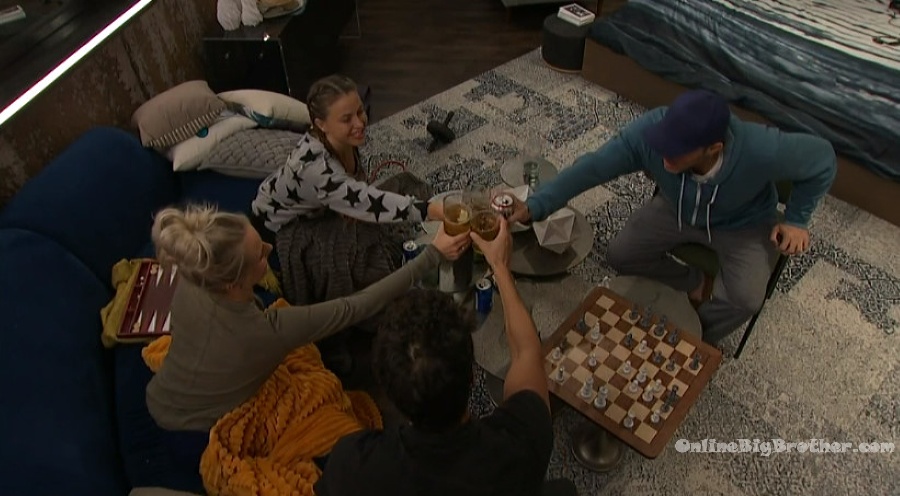 Show your support by making a donation.
If you've enjoyed our live feed updates this season, please consider donating 🙂
Any amount is greatly appreciated! Without your support this site would not be possible.