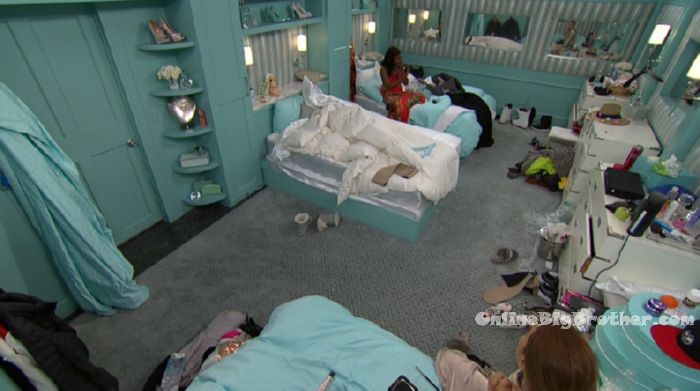 9:15am Ari and Omarosa. Ari – you made us the biggest favor ever. You have the biggest competitor after Shannon out of the house. Yesterday, he (James) would have won 100%! Omarosa – oh he would have won easy. I can't believe he was throwing HOH's like that .. arrogance. That's what you call arrogance. Ari – why he was throwing them? Omarosa – because he didn't want to be a target. But once you become a target you can't un-become a target.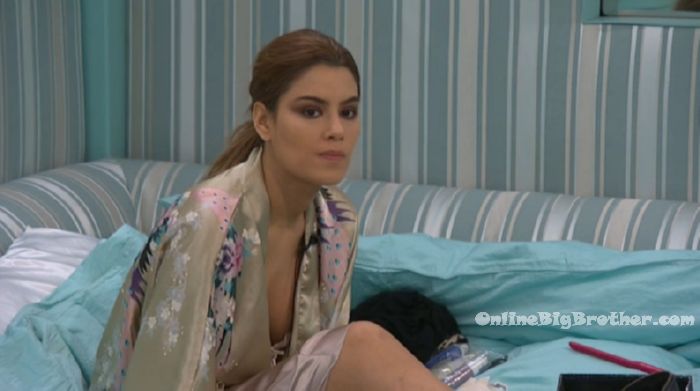 9:33am Big Brother blocks the live feeds. When they return.. Ari – Ross asked me yesterday. Omarosa – don't take Ross .. I'm sorry. Ari – but I didn't ask him back. Omarosa – take Mark because now its about jury. But if Ross asks you.. Ari – I said yes. Omarosa – if you take him .. you lose. I'm sorry. If you take him .. he's won 2 HOH's and a Veto. Ari – 2 Vetos. If it goes just by the record, he wins. Mark has won HOH but someone gave it to him. No veto and he doesn't have the jury. Omarosa – you promised him or you just said you'd think about it? Ari – I promised him. Omarosa – I am telling you, you've got to take Mark. Ari – he said if you take me and beat me .. I am so happy with second place. Omarosa – that's not true. He knows he can beat you with the jury. Ari – I told him I think he can win. Omarosa – you have to win, this is you. Ross … his word doesn't mean anything. He gave his word to Brandi and he broke it. Best payback for Brandi .. oh well I guess that's part of the game. You know what he said .. he said its part of the game. Take Mark. You can't take Ross, he'll win. Ari – I didn't ask him but I know he's going to take Marissa. And you know what if he wins, I'm okay with that too. I didn't like what he did to Brandi but.. Big Brother blocks the feeds..

9:45am – 12pm Big Brother blocks the feeds.
12:30pm Ari and Omarosa are packing their bags. Mark is sleeping..
1:45pm Ari laying in bed reading the bible..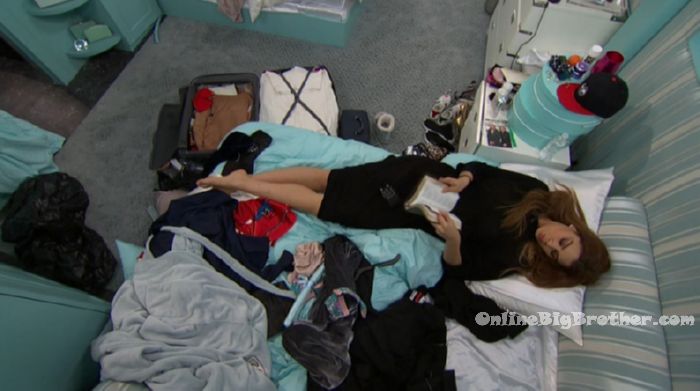 2:15pm – 6:55pm Big Brother switches the feeds to the dog pound..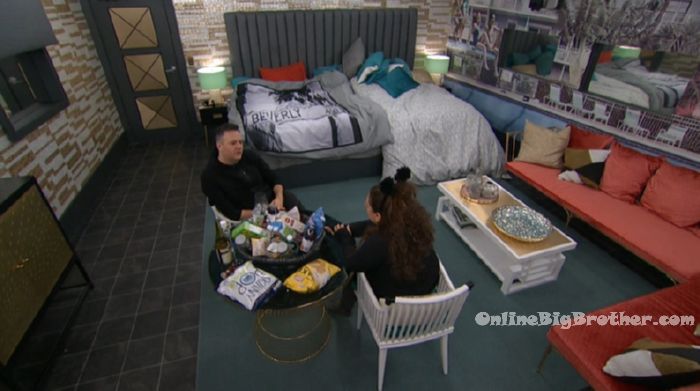 9:25pm HOH room. Ross and Marissa. Ross – he (Mark) confirmed that he would take me still (to the final 2). Marissa – why wouldn't he? Ross – but he must know that he's coming in second no matter who he goes up to and second is good for him. Marissa – yeah. I feel the same. Ross – you know what I'm saying. Marissa – he comes in second. Ross – to anybody I think. You have the women, you would beat him. Marissa – I would maybe beat Mark. I mean, I don't know. Ross – you need 5 votes and none of the women would vote for Mark. Marissa – no, that's true because they weren't here long enough for him. Ross – to really appreciate him. To really know him. Marissa – yeah. Ross – I have to win this one tomorrow. Marissa – you have to. Its going to be on the scale of justice. Ross – but what are the questions going to be like? Marissa – its going to be how well you know people. Ross – I think its going to be Before or After. Did it happen before or after… Marissa – I'll know that. Ross – we'll nail before and after. Omarosa would nail before and after. Ari will not. Marissa – who the f**k knows at this point. At this point everyone is taking you sweetie. Ross – I don't know. I hope so. Marissa – Ari told me she is. Ross starts practicing how he will answer jury questions.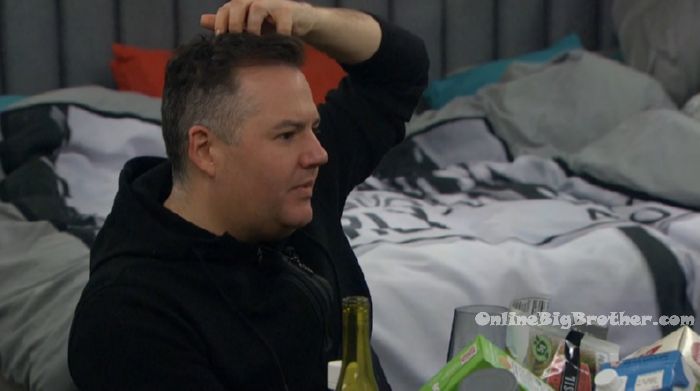 12am All the house guests are sleeping..