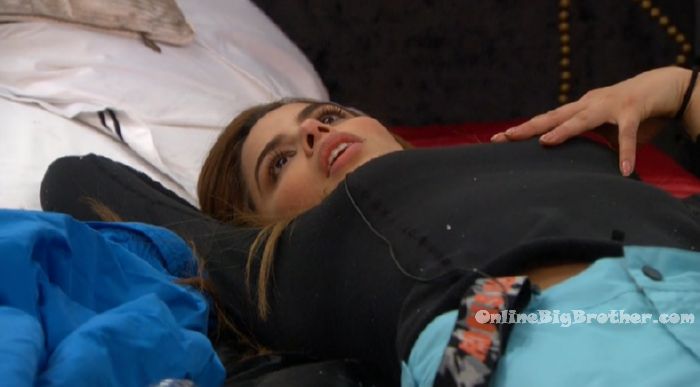 Watch the last week of Celebrity Big Brother for FREE! 1 Week Free Trial
HOH WINNER: ROSS
12:30am When the live feeds return – Ross – my fingers were dug into that. At first at the top and then the side. I was just never going to let go. Ari – she (Omarosa) was saying come on Mark, he's (Ross) shaking. Omarosa joins her. Ari – I need you to win. Omarosa – They're targeting me, that's a good thing. But if I don't win, then you stay and fight. That's a good thing. Nobody can beat them in the jury. Brandi's in the jury, Keshia's in the jury. Metta's in the jury, Chucks in the jury. You can fight, they're focused on me. You understand? Its a good that if you didn't win, they think she is no problem. But if you get into the 4, you win. Simple as that. And then you'll have me in the jury. Me, Keshia, Chuck, you just need one more. Ari – Metta! Just get to the four, fight for the veto and don't think about anything else. Omarosa – METTA But if they put both of us up, who comes down? If I get the veto and you're on the block, you are getting pulled down. If we're both up and both of us come down,… then who goes up? Marissa… no Mark. Ari – they'll send me home. Omarosa – they're gunning for me. You're not a threat, just get in the 4. The good thing is that Brandi is already in the juru working things already. Ari – do you think we'll beat them? Omarosa – I don't know, these are competitions they've never had.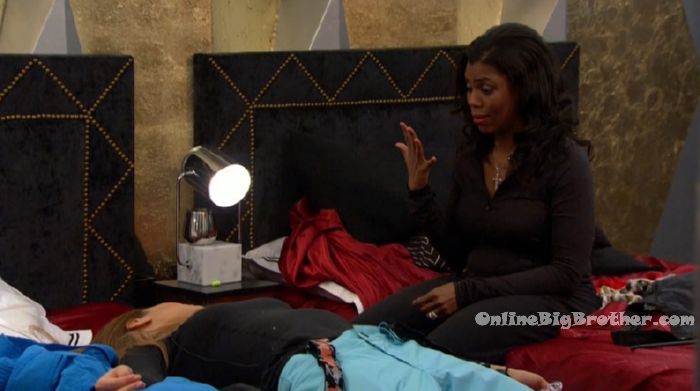 Bedroom – Mark and Marissa. Mark – looking good! Marissa – MMMhhhhmm. Holy sh*t! I couldn't hold onto for 2 seconds. I was surprised you dropped. Mark – he just asked me if I wanted it. His mom is sick right? So when he said that I was like ok, I'm done. I'm dropping. Its the one I could have hung on there for an hour. Ross joins them.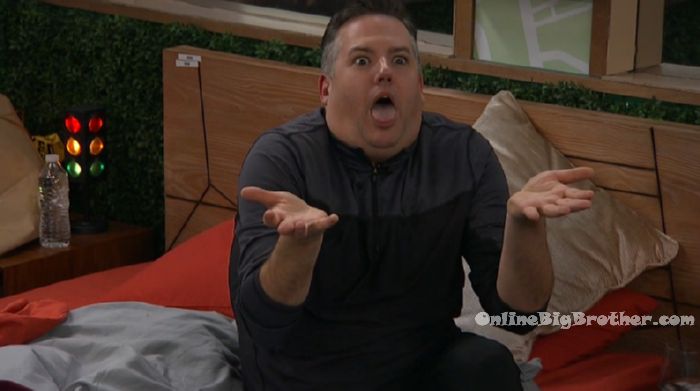 Mark to Ross – is your mom ok? Ross – she has breast cancer. She is in the middle of chemo. She has 12 more weeks of chemo. They're gong to get it. Mark offers his friend to take a look at her. He's the head of oncology at cedars-sinai. Mark leaves the room. Ross – I meant it when I said I wasn't going to drop. Marissa – the next HOH your going to win it or I'm going to. I would take you, Mark will take you. So you're going to put up.. Ross – here's how its going to work. The nominations.. and don't worry you're not going up. Marissa – I will do anything for you right now. Ross – the nominations are going to be Ari and Omarosa. I'll have to break that to Ari tomorrow and say you're not the target. You have to win the veto. If Omarosa wins the veto, you will go up. I can't put Mark up. If Omarosa votes you out and he votes Ari out. I will break the tie. Marissa – Ross, its all ok. Ross – I would never make a deal that didn't protect you. Marissa – we're good. Ross – as long as he (Mark) keeps his word. He never hasn't. We are two competitions away from doing this. Ari – joins them. Marissa – I'm so proud of you. Ross – we're going to send her (Omarosa). You (Ari) need to win the veto. Or she (Marissa) has to win. Or Mark has to win. So there is four against one. Marissa – she just can't. She broke up Brandi and Ross. She tried to break up me and Ross. She got James out. Ross – you (Ari) are not a target of mine. Ari – you're going to put me up? Ross – if she (Omarosa) wins the veto, I have to. Ari – why? Why not Mark. Marissa – he make a deal. Ross – I made a deal with Mark. Ross – I am going to protect you through this one. My dream is that we're in the final 4. I'm going to put you up tomorrow. Ok? Ari – ok. Ross – I'm going to say you're the only two people. I'm close to her (Marissa) and Mark. Ross – lets just win the veto tomorrow. And if she (Omarosa) wins it, then she deserves to stay.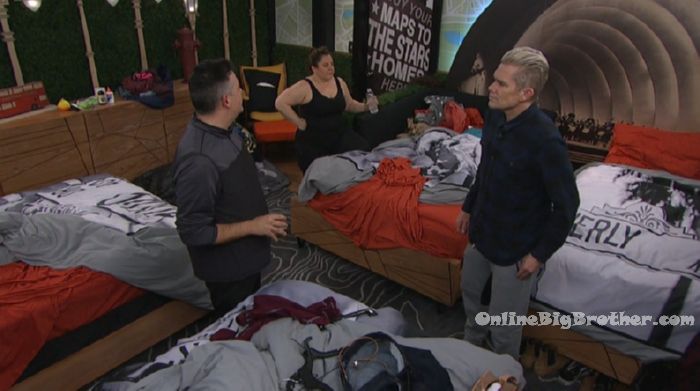 In the kitchen – Mark is cleaning up. They got a dinner with champagne.
1am Storage room. Ari and Ross. Ari – oh my god Ross, can you believe it!? Ross – that was insane! Air – how proud do you think he is? Ross – he is proud because part of this game is making deals, you know? Ari – I'm not good at making deals, that's my problem.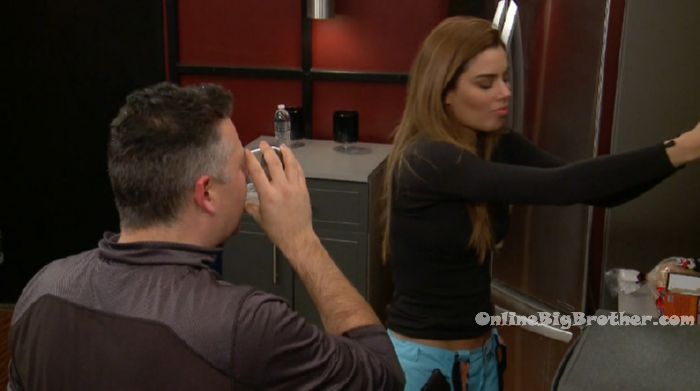 1:40am Mark and Ross. Mark – I'm not responsible for anyone going home. Now that's good and bad. If I got to the final two I could say look I never sent anyone home. I'm stoked. If I went home right this second, I am happy. Ross – but you're not going to go home. You're going to be in the final. You can compete int that HOH. Ross – if I take one of the girls (Marissa or Ari) they win. Mark – your only chance is if you take me or Omarosa. Ross – I have been really loyal to Marissa. Mark – without a doubt you have… and she sees that. Ross – if the room opens up tonight.. I'll wake you up. Mark – please do. Mark goes to sleep.
2:40am All the house guests are sleeping..
FLASHBACK and watch everything you missed: Live Feed 7 day FREE Trial!
Time to start ranking the houseguests on Celebrity Big brother. Nothing has changed with the ranking system since BB19. If you forget how it works here's the skinny.
You apply a ranking from 1-5 to each houseguest using one of these two pages: Voting (with images) and Quick vote (without images)
You have until the end of each day to "Lock in" your ranking. Each day the rankings are compiled and viewed on the grid.