Veto Player pairs
Maddy/JL
Brooke/Sue
Chris/Kyle
Ri/Hira
Minh/Vanessa
There's a good amount of tension between Kyle and Jamar that that caused Drama earlier today.
Maddy wins the power of veto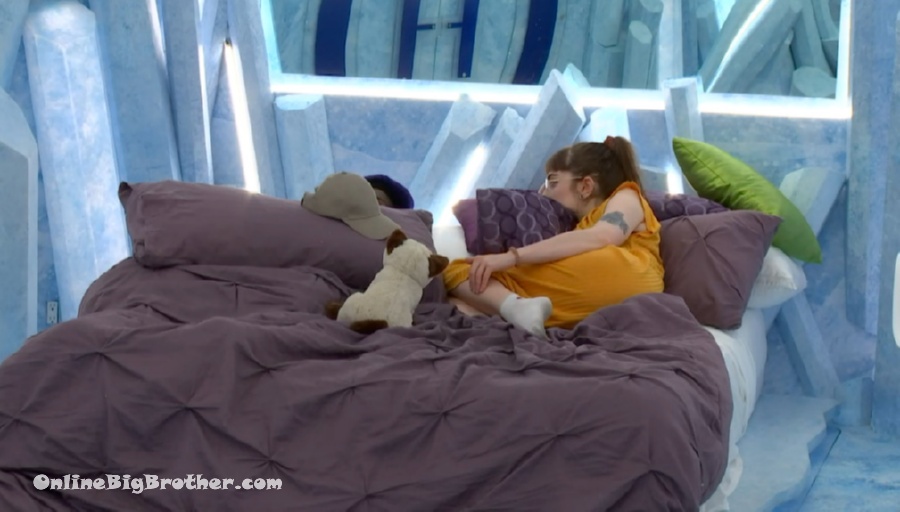 4:22 pm Sheldon and Brooke
Sheldon brings up Minh asking him who his backdoor target is he told her no he's not telling.
Sheldon – she goes If I win Veto I Promise to not use it
Brooke – perfect
Sheldon – I was like I don't know if I want it used or not but if you want the veto.
Sheldon told her he's been hearing a lot fo sketchy stuff about Minh about her saying what Sheldon is going to do and telling people that certain houseguests are working together.
Sheldon – She was like How can I tell people what you are going to do when you don't tell me anything
Sheldon – whether it's true or not I don't care everybody is telling me stuff about you and you tell me you want to know.
Sheldon – I just walked out of the room
Sheldon – it's going to be really easy for when Rianne or someone gets pulled down. Nothing is really annoying me in this house yet where it's like I'm personally mad. She's getting pretty close and she might even be there to be honest I think she's crazy and stuff. The one thing I do believe is she wouldn't come our way.
Brooke – I think she might
Sheldon – these last few days I think the opposite.
Sheldon senses Jealousy from Minh "It's really weird and it's really weird to say out loud. She doesn't like how I don't talk game with her"
Sheldon says he's very confident if Maddy and Rianne stay they are not coming after him.
Carol joins them says that Minh is downstairs saying she heard Brooke tell Vanessa to throw the comp
Brooke – what
Carol – she just told me in the kitchen she said to Hira.
Carol asks if he has a backdoor contingency plan (hinting Minh)
Sheldon says not that he doesn't trust her he's just keeping it to himself right now
Carol – if that was your backdoor contingency plan I would be ok with it.
Carol leaves.
They talk about the teams to play the Veto. Brooke says the way the teams were put together anyone can win the veto.
Sheldon – if I'm putting her up she's leaving at it will be a favour for everybody
Sheldon says Minh is closing her eyes and throwing all the shit at the wall rapid fire.
Brooke says she wants Minh out now and Jamar but she feels they need to get Rianne out now.
They agree if it doesn't happen now she will go deep into the game.
Sheldon – you know what it is Rianne is way too smart to be a moving piece.
Sheldon – If Minh and Jams can leave pre-jury that's such a blessing
Sheldon – I can see Hira getting blindsided the first person in jury that's his spot
Sheldon – it would be beautiful if they were gone (Jams and Minh)
Brooke – they can't be in jury
Brooke says the biter people that could be in Jury are Minh, Jams and Maddy
Sheldon – and I could see Hira being biter
Sheldon – Hira was just in here talking to me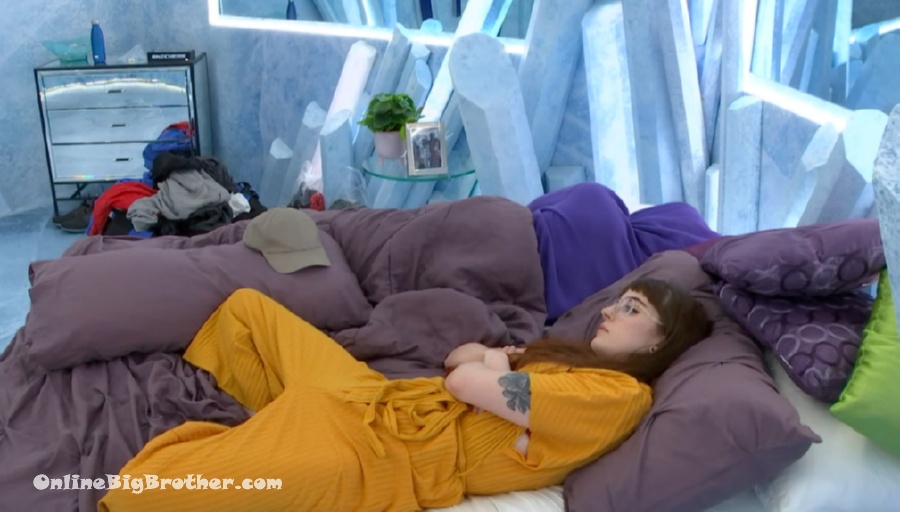 5:05 pm Brooke and Sheldon
Brooke saying Ria and Minh-ly were talking on the couch and she walked by they were silent. "F** that"
Hira joins them "Minh was acting weird again"
He mentions that Minh is saying that Brooke went to Vanessa to convince her to throw the veto
Hira – she's trying the same sh1t she always does
Brooke – that's such bullsh1t
Hira – the same stuff she's saying about you she's saying about me and whoever else. Jamar, Sue, Sheldon
Brooke says she has not spoken to Vanessa since the veto player s
Hira – so she lied about that
Brooke – she stirs sh1t. she's full out lying
Brooke says she's going to hold it inside and unleash it in the veto.
Hira says that Minh spreading lies is weird.
Hira says they're five needs to gun for the veto.
Sheldon – Vanessa cannot win. I just don't want Ming to have any power
Hira – If Minh wins Vanessa can still go up
Brooke – both people in the pair get safety but only the nominated one gets veto
Sheldon – the way I see it best case scenario she (Brooke) wins because then it's ours. I don't think we have that for any other scenario.
Hira leaves.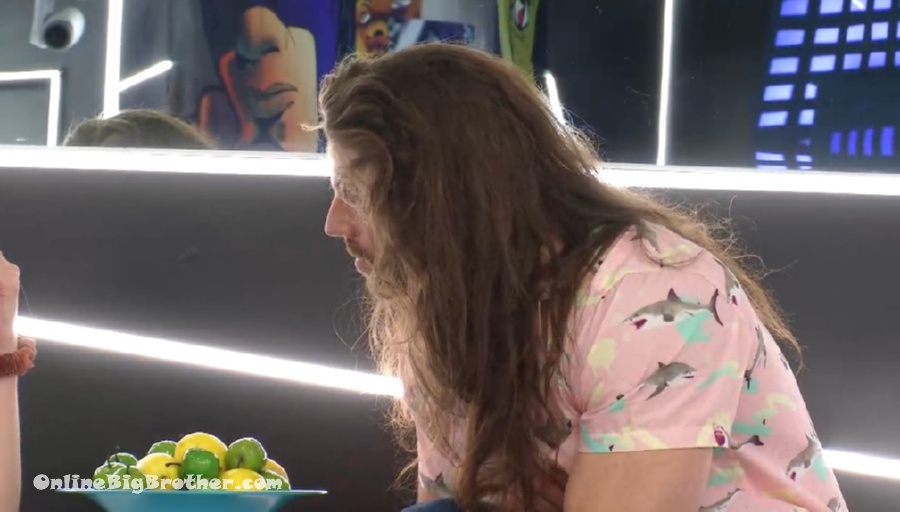 6:00 pm Kyle and Brooke
Kyle – this needs to stay between us but serious we need to get Minh out of this house she got to Vanessa. \
Kyle – Vanessa told Minh that she was told by you to throw the Veto Comp
Brooke – What!! that's where that's coming from
Kyle – trust me I'm just as shocked as you are
Brooke says Hira, JL and Carol all came up to them and said that Minh told them she said for Vanessa to throw the comp
Brooke – how did she get to Vanessa.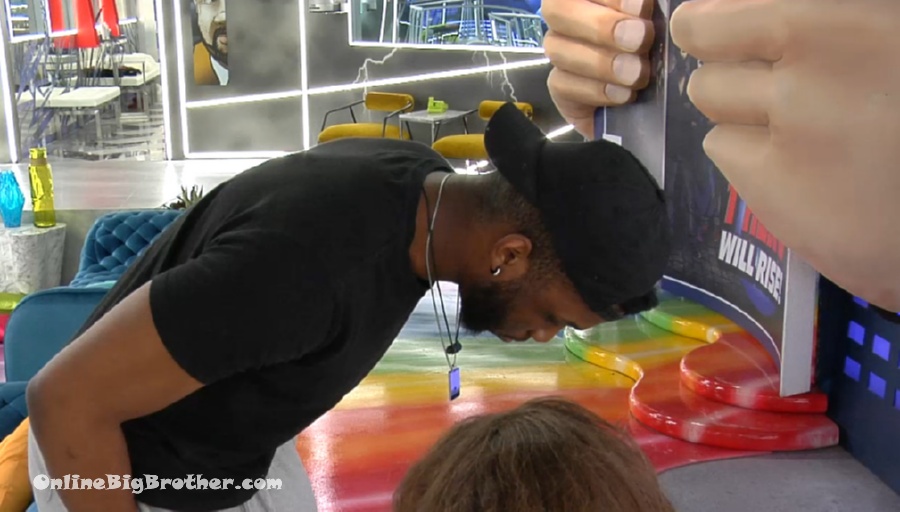 Sheldon joins them.. They fill him in.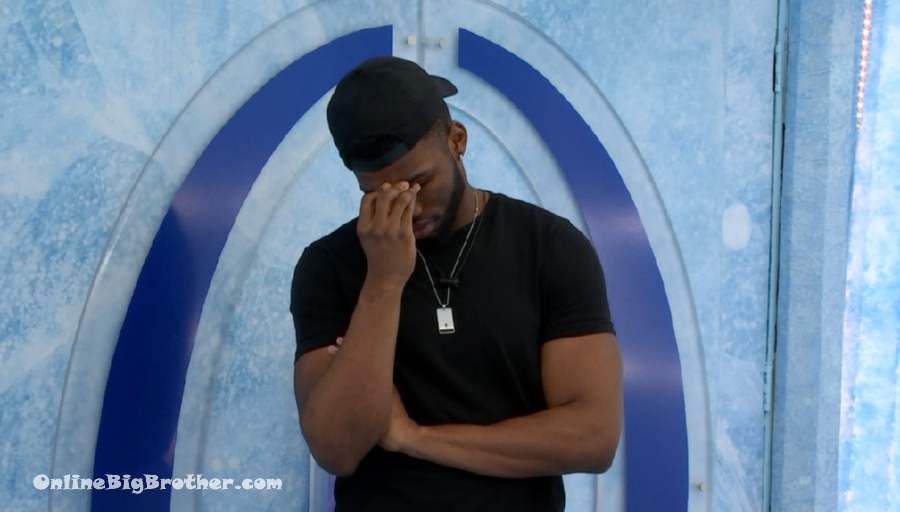 6:23 pm They pull Vanessa into the HOH
Vanessa says Minh is starting to get to people
Kyle says that all the information in the team has to stay inside the team. What Minh is doing ios spreading little pieces of information
Sheldon – no one is os grilling you
Vanessa – I feel like I'm being grilled.
Vanessa says she never told Minh that Brooke said to throw the Veto "I'm really intimidated right now.. It feels like you guys are talking to me more than usual now that shits got weird"
Kyle – what do you mean by that
Nessa – I don't know .. I never talked to her about Brooke.. I don't know it's very frustrating to me
Sheldon just wants to know what was said in the conversation so they can move forward.
Sheldon asks if he brings Minh up here right now and asks her what was said. Does Vanessa think she's going to lie to her face
Vanessa – she'll lie to my face.. this is very intimidating right now
7:00 pm Feeds down for veto maybe.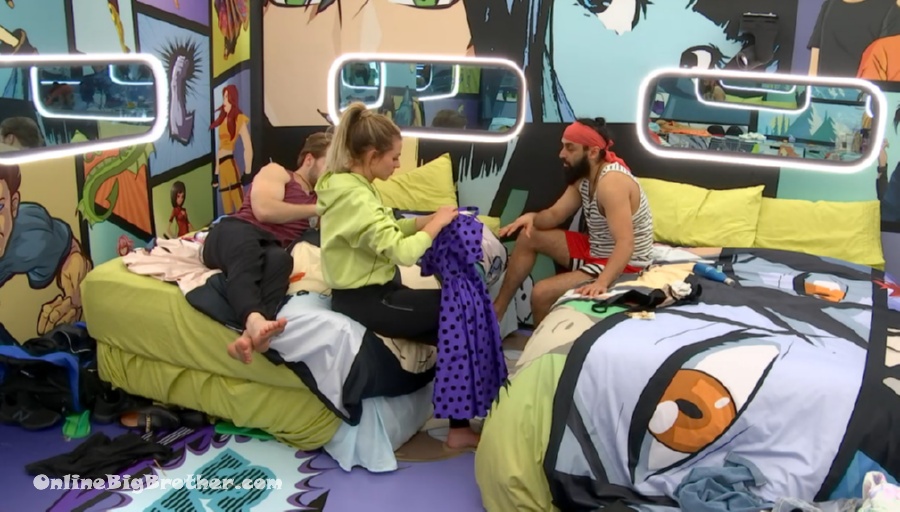 10:51 pm Feeds return Maddy wins the power of veto.
Hira, Maddy and JL talk about getting Chris on the block as a renom.