POV Holder:
?
Next POV
?
POV Used
?
POV Ceremony
?
HOH Winner:
Sabrina
Next HOH:
Next HOH is final HOH
Original Nominations:
?
Current Nominations:
?
Have Nots
None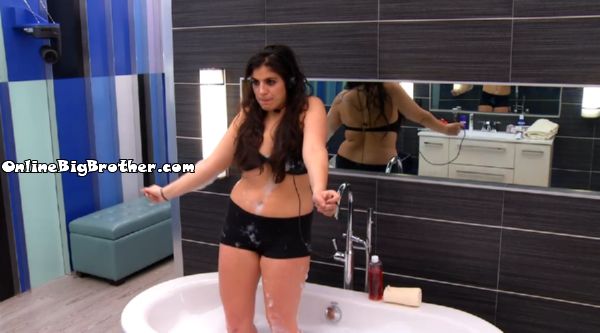 7:07pm Sabrina HOH
Dancing in the bubble bath listening to Michael Jackson. Big Brother repeatedly tells her to turn down the music.
Sabrina heads outside for a second where Heather tells her the nominations ceremony just came up on the screen. They figure that Noms tonight, POV is tomorrow morning and eviction is Sunday.
Jon says Neda is too drunk/hungover to go to the nomination ceremony. Feeds cut
(The audio was muted by Youtube do to a copyright claim. Sabrina was listening to Michael Jackson on the headphones and you could hear a bit of it..)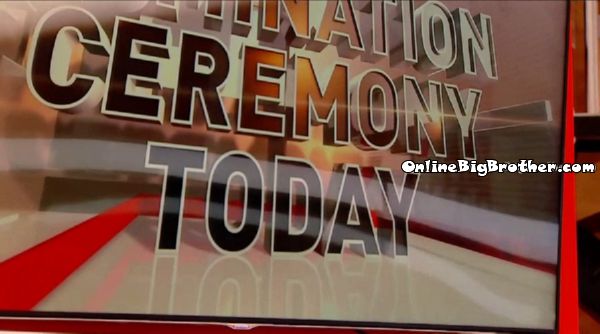 7:17pm bathroom Sabrina and Heather
game wise I don't know what is best either you or Neda. Heather wants to be honest with Sabrina san says not sure right now.
7:20pm everyone but Neda
Chatting about how their Big Brother Canada experience is coming to an end.
Sabrina – "Oh my god it's so sad"
Jon says they should go to talk to Production and find out what they should do with Neda she's way to messed up to get ready for a nomination ceremony.
Heather leaves to talk to the Diary room about Neda.
Jon tells Sabrina if he doesn't win veto he's going home it no big surprise. Sabrina doesn't think Neda would get rid of Jon. Jon says Neda made it very clear to him it's just a game.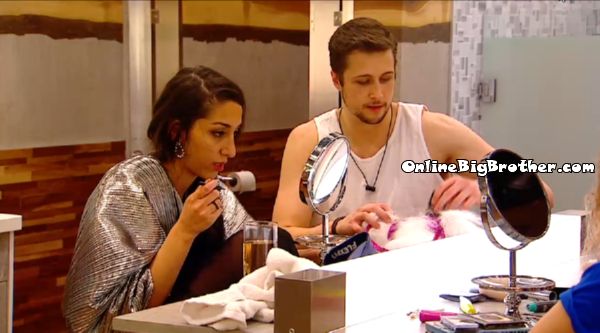 8:00pm Bathroom Neda Jon and Heather
Neda is grumpy and MEGA hungover. She tries to get ready for the Nomination ceremony but can't she goes off to the side of the room and starts dry heaving.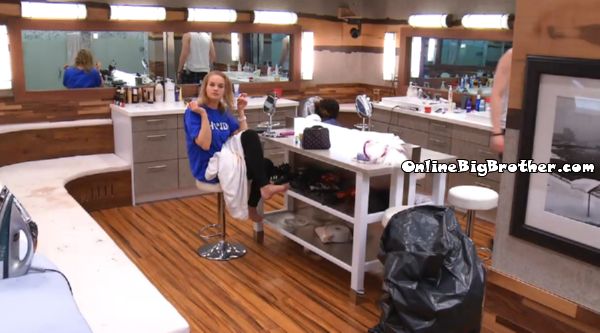 Neda slung over a bucket…
8:10pm JOn and Sabrina
Sabrina asks If Neda is OK.
Jon – "no"
Jon – "Well I guess it's ahh pretty much ahh me or Heather competing in the POV tomorrow"
Jon – "She's not going to be in the state to do anything"
8:15pm Sabrina in HOH
Sabrina going over her nomination speech.
Sounds like Heather and Jon are going up.
(They were given a 1 hour warning)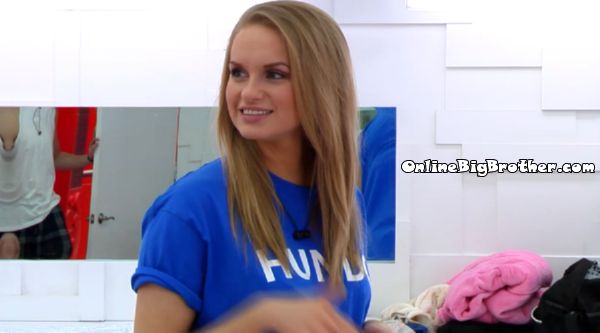 8:40pm Sabrina and Heather
Sabrian going over her nomination speech says she's nominated Jon and heather.
Jon comes in asks Heather to go look after Neda. Heather leaves and Sabrina does the Nomination speech with Jon.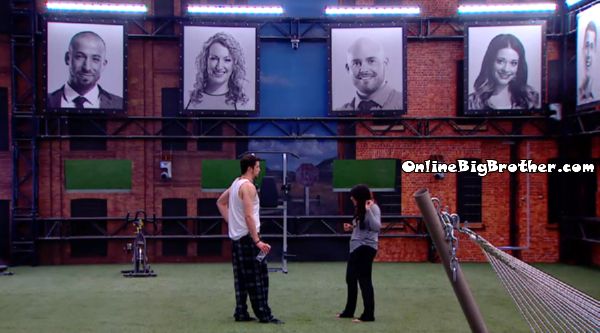 8:46pm
Nomination ceremony almost time. Sabrina and JOn talk about the house guests that have left.
Jon – "I'm going to wreck my girlfriend when I get home"
Sabrina – "Oh my god I'm coming to the NEwfoundland airport to hear the noises"
(Neda still slung over a bucket but apparently she now has her onesie on)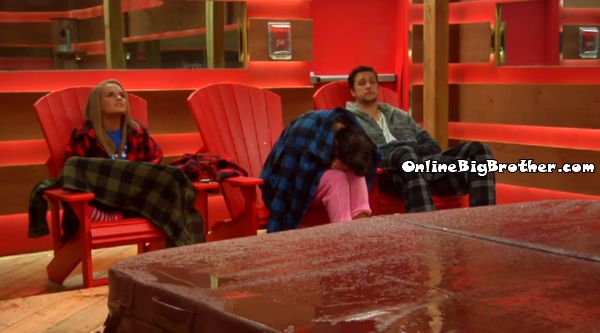 9:07pm Hot tub Neda is free from the bucket but still a hurting
Jon asks her how she's doing.
Neda – "Decent"
JOn – "Ready for the noms ceremony"
Neda – "Nope"
Neda had two glasses of champagne.
incase you missed it more dancing from Sabrian before nominations
[polldaddy poll=8014722]