POV Holder:
?
Next POV
?
POV Used
?
POV Ceremony
?
HOH Winner:
Sabrina
Next HOH:
Next HOH is final HOH
Original Nominations:
?
Current Nominations:
?
Have Nots
None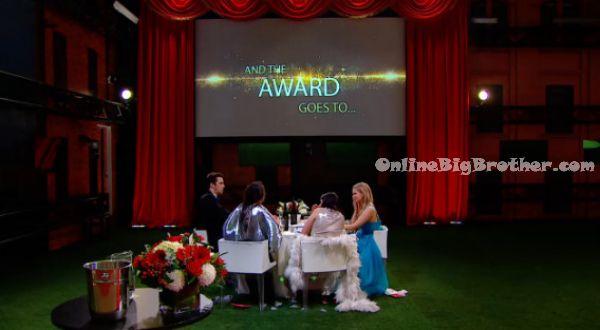 Big Brother Canada 2 Awards Show:
Best Style? – Humping and Fist Pumping, Duck Face or Arlie's Bits?
Best Crying? – Sabrina Vs Sabrina
Best Dance? – Anick? Paul? Allison & Jon?
Best Fight? – Ika & Sabrina? Ika shredding letters? Paul Jackson calling Andrew sexist/racist?
Best BFF Moment? – Kenny & Sarah? Adel & Kyle? Jon & Neda?

1:20pm – 5pm Big Brother blocks the live feeds for the house guests & special guest BBCAN1 Gary Levy to take part in and watch the Big Brother Canada Awards show in the backyard. When the live feeds return – The house guests are sitting in the backyard eating dinner at a table with a large big screen behind them with And The AWARD goes to… Jon comments on how he never really cared about the show prior to coming on the show. Heather says that she is very grateful for everything that has happened up until now. She thanks every one behind the scenes and in front of the scenes. This is the best experience of my life. They all tell each other about how much they mean to each other. Heather tells Jon that she loves him and always wanted a brother and now has one. Jon tells them that he loves them like sisters. He tells Sabrina that at first he didn't like her but he does now. Jon opens up his jacket and whispers into his mic to tell Big Brother that they need more alcohol.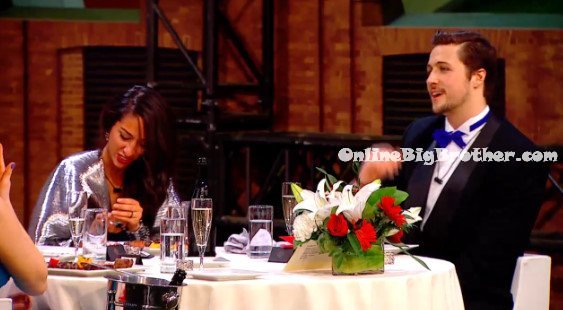 5:25pm Big Brother blocks the live feeds again ..
5:30pm – 5:40pm The live feeds return and the house guests are in the HOH room. Neda asks why they're on an HOH lock down. Sabrina says so they can take it all down. Jon comments on how Kenny and him were the "Newfie Bullets".. Sabrina says that Kenny said it was you and Allison. Jon says nope it was me and him. Jon says that we would all be in a group together and Kenny would make shooting sounds and Jon would just laugh at how no one knew what it was about. Neda seems pretty drunk. (Heather isn't in the HOH room because she isn't allowed in there until Monday.) Jon and Neda both don't even remember their BFF moment with the camera and say there were a million other better moments they could have picked. Jon comments on how Heather wasn't in one category at all! Neda says oh yeah that's right.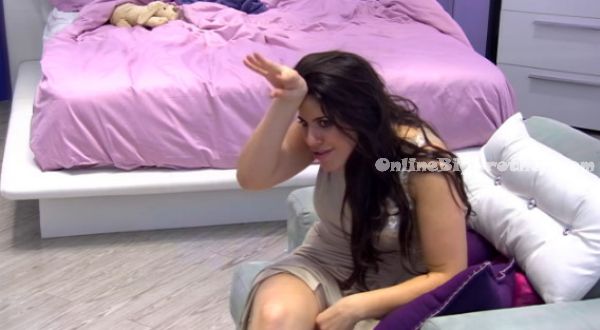 5:50pm – 6pm
Neda tells them about how he never knew about her situation of where she came from until Adel told him about it. Neda explains that she hates when think they deserve it for where they came from rather than because of their game play. Neda starts to cry and Sabrina and Jon console her. Big Brother lets them out of the HOH room. Jon heads into the storage room and says F**K I should have kept more dudes! He says I weight more than all these girls. We need more alcohol. Heather comes out of the diary room and Jon calls her "SL*T-ERELLA"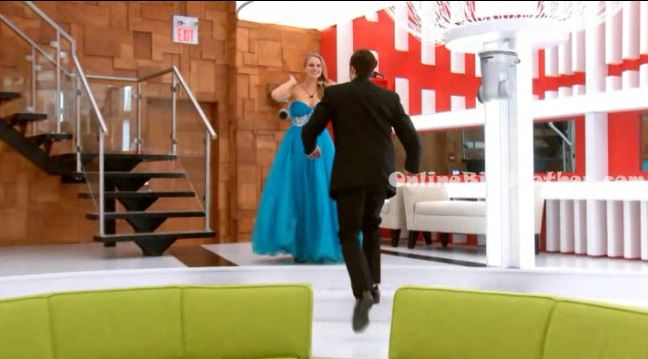 6pm – 6:25pm Big Brother blocks the feeds again.. The live feeds come back on cams 1 & 2 with Heather eating a nutella snack. Jon joins her and starts complaining about how there's no more alcohol. He says there's 3 girls under 160lbs that are drunk and he weight 240lbs and isn't drunk. Heather then goes and gets a banana, cookies and peanut butter ice cream..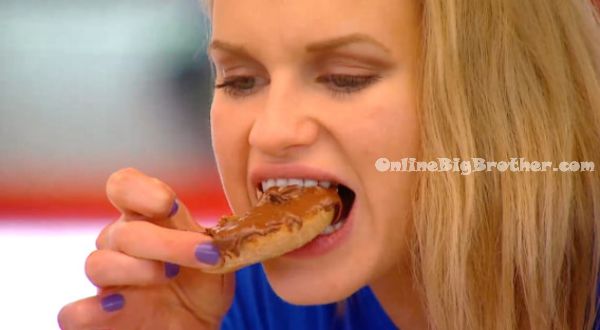 6:30pm Heather brings Neda a glass of water and a puke bucket because Neda had a little too much to drink at the Awards …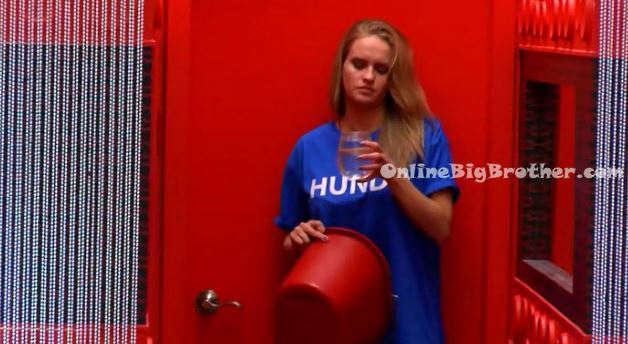 6:35pm Big Brother blocks the live feeds again ..
[polldaddy poll=8014722]
If you're interested in making a donation to show your support, we would appreciate it as Simon and I work 24/7 all season long. Donations go directly to paying the fees required to run this site. Any amount is greatly appreciated! Thank you!