POV Holder:
?
Next POV
?
POV Used
?
POV Ceremony
?
HOH Winner:
Sabrina
Next HOH:
Next HOH is final HOH
Original Nominations:
Jon and Heather
Current Nominations:
Jon and Heather
Have Nots
None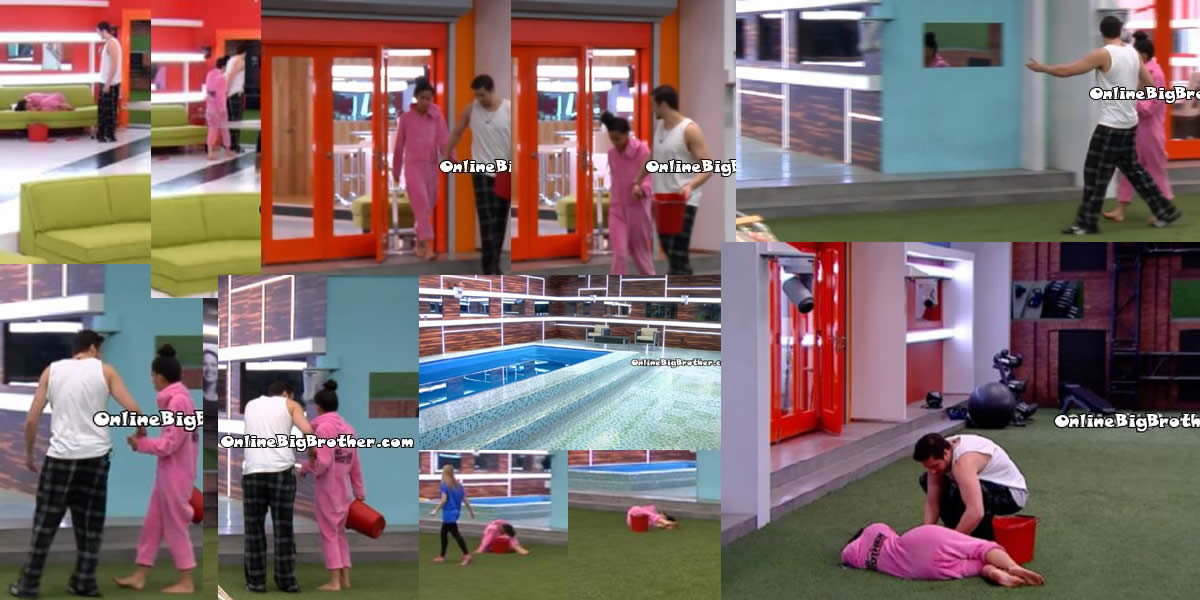 9:10pm
Jon finds that Big Brother has removed everything out of the pool room. He quickly runs in the house to grab Neda The puke bucket, and Heather.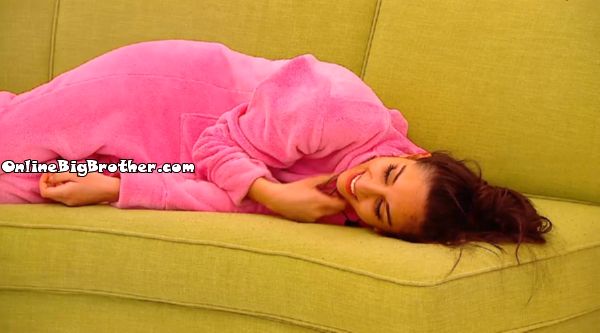 10:04pm
Neda back up and talking
Neda "I'm not drunk I'm tired"
Jon – "You went drunk then absolutely f** than drunk again"
10:19pm Sabrina called into the Diary room. She comes out tells everyone nominations in 5 minutes. Neda Stumbles up to the bedroom to get ready.
10:26pm Feeds cut Nomination Ceremony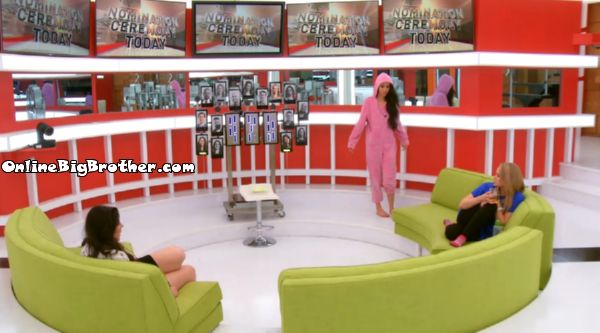 11:47pm Feeds back
Heather and Jon nominated for Eviction.
Heather asks them if they are aiming for the three of them in the final 3. Sabrina says yes.
Sabrina says she didn't put up Neda because in the case where she won the VEto she didn't want NEda to have to make the painful choice of sending Jon home.
They start speculating about the POwer of Veto competition tomorrow. Sabrina thinks it will happen 5 hours after they wake up tomorrow.
Heather – "Tomorrow is someone's last day in the house"
Sabrina – "Tomorrow we have to enjoy the day no matter what"
Jon's out of the Diary Room.
Neda gets called into the Diary room, Neda – "I apologize for the puke stains"
JOn is super excited for tomorrow can't wait "I wonder what iut's going to be Hundo HUGE"
Heather "Hundo HUGE"
Jon "Hundo is HUGE"
Jon – "Hundo"
Jon – "Yup Hundo"
Heather – "Hundo"
Jon tells them if the veto is prizes they should just take all the prizes and he'll grab the veto.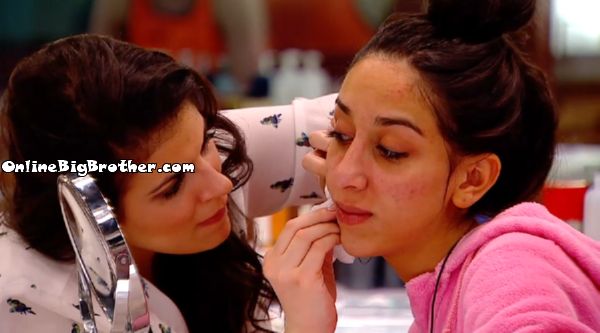 12:00AM Bathroom Neda and Sabrina
Speculating about what the "20 million:" on the screens was about. They think it might be Canada has the veto. Jon joins them. They start wondering about what the Power of Veto competition will be. Neda says it could be anything, endurance or even that "Stupid Egge competition that peter lost".
Sabrina start picking at Neda's whiteHeads. Jon say it's gross and goes to bed.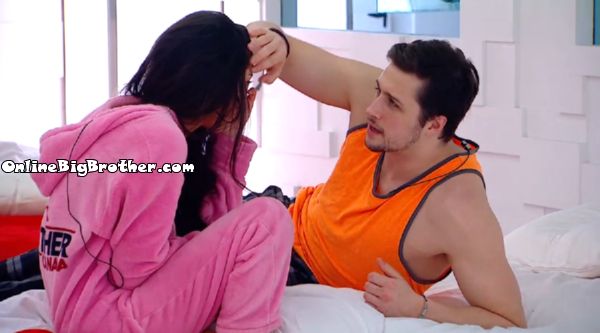 12:17am Bedroom Jon and Neda
Neda says she was crabby at Jon because she was drunk and puking she doesn't like people around her when she's like that. Neda – "It's embarrassing"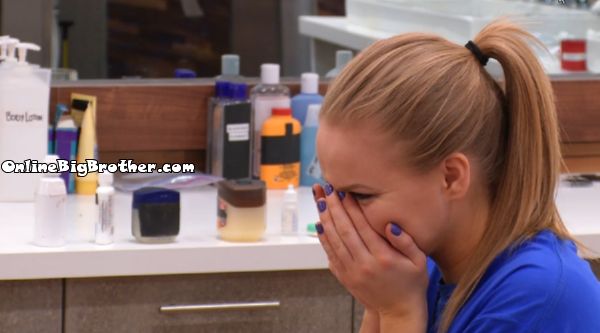 12:18AM Heather and Sabrina Bathroom
Sabrina telling Heather she doesn't have the jury votes to win this game regardless of who she is up against.
Sabrina – "Can I ask you a question"
Heather – "Someone screaming"
(It's Neda and Jon joking around in the bedroom)
THey agree if JOn wins HOH he's taking Neda.
Sabrina wonders if Neda will evict Jon if she wins.
Heather – "I think she will"
Neda joins them. Sabrina says they are all worried about Neda if the POV isn't used.
Sabrina says Neda's head was in the toilet bowel.. "Not the whole thing just a couple strands"
Neda says she would take out Jon if nominations would stay the same.
Neda – "It's a game"
Sabrina asks if Jon wins what happens.
Heather – "I go home"
Neda – "It comes down to being 3 to 1 odds"
Heather – "I have a feeling it a thing with luck on your hands but you are fighting"
Neda – "you think it's going to be super physical"
Heather – "No"
Neda comments on how her parents are probably embarrassed by her, "They blocked the feeds when Talla was drunk.. "

(Video coming)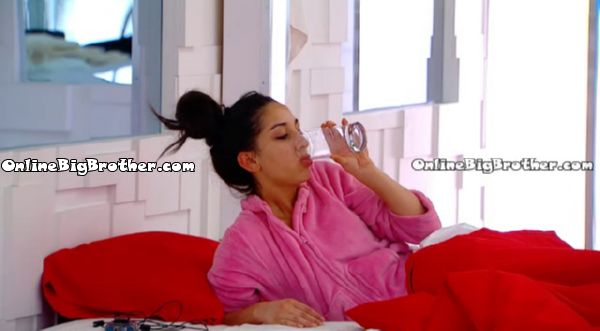 8:42pm NEda getting up a bit thirsty
[polldaddy poll=8014722]