| | | | |
| --- | --- | --- | --- |
| POV: | ? | HOH | Angela |
| POV Used | ? | Noms: | ?? |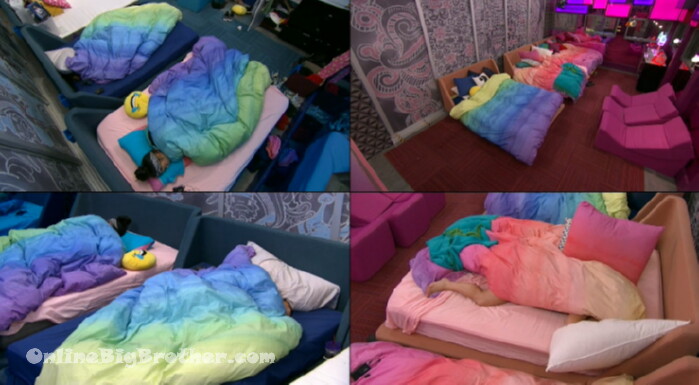 9:18am Lights on..
9:34am .. Sam and Angela are up.
9:49am Kaycee and Sam talking about how quiet it is now that Brett is gone. Sam mentions that JC won't be up until at least 3.
Sam – maybe we'll get a puppy now
Sam says Kaycee, tyler and Angela are the three that talk the least out of the entire cast.
Kaycee wonders if JC will still be "rambunctious"
Sam doesn't think so.
kaycee – he has no one to really pick.. (Brett and Haleigh gone)
Sam – he's going to pick on me now
Kaycee – he knows he can only pick on you so much.. he can whip haleigh's hair, poke her mole ..
Sam – I'll pick him up and give him a swirly.. his head will be in the toilet
Kaycee – he can pick Brett's nipples you know do all this crazy sh1t..
Sam – JC, one time out in the pool whistled and clicked at me like I was a dog. I would have liked to have thrown him across the f*ing yard ..
Sam – but I love him I do.. I don't know what to do to cheer him up he's in a very low place.. if he gets sleep today maybe he'll be better..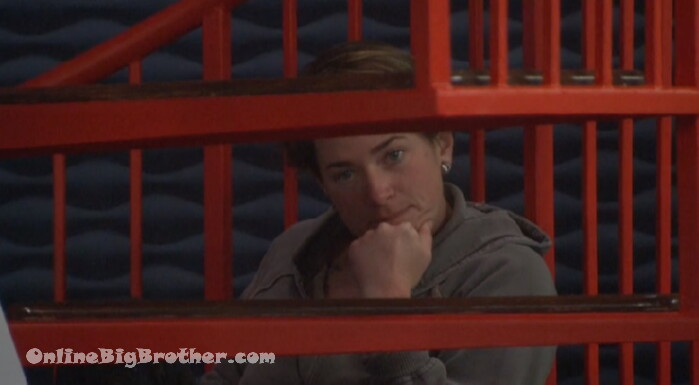 11:51am for the last couple hours it's been random storied aka putting in jury vote time with Sam.
Angela spends most of the time in the HOH watching.
12:41pm Kaycee constructing the bun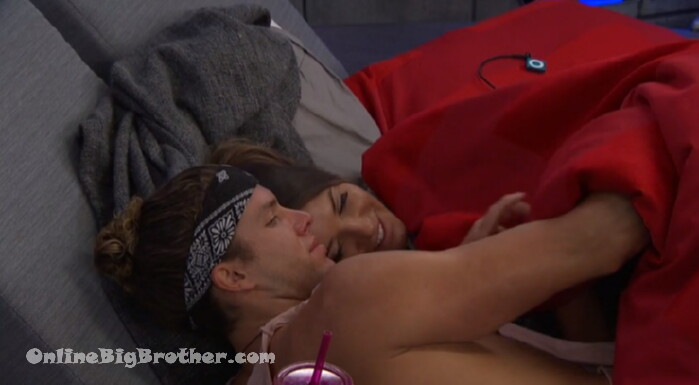 12:43pm Angela and Tyler
Angela says she had the "dreaded appointment" last night
T – did you get red face
A – mmmmmhhhhmmmm
(talking about the showmance in the Diary rooM)
Tyler- the world knows.. they probably already knew before we even knew..
A – you're probably right
T – it's just a matter of time
T – it's crazy.. is this real life..
Tyler- the most perfect girl in the entire world comes in and you expect me not to do anything
A – ohh hush
They bring up the only 2 people left in the house that knew about their showmance left yesterday.
Angela – I can't get why Brett thought he could tear that apart.. how dumb are you
T – unless it was part of his plan to get me out.. maybe he was going to do the exact same thing to me just the opposite..
A – either way he was working with himself..
Angela says she talked to JC last night, "he just acted oblivious.. he didn't really say anything.. he knows h'es going up and he knows he's the pawn"
T – he's so mad.. he's so pissed.. (Mad that Tyler put him up)
A – you really think he's that mad at you
T – he is so bad
A – I don't know..
Angela says JC has been on the block 10 minutes total
T – and he almost lost his mind
Tyler – we just need to make sure kaycee doesn't fine out
A – about us.. yeah.. i think she has an idea but isn't sure
T – even if she did ..
Tyler doesn't think it would jeopardize their final 3
T – Peanut
A – peanut
Tyler- Lifes good..
Angela – Life is good
They talk about Sam "cussing" about Angela during the double. Tyler again saying how bad it was he had to tell her to stop.. adds that moments after Sam left kaycee stomped in "lets f*ing go Let's f*ing do this"
T – I'm like Okay this sin't going to get aired..
Tyler is looking forward to seeing what the fans thought, "I want to watch the first few episode" (right away)
T – you're the only person I remember when we first walked in
A – really.. awww..
Angela ays she feels like she knows so much about him yet they know so little about their day to day life.. "you don't even know the world I live in.. I know you so well yet there;s so much .. I don't know.. "
A – usually when you are this close to someone you know everything about them there's still so much you have no idea outside of this what my real life looks like outside of this house.
Tyler points out how that's flipped with what normally happens. "usually you just know the basic outline.. "
T – we got to know each other first then we get to know the details
Angela thinks that's the better way because you don't have all the day to day bullsh1t clogging you mind.
Angela – that's what the problem is with LA.. all the extra bullshit. you never really know who people are because they are hiding behind a facade of their material things and all their other sh1t. Drives me nuts
T- and their status, what they do
A – all you have in this house is yourself
T – you can't hide..
Angela- I'm not a robot any more.. I feel things now.. I was just numb to everything
A – I was indifferent to everything.. I don't really care I never really had an opinion
T – I literally watched you change into that
Angela – you watched me grow a heart
T – I knew it was in there
A – Defrosted it.. melted the ice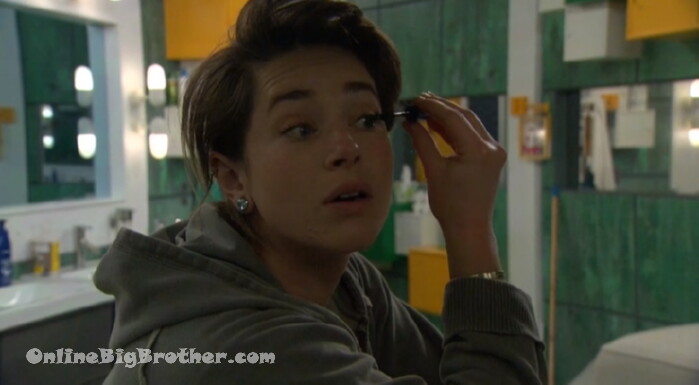 2:03pm Sam and JC
Sam – I miss Rockstar today for some reason.. she was fun at least for me..
Sam – where are all the people in this house
JC leaves..
Sam talks to us about what she plans on cleaning in the house today. She won't take a shower until after.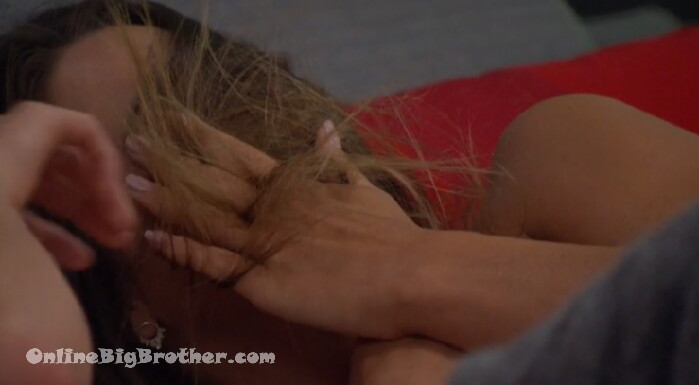 2:09pm Tyler tells us Angela's hair smells like grape soda, "Tangela updates"
2:38pm Feeds cut to reruns.. nominations..
Feeds still down 4:38pm
6:26pm Still not back yet.
7pm Still nothing..
7:50pm The feeds are still show BB re-runs..
8:32pm Still blocked..
If you enjoyed the content this season please consider a donation.