Quick Big Brother Spoilers
Head of Household: Jared
Nominees: Corey and America
POV Players: ??????
POV Winner: ?
Veto Ceremony: ?
Havenots: ?
Lock your ranks in before midnight
The situation Veto Baby..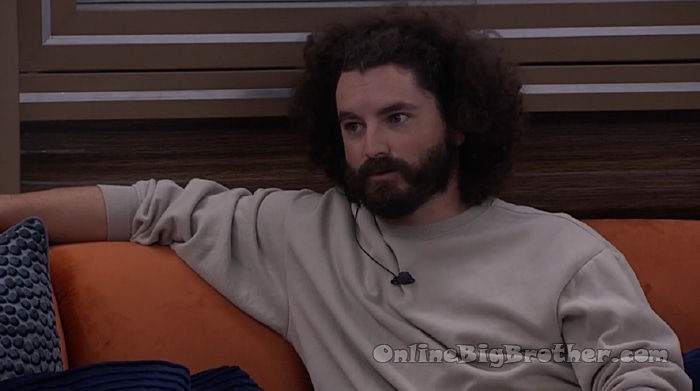 1:11 pm Cameron and Jared
Cameron swears he will not put Jared or Blue up next week. No Backdoor.
Cam – When I make a f***ing deal it's a deal and that's the only thing I have to offer and I'm not going to appeal to your sympathy side. You don't f** with that.
Cameron says if he stays this week he will do everything he can to make sure that the three of them (Blue/jared/Cam) make it to Jury.
1:20 pm Blue and America
America – It really is just Cirie, She's the expert game player she's done this before.
Blue – she's a really good gameplayer.
America – her and maybe Felicia are in his ear. I know he values Cirie a lot
Blue – Especially now with Izzy gone
America – I know Cirie is PISSED that was her number one.
Blue – for Jared I believe Izzy was (number 1)
America – He'll try and take them as far as he can he knows they aren't going to cut him and they know he can win competitions for them and he knows he can beat them when it comes to the end.
Blue – that's what I am trying to figure out where in his hierarchy do I fall. A few weeks ago I didn't feel like I was his number one when I was on the block Which is fine he wasn't my number 1 either I was sitting next to my number 1.
Blue says she felt for jared is was Izzy, Cirie, Her, Felicia "Corey somewhere there too maybe Corey then Felicia"
America says right now she feels closest to Blue, Matt, Jag and Corey
Blue – yeah for sure you are all who I feel closest too.
Blue about Jared "I obviously like the guy.. right. When yesterday happened I was ready to drop him.. easy, that was fine by me didn't really care too much."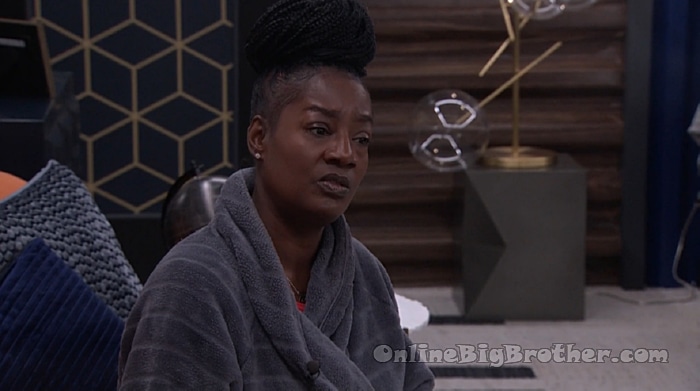 2:05 pm Jared and Cirie
Talking through his One on ones this is a long conversation I only captured a bit.
Jared says MEME really wants to rock with Cirie.
Jared says Cameron told him "I need to make it to Jury like I have to financially he was swarming.. Deals, Promises"
Cirie – GOOD MOTHER F***ER.. Make the deal with im for you.
Jared – I said to him I can't make no deals but I won't put you up.
They have a drink.
Cirie to Jared – I love you so much I love you so much
Jared says Jag made a promise to him that he won't put anyone in the 6 up
Cirie – Ok, Which means he might continue to throw it.
Jared – the only people I am worried about
Cirie says Bowie Jane is trying to do something between her, Matt and Jared "I don't know if that's a smart thing You don't want her telling anybody anything"
Cirie – Maybe me, You and Matt can do something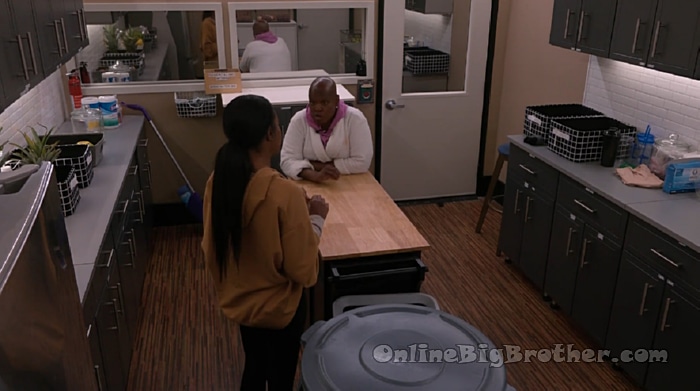 2:10 pm Felicia and MEME
Felicia – Cirie was so worried about being backdoored that she convinced Jared to not take me off the block. When he won that Veto I was so excited because he had already said I got you I got you I got you. He was willing to let me go home.
MEME – mmmhmmmmmm
Felicia – I sit and I watch people and I watch Behaviour change. You're the only one where your behaviour stayed the same so I knew it wasn't you.
Felicia – A couple times now people have had conversations with me and cirie and she's felt to come to me and tell me if you heard this it's a lie. That right there tells me some of what they are saying is true
MEME – mmmhmmmmm
Felicia – you wouldn't feel the need to come and make me understand it's a lie.
MMEMEM – MMMMMmhmmmmmmeme
They agree to a final 2.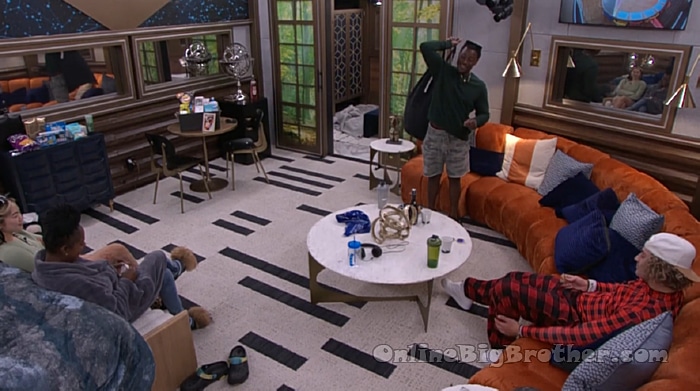 2:40 pm Cirie, Matt,Blue and Jared
They form an alliance (A barf Alliance)
Matt – I've seen you on survivor I know you are a badass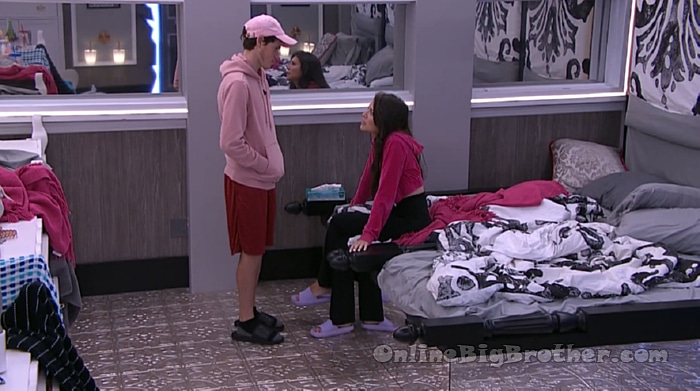 2:44 pm America and Corey
America says she feel closer to Blue than Jag and Matt. She thinks if Blue wins Veto she'll take her down.
America – do you think there is a chance they wouldn't use it?
Corey – I trust Jag and Matt the most
America – I do too
Corey – right now I'll pick Jag but I could pick Matt. (For veto)
Corey says if they pick cam and he wins takes America off corey will get voted out.
Corey – if Cameron is off the block we have his vote.
2:50 pm pound.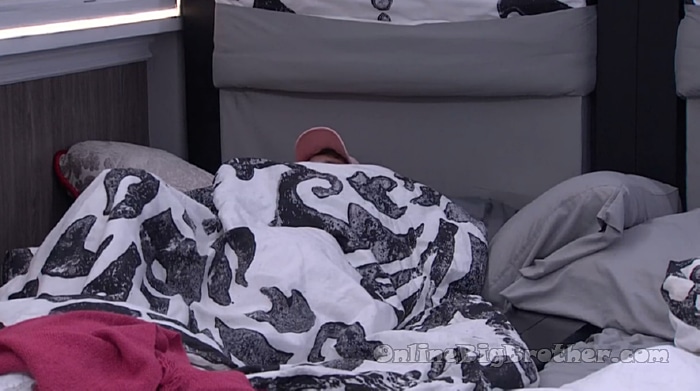 4:00 pm COrey and America
Corey – it's me
America – no it's me.
Corey – there's only one scenario where we are f***ed Jared wins and has been bullshitting everyone. Including Matt and Jag.
Corey – if anyone else wins we're good.
America – i'm going to start campaigning Immediately
They laugh
Cameron comes by
Corey – Personally I am thrilled
Cam – Yeah I can tell
Cam – so this is what it's like to not see your picture on the TV
Corey – is this your first time
Cam – literally
Corey – that's very funny the funny thing about hat is you are safe for the week (huh?)
Corey – you know what your job is? to make sure you are up against Jag that Blue will vote to keep you. that's your job this week
America – I know they have reconnected and now they are best buddies. like…
Corey – you can be closer to her..
America – I can try
Corey – you're a girl
They kiss.
COrey says if it's America and Jag She would survive if it's him and Jag it's a coin flip. "60-40 chance.. I think it's doable"
Corey – there's very few scenarios where noms stay the same. The only thing I can see is Cameron or jared (Not using Veto)
Corey – I trust that Jag and MAtt will use it, I trust that Blue will use it, I trust that Bowie will use it, I trust that F***ing MEME will use it, I'm worried about Cirie and Felicia right now.
America – isn't this harder?
Corey – which one?
America – Being on the block
Corey – look I'm fine..
America – I'm not.. I'm am so angry.
COrey – you know what I think our mistake was? Dropping form the wall. I just thought If I fell it would be okay and Me and Jared have a final 2.
Corey – here's the truth if we didn't make this move you would be on the block anyways. I would not be for sure. YOu would have.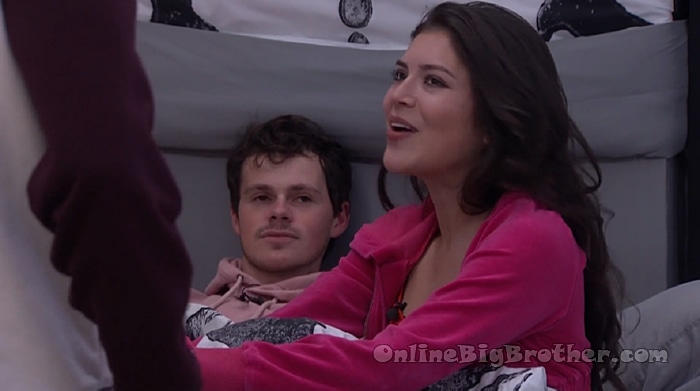 4:35 pm Jag joins them.
Jag – if you get houseguest choice who do you choose? Me?
America – My first choice would be Blue
Jag – whoever gets Houseguest choice first choose me.
Corey – I'll pick you and if you are already picked I'll choose Matt.
Jag says for one of them to leave this week Cam needs to be chosen for veto and he has to win "For this to be f**ed everything has to fall in line"
Corey – If Jared wins he'll keep it the same. that's the other possibility
Jag – I don't think he'll do that.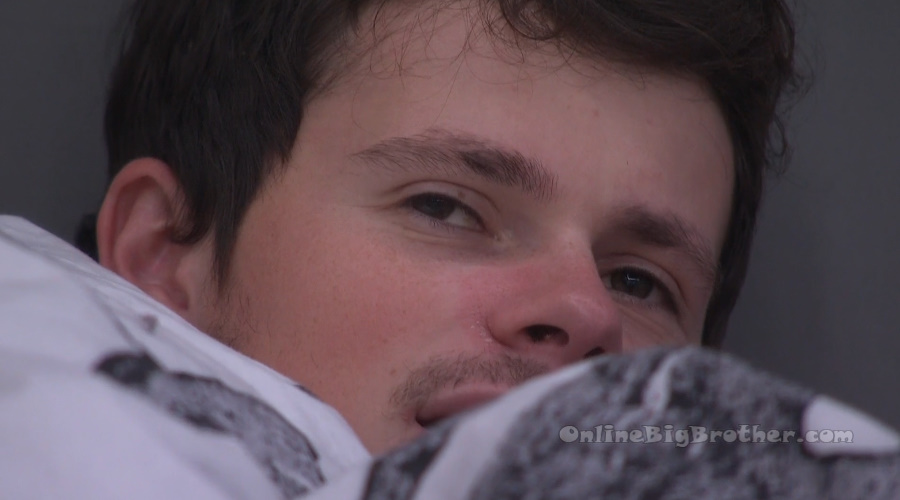 5pm Bedroom – America and Cory.
Cory – the worst part of yesterday was Jag walking around with sunglasses on all day. America – he looked so sketching and in the robe too. He f**king did it. I was so mean to him too. I think I said something like oh you didn't say anything!? And he was like I think Cirie knows. And I was like how would she know? And she said something about Bowie Jane asking the vote not going a certain way. Cory – so it was Bowie that set this whole thing off. America – but at the time I thought it was him blaming it on Bowie and I was like are you sure you didn't say anything. Bowie insinuated to Cirie that maybe the votes won't go the way that she thought. So Cirie asked Jag if anything had changed so that she could be on the right side of the votes. Bowie just can't hide her emotions.
5:10pm – 6:25pm In the living room – Meme, Jag, Cam, Matt, Felicia and Bowie
They're playing word games.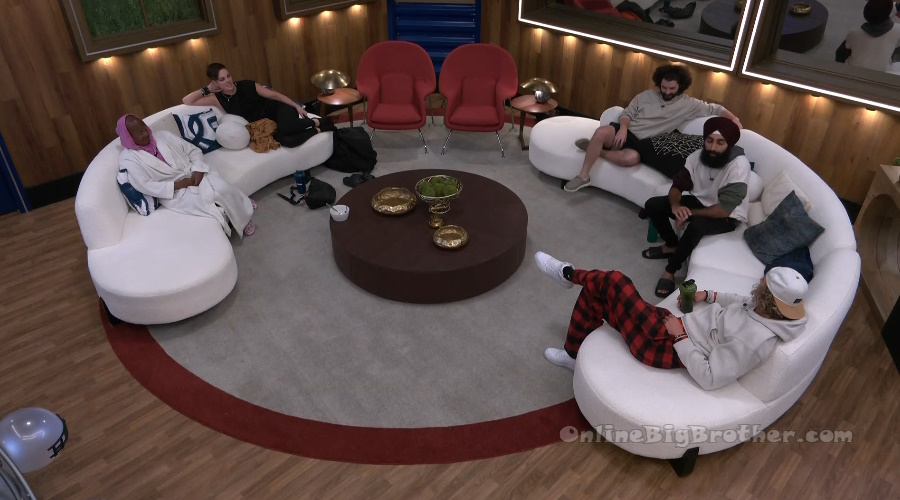 Without your support this site and these spoilers wouldn't be possible.
Please consider a donation to keep the madness going.