Quick Big Brother Spoilers
Head of Household: Jared
Nominees: Cory & America
POV Players: ??????
POV Winner: ?
Veto Ceremony: ?
Havenots: ?
Lock your ranks in before midnight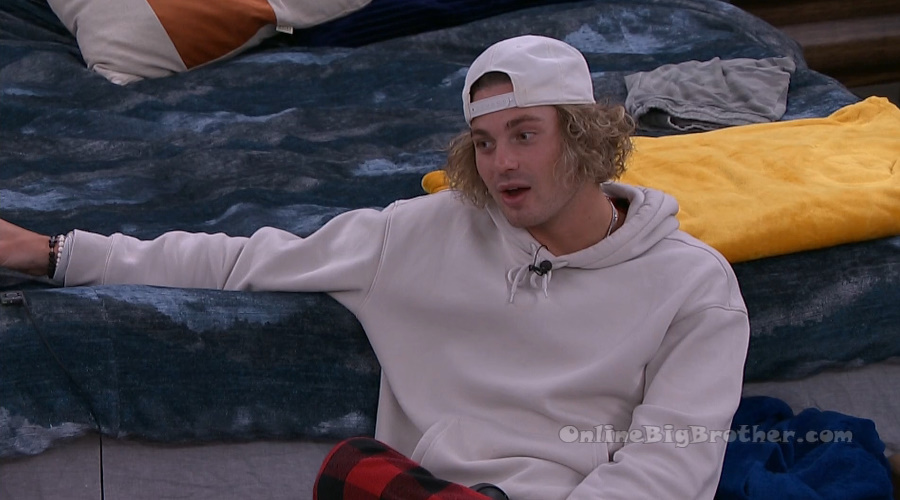 7:14pm HOH room – Matt and Cirie
Matt – everyone knows that Cam is the main target but.. Cirie – what if he gets picked and wins the veto. Matt – that's what I'm saying then they (Cory and America) have to campaign. Who would you pick? I don't even know. Cirie – that's a toss up. Matt – I think America is scarier than Cory. Cirie – yeah .. but I think Cory would be out for revenge.. Matt – Oh he will.. but America will the same way though. Cirie – right. Matt – and we didn't put them on the block. If America goes Cory will definitely come for revenge. Cirie – yeah you're right. Matt – but he hasn't won anything so.. Cirie – I think for the votes Bowie Jane would probably evict America. Jag would keep America. She would have Jag and Blue. Matt – I feel like Meme doesn't have a preference. I never see those two talking. Cirie – oh I do. And then that would leave me, you and Felicia. Matt – I think they're just sneaking by. What is scaring me is that America thought it would be jury so she was like I am ready to make a big move.. I'm ready to cause drama. She was like I want to play the game. She said its too boring in the house. I thought those are some dangerous words to say right now. And that is why I say she is scary because she is saying things like that. Cirie – yeah. Cory is not thinking that way. Matt – so she would target us. Cirie – absolutely. Matt – she wants to cause a little drama. Cirie – she will probably just put me up I'm sure. I am sure. Probably me and one of you guys. Matt – she (America) told Blue that she would put me up. Then I asked her and she said that Blue said it. Cirie – she always lies! Is that what she said? Matt – yeah. Cirie – f**k! Matt – Ideally if I was HOH.. next week .. and you know who (Cam) goes home this week and in a perfect work those two (Cory and America) go back up.. Cirie – yeah. Matt – and I wouldn't need a backdoor or anything I would be like you two and whoever win or if none of you win then campaign. They're both superfans. They know what to expect. Matt – when we were arguing about all these alliances I was like I got two. Cirie – Everyone in here has more than one alliance. That is why I said we live on the hill of hypocrisy. Like everybody is saying oh you did this .. but didn't you do this, this and this!? Hypocrites!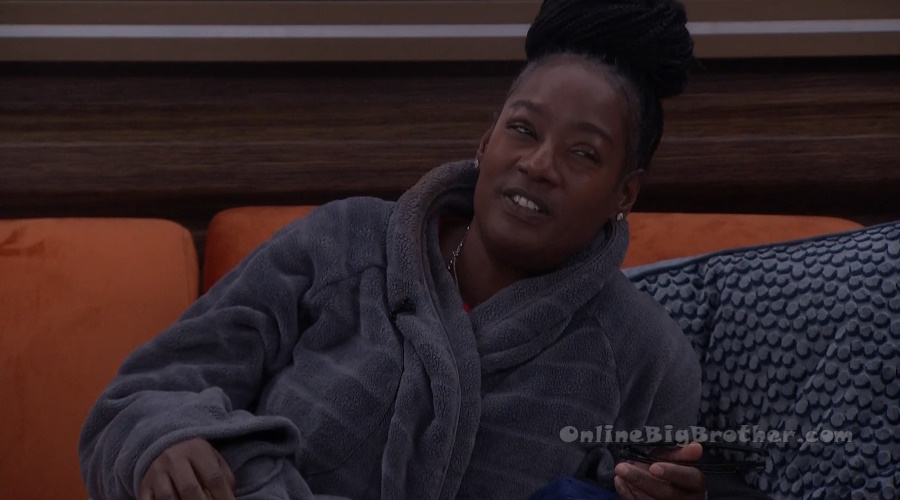 7:35pm – 8:15pm HOH room – Blue, Matt and Cirie.
Blue – the energy is pretty good downstairs. Cirie – Much better I think. Its a little lighter. Even with Cam it is deferent. Jared joins them. Jared and Blue head back downstairs. Matt – Cam said to America if you get pick for Veto I would love to play for you. Of course he would. Cirie – I bet he would. She be crazy, she might do it. Matt – I asked ..would you do it and she said hell no. But if he really wants to win, I could win and take you off. Cirie – but then everybody will be mad. Matt – true, yeah if she does that it would put a target on her next like big time. Jared comes back.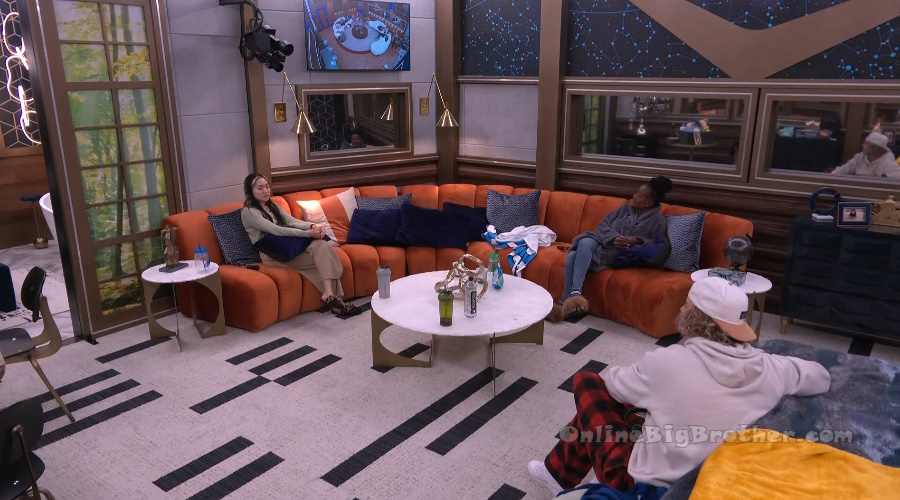 8:37pm Bedroom – America and Cory
America – F**k Jared. F**k his followers. Cory – I am trying my best to be nice. America – I know, you are. Cory – once the veto is over we will know what we have to do. America – I know I am trying my best to have a good time. I am just sad. Cory – I know.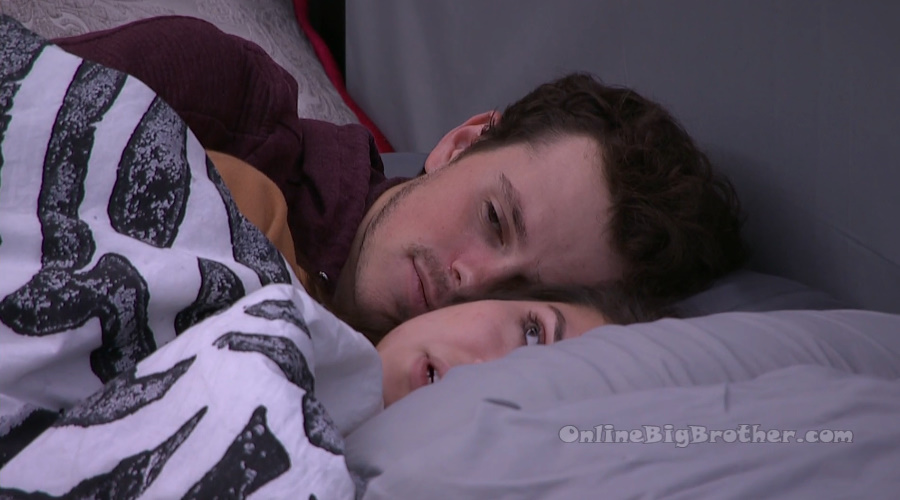 8:45pm – 9:04pm HOH room – Jared and Felicia.
Jared – Bowie is a spy. Felicia – Bowie is a SNAKE! But she swears she is not aligned with Cameron. Jared – she just don't want to be left out of nothing. Felicia – she just wants to be in the loop some how someway. Jared – I wonder how she is outside of here. You're a grown woman you and don't know how to be around.. Felicia – she doesn't know how to just be by herself. Jared – if we can get Cameron out. Felicia – if we can get Cameron out .. oh my god. Jared – this is going to be excellent. Felicia – we shall see! Its going to get rough though when we get down to the final 6. I know I am going to be one of the first they throw out the door. Jared – oh no I think its going to be me. They're going to want to want people they can beat. That is why as soon as we get there we have to execute fast! Felicia – Right. We got to get rid of .. I ain't going to even say it. Jared – yeah I think we're on the same page. We have to protect Meme as much as possible. Out of everybody I keep hearing Meme and Bowie. Jared – if noms was to stay the same who would everyone want to go home? I would say Cory. That's why I like the noms this week because I am like sh*t which ever way it goes ya'll not a strong pair. Felicia – right. Jared – if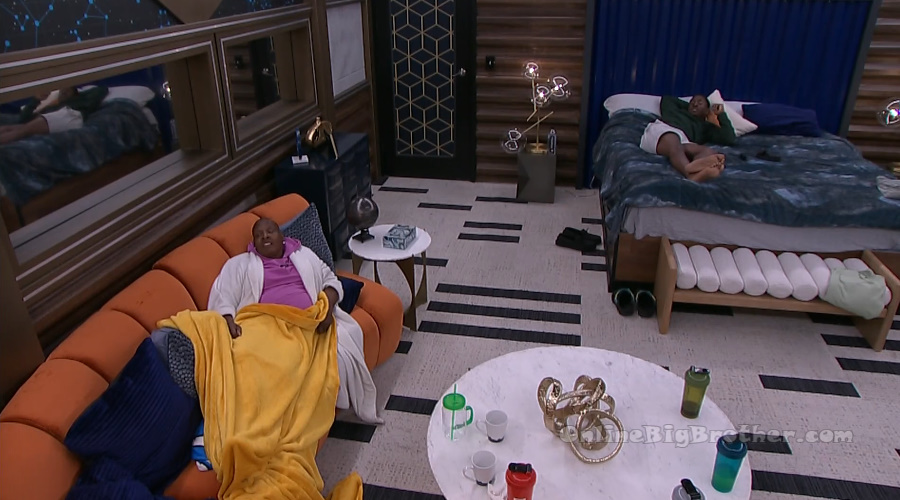 9:50pm Bathroom – America and Jag.
America – I am just thinking ahead if I stay or we both stay like what is happening because I just feel like this hasn't been the full experience that I wanted coming in here. I just feel like we've all been getting played, I've been getting played. Like this week, this last Wednesday, Thursday was the first time that we were like okay we're making a move. You know and like we had agency over what happened in the game. It was a lot of fun but then that whole blow out happened and like you know what I mean?! Like I want to take more charge in my game and what is going on, instead of having other people decide it for me. Up until now its been a lot of you're going to do this, you're going to do that. It depends on who is in power obviously. If Cory hadn't blown up it would have been me and you on the block. I really want to win. I need to win. I need to win something please! Jag – dude that would be huge. America – do you think Cory would go home if it was me and him. I feel like they would think it was a waste if they sent me home.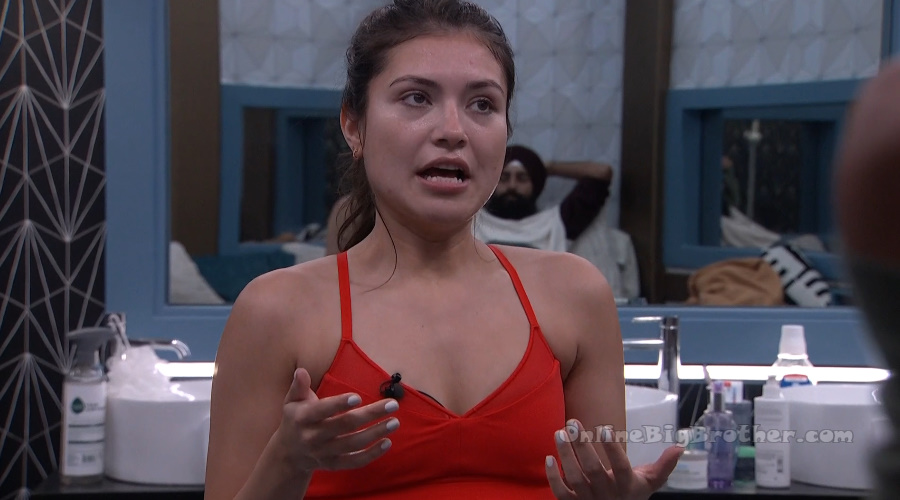 10:48pm Kitchen – Meme and Felicia.
Meme – I don't see any of these people winning next week. Felicia – girl I don't know who. I don't know who Cory would put up. I don't know who America would put up. I don't know who Cam would put up. I don't know who Bowie Jane would put up. Bowie Jane I think would be easy, she would go with the house. I think right now she really feels aligned with Cirie and Jared.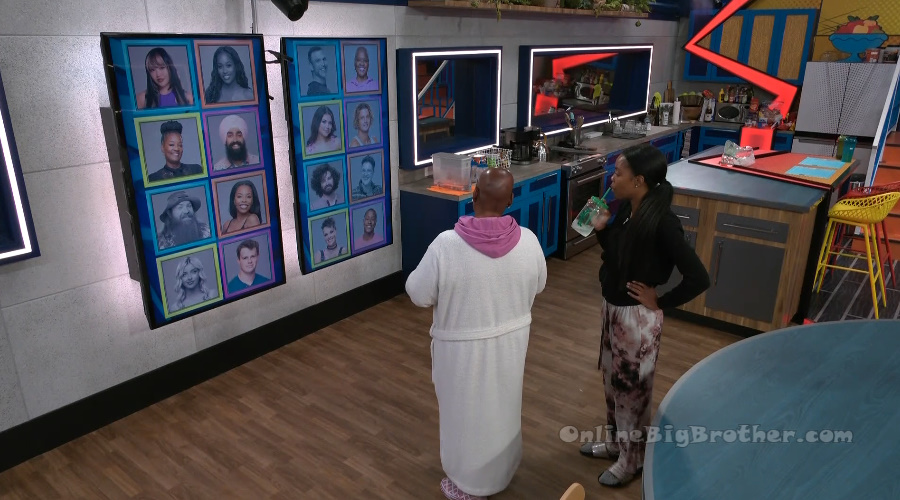 11pm Bathroom – America and Cameron.
America – if the veto was used and if there was a backdoor plan it would be you but at the end of the day I think Cory is the target. We're not both pawns right. And I could be a target too if I choose you. Cam – I am okay with it. America – I haven't decided not to Cam. Cam – yes you have. America – No I haven't. Cam – I don't want you to put yourself in jeopardy either. It sounds nice for me to go oh yeah thank you for the handout.. even though I know I am going to haul a$$ at this thing. America – I hope you just get picked. Cam – me too.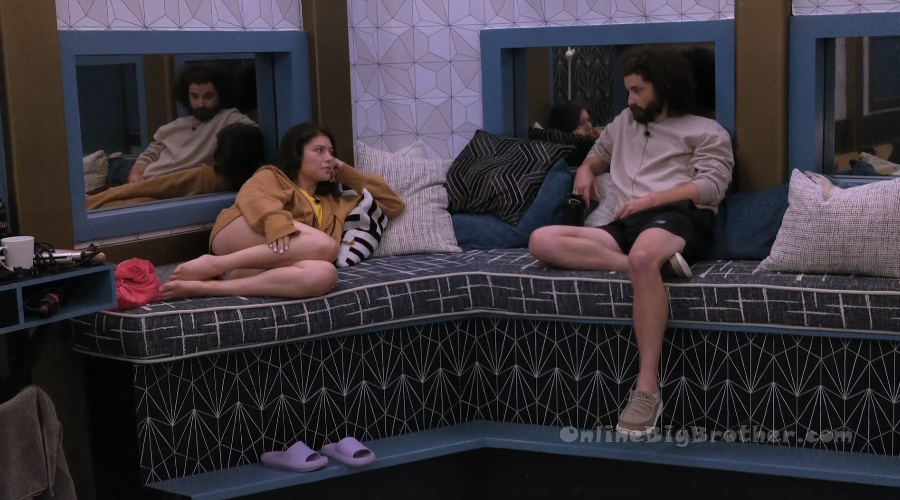 11:18pm – 11:50pm HOH room – Jag, Matt and Blue.
Jag – I don't really care to be so direct that they realize we caught them in their bullsh*t because the position that I am in personally is unless new information comes in I more or less know where I land. They were in that alliance and we weren't told. I know for a fact that Cirie has been dishonest or lied about information. I know for a fact that Cory knew about the Seven Deadly Sins. I know at least two cases where Jared lied. And I know for a fact that my name was involved. All the eye opening stuff that was to happen, happened the last two days and I am rocking with Cory and America. Blue – and that is fair. I totally get that. Matt – that seems fair because you've kind of been betrayed by this alliance. Blue – out of everyone here you have been the punching bag. I have been very fed up with this whole situation so I am just trying to figure out what I am going to do. Jared joins them. Jared – do you want to hear some funny sh*t if he (Cam) don't get picked (to play in the veto), I am going to pick him to host. They all laugh. Matt – oh in the face! That is funny. Jared – that sh*t would be hilarious. Blue – that would be funny. Jag – if you get house guest choice who would you pick. Jared – one of you two. They talk turns to talking about how Bowie threw the HOH comp after Blue dropped. Matt – she didn't want to be the person to have to backdoor Cameron. Blue – that is her downfall, she doesn't want to make any decisions, she doesn't want to play the game. Jag – she doesn't want to play the game. Blue – that's the thing if you're going to throw it, why not throw it in the beginning. Jag heads downstairs.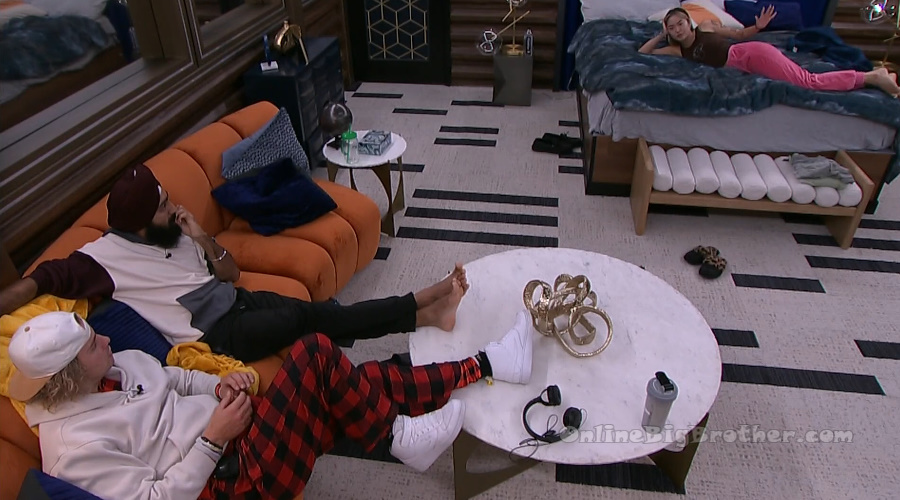 11:54pm Bedroom – Cory and America.
America – Cam is not going to play tomorrow. Cam is not going to get picked. We're going to be okay. Yeah its going to be fine. We're going to make it. And then next week… Cory – next week is going to be easy. If we get through this week, we are golden. Cory – I am stressed. America – we're going to make it out. We're the first showmance of the season to be put up. Cory – well look somehow neither of us are the target either. America – well allegedly. Cory – I don't think we're the target. You know how I know we're not the target… because Cameron is freaking out which means he did not go talk to Jared and get any reassurance.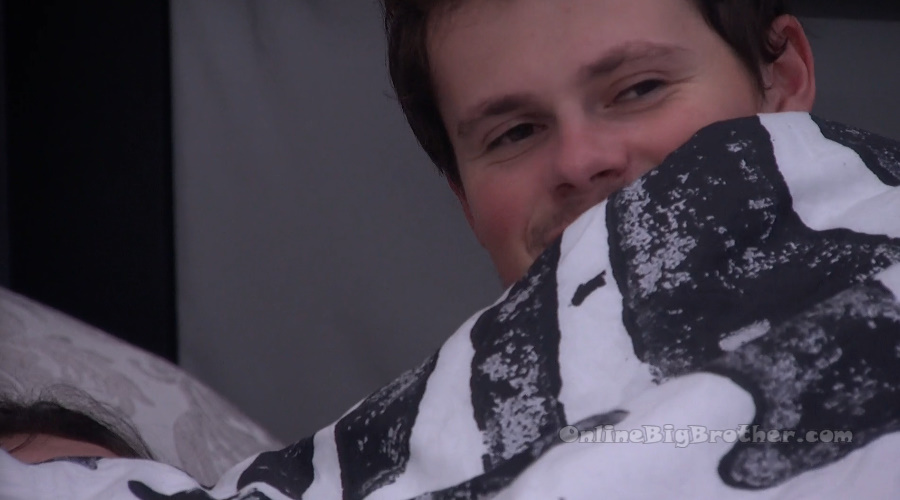 Show your support 🙂 Without your support this site and these spoilers wouldn't be possible.
Consider giving a tip to keep the madness going.