POV Holder:
?
POV Competition
Sept 12th
POV Used
?
POV Ceremony
Sept 14th
HOH
Vanessa
Next HOH
?
Original Nominations:
Steve and Johnnymac
After POV Nominations:
? and ?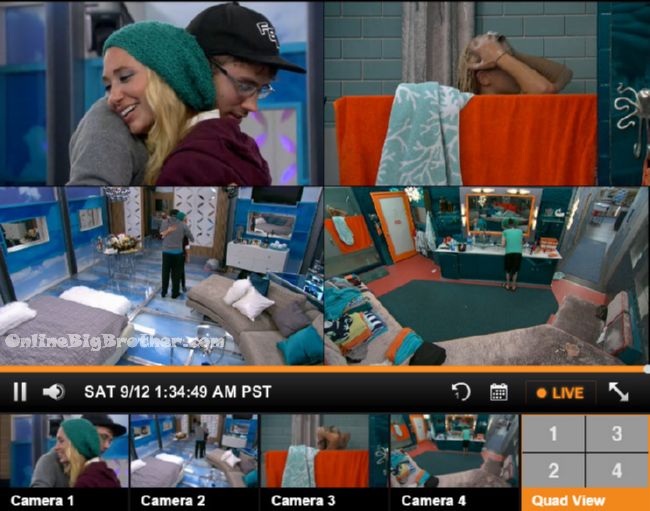 nominations are Steve and Johnnymac
1:27am HOH Steve and Vanessa
Vanessa tells him he's not going home this week.
Steve mentions that Johnymac knows he's the target.
Vanessa says she's drunk from liz' field trip.
Vanessa – can you please stop scampering
Vaenssa tells him to get some sleep for teh HOH.
(They haven't played the POV yet…. )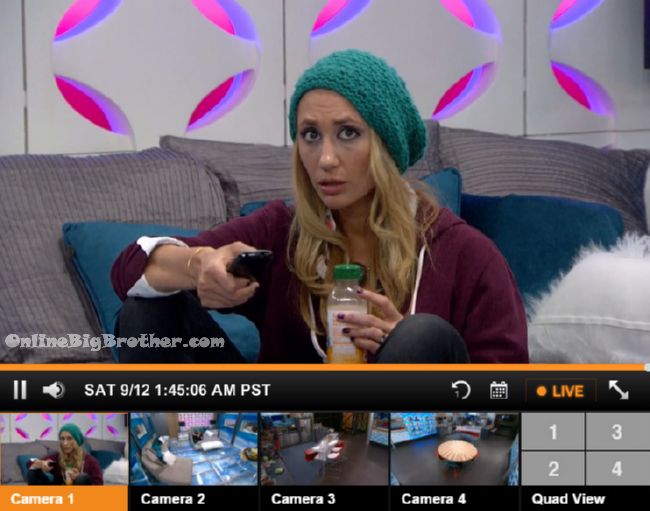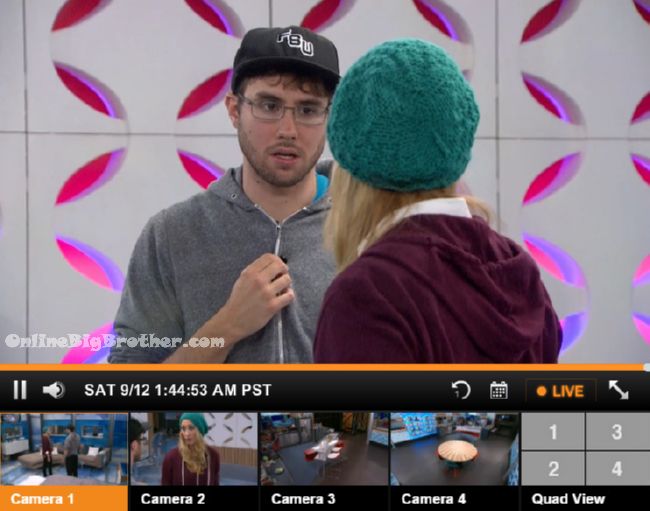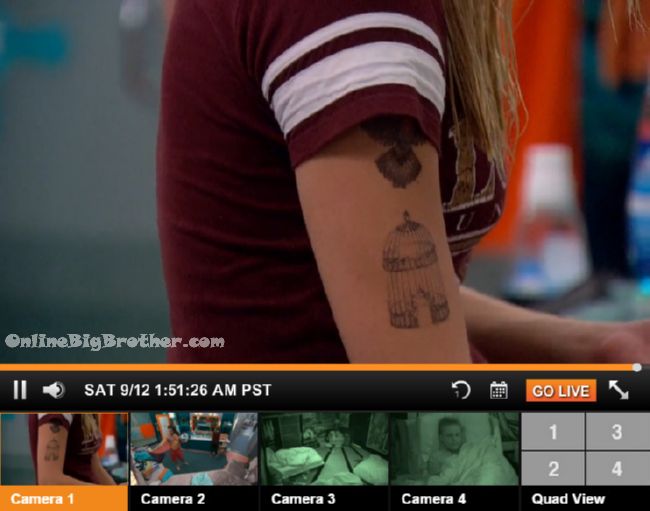 1:52am Liz got to hang out with Frankie from last season. Looks like she also got some tattoos.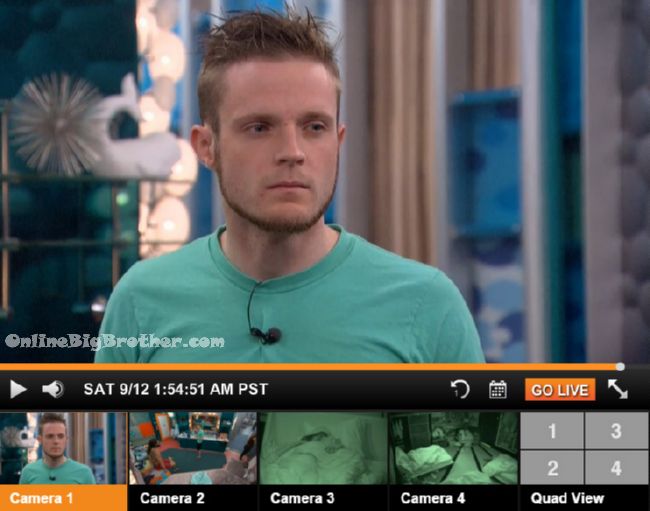 1:55am Bathroom Austin, Liz and Johnnymac
Jmac offers them a deal, he'll throw the veto to them if they keep him in the game.
You probably were told a lot of things.. It's probably all true.. I threw you under the bus these last couple weeks to keep me safe.. YA I did..I really did, I did it good.
Austin – ohh shit
Jmac – If it's down to us three, you guys are safe
Jmac – it's the only way to beat the system
Austin – it's good..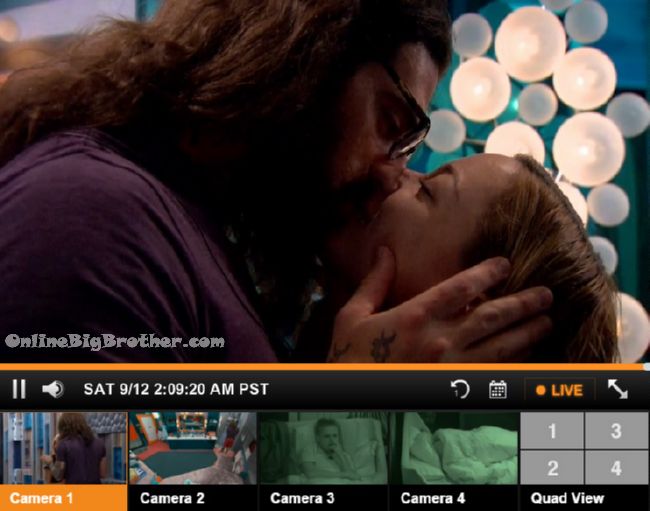 2:05am Austin tells her they didn't talk game when she was gone.
Liz says she missed her all day
liz – why are you being so cute today
Austin – I missed you
2:18am
Austin says he slept all day
Liz mentions she had to wear a disguise when she left the house today. She wore a "Sally Jesse Raphael" wig.
It was the Araina Grande concert she went to where she hung out with Frankie from last season.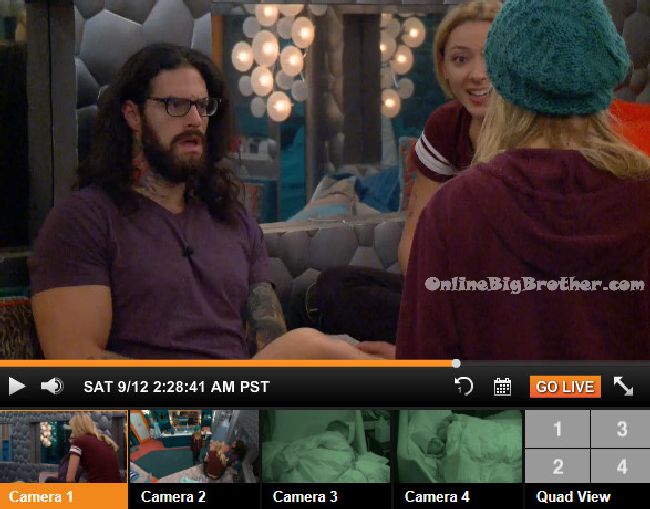 2:20am Bathroom – Austin says of course Steve finally goes to bed as soon as he knows he has to play in the veto.He stopped scampering. Liz says I know, he's such a joke! Austin says I know. I love it though he's on the block though the week after he made his big move. Liz back down here with the peasants. I'm just so over talking about it, it just want to go to sleep. Like every 10 minutes they would interview us. Vanessa comes by. Liz says Johnny Mac is taxi driver. Austin says he (Johnny Mac) came up to us and said just so you guys know I've been throwing you guys under the bus pretty hard. Some of its probably not true but yeah. I had to do it to save myself. Things are kind of weird around here so I'm probably the odd man out again. So I'm thinking I'll throw the veto to you guys. If you guys can keep me safe with your votes. Let me think about that tonight. Liz says he said I'll let you know tomorrow. You've been throwing us under the bus.. WHAT?! I've never talked to you!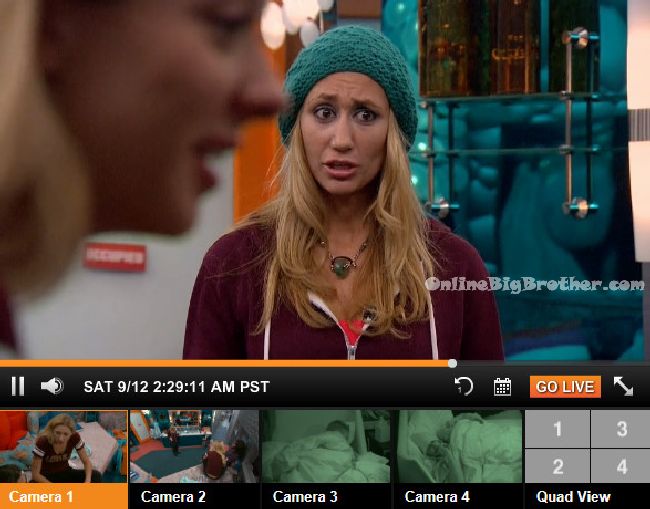 2:30am – 3:25am Vanessa asks did you just tell me Johnny Mac said he would throw the veto!? Liz and Austin nod yes. Vanessa says please and thank you. He thinks you're going to keep your promise to him over me to vote my way? Or maybe he doesn't know about that? Austin says no he assumed. He said I assume you guys probably gave your word. Vanessa asks he said that?! He just wants to make sure he's not the target but he thinks he can flip it .. oh my god! Austin says but if he throws the veto .. perfect! I don't care I'll say whatever he asks! Give me the veto! Vanessa says what the f**k!? But he said he was throwing you under the bus? Liz says he said part of it wasn't even true. Austin says he said I had to do it. Vanessa says he told me .. I told you .. he said you were going to nominate me. Liz says that's not a way to go to people that are going to vote for you at the end of the week motherf**ker! Vanessa says that's the way he's tried to come to work with me .. like I've thrown you under the bus the whole game. Please and thank you that's all I can say. Austin says I'll tell him tomorrow to throw me the veto and I'll take care of things. Vanessa laughs. Big Brother starts blocking the feeds.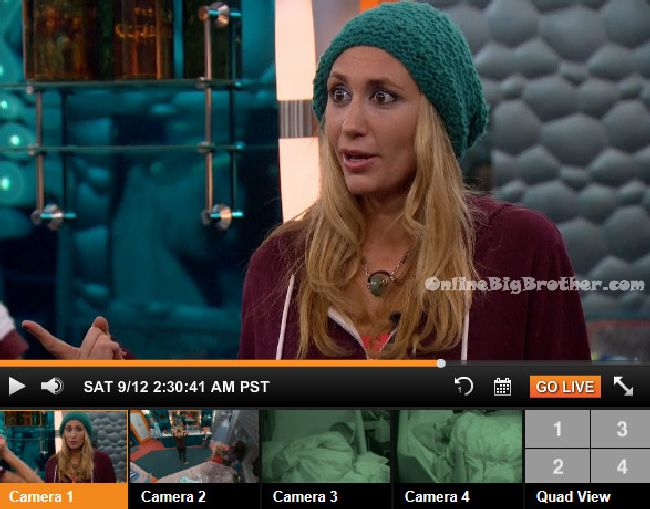 When the feeds return they're going to bed. Steve talks to Liz about her trip. He is surprised at how fast they were recognized. Austin joins them. Liz goes to the diary room. Austin and Steve talk about how the veto could be a days comp. They talk about how fast the last bit speeds up. Liz returns and they get ready for bed. Liz says I'm glad I brought her but would have rather had you there. They say goodnight, I love you.

9:30am – 9:50amBig Brother wakes up the house guests. All of the house guests go back to sleep.
10:40am They're all still sleeping..
11:30am All the house guests are still sleeping..

11:55am Big Brother switches the feeds to the live feed highlights.. The Power Of Veto Competition could be happening now…
1pm Still blocked
2:15pm Nothing yet..
2:30pm Still nothing..
3:26pm Feeds you? NO
4:16pm You want Feeds? NO NO NO Feeds
If you've enjoyed the spoilers please consider a donation using the drop down box below. Simon and I work 24/7 all season long to keep you updated on everything that happens inside the Big Brother house.
[polldaddy poll=9063299]