POV Holder:
Sarah
Next POV
May 15th
POV Used
Yes
POV Ceremony
?
HOH Winner
Ashleigh
Next HOH
May 13th
Nominations:
Sarah Brittnee & Godfrey
Have Nots
Canada voted for: Sarah & Brittnee (They will compete for the Secret Power)
POV Players
VETO PLAYERS PICKED: ASH, Sarah, Godfrey, Zach, Brittnee, Bruno
HOST is Pili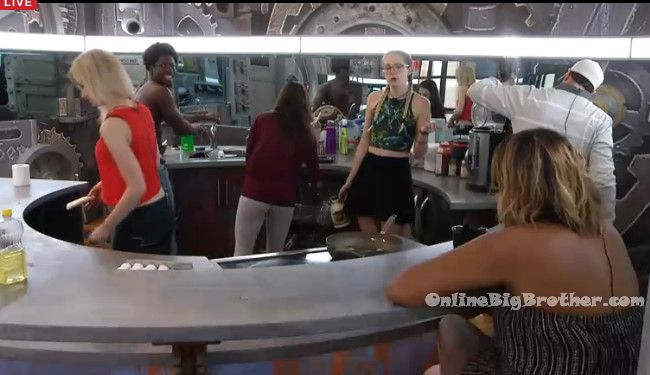 10:40am – 1:20pm Big Brother blocks the live feeds for the Power Of Veto Ceremony to take place. As the veto holder, Sarah used the veto to take herself off the block. Ashleigh then had to name a replacement nominee and chose Brittnee to sit next to Godfrey. None of this really matters as either Sarah or Brittnee have or will have the Havenot secret power which will force them to change at least one of the nominations or both if they choose. This will all happen right before they would normally vote during the Wednesday live eviction. The holder of the secret power will then nominate any of the house guests other than the POV holder and Head of Household. Essentially Ashleigh's HOH reign means nothing other than safety for the week.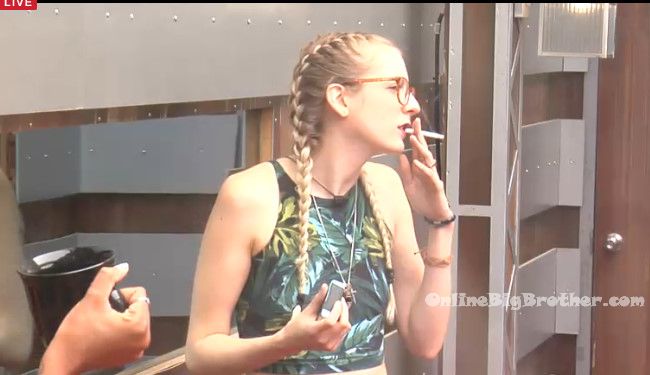 1:20pm – 1:40pm When the feeds return – the house guests are in the kitchen. Ash says so its Mother's Day! They all say happy mothers day to their mothers and all the mothers out there. Sarah and Brittnee head out to the hot tub room. Britt says wait a minute. They looked at me like I had something in my bum. I don't have any pockets. Britt says Ash said but my back is against the wall. Sarah says she used what I said. Kevin is going to like that. Sarah says maybe they already know ..Ashleigh I urge you to start thinking for yourself and put up your boyfriend because now is the time to do it. I was this close to saying that. But her mind is already made up. Sarah says tell the girls we take out Godfrey this week. I genuinely want to work with you and you both know that going forward with us is better for you. Godfrey is not going to take you guys to the end! He has said it a million times. Sarah says then on Wednesday we see who wins and then start talking about final 2s. We have to be like we're not gunning after you and Zach. We're not asking you to go against Zach and Bruno but asking you to keep Brittnee here as a buffer. Bruno is closer to God and if you get rid of him .. Bruno will be closer to you. Sarah says close to Wednesday ..like on Tuesday night we need to go to God and say come with us lets talk with Ash… because there's no reason to lie if they want a jury vote. Britt says yup that's smart lets do that. Sarah says God's speech said a lot .. "Don't change the nominations" Like they're after me. Sarah says I would love to see Bruno go! But they says that Zach would have to go first, he has more numbers. Britt says ideally I stay and Godfrey goes. They head back inside and Sarah tells Brittnee you should ignore me a bit..
1:50pm Big Brother states that the backyard is now off limits. In the bathroom – Godfrey and Brittnee are talking. Godfrey says so we're on the block. Its that time again when everyone avoids you. That was the last thing I suspected the three of them (Zach, Ash, Pili) with him (Bruno). Ash, Pili and Sarah join them. Pili is waxing her moustache.
2pm – 2:15pm In the living room – Zach and Bruno talk about starting to get prepared to rid on Wednesday. They talk about what the HOH competition might be this week. Bruno says whatever it is we need to win it. Bruno says Sarah is already trying to set herself up with Ash and Peels. DO you think they'll come together? Zach says no, because next week we'll throw them up on the block. Bruno says she was like I urge you to reconsider your options… the only other options were you or me. Bruno says 3 more (HOH's) that's crazy!! Bruno says how awesome would that be you and me side by side in the final two. Zach says so awesome!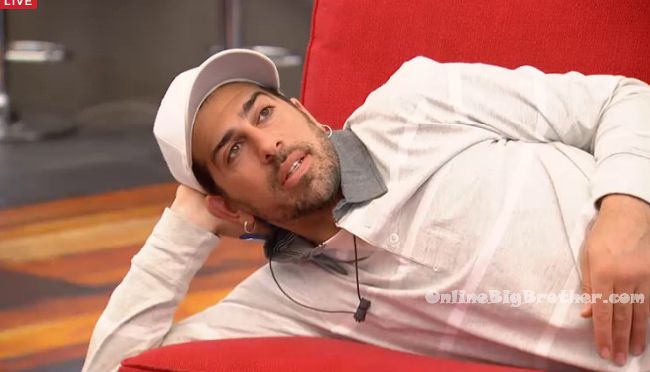 Out in the backyard – Godfrey and Bruno are playing god ball. Godfrey says that Sarah is way smarter than both of them (Pili & Ash). Bruno says oh yeah. Zach says she's dangerous. Bruno says Sarah openly said that she will not nominate or vote out a girl.. and she hasn't.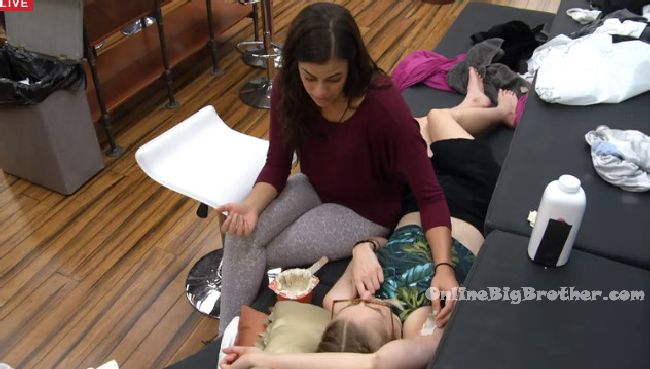 2:50pm – 3:45pm In the bathroom – Sarah is working on Pili. Sarah think back to the beginning …who was closest? Bruno, Graig, Godfrey and Bobby. Bruno and Godfrey have been together since the beginning. Sarah tells Pili that Kevin will be proud of you .. but for your game you have to pick. At the end of the day you and me would be good to take because its good to go with someone who has a different game than you. Its hard to argue for yourself when you're there with someone who's played the very same game as you. Sarah tells Pili that if Godfrey wins HOH he is going to put up Ash and Zach … and if one of them win veto he will put you up. Ash joins them. Sarah tells her I know its in your best interest to keep up because those guys are coming after us. There is a way that we can do things logically that is best for all of our games. Ash talks about how Britt has won a couple HOH's with one being the Triple Eviction win. Sarah tells Ash & Pili that's why I wanted to keep you guys close. I can't sit next to her. She's won HOH twice and been on the block 5 times .. but we definitely need her next week. Sarah says vote her out if you want but there is no f**King way she (Britt) wouldn't put up Zach. Bruno keeps saying I'm poison ..why because he knows I'm coming after him. Pili says I don't trust Bruno for one second. Sarah asks Zach is going to vote for who? Ash says that he knows Godfrey is coming after him. Sarah says even if I win HOH next week and put up Bruno and Zach .. who are voting ..you (Ash) and you (Pili). Sarah says if you trust me this week and keep Brittnee then I would volunteer to go up if you won HOH because I know you don't trust Bruno.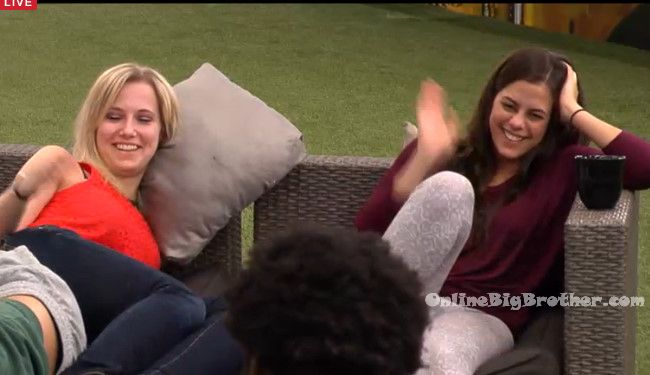 3:55pm Out in the backyard – Godfrey, Bruno, Zach, Ashleigh, Pili and Brittnee are chatting about random things. They talk about Bobby's slop recipes and how they should have gotten the recipe. Pili "I would rather have his slavery ones" (Bobby's savoury slop recipe) LOL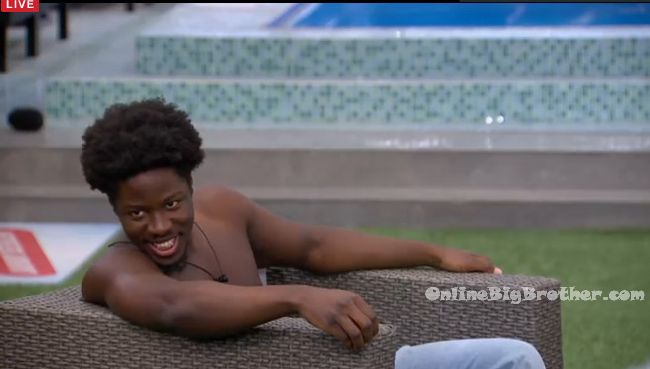 If you enjoyed this site's content please consider a donation or checking out our How to support OnlineBigBrother.com page. Any help is appreciated, this site is only here because of your support.
[polldaddy poll=8849979]