The Situation:
Lots of bullsh1tting going on.
Jared and Cameron are living in the house as "Zombies"
No HOH, No Power of Veto, No Eviction. Jared or Cameron will get a chance to reenter the game.
Jared and Cameron compete in a 3 part comp to decide who gets to play in the puzzle comp to reenter the game
Jared lost the Zombie competition so Cameron gets to decide to do The puzzle competition to reenter the game
Lock your ranks in before midnight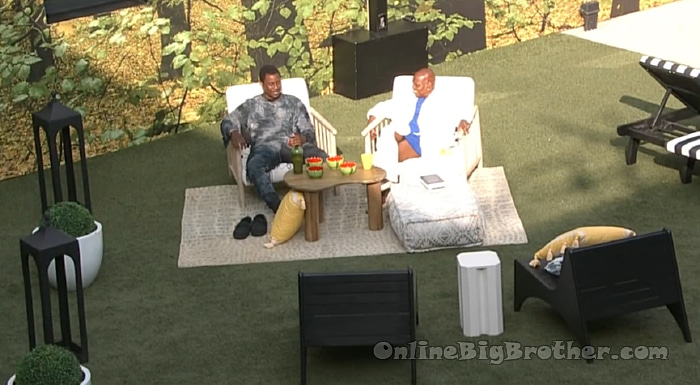 9:00 am Jared and Felicia are up chatting (Another Jared marathon Convo with a lot of BROs, BRAHs and Likes). Felicia is claiming she was always cool with Cameron she always liked him everyone else was coming to her with the dislike for him.
Jared feels the same way about Cameron.
Felicia – then he turned into a raging BULL
Jared – You have to make more allies than enemies. That's where he went wrong. You creating too many enemies part of the enemies you trying to create are my PEOPLES I'm like BRAH if you know these are my PEOPLES why the hell you trying to make them out to be some enemies.
Felicia – somebody convinced him we were running the house and Low Key we were (LOL)
Felicia laughs "AS far as creating moves and trying to get people to do this and do that.
Jared – that's why I was telling him BRO when it Izzy was here every DAy I was up there telling him BRO. I think Jag's the one that needs to go.. Jag needs to go. He needs to be a target put him up. It'll be crucial for you to make sure.. if not he will come after you.
JAred – He was bought in on the fact that deal he made.. (Does jared forget he was the one that took Cam out?)
JAred – I'm like BRO I'm like.. you could get to that easier than you can get to Jag .. I was trying my hardest..
Jared goes on about the conversations with Cameron 3 weeks ago..
Felicia – I love Jag to death but he's a manipulator behind the scenes. He's running that group.. He wants Cameron gone so he can run that group.
Jared – YUP.. I told Blue this. Be careful I know you feel like you know.. She feels like she can't put him up .. I'm like BRO just be careful. Jag is smart..
Felicia – at some point he'll take your a$$ out.
JAred – the only thing she has saving her is that Jag is smart enough to know that sitting next in the end to Matt is ..
Felicia – it's his ticket to the 75 thousand
JAred – So I was like that may be your Saving grace. I don't think he wants to sit next to you either (Blue) He would rather want to sit next to Corey or America. WHo do yo use him around lately? All day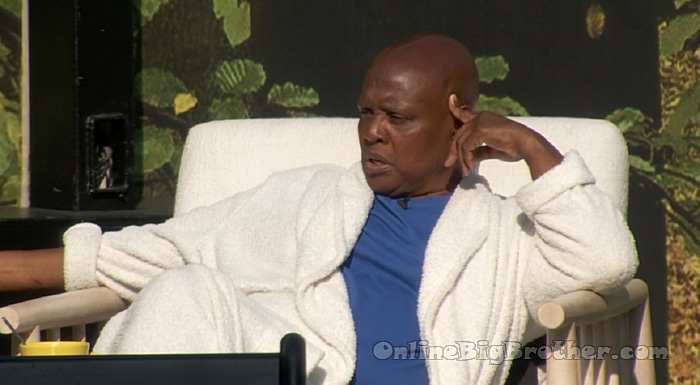 Felicia – MMMMmmmhmmmmmmm
Jared – he knows he can beat both of them in competitions and in moves in this game. Jag had to fight a few times he's seen the block a few times.
Jared goes on about how Jag was so close to being nominated every week.
Jared seems to remember now that he was the reason CAmeron was evicted. They agree at the time that is what everyone in the house wanted including Cameron.
Felicia says she'll probably be on the block next week. She doesn't think Bowie will be Bowie is working herself in with the other players.
Felicia – Bowie Jane has never voiced an opinion.
Jared – not one time
Felicia – I remember we were sitting in the room one time and she said 'so what's the plan what do you guys think?'
Felicia – I said, 'what do you think?' and she said 'well I don't know I want to'
Felicia – I said, 'NO BOWIE JANE, what do you damn think all you ever want to know is what everybody else thinks. What's your goddamn plan'
Felicia – For real you never say what you want to do.. You waiting for everybody else to tell you. what's your damn plan..
Felicia impersonates Bowie 'ohh well well I think .. '
Felicia – DAMN stop waiting for someone else to tell you what you THINK
Jared – get it together. I said this a couple weeks ago. I said MAN Bowie is becoming more and more important. When I say Important..
JAred BURPS
Jared – not that she would make a big move or that she's dangerous or have any input that will make a difference. She is going to become CRUCIAL when you need four people she will be your fourth person.
Jared – I see it happening now. Bowie Jane do your thing if that's the game you want to play. Is that the game I want to play? HELL NO
Jared – if you just need to make it to the Jury house more power to you.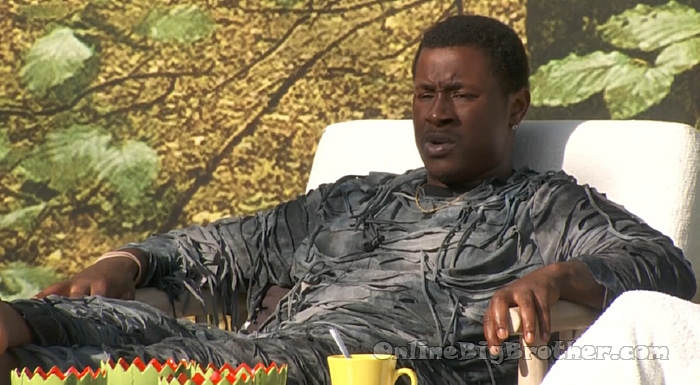 JAred goes on about how smart at Big Brother Cameron is. CAmeron knows if he doesn't win the next competition he'll likely get nominated.
JAred – he's so well versed in this game. he's the ultimate Superfan
Jared – I said him I know damn well you will pick yourself to play in this comp
JAred – yesterday this is the first time I heard him say this.. he said 'man when Thursday comes i'll either me out there kicking some a$$ or I'll be out there looking like a damn fool'
Jared – that was my first feeling of HOPE. I'm like DAMN Bro.. like Maybe..
The move into the shade.
Jared – Maybe BRO it's something you can't do (Cameron)
Felicia – you never know
Jared thinks that the puzzle will be really hard.
Felicia thinks it will be nearly impossible because Cameron is overconfident.
Jared thinks this is a great twist for the fans because him and CAmeron are such competitors.
Felicia – his fear that you would win will drive him to play and that will be his downfall.
JAred – he's smart enough to know he has a leg up on me in a lot of these comps.
Jared – Corey is saying there's going to be a pandora's box
Felicia thinks something is going to happen "They said twists this week"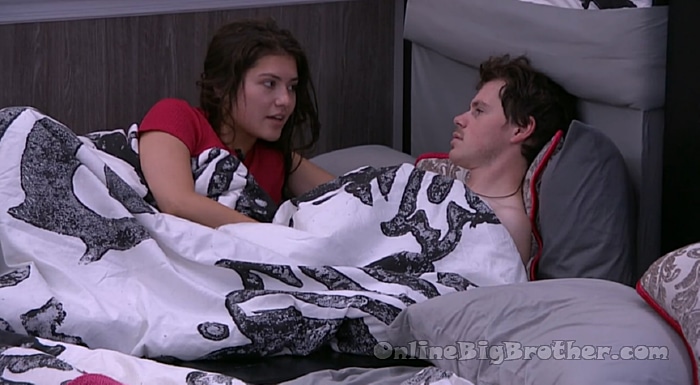 10:20 am Corey and America
Hard to hear. Something about Blue not telling JAred anything from last week. America wishes she still had the final 2 with Blue.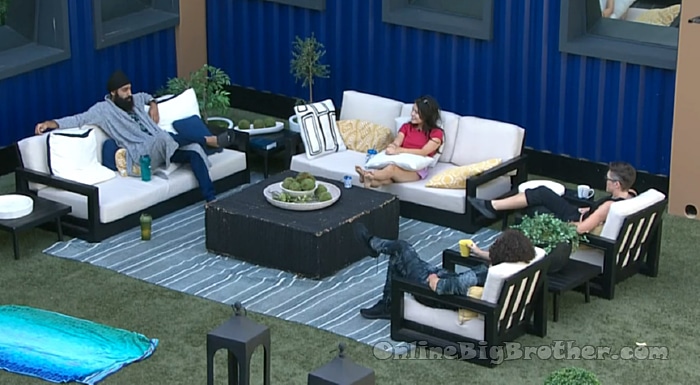 10:40 am Chit chat about music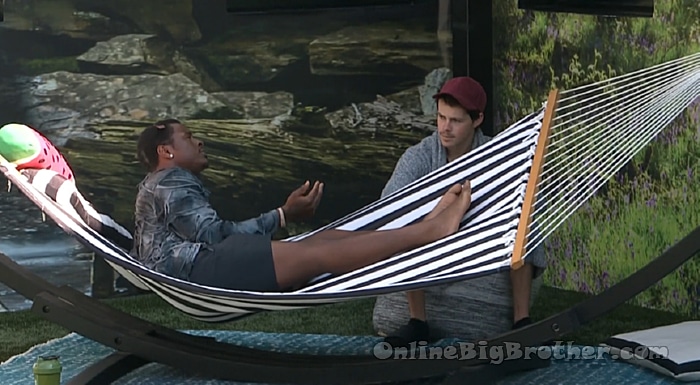 10:50 am Corey and Jared rehashing everything for the 30th time.
Jared – BRAH