The Situation:
Lots of bullsh1tting going on.
Jared and Cameron are living in the house as "Zombies"
No HOH, No Power of Veto, No Eviction. Jared or Cameron will get a chance to reenter the game.
Jared and Cameron compete in a 3 part comp to decide who gets to play in the puzzle comp to reenter the game
Jared lost the Zombie competition so Cameron gets to decide to do The puzzle competition to reenter the game
Lock your ranks in before midnight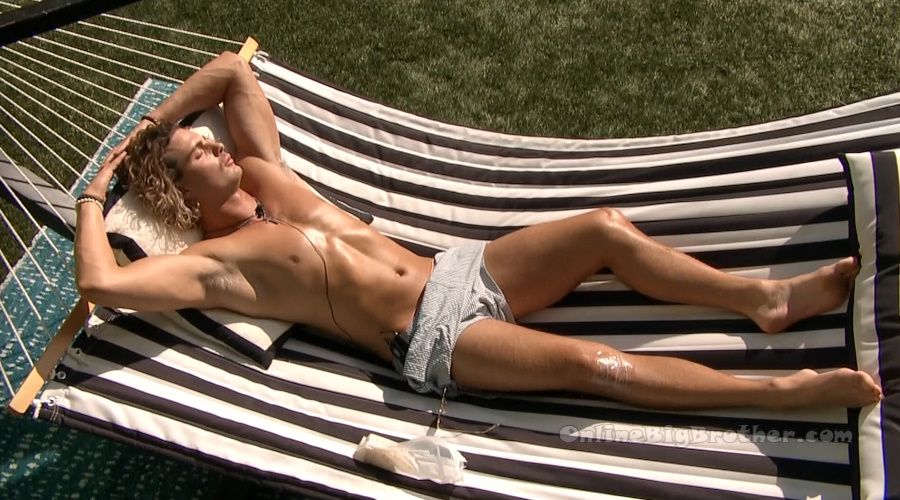 3:26pm Sun tanning..

3:45pm Backyard Loungers – Cory and America.
Cory – I still need to talk to Blue. America – I don't know if you will get to because she has been glued to Jared. Cory – if Jared is targeting the four of us what the f**k is Blue doing? America – I mean I'll talk to Blue about it. Cory – I think every night we should have the five of us meet. America – yeah. Cory – and like solidify, solidify, solidify. That is the only thing that we can do because I don't think I can make any headway personally with her.. maybe you can but I know you guys are kind of complicated. America – Mmmmhhmmmmm.. I need him (Jared) gone. Cory – We need Cam to pull through and he usually does. America – Usually but when does anything go our way? Besides that double though. That was great! That was crazy! Cory – and honestly the veto before .. things kind of have gone our way. America – yeah, you're right. I've been really pushing with Blue how important she is and I think she gets it. America – he (Cam) would be good to have on our side. Cory – I am just saying he is really good and if we let him get too far.. we're f**ked! And when I say too far, I mean 8. America – you're talking like he is better than us .. he is not invincible. Cory – look I almost went home on a targeted Cam week. Like it was pretty close and I do agree with you .. its just hard. America – we'll see, maybe he won't even have any power. I am just saying I don't think it should be this week. Cory – we just have to figure out how to talk about that with Matt and Jag because you've got me. America – I did talk to Jag in the kitchen. Cory – what did he say? America – he just needs to talk more with Cam and feel trust. Cory – just try and not be definitive. America – no yeah, you are all game. Did you have a couple Smirnoff Ice's?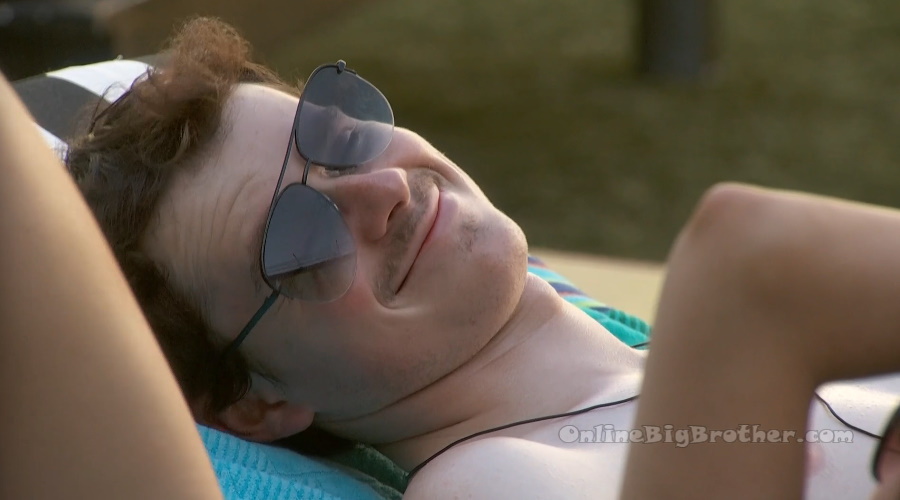 3:33pm – 4:06pm Backyard – Blue and Jared.
Blue – Man obviously the objective is to win $750,000 but its crazy to think that one person here is going to win $750,000. Jared – Don't remind me of that sh*t. BRO there were only a few people in here who I was okay with winning besides myself. And that sh*t was burning me inside knowing that, I kept seeing that little motherf**ker in the end. LIKE BRO! If he wins this sh*t I AM GOING TO BE ON FIRE! LIKE ON FIRE BRO! There are a few select people that I really wouldn't care if you won. Like in a good way. I wouldn't mind if you won. Obviously I wouldn't mind if Cirie won. And to this day I really wouldn't mind if Felicia won either. Same with Matt. Blue – me too. Jared – but everyone else in this motherf**ker .. if Bowie win this sh*t, if Meme win this sh*t, if Cory or America win this sh*t, or if Jag win this sh*t.. AGHHH.. BRO I kept thinking about that .. just thinking about and reflecting on things. But that's what I kept thinking about was that like AGHHH.. BRO! If I see that little motherf**ker at the end and he wins that sh*t .. I got to respect it because I can't be a hater but ohh…that sh*t makes me sick to my stomach. Blue – we'll see. Jared – oh yeah we will but that is not going to happen regardless .. because I am going to make sure here or not I'm going to make sure that sh*t don't happen.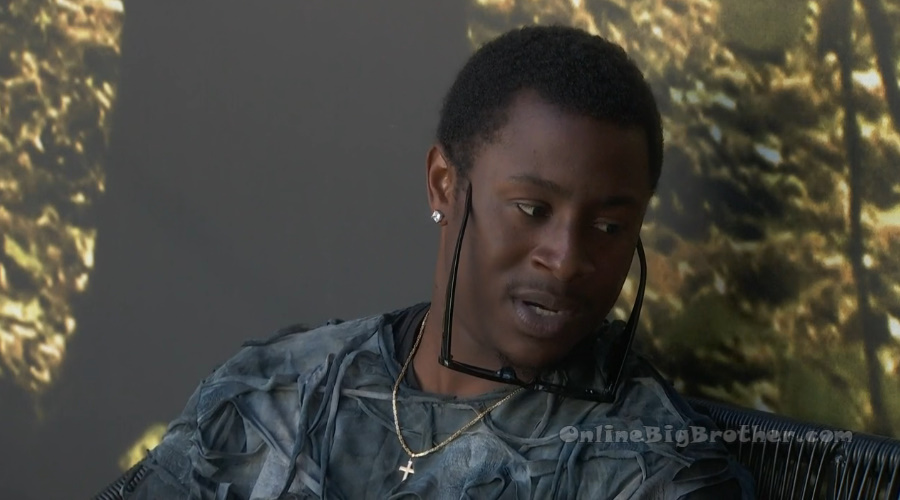 4:30pm Backyard – Cory and America chatting about what they want to do after they get out of the house.
4:35pm By the Pool – Jared and Blue.
Jared – Thursday is going to be a crucial day for me. Blue – MMmhmmm but it really isn't over till its over because who knows maybe there is a pandora's box .. Maybe I am able.. maybe Cirie is able .. someone is able to play and win that sh*t. Jared – keep somebody safe. Blue – keep somebody safe .. who knows. Who knows!? Because it could be a good or bad thing and like for me the good thing.. at this point I would take both of you in this house. I will take both of ya'll in this house and that would be bad for everybody! She laughs. Jared – I would be able to keep him in line for as long as possible. And I would tell that motherf**ker like BRO yeah.. terminator! The terminators! You see the fact that he is still alone right now.. is good. Blue – that's my thing with Cameron too I told him I am not ..even in my position I am not going to beg him or hound him. Like you know I want to talk to you and I am going to talk to you. Jared – Cameron knows how to play the game ..he will play the game regardless … he came here to play the game. With his flaws .. everybody got flaws.. Cameron really is not as bad as people make him out to be and I was part of that. I was a part of Cameron isn't the greatest person train but… Blue – I mean he was like word for word Jared is making me look like a bad guy. Jared – yup! If I said anyone who had a role in my demise it would be him, Cory, inadvertently Izzy and Felicia. He started and Felicia carried it on. He started it and Felicia was the one that drove that care.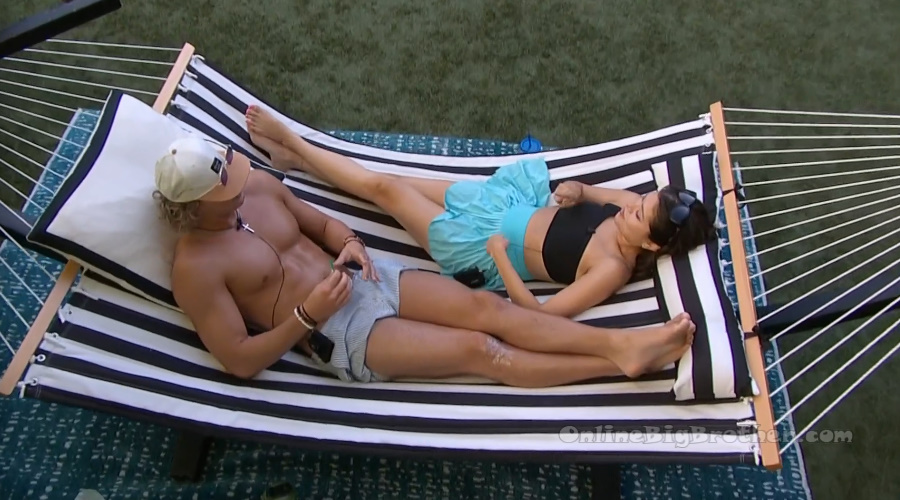 4:50pm – 5pm Comic Bedroom – Jared and Cirie
Jared – you know what I am wishing on a shooting star for that somehow someway me and Cameron stay because then it would be ugly. Cirie – did you ask him if he is going to play? Jared – yeah, he said he is going to take it. Cirie – he going to play? Jared – yeah. I was like shoot me straight what are you doing? And he was like I'm going to play. He was like BRO I respect you way too much as a competitor to allow myself to not play. And for that I know you would have done the same. I was like you believe in yourself to much to not play this game. Cirie – it might be catch 22. I really don't want to do it without you. Jared – you did it for four years.. 6 years at this point. I was like damn this is what you do ..and damn I realized how much harder it is. Cirie – when I said I was going on vacation.. this ain't no god damn vacation. Jared – the only thing that kept me sane in this house was knowing that regardless I had one person that was loyal regardless of what was going to happen. That right there is a lot. Even with her (Blue) I got two.
5:57pm – 6:20pm Comic Bedroom – Jared and Felicia.
Jared – I just got to survive one more week and then I'm about to start taking those shots! And something told me my time might be up and that my time might be shortened. I was telling him yo, should I keep Cameron? Should I keep Cameron? And I was like damn YO I just wish I had that feeling on Monday. If I had had that feeling on Monday I never would have put his a$$ up. I would never have put his a$$ up but I allowed my competitive side to outweigh my logical side and I was like you know what .. get rid of the competitor. He threatens me and people around me so f**k that, get rid of him. So I allowed that to blind me and I was like ahhh.. I wish! I just wish! Felicia – something that you want to think about is some times you want to keep a couple of the competitors because you leave a target beyond you because the minute he is gone .. you're the next biggest target. Jared – I was not thinking like that, I was thinking clean the house because you threaten my peoples. Felicia – but think about if you stay .. you carry it to the end .. man the game is yours. The game is yours! But just do it in a humble way. Jared – yeah I am. (Ummm Okay?!) I know its going to be tough for me in these next couple days. Its going to be hard. It sucks sitting here. I am manifesting that he take an L on this one because I do want to stay here. His luck is running out with these comps. I just know the odds are against me here. Felicia – that don't matter.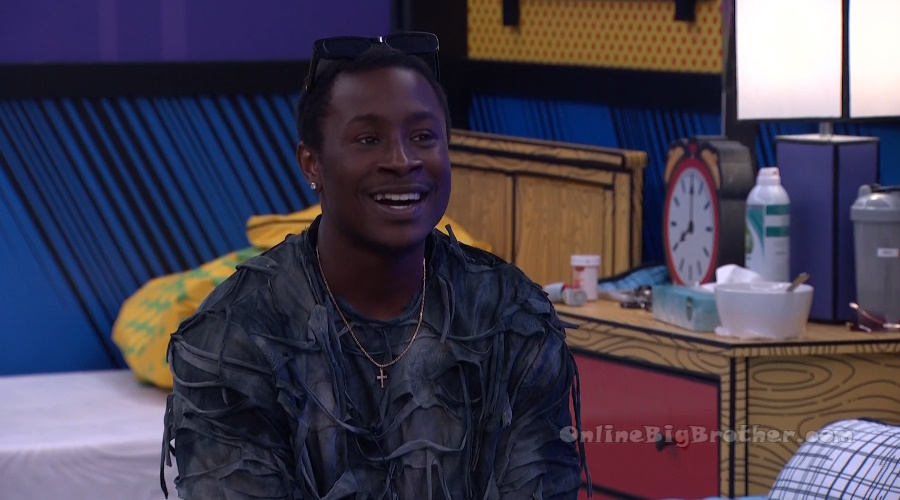 7pm – 7:20pm Dinner time.. BB gave them two bottles of wine and 6 beer.
7:54pm The drinking continues..
Cirie "Meme your cup lookin' full. Your cup runneth over… You know you can spare a sip!" #BB25 @bigbspoilers https://t.co/sLQeY1KjzC pic.twitter.com/6yce2fYqwO

— Dawg (@DawgsBigBrother) September 24, 2023
America getting every last drop.. #BB25 @bigbspoilers https://t.co/sLQeY1KjzC pic.twitter.com/6eVAUpy2Dc

— Dawg (@DawgsBigBrother) September 24, 2023
8:20pm Comic Bedroom – Jared and Cirie
Cirie – I need you to make him (Cory) think that everything is cool. Jared – okay. why? Cirie – just in case I stay here and god forbid everything go left and maybe that might shift him off of me. If he thinks you're still on it, he'll think I'm still on it. He told me today that you and Izzy were on him about America. Like she got to f**king go .. if she f**k up .. she out! And that's what started to sway him. He said that Izzy did it at night and you did it before that. Jared – he said he ain't trust me since he told me the survivor thing. Cirie – because Cam told him that you told him. He said that you tried to make him think that America told Cam and he knew America didn't tell Cam. Jared – no, when he told me on week three.. BB blocks the feeds.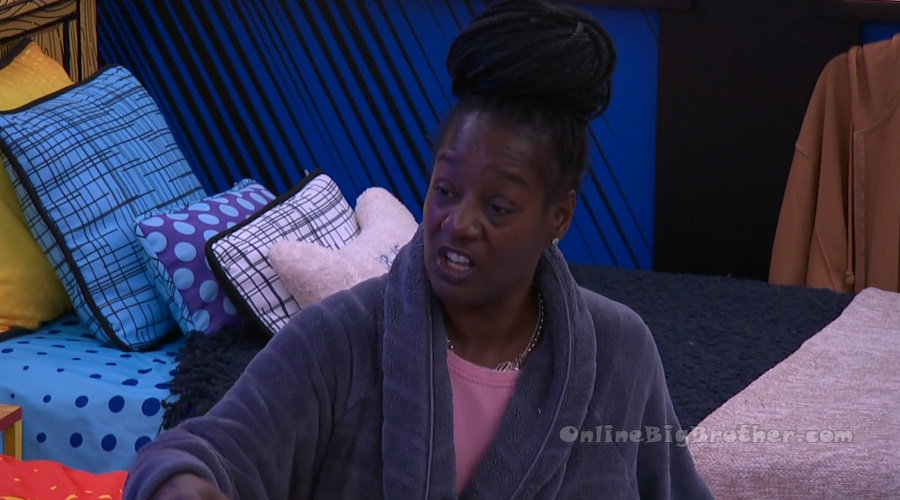 8:33pm Hammock make out session..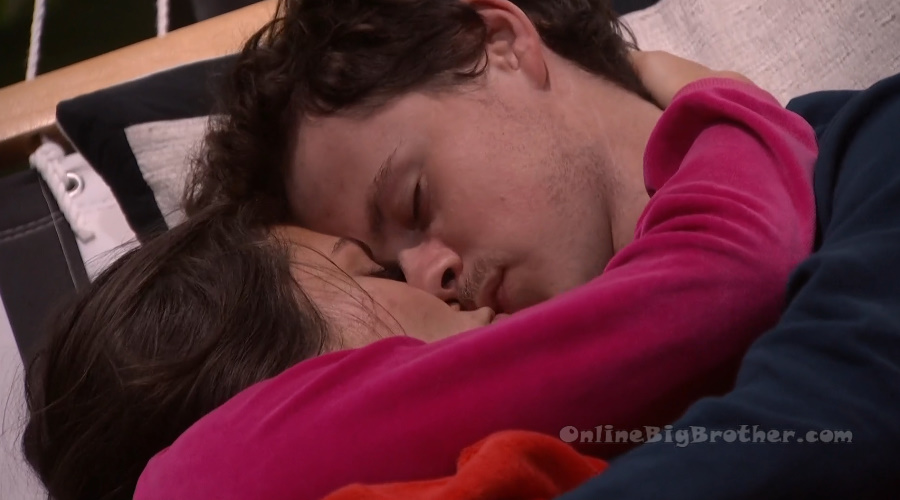 8:58pm The house guests are sitting near the pool table while Cory, Jag and Meme play pool.
9:09pm – 9:35pm Backyard – Bowie and Cameron.
Cam – I won't do something without letting you know. And I expect you would play the part that's needed when I tell you what's going on. If you don't have anyone in this game Bowie, you've always had me. Red told me .. I was always close to Red since day one.. he told me that he trusted you over everything else. Bowie – that's crazy. Cam – and I want you to know that and I hope you feel the same way about me and that I won't ever do you wrong. Bowie – I feel pretty good about Jag and Matt, don't you? Cam – I've been wanting to be good with them. I feel good with them but I don't trust them completely. We can all work together to get out a common goal. And although I don't trust Cory and America, I trust them to make the right decision for the next week or two. Bowie – of even three weeks. Cam – exactly and then we do what we have to. Bowie – the moment they get power they become different people. Which is a normal human behaviour but in here it gross. Cam – piece by piece .. like I am tearing down an old house. I would never leave you behind. Blue – thank you. Cam – if I am here we make money. Other people might… once the realize what you have to offer. Once they recognize how loyal you are and how great of a player you are. Once they recognize these things that I recognized weeks and weeks ago.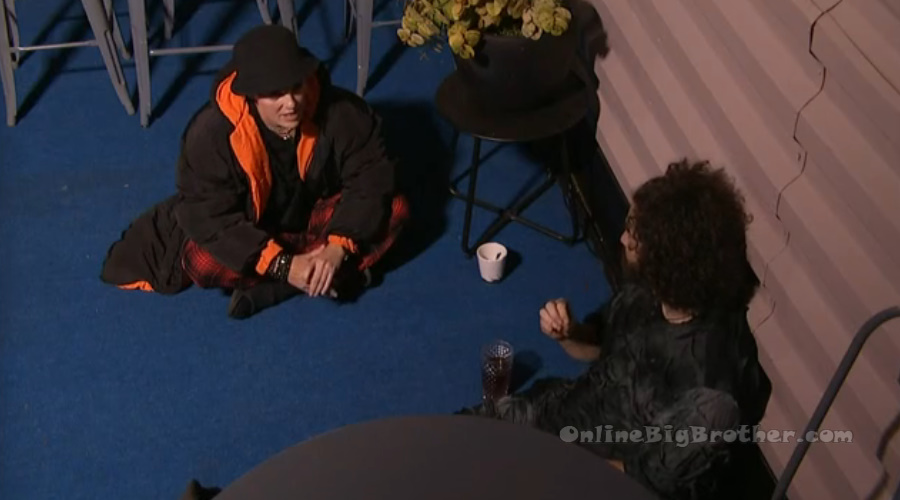 Kitchen – Jag, America and Blue.
Jag – he's made his targets clear so its going to be impossible for him to work with anyone else other than us probably so.. America – he just don't like them also. Blue – and his target being Felicia heavy makes so much sense.. Everything really started with Miss Girl. She lies about it or denies it or whatever. I don't know if shes said anything to ya'll. Felicia has never owned up to anything. Even with her owning up she is not a big target. America – but she is dangerous being in the jury house. Blue – yeah bitter jury. Bitter jury. Jag – maybe she is not a competitive threat but she is a social threat. She spreads seeds of doubt all the time. She is hyper paranoid but that is her game. What is she going to do win a comp?
11pm Bathroom – Meme, Cory, Jag and Matt.
Meme – lets play a game. Cory – sole mates? Likes and dislikes of their sole mates.
11:30pm – 12am Hammock – Jared and Blue.
Jared – its really up to you on how you want to play your HOH. You can play it super safe and put up .. since Bowie is part of the crew.. you put up Meme and Felicia. One of them definitely goes home. Whoever wins is going to keep noms the same. One of them is definitely going to go home because you got all the competitors on the outside. Blue – and when I do win HOH, I am going to have to act like its the only HOH I am going to win. Jared – that's what I am saying. In my HOH that was my regret. I was thinking this buys me more time and that sh*t did not. I am not going to make that mistake again. They continue to speculate.
midnight – 1 am Jared and Blue on the hammock mostly chit chat or Jared talking about the game. Jared is saying that Matt has had the easiest rid in the house "BRAH" for never being on the block "BRAW" .
Jag, Cameron, Matt, Corey and America chit chat and laughs on the backyard couch.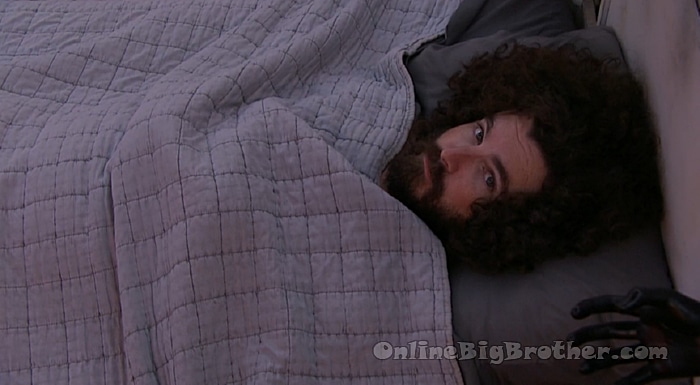 1:15 am Cameron calls it a night.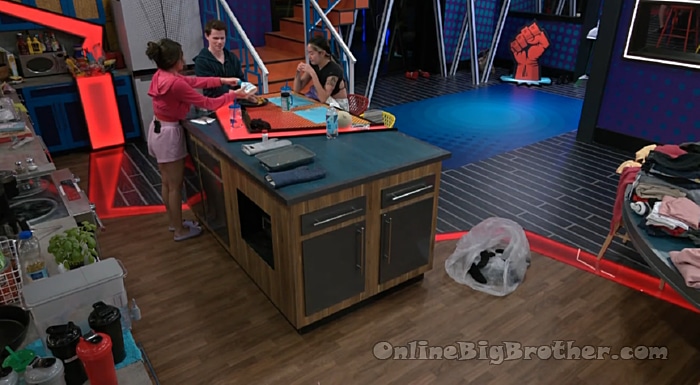 1:17 am Blue, Corey and America late night burritos and fries chit chat at around 1:59 am Some game talk about Cameron. Corey points out if Cameron wins the next HOH he makes it to Jury. They try to figure out what his Nominations will be.
Blue – I think he knows he has a short shelf life
Corey – he knows if he puts up Felicia and whatever he won't be in a good spot. at least if he puts up Matt and Jag he rolls the dice and see where it lands.
Feeds flip for a minute when we're back they are joking around about America and Corey having a 'fight'
Corey – our fights are more so her being upset and me apologizing.
Corey leaves.
Blue and and America talk about bowie jane. America says she doesn't trust Cirie at all. They talk about how Bowie was holding meetings with people today. She's playing the game now.
They head to bed.
2:00 am Zzzzz (Corey and America are making out)
If you've enjoyed our updates this season and want to leave a tip you can do so through PayPal.
You don't even need a Paypal account to contribute. Any amount is greatly appreciated!