The Situation:
Lots of bullsh1tting going on.
Jared and Cameron are living in the house as "Zombies"
No HOH, No Power of Veto, No Eviction. Jared or Cameron will get a chance to reenter the game.
Jared and Cameron compete in a 3 part comp to decide who gets to play in the puzzle comp to reenter the game
Jared lost the Zombie competition so Cameron gets to decide to do The puzzle competition to reenter the game
Lock your ranks in before midnight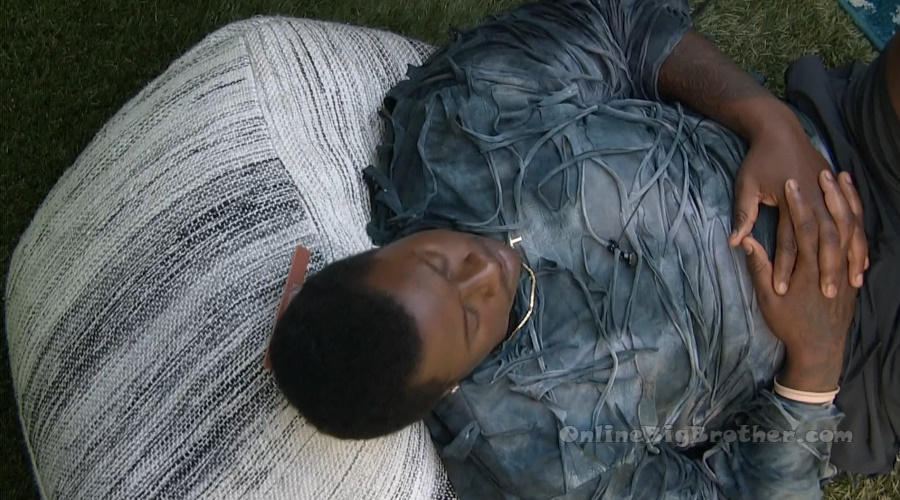 11:40pm Backyard – Jared and Cory.
Cory – what they're laying out to me doesn't make that much sense. And then I have all this but I was like he (Jared) has every reason to come after me and he just nominated me and America. Jared – I think that was the driving factor for you. Cory – yeah. So there was these two things and it was hard for me to get over but that's why this week if you do come back… its a weird week.. its almost .. this week is asking everyone to reset because there is nothing else to f**king do. Jared – that's what I feel like. That's what I truly feel like and especially being that its me and Cameron. Because people are going to fear it a bit because alright f**k these two have a great shot at winning HOH and then somebody is going to get cooked! Cory – yup. Jared – and then its also the fact that one of these motherf**kers is not coming back so that is also a good part of it, we only have to worry about one person. So we aught to be able to kick it straight with them especially me since I lost the resurrection. Its up to you to take it how you feel about it but I truly do mean it .. if staying in this house I am completely resetting. Cory – I appreciate it. Jared – I got all my conversations out that I needed to get out. I have an understanding of why it happened and at the end of the day like I always tell you like I am a gameplayer. I get it. From you I sort of expected it. Here is my thing, like I said me coming back into the house that is just how I feel and its up to everyone to believe it or not. I spoke to Matt about it and I spoke to Jag about it and if I wasn't able to have those conversations for sure I would be on the F**K you guys train. But considering I was allowed to come back in the house even if I am not allowed to stay in the house that was enough for me to have .. essentially to get closure. And I take my part in what I played in that whether it was less or more. When I was talking to Jag I said in a world where I do stay I am not coming after you either BRO… and like obviously I am not going to fall into the Hisam level ..like I am not going to go after anybody because then like what the f**k are you doing here. But truly right now it feels like day one again for me. I get the part that I played in it and that's what make it easier to accept.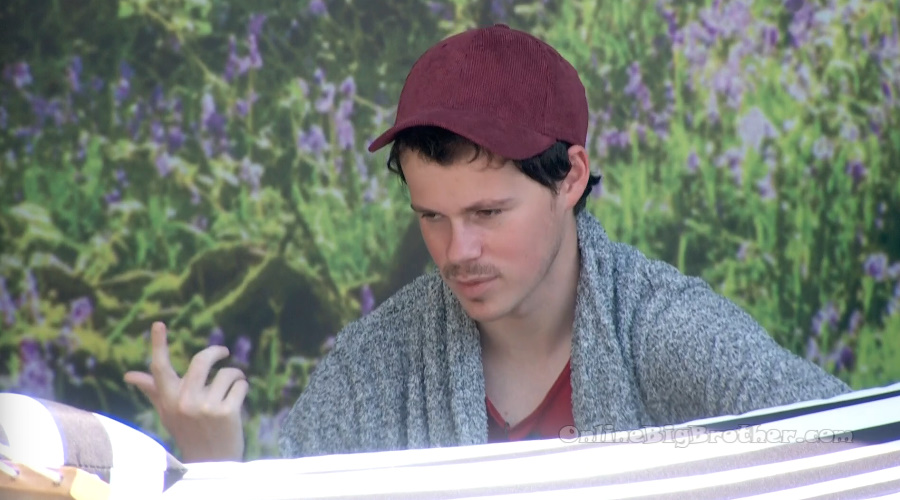 12:05pm Backyard Couches – The house guests are talking about how many kids they would want. Felicia – America? America – IT AIN'T FOR ME! Maybe if I meet the right person that might change. Felicia – I applaud you for knowing what you want and don't do it if you don't want it because its not fair to the kids.

12:25pm – 1:09pm Havenot Room – Matt and Blue.
Blue – I want to talk to Cameron.. it feels like everyone one giving him a chance and obviously so am I. I just want to talk to him and see what's up. I am not completely sold yet you know?! Matt – yeah, I think that is the same with everyone. Everyone is trying to be careful with Cameron. I am too. I would rather have him on my side to be honest. Jag if for sure with Cory and America. Blue – for sure. And between you and I that makes me a little nervous. Because its obviously its me, you and Jag but Jag is getting closer to Cory and America. And obviously you and Jag are seen as big threats. It just makes me nervous that he is going to choose them over us. My thing is I feel good with the 5 right.. I feel good with Cory and America. I feel good with you and Jag. Matt – I see us three as priority and those two as next in line. Blue – right. Matt – but I have you over them. I have Jag over them. Blue – I am just a little nervous because I don't know where Jag stands. I feel weird because I feel like I am on the bottom.. pair, pair and then me. Matt – I don't blame you once you get put up on the block that drives a little wedge. Blue – I am starting to feel super expendable to Cory and America. I kind of feel like they're .. not using us because I know they want to work with us but in the same way that everyone wants to work with us just because we're strong competitors. Matt – they know if they don't get them on their side they're f**ked. Blue – so I personally have a feeling that they're hanging out with us and that they like us as friends but they're kind of using us to do a bit of their dirty work. Matt – or because they know they can't play in these physical comps. That is just how I see things right now … I am moving in a way of being a team player but from my position I am keeping a close eye… because at any point it could be me again. Matt – I am keeping them at a distance too. Blue – I want us three to be there. Matt – I won't let them take you out. I will not. I am going to defend you. If they were going to put you up, I'll be like no f**k that. And we will take them out before they make a move. Blue – I was thinking about that .. like no matter what Cory and America are a final two. Matt – of course. They want to be the showmance to make it to the end but they won't because they don't win comps. Blue – and technically they've been getting people to do their dirty work. It really does piss me off that some people in this house haven't played the game. That's the thing that gets me a little annoyed with America is that she hasn't done anything. She is not even playing her game, she's playing Cory's game. Matt – I know, all she does is flirt with him and hangs out with him all day. Blue – and flirts with Cameron. Matt – I know dude! I'm like stop pissing off Cory. She's say that she hates him but then have long convos. Blue – and be hell'a flirty. I think that Cory is playing a smart game and America is just latching onto him. Matt – that's why she is F**Ked when he leaves. Blue – at the end of the day Cory is a smart player and he is playing for himself. America is playing for him. Matt – Cory's already made comments like America and me, we're not going to last outside of this. Blue – yeah and maybe this is just me being a hater but I don't think they really like each other.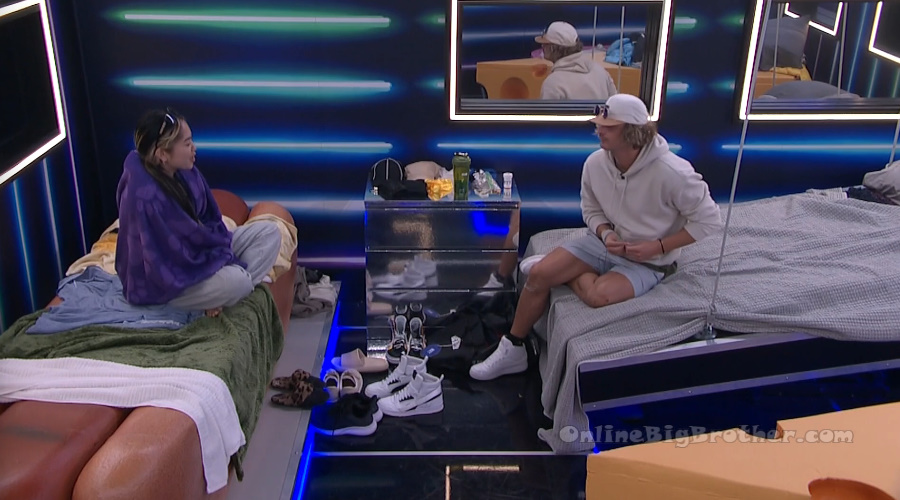 1:40pm – 2:07pm Bathroom – Cameron and Blue.
Blue – congrats on winning. Cam – on what? It feels like that was forever ago. Blue – Obviously, I didn't put my money on you but however.. just kidding ..all jokes. I feel like the vibes with you in the house are different. I see you integrating with the house which is good. Cam – if things go how I want them to go .. you don't have a lot of time left to hang out with Jared. Blue – yeah. Cam – and you know how close me and him are. And I know that I am giving him his time and you your time together and to grips with what happened. I hope he told you about the advice I gave him. Blue – no I did not. Cam – well it wasn't about you specifically. Do I just say f**k it and run with what I did when I came back into this house with everything I did and allow people to think I am whatever or should I try to mend these relationships? I said I know you have this thing where it is hard for you to separate things that happen in the game and personal. And you know I am the opposite. When I went out I went out with love in my heart and didn't screw anything up. If it was me I would figure out a way how to talk to those people. I think after that I've seen him talk to people and he's in a good space. Blue – I think he regrets playing as safe a game as he did. In the slim chance that you're still here I am ready to make a big move. Cam – its not that slim. Blue – I am manifesting for someone else right now. Cam – I know. Just to let you know I am manifesting as well. I know my abilities and my confidence level. I'm a bust that sh*t out the frame! And he is going to be my first hug.. because I am going to lose my friend. I've lost a lot of friends in this motherf**ker.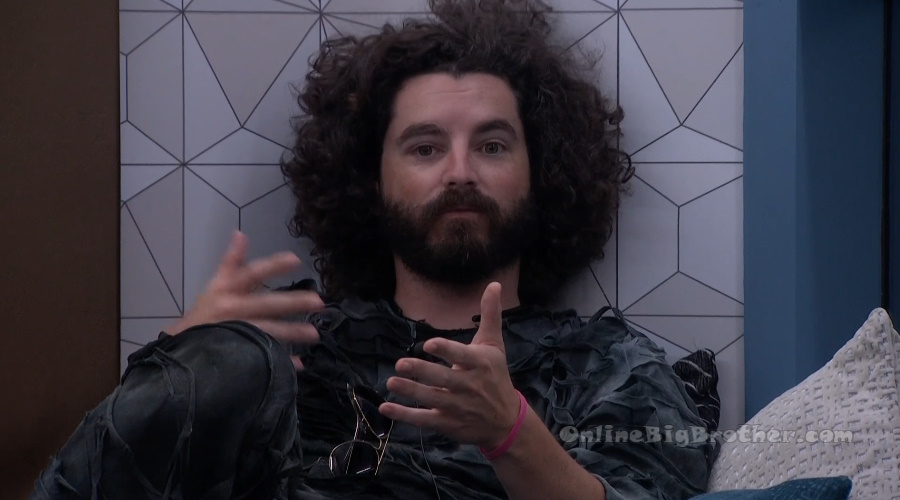 Blue – the nature of the game is to talk, trust people and what not.. so if at any moment that I feel that I can't trust you or if at any moment I hear someone say like oh this happened .. like you and Cameron said this… (She snaps her fingers) I don't need to pull what other people in the house are pulling, just like drop you and then as soon as you're on the high come back to you. You know me, that's not me. If that does come back to bite me in the a$$.. there is no way for me to stich around and do my little hair twirl and kiss a$$ is essentially what I am saying. Cam – well that is not very comforting by that I mean this is a conversation that Jared and I had because we did that to each other .. we cut each other but we realized that we're great friends and like super tight. And the agreement that we made after everything went down is that we have got to talk to each other… so I beg you not to drop me. I beg you to come have a conversation. Blue – No, yup. 100%! Cam – because I won't bullsh*t. I will talk straight to you about what is going on. I preface this because it is going to happen. My name is easily thrown under the bus every week. That is going to happen over and over again.. and it is going to get worse. Blue – no yes and I should have clarified. I don't care about he said she said. I will base my decision on my gut reaction not on what other people tell me. Blue – Lets rock some sh*t. Cam – I am down to throw grenades. You know that I've been wanting to do a big game play. You know that I want to have some fun in this house. Like I am ready to make people who haven't been playing or people who I don't like how they're playing I want to .. I want to stir the sh*t up! Cam – do you trust me enough to tell me what you think you might do? Blue – I am still trying to figure that out. Cam – I know what I want to do and it has hard logic reasoning behind it. Blue – and if you're comfortable sharing with me.. Cam – we'll get to that point but it won't be shocking.. when it happens it would make a lot of sense. It would be a move that I wouldn't want to give all the details to Jared. It would be a move that would resonate and make sense to the people that play the sh*t out of this game and are playing their a$$ off and deserve to be here. Blue – I am interested because if it is that same target that I've been hearing about. Cam – who did you hear that from? Blue – I heard from America. I heard that you're going after Felicia and Meme because you don't like how they've played. Cam – who do you definitely not want to go to jury?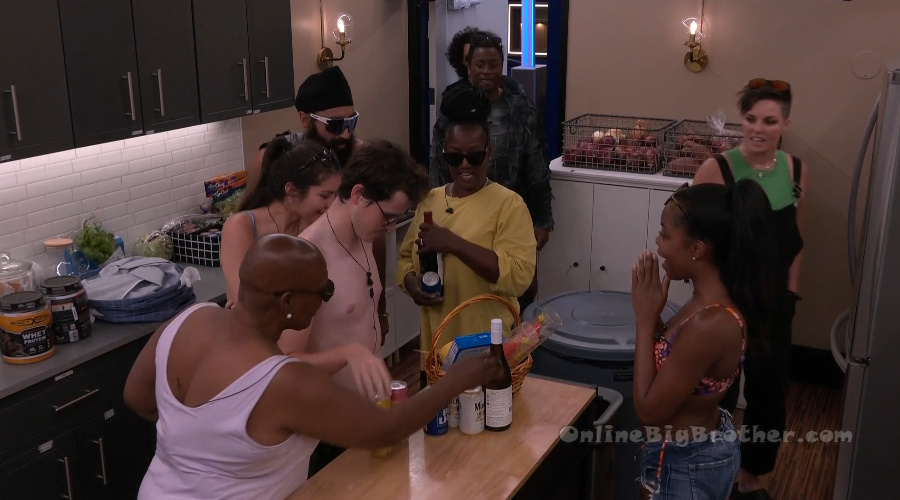 3:20pm Big Brother gives the house guests more wine / beer and party stuff for Cory's Birthday.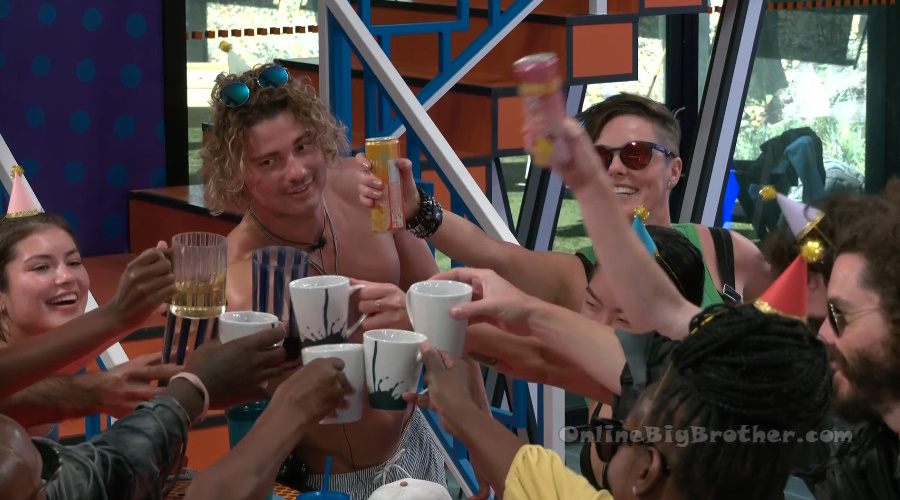 4pm By the Pool – Apparently Felicia gave Cory a lap dance during the BB feeds block. (Cory says that she offered.) Jared – you are a legend! Felicia – Jared, Jared, he got his P hard! Cirie – Cory's family is outside ready to take him home.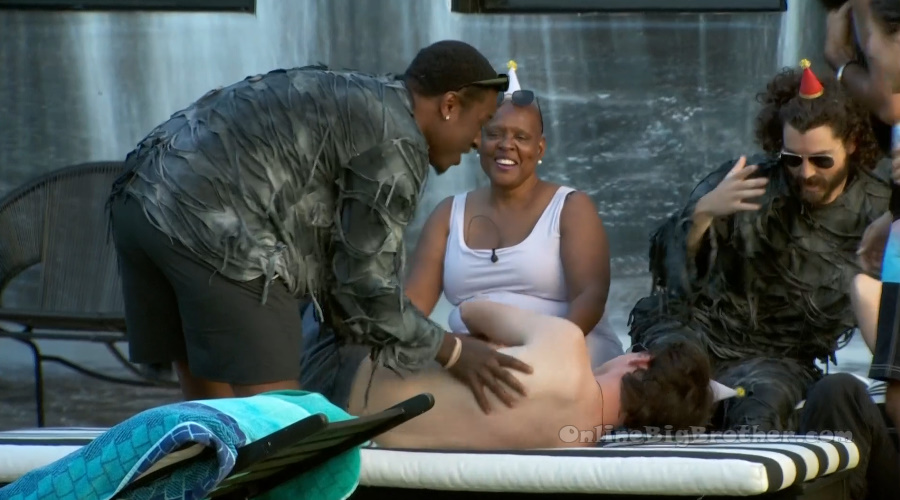 4:50pm Backyard – Blue and Meme playing pool.

Blue – Do professionals sit on the table? I don't thinks so. Meme – We are professionals, we make the rules.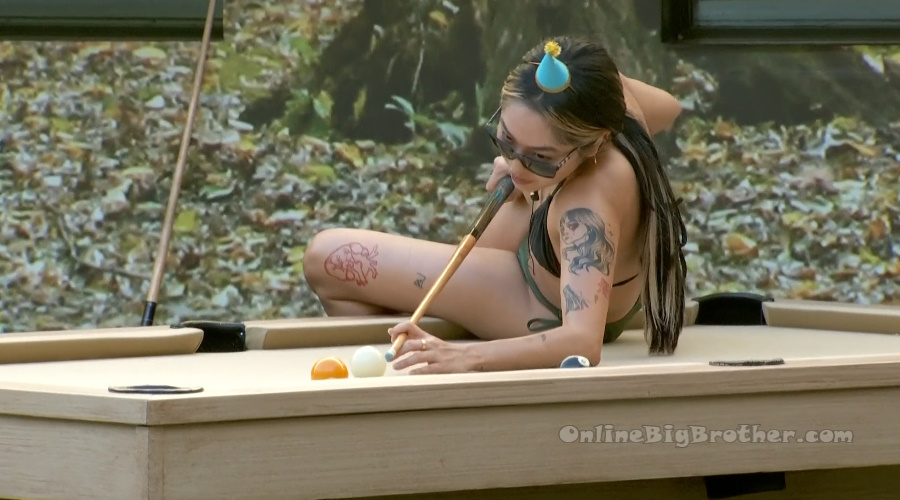 5:30pm Backyard Hammock – Meme and Blue.
They're chatting about the past events of the season and what happened during the double eviction. They head inside to sing happy birthday to Cory and give him his cake.
6:43pm Pool Games – with Cameron, Jag, Matt, Bowie.
7pm Bathroom – America and Cory showering together.
Jag "What are you doing down there?"#BB25 @bigbspoilers #BBCory #BBAmerica https://t.co/sLQeY1KjzC pic.twitter.com/t54hHA3CRL

— Dawg (@DawgsBigBrother) September 25, 2023
If you've enjoyed our updates this season and want to leave a tip you can do so through PayPal.
You don't even need a Paypal account to contribute. Any amount is greatly appreciated!