Head of Household Winner: Nicole
Nominations are: Jackson & Holly
Power of Veto holder: Jackson
Power of Veto Ceremony:
Grab your live feeds —-> BB21 Live Feeds Subscription Link
Rank your houseguests —-> Big Brother 21 Ranking
8pm HOH room. Story time with Cliff. He's telling stories about his travel adventures.
8:27pm Kitchen. Jackson and Nicole.
Jackson – So tomorrow until Wednesday, in that seven day period.. we have the Thursday Live Evcition, the veto ceremony, someone will come here and have a lot of time eaten up to do tv stuff for the recap, we have the first HOH competition, the second HOH competition, the third and final live HOH competition and the live finale day all in a week. We have a lot of stuff. It is seven days but I think it will be the fastest seven days and its the last push. Cliff joins them.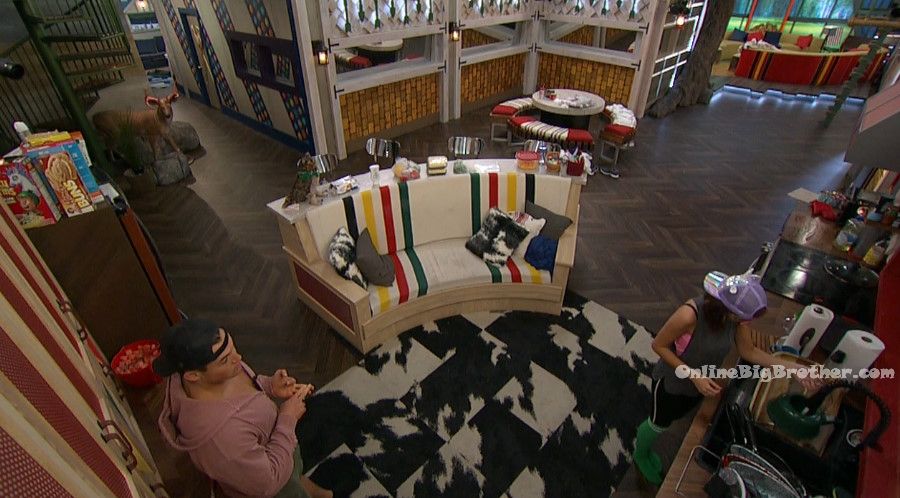 8:47pm Jackson – When we wake up tomorrow it will be one week left. Then Thursday will be the last Thursday. Friday will be the last Friday. The weekend will be the last weekend. When I do walk out ..whenever it is .. the first thing I am doing even before I shake Julie's hand .. is I am finding my mom ..sprinting to her and giving her a fat hug. Then I will continue with what I have to. Holly – there are not right decisions. There are not right moves. There is no right way to play this game. Our heads get so jumbled and its hard to make the right decisions. The only thing we can do is listen to our hearts. Even if it isn't the right decision as long as it feels good. Jackson – that's the problem with this week. Neither one feels good. Holly – I know. I know. I know.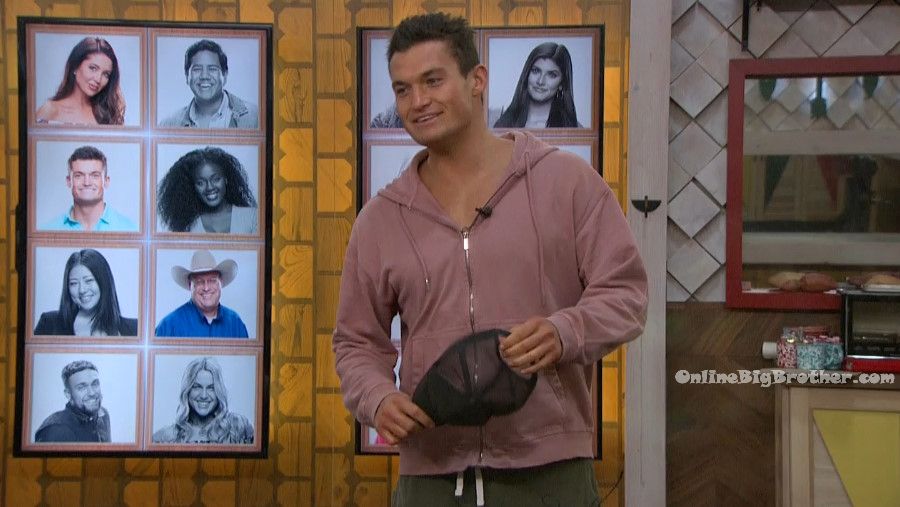 8:50pm HOH room. Cliff is talking to his wife about how she should not feel bad or guilty if she can't make it out to LA for the finale if they can't afford it or if other things are going on that he doesn't know about. Nicole joins him. Nicole – I am officially the girl in the end with the showmance.. Blaaa.




9:33pm Havenot room. Cliff talking to the cameras. Cliff talks about how he found Orwell the owl in the kitchen behind a pillow. Cliff – Of everyone in the house, who spends the most time in the kitchen ..None other that my former pal, Jackson Michie! Don't know what his plan is.. He was such a nice honorable guy. Jackal and Hyde.. Jackson and Michie?! Or there only two personalities or are we dealing with a third?! Maybe that third one .. just doesn't like birds. But even as I say that .. it dawns on me. There is someone else in this house other Jackson Michie that doesn't like birds. Nicole wouldn't do it. I don't think Nicole would have done it. She doesn't like… its not like she doesn't like birds .. she is scared of birds. Was Michie using Orwell to frighten my friend Nicole?! It's not enough that hes turned down me! But now he is trying to intimidate my partner with my best bud Orwell. God! So if we were to summarize.. Michie kidnaps Orwell, Keeps him in the kitchen. What if Michie was weaponizing my friend Orwell. You can't trust anyone in this house.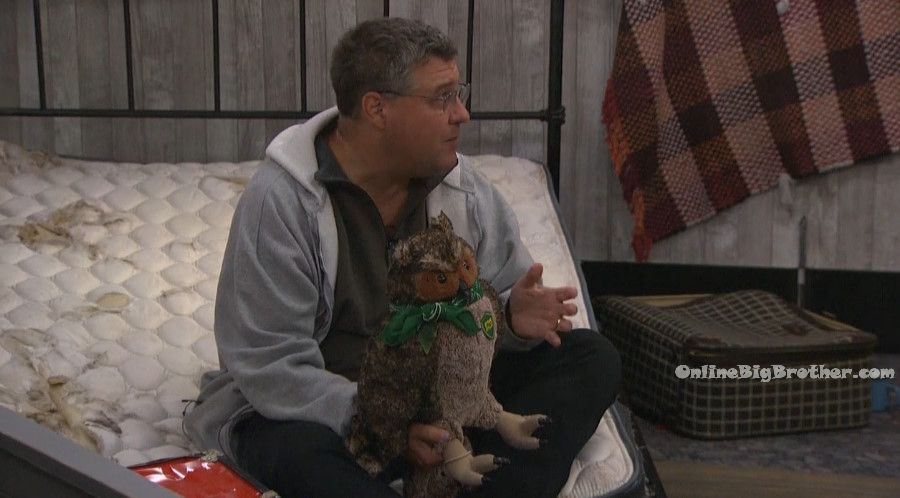 10:48pm The house guests sit down to eat. They talk about the jury and pre-jury house guests. They wonder if Nick and Bella are still together. Jackson bets that they aren't ..thinking that Bella saw Nick all over Sis and probably ended things. (Yup she sure did)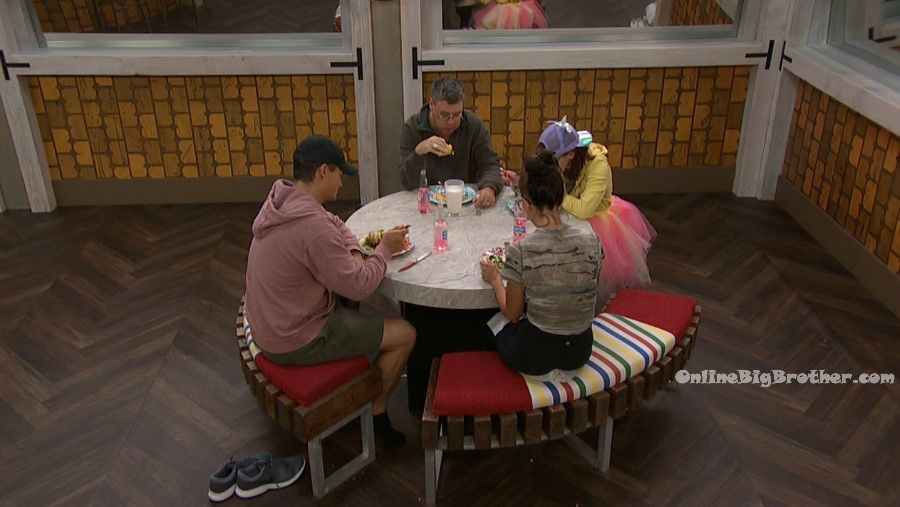 12:27am Bedroom. Cliff talking to the cameras.
Cliff – Nicole and I are tag teaming him. Hitting him one at a time. Making him feel a little guilty. A little bit worried. I don't think it worked this afternoon when I talked to him. We will see what happens with Nicole. But at dinner I did mention that I can only cast one vote for a winner and I hope whoever doesn't get the vote understands that I had to make a decision. Michie was very quiet during that .. I wanted him to start thinking about jury votes and what happens if he makes it to final 2. Tomorrow night I will tell him if I have to decide between someone who honored a promise and if breaks his and sends me out of this house he likely will not win the title and the half million dollars. He will try to argue that is personal and why it was okay for him to do that. And I will point out that he waited until after the veto competition. Nicole is busy trying to contrast the way America will view me versus the way they are going to view him. He is worried about how he is being viewed by the American public. We will put the pressure on him. If it doesn't work, at least I tried. I may end up losing a friend at the end of this but I have to try. If he treats it as person, then I can't do anything about it. I can't not use everything available to try and stay in this house. Tomorrow night might be interesting. I am working it. I really have one last deal to make and that is with him. And if I can make it, I succeed.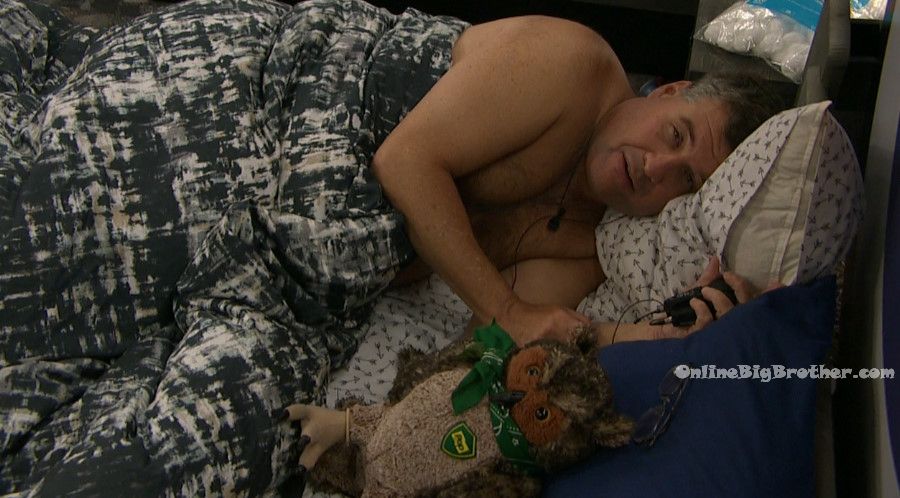 12:32am HOH room. Jackson and Nicole.
Nicole – if I had hauled a$$ … 2 minutes and saved 20 seconds here and there, I know who the final 3 would be and that's what is driving me insane and that is my own fault. If Cliff had won the veto would you have expected him to uphold..? Jackson – I don't know. I don't know if I expected him to? Two weeks ago I would have said yes. After last week, I don't know if he would have. I don't know if I would have expected him to. Nicole – he was going to. Jackson – I know. Nicole – my mentality is whether Tommy and Holly swap places .. it doesn't matter. I don't know its a game. Jackson – I get why you're mad. Cliff and I talked and had a good conversation. I feel bad. I decide who goes to finale night. Someone is going to be arms length away and fall short and someone will go and solely based on my vote. Nicole – well if you need help I can give my input. Jackson – but don't repeat that. I don't want to get in trouble or anything. It just sucks and I wish so badly things were different. The way I look at you and think about you will never change. Nicole – I feel the same way. Jackson – I hope you mean that because I am terrified if I were to evict him it would jeopardize you and I. Nicole – on a personal level absolutely not. Game level I just have to reassess what is happening moving forward. If I go out 3rd, I want to know its two people that have scraped their way to the final.. Jackson – I am one week away from fulfilling a dream of mine and I am one week away. Big Brother blocks the feeds. Jackson – if I won, I am taking that cheque and handing it to my parents. If I go to Vegas I am not spending any more than I would 6 months ago. I am buying a car because I need one, getting an apartment and taking care of my family that need it. Covering mortgage and bills.
2am All the house guests are sleeping..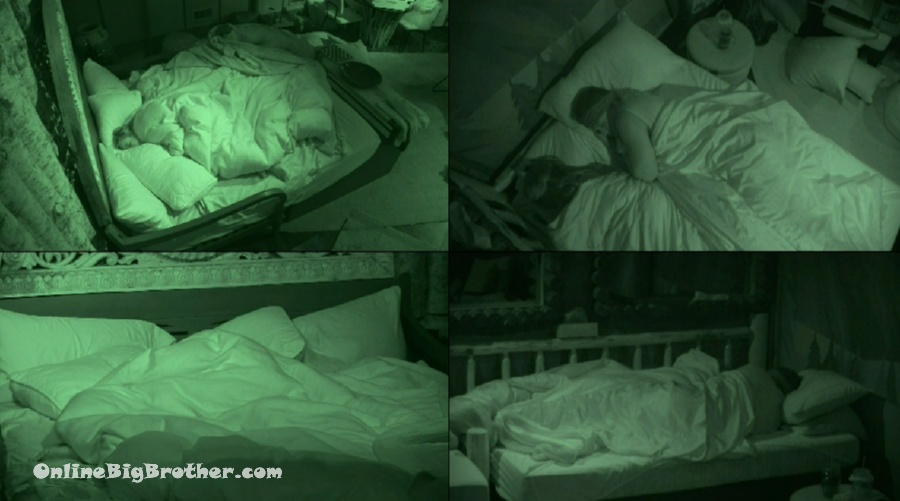 7:50 am zzzzzzzzz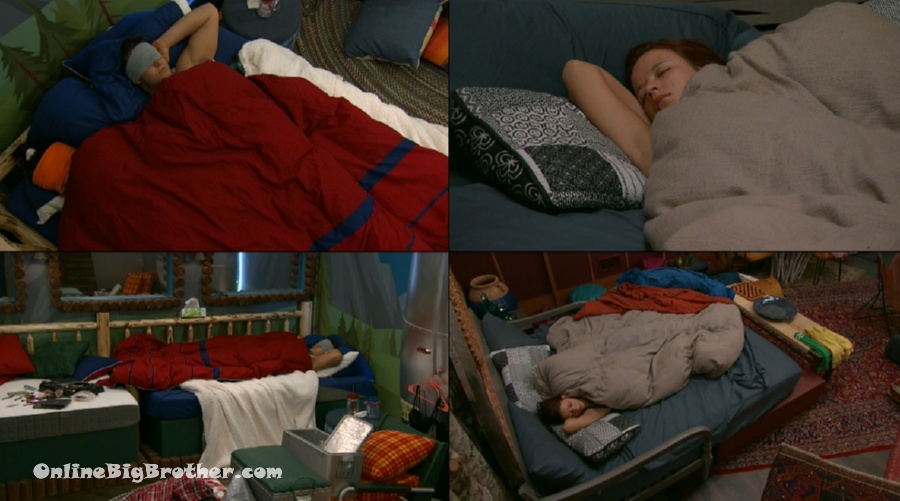 11:00 am House lights on
11:31 am Cliff is now up playing solitaire.
Show your Support for all the sleepless nights Simon and I have put in for the last 92 days straight. As an added bonus we also wanted to give a little more to those that donate: Click here for more information.
Any amount is appreciated! Thank you