Head of Household Winner: Nicole
Nominations are: Jackson & Holly
Power of Veto holder: Jackson
Power of Veto Ceremony:
Grab your live feeds —-> BB21 Live Feeds Subscription Link
Rank your houseguests —-> Big Brother 21 Ranking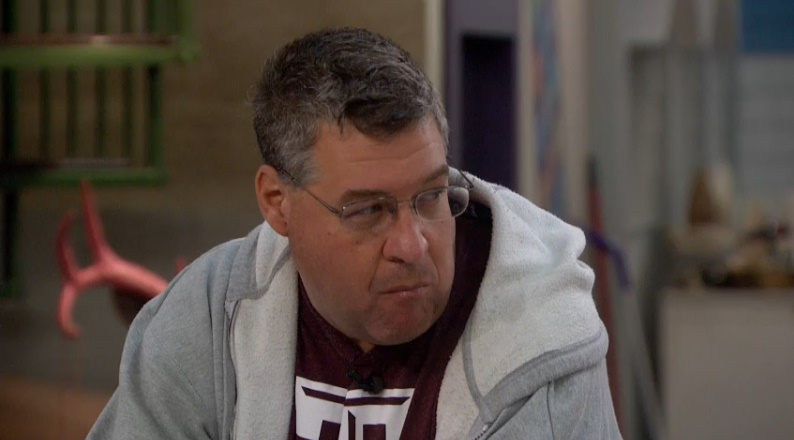 12:53 pm Nicole and Cliff
Nicole – every time he talks "I hope it doesn't affect our relationship.. you will think differently of me I hope it doesn't affect you and me on a personal level.. blah blah blah
N – I'm going to keep driving home don't worry about me I'm not the one that has to.. you know
N – As long as you are able to sleep at night knowing that you got to choose final 3 be happy with the final 3. take yourself out of it
N – Michie a year from now laying in his bed staring at the ceiling is he going to say dammit.
N – he's similar to me I personality I feel like.. I don't know. C'mon think about it when you're removed from this over a year 2 years are you going to look back and go why did I not bring Cliff that was horrible
Cliff – we'll see. I feel like he's just doing it to stay tight with you and nothing else (Entertaining their schemes to keep Cliff)
C – his decision has probably already been made
N – yup
C – I'll hit him with the other stuff tonight if that's the case
C – I truly think if he's lost your vote and my vote how does he do it?
N – I don't know. that's what I want to say to him. You're sitting next to Holly. Someone who made a deal and stuck with it to give me the HOH.
N – Versus him who promised you personally back and forth several times
N – If he gets rid of Holly she is a guaranteed vote for him and that keeps me and you happy and whoever goes to Jury is happy
C – it could make the difference
N – we might not necessarily vote for him BUT at least we're not going into jury being all OH MY GOD HE'S A…
C – if he does that neither one of us is going to jury. the only person influencing jury votes is Holly
Nicole says Jackson is always bringing up the money he's not bringing up "me" or "holly"
C – I told him I cashed in my 401K just to cover the expenses in teh house
N – is that true
C – No, not really. We had some money set aside that we pulled out
C – I was off work for a year so it's pretty much tapped out. I have more money saved up. we had some stock so I sold that to cover some costs.
N – I told him Cliff gave you his word and he was going to stick to it
N – I told him with the whole Holly nad Tommy thing it didn't really matter if Tommy went then Holly or Holly then Tommy, either way, we were banking on us being in the final 3. That is why I didn't care about Holly leaving
C – that's what I told him
They talk about how they told Jackson they wanted to get Holly out for him so he Wouldnt look bad.
N – right now he thinks he's set up if he wins he's in final 2, If Holly wins she'll bring him, If I win I'll bring him. At least that's what he thinks
N – he says if CLiff leaves he hopes that doesn't change on a game level. I told him if Cliff leaves I'll have to reassess things
Nicole tomorrow we'll hit him up for a deal. I'll promise him the whole world.
C – I don't know when I'll tell him about the votes.
N – say I really want to be here but to be honest Michie have you thought about YOU then you can say that (about the votes)
Cliff explains to Nicole what MAD means in reference to the cold war "Mutual assured destruction"
C – we both built up so many nuclear weapons the other side wouldn't attack because they knew we would destroy them in exchange(and the rest of the world)
C – I feel like that's the same thing with Michie and I. Michie you can keep me from going but If I do I can keep you from winning
N – He's smart you should use that analogy
C – I said to him look, I've never been disloyal to you the only person I've been is potentially Holly and that's when I thought she was getting ready to cut me loose. That came straight from Nicole telling me that then Holly confirmed it
N – She did say it
N – He said to me why did you want to keep Tommy I said, to be honest, the final 4. 4th in the pole, get rid of Holly the 3 of us are smooth sailing right to final 3 just like you wanted Michie just like you wanted
N – he might have just said that to ensure if we won we would take him to final 3
C – yeah
Nicole – so he's playing the same thing we are
Cliff – that's the problem (FINALLY, you two are getting it)
N – he's smart Dammit
C – I won't vote for him and I will Weight the jury over there that will be my final punch going out
C – I've never been about biter jury's but I feel like it's more than just a biter jury it's about the way the game's played (lol)
N – Especially when Holly threw that HOH. She could have won that easily but she threw it
C – right before the eviction ceremony I'm going to hide Orwell somewhere but not just Orwell. I'll hide Orwell, A couple of playing cards and all the backgammon dice and tell them until they find Orwell they won't be able to play those games
C – force y'all to look everywhere for them. I'll tell you where they are just in case.
C – make them look everywhere for Orwell.
N – GOOD
C – I figure they'll miss the cards way more than you will. we'll see
N – I like that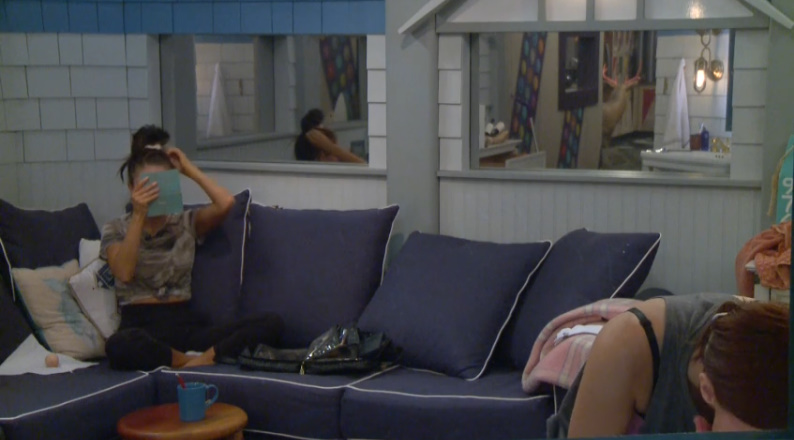 2:50 pm Holly and Nicole
Talking about how bad their skin is inside the house. Nicole felts bad for Tyler last year when Zingbot brought up his skin.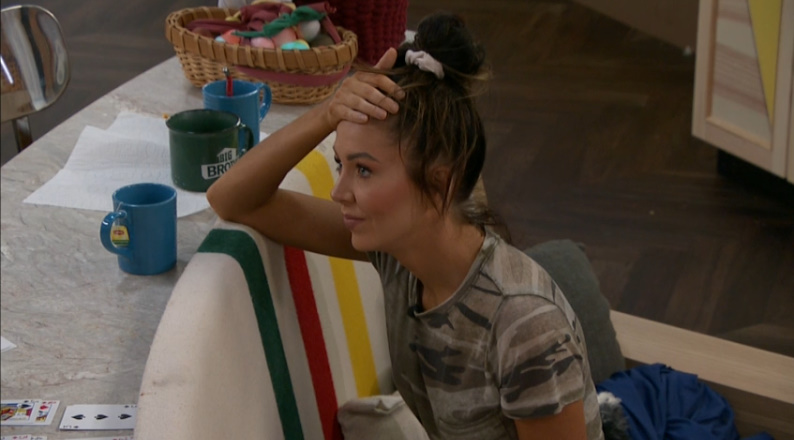 3:58 pm Jackson and Holly
H – I'm trying to hard to get caught up for tomorrow
J – I'm the most rested I've felt all season
J – I'm thinking if it is straight-up endurance I'm going to throw it to you
J – I'll take the gamble
H – wait till she falls
J – I'm saying if it's between me and you. I would rather go in facing a mental comp. No Offense
H – none taken
J – I want it where you and I are the last two
H – What if we're not. That also scares me. Are you confident that it's physical
J – I'm not confident about anything I don't know sh1t
J – we'll play it by ear and adjust accordingly. Key to this game is adaptation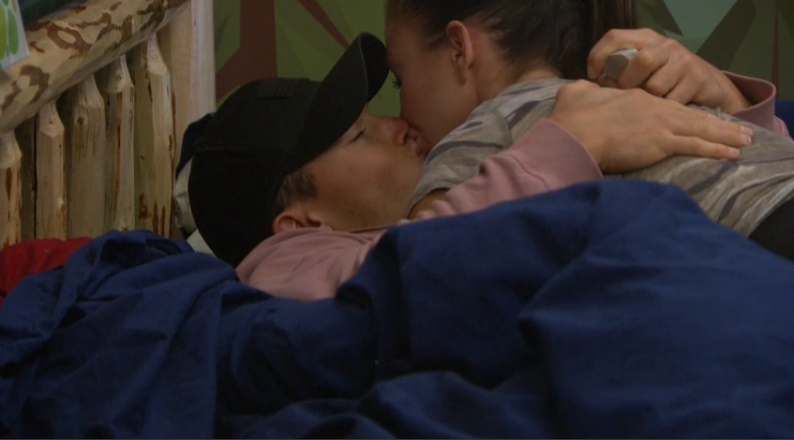 5:10 pm Showmancing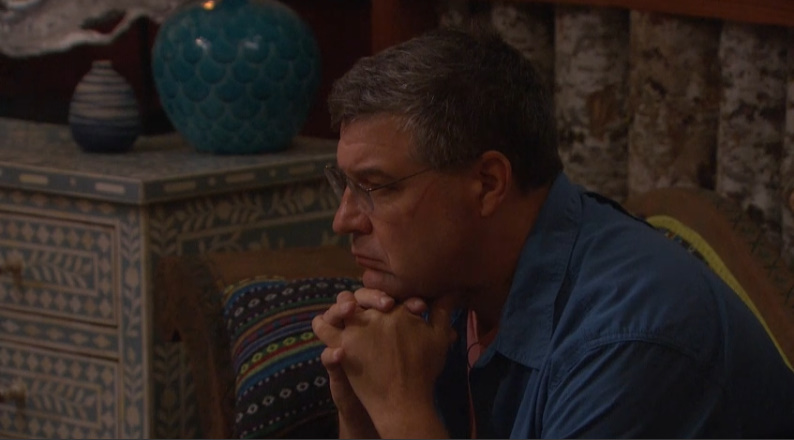 6:12 pm Cliff says he's going to lay down the law with Jackson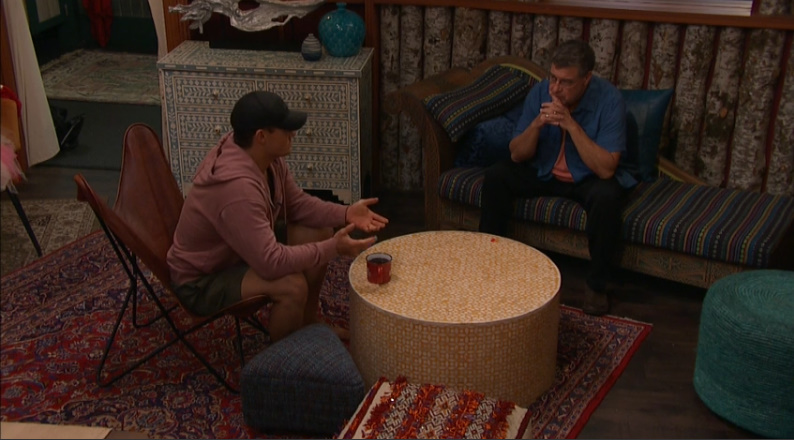 6:21 pm Jackson and Cliff
Jackson says last week changed everything for him
Jackson says he wanted to stick with their final 4 like they all shook hands 40 days ago.
J – Holly has never turned on me
C – I've never turned on ya
Jackson goes on about how it's killing him to make this decision. this is the first time that his vote is cutting him deep.
Cliff – so what you are saying is Holly is your number 1
J – Holly has always been my number one in terms that I always had her back
Jackson says everything changed with BBcomics and Nicole wanting to flip and keep Tommy, "Everything changed with that decision to keep Tommy"
Cliff – I got it pushed in the other direction the decision was not made.
C – if she was your number one why was there so many conversations with you, me and Nicole
J – I didn't want there to be any personal decisions up to four I wanted us to be 4 competitors and duke it out but that didn't happen
J – Everything started with Keeping Tommy and now I and Holly is all I got.
C – you had said so many times that you wanted Nicole and I in the final 3.
C – do you see keeping Holly benefits your game more than the benefits of the agreements I'm going to give you
J – I don't know this entire game I've never known what best decision is. I have to follow my gut and make a decision I don't want to make
C – If Holly were to stay there's not an agreement between Nicole and Holly maybe you make it to final 2 maybe you don't. If you keep me you will make it to final 2
Cliff offers to throw competitions "I just want to get to three and get the family out here"
J – Man to man I'm really struggling here. whatever I do I'm taking someone's family away from the finale. I am truly struggling on the inside.
C – your leaning towards Holly
J – I am
C – with the final 4 I had to deal with promises with other people. Our Agreement was man to man to have it broken After …
They go back and forth about the timing of all their stupid deals who broke what deal when etc etc. Just rehashing everything they've been talking about for the last week.
Cliff goes on about the timing when the deals were broken.
Jackson – it all stemmed from Nicole wanting to keep Tommy.
Jackson reminds him that he's taking the fall because of what Nicole did. Tells him if Nicole hadn't done that Holly wouldn't have thrown the HOH and she would have won. He would have won the veto and it would be Nicole leaving not Cliff.
Cliff says he knows it was dirty them making it to 4 and the only reason they did was that Cliff did A lot of pushing to convince Nicole to evict Tommy.
C – have you thought about if you get to the final seat the jury votes.
C – if Nicole is up there you know which way. Our alliance was to final 2 I will say. If I got sent home and it was you and Nicole she would get my vote. I'll be honest t if you and Holly were up there She honored her promise you didn't that will affect my decision and it will affect Nicoles's decision in the way she votes. From a game situation, you know.. er.. there could be different outcomes.
C – I consider you a friend and I don't want to screw that up. but I want to fight for my case. If you and Holly are up there and a word has been broken you 'll need 5 votes from the 7 people. If Holly is over that Jury house and has a few more days to sell to people.
C – If it goes down this way. Nicole, Myself, Nick as well. I just think it would be tough for your game.
Cliff says it will be easier if Holly is in jury instead of him in jury.
Easier for Jackson's game in the final 2.
C – i'm just making that observation (all about the game Cliff.. at it again)
C – I respect you.
Jackson – I need to take a shower. I need to think. Got a lot on my mind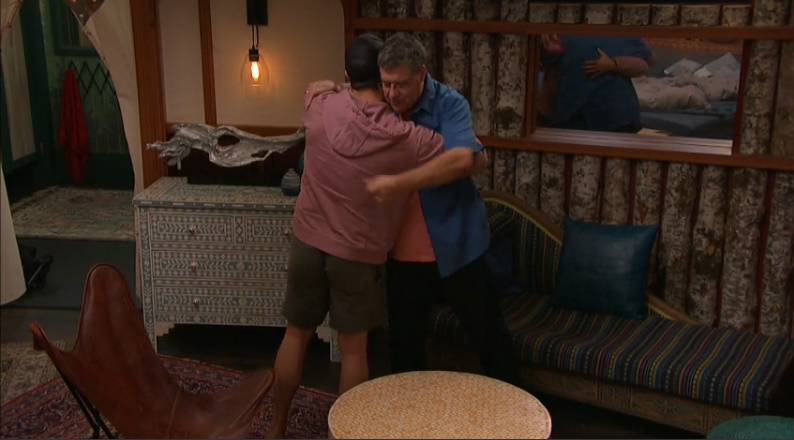 They shake and hug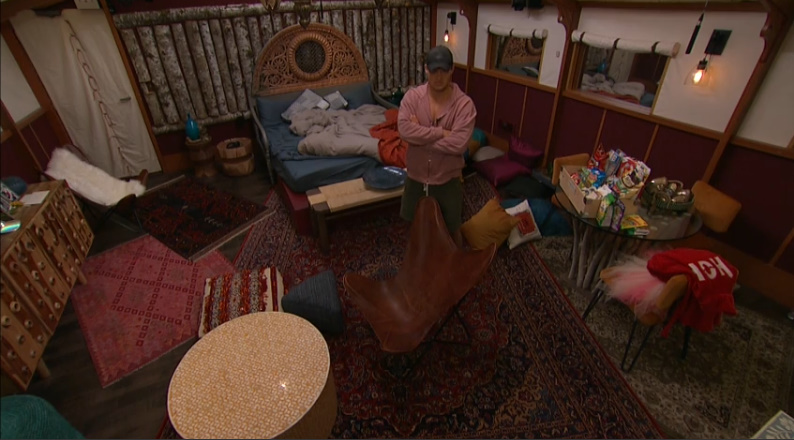 Cliff leaves
Jackson – are you f*ing kidding me.. are you f*ing kidding me. you're going to threaten me with f*ing jury votes.
J – I'm doing what's best for my game I'm going to lose 2 votes. Sick.. making my job easier.
Cliff runs to Nicole to give her a run down.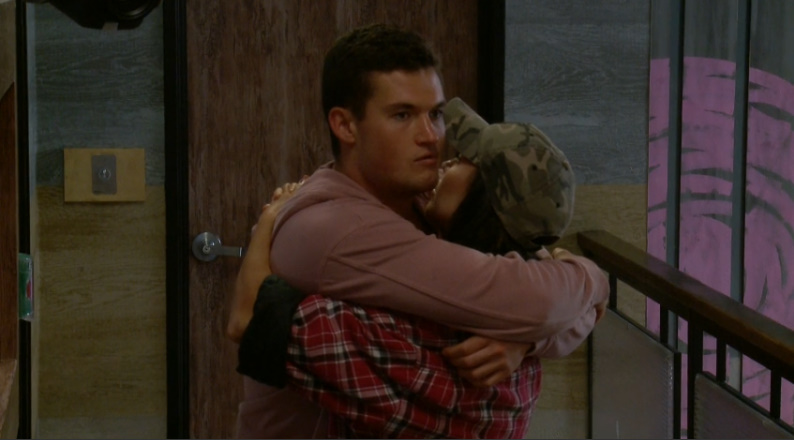 7:52 pm Jackson and Holly in the have nots.
Jackson brings up his talk with Cliff. Mentions that Cliff threatened him that if it's the two of them in final 2 they aren't voting for him and that he's going to campaign against him in the jury.
J – It should be in my best interest to have you there to campaign for me.
Holly – great say that in your f*ing speech
J – I will
J – so if I'm sitting in final 2 I don't get his vote.
J – he'll be in jury for 6 days campaigning against me because I'm bot holding up my end of the deal
H – that's his desperate last attempt. I don't see him not voting for you as a man as a game player
J – it just made this decision way easier. I'm not about to get Bullied and strong-armed into a corner.
J – so much for keeping it calm cool and collected in my speech tomorrow.