Head of Household Winner: Nicole
Nominations are: Jackson & Holly
Power of Veto holder: Jackson
Power of Veto Ceremony:
Grab your live feeds —-> BB21 Live Feeds Subscription Link
Rank your houseguests —-> Big Brother 21 Ranking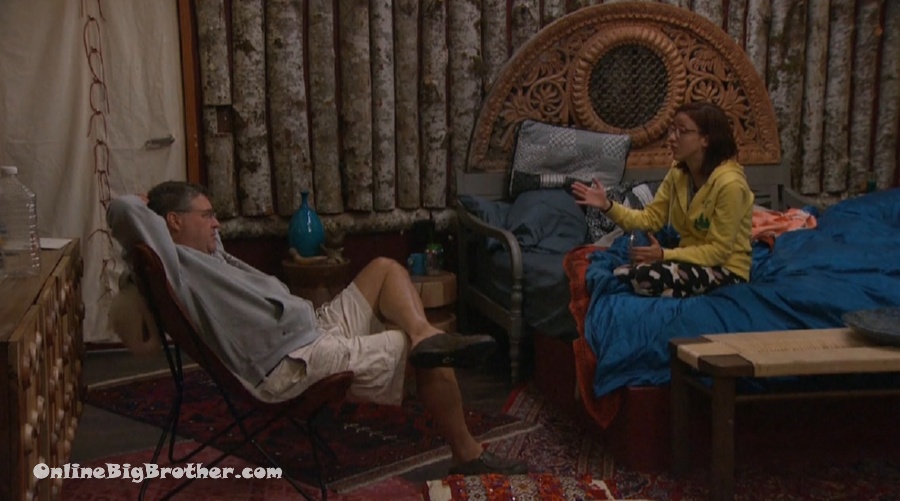 2:38 pm Nicole and Cliff
C – what did you learn my little secret agent
N – so I went to the hammock and he was working out
Nicole goes on about how he asked her why she's feeling bad. It's because Jackson said he wants to go to the final 3 with people that fought. She feels the same way.
N – I go, You don't have to, believe me, I know my truth he (Cliff) was fighting for that Veto to bring you and that's what is making me so sick and upset.
N – I kept just laying it on and he was like .. He got teary-eyed. SAid I know I feel that way too.
N – He got really quiet so I just let it simmer.
N – he goes Nicole I really want to be in one of those two chairs. So Nicole laid it on even thicker
N – I was like OK I get that. If you need one of those two chairs I can give you one at this point I think the people in the final 3 should be ones that fought and if you want one of those two final 2 chairs it's yours.
N – he was like .. yeah I know I know I hear what you are saying. After a paused he was like there's a lot of days before Thursday I would like to sit down with you and cliff
C – OKAY
N – you know a lot can happen
Nicole mentions how there will be the recap episode where the banishment and comeback will be shown. Someone who went through all those "things' should be in the final 3
N – I thought that I had him then he went inside for awhile.. He came back and said 'Can I ask you something'
N – I said sure
N – Was keeping Tommy and attempt to, therefore, get rid of me and go to the final 3 with Tommy
N – I said to be honest no. It was more so me feeling like the 4th wheel to a tricycle. I was trying to think how do me and Cliff get to final 3 it's not going to happen with us four I thought maybe Tommy would give us better odds getting to the following week, Me you and Cliff would still get to final 3.
N – he said ohh you mean it wasn't an attack on me. I said no. me and Cliff would love to see you in final 3.
N – and then he was like.. it kinda spun. I want you to know regardless of how Thursday goes. you still have me in your corner I still love and respect you and .. whether Cliff goes or not it's not you or your game. WE all have a 33% shot.
Nicole – I feel like the beginning of the conversation I had him then he came out and more aggressive. "What was the point of keeping Tommy" So I defended that. he went back in and came out more aggressive.
N – I felt like I had him (ZOMG)
N – He's at least willing to listen
C – if he asks about Tommy. I'll say look it was concern about four people and only three spots
N – That's what I said. I'm a numbers gal we can't all four be in finales. Us 4 vs if I take out one I move up on the totem pole and we can all get to final 3. (WOW)
C – you weren't on the block HOlly ways it was the idea that if she was gone then…. er.. I don't know if Tommy was going to come after you (Michie) or if he's coming after me I really don't know. BUT at least it gave us a chance, Nicole and I to the next one
C – I'll tell him too .. err Look Michie it hurt my game potentially having you there opposed to Holly because you are a stronger competitor but I made a promise to ya and I told Nicole I was going to keep that promise
N – I told him I know you are worried about appearance and I know it is not relevant to the game I want you to know and I don't want you to believe me but I go I sat in rooms with cliff 4,5,6 times where he said to me Nicole I know Michie is a competitor I don't know how it affects your game but I gave my word I'm bringing him to final 3. I said Cliff we're playing our own games I respect you KEEP YOUR WORD and you'll see when we get outta here plenty of footage of Cliff saying that and plenty of footage of Cliff BLEEDING in the veto to win it to bring you.
C – how did he respond to that.
N – yeah.. yeah I know
Cliff – if I have to offer up a final 2 seat.. tell him you can have the seat it's between Nicole and I for the other one May the best man win.
N – I'll promise that Final 2 chair and if he wins the HOH and he can pick whichever one he wants to bring that's his doing. If you win and you want to honor your word to take him go right ahead so be it. I'm being honest I am probably going to promise it and I will see how Nicole Feels in that moment on finale night (hmmm)
Nicole – I know it's horrible but it's a game
Nicole mentions how Mihice went on about when she gets out she'll see how much he loved her and thought of her as a little sister
Nicole – I said Michie I want to believe you but I have trust issues. If you did say or have done anything My dad is a very scary man.. I'm telling you .. then he hugs me said I love you
N – I would rather take third to you and Miochie than Third to Michie and Holly. It's nothing against Holly
Nicole explains she wants people that "Fought and competed" to be in the finals
Nicole goes on about pushing on Michie's "heartstrings" saying things like "think about the fans watching"
Nicole now saying that Holly did win HOH's and take out big targets "But living in this house there are people that fought more and fought day in and day out and cared and had that fire under their a$$ everyday" (Holly did have that rash.. could have felt like a fire)
C – yeah
Nicole says her last-ditch effort will be to say if he evicts Cliff she'll take Holly to final 2 if he keeps Cliff she'll take him.
N – He seemed very receptive when I was upset.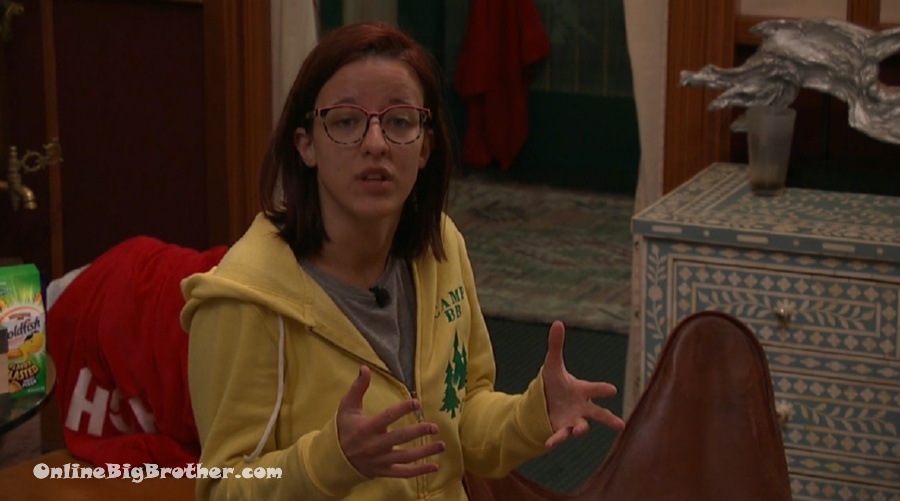 2:53 pm Nicole alone
If I need to promise the world to Michie to get Cliff in that Final 3 I will do it I will promise him whatever I need to promise him. I will shake hands I will look him in the eye.
Will I break that Promise? Potentially but you know what it's a game at this point I just want Cliff in that Final 3. I will promise anything and if Cliff gets to that Final 3 I can be happy knowing that it's Michie and him in final 2 OKay. If it's me and Cliff in final 2 tremendous. If it's me and Michie final 2 GOOD.
Yes, America I will promise him anything and yes I may potentially break that promise I'm sorry if that makes me look horrible. I'm sorry that makes me look like a villain but this is a game and the only people I owe anything to is myself and in my guts Cliff if we can get to final 3 C'mon .. that would be so fricken tremendous
Nicole – C'mon America root for the underdogs.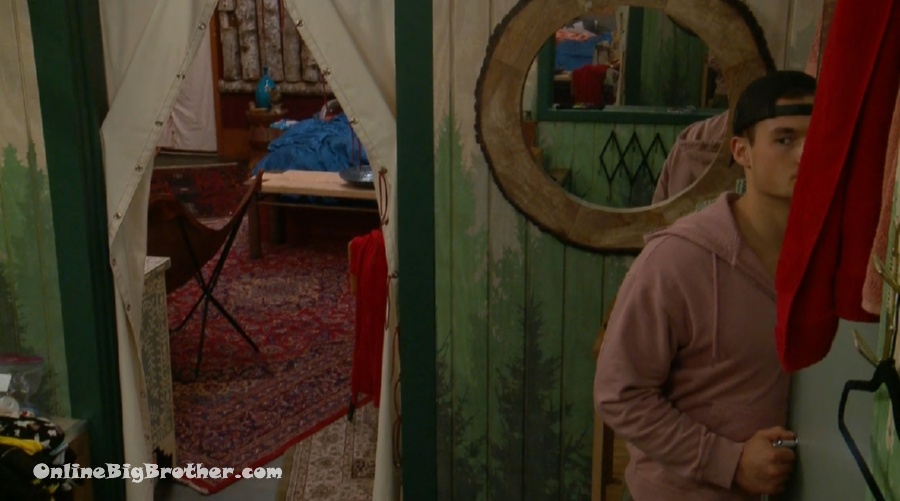 4:07 pm Holly and Jackson
Jackson – you're not going anywhere.
Jackson says they're campaigning to him hard.
Jackson – I'm here to play a game.
Holly in the shower going on about not seeing her family ever because she can't afford it.
Jackson – why would I remove my half of the duo to keep another duo
Jackson says Cliff is a great guy and he's smart. His social game is very good.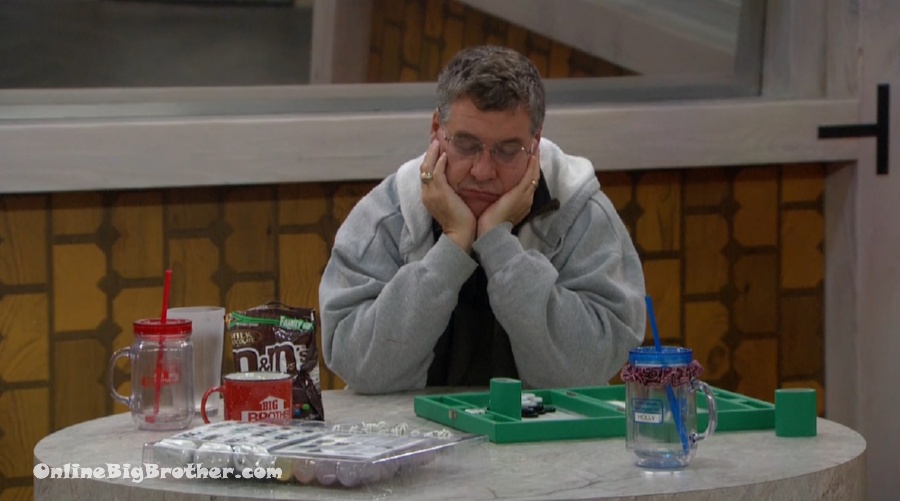 4:10 pm Cliff "moping around"
4:14 pm Nicole reiterating everything said above. She says Cliff is moping around but that's all part of their plan. She's wanting to have a sit down with Jackson and Cliff where they will promise Jackson final 2.
Nicole – We'll promise we're playing separate games and that he has a guaranteed spot in those Final 2 chairs and that's not me lying he will have a guaranteed spot in those final 2 chairs. Of jury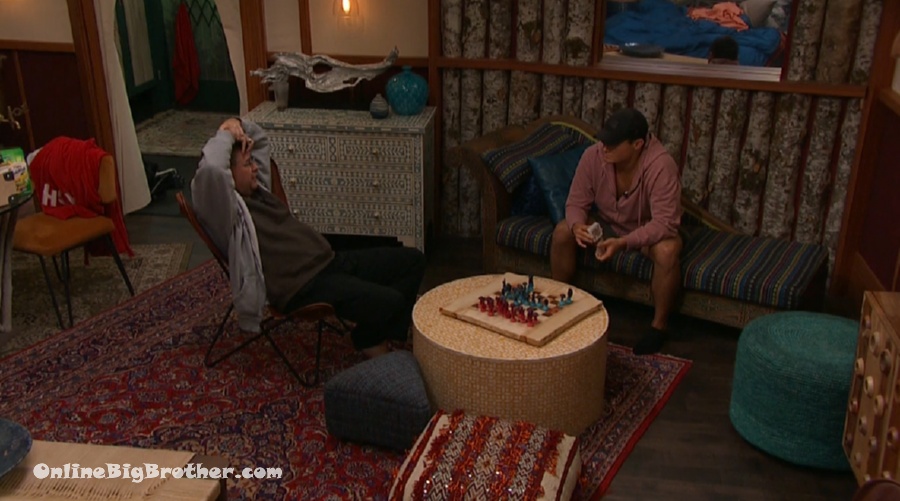 5:10 pm – 5:50 pm
Cliff campaigns to Jackson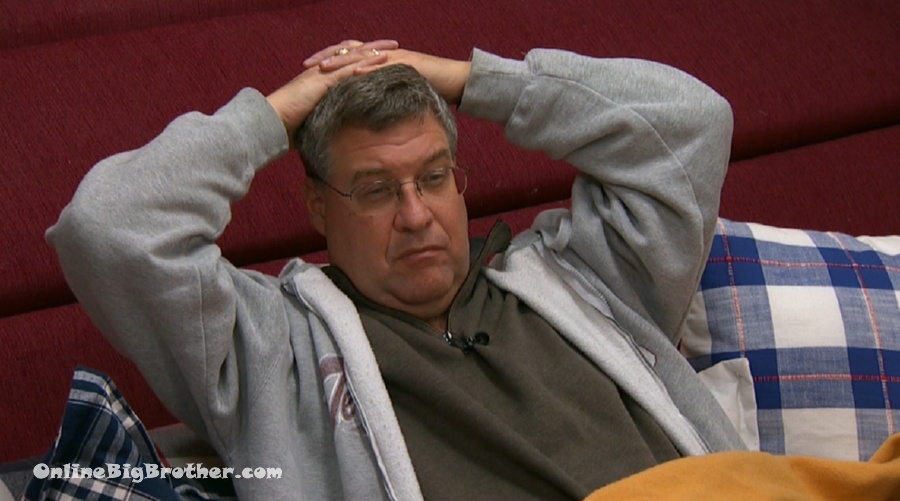 5:50 pm Cliff alone
I don't think he's going to pick me over Holly though. She's his girlfriend.
Which means I've worked myself into fourth place. Instead of third.
I was trying to make sure I had a better shot at getting to the final 2
It would have worked too if Michie had been a little more honorable (LOL)
The difference between final 4 and final 2 is a lack of integrity and honour from Michie that's what I'll have to accept if that's the case.
I tried to do what I had to do to get to the top and it jeopardized my position.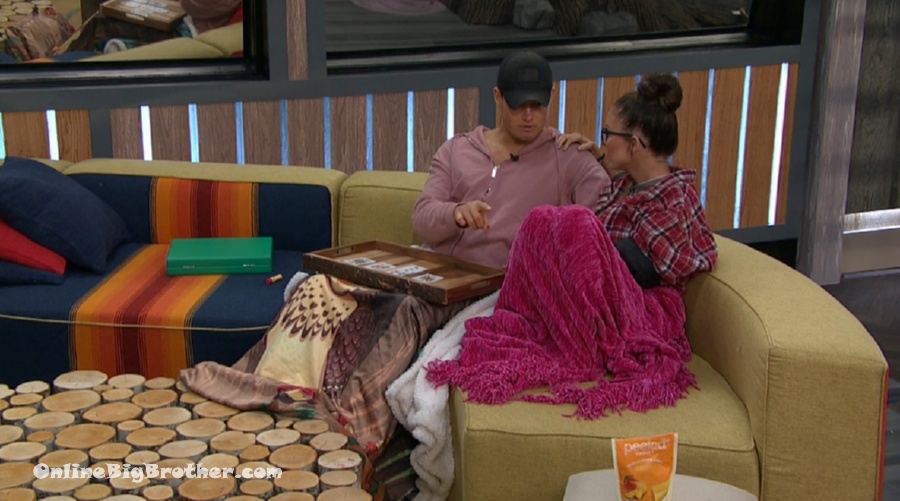 6:02 pm Jackson and Holly
J – He was saying he left his family in a financial crisis to get here
J – He (cliff) doesn't care if he takes third he just wants his family who love the show to come out and be a part of the Big Brother experience he cashed in his 401K because he had to quit his job . he would guarantee me he would throw whatever comps they would guarantee me a free spot in one of the 2 chairs
Jackson going over what Cliff was saying. "He said Sharon can't afford to come out here and he just wants her here all these different thing"
Jackson – Cliff I asked you if YOu would give me one vote and I would break the tie. You preached about playing individual games I said look unfortunately as much as me as a individual to you as an individual knows that You didn't necessarily break your word to me as much as I was asking you to play your individual game you made it clear that you wouldn't that you are A group and a package deal unfortunately because one of you two decided to break your deal it's essentially both of you and unfortunately since both of you are not safe you're the one that will be taking the hit .
Jackson – I told him why beyond a personal level would I turn my back one someone that has never done me wrong and never left my side when I thought I had her game blown up 50 days ago. She's never gone against me. How can I turn my back on her for a duo that almost that was about to send her home and take a deal back.
I said Cliff if you stay you stay if you go I hate the fact that someone else game may have jeopardized yours .. if things had differently Holy would have won the HOH you and Nicole would be on the block and we wouldn't even be talking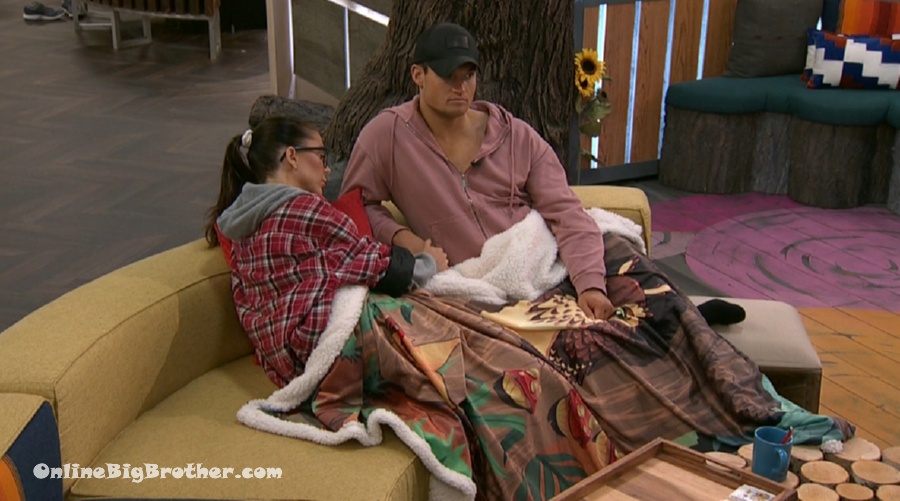 6:43 pm
Jackson still going on about "if he only gave me one vote"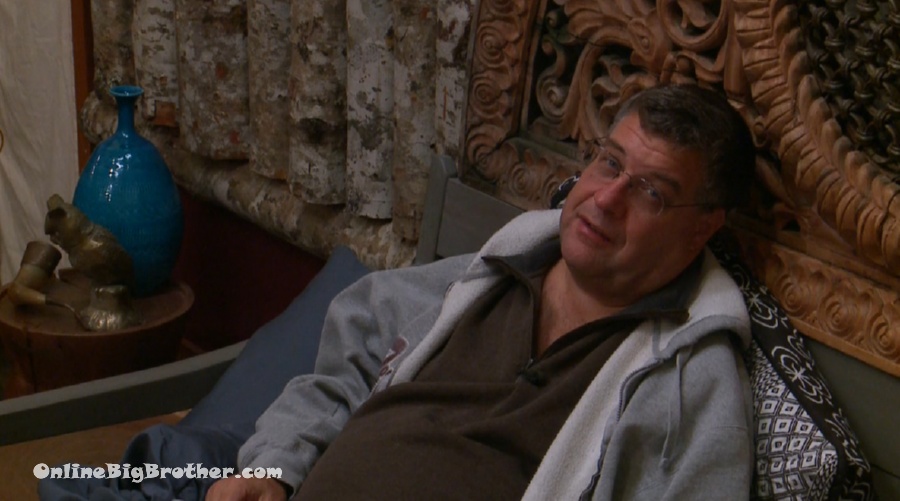 6:45 pm Cliff still talking to the cameras about Honour says he thinks Nicole and him will be the deciding votes for who wins 500 thousand. Cliff says if Jackson burns him on this by evicting him and Nicole is the next one out the two of them will vote for Holly to win and Cliff doesn't think Jackson has enough votes to win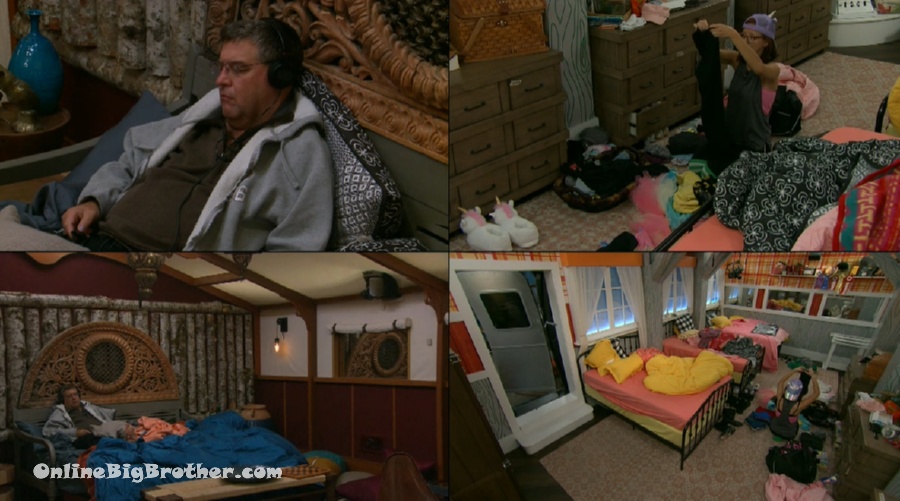 7:47 pm
Share it YO!!
Tweet