Head of Household Winner – Jackson
Have note are:
Nominations are: Jess and Chrsitie
Power of Veto Players are: Jackson, Christie, Jess, Nicole, Cliff, Tommy
Power of Veto holder: Tommy
Power of Veto Ceremony:
Grab your live feeds —-> BB21 Live Feeds Subscription Link
Rank your houseguests —-> Big Brother 21 Ranking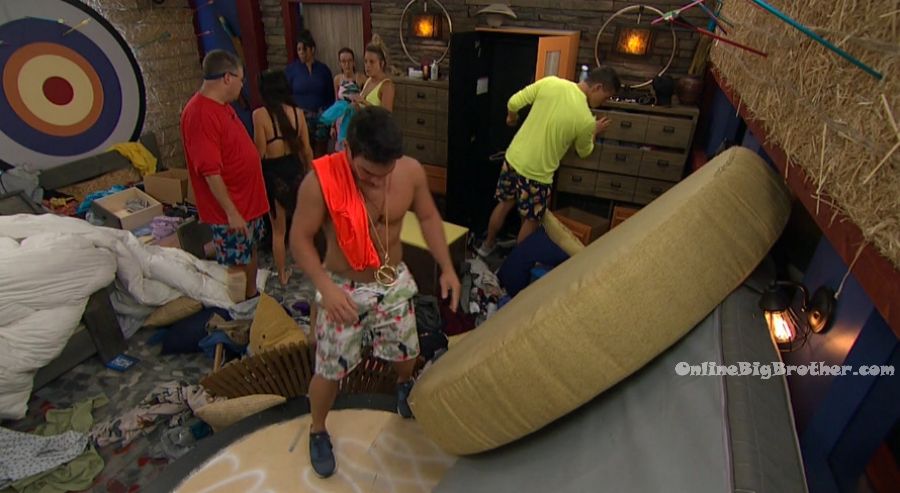 Power of Veto WINNER: TOMMY
Tommy plans to use it on Christie. Jackson plans to put up Cliff.
Veto Hiding spots:
Jess's was under her bed.
Christie's was under the bathroom carpet.
Tommy's was in the target room's circle bed mattress.
Jackson's was under the wood in the living room.

11pm – 4:42pm The live feeds were blocked for the Power of Veto competition. It was the hide the veto comp. All the house guests are now chatting about their hiding spots and starting to clean up the mess. The house is destroyed! Christie – it just sucks that we have to do this.. like we didn't even want to play this comp. Tommy – I just want to throw all the rugs away. Jess – I am just surprised that they let you guys do this.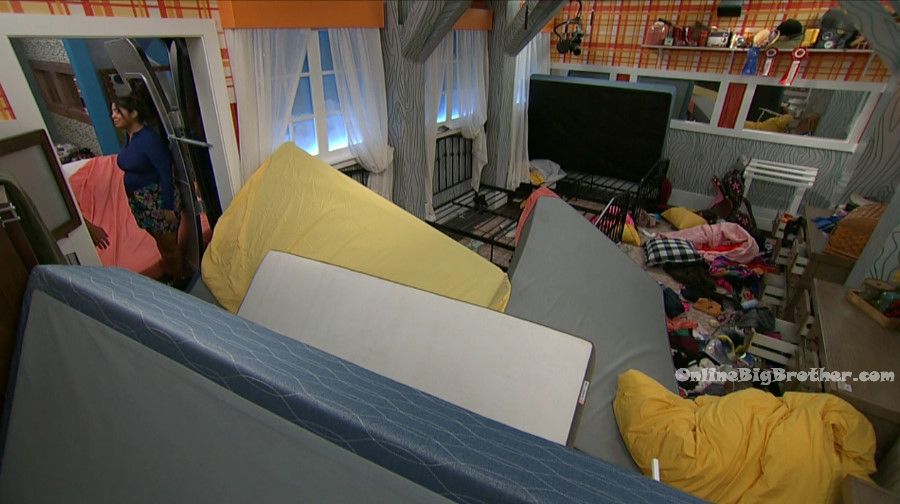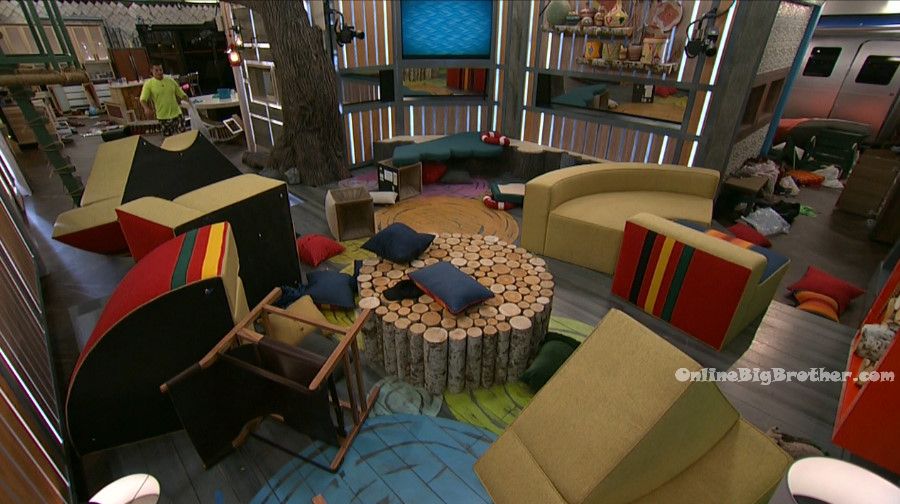 5pm The house guests are going to be cleaning up for awhile.. Tommy to Cliff – everyone puts theirs in pillows… I just got lucky.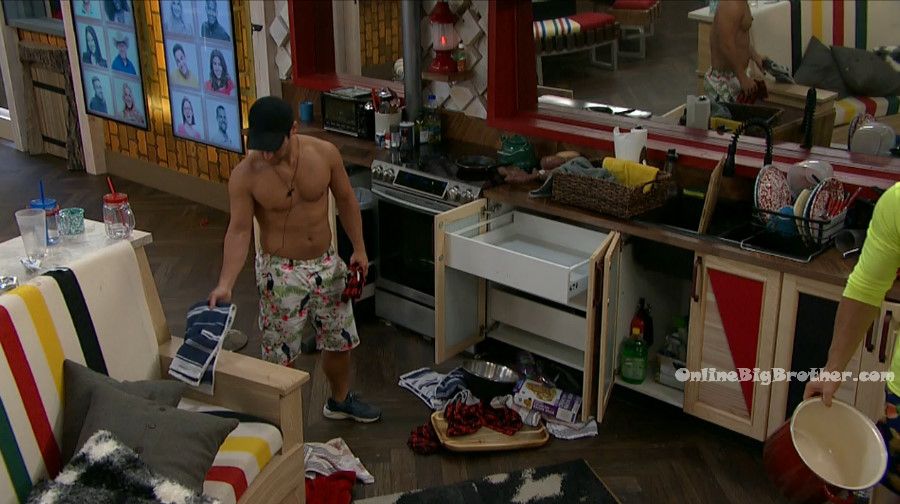 5:08pm Storage room. Jackson and Cliff.
Cliff – I think we're pretty good. Jackson – I think we're good. I don't think he'll use it at all. Cliff – just to make sure a girl goes .. we'll talk to him. We're okay.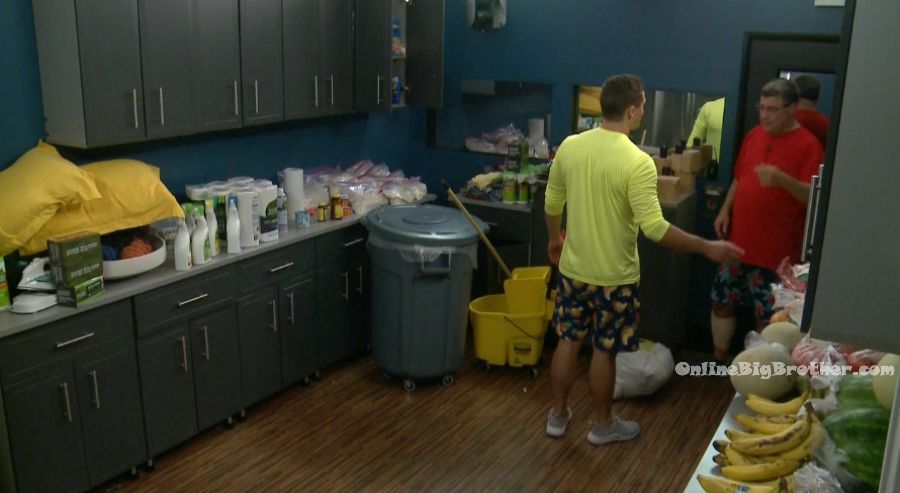 5:20pm Cliff and Jackson in the target bedroom.
Jackson – I couldn't let Jess win. That's why I started in the RV. I was thinking if I was a girl .. where do I spend the most time. Where would I most likely hide it. The RV so I started with her bed. BAM! I flipped up her bed and found it. I didn't want to win this veto. Cliff – I would have liked to win it but its no big deal. Cliff – we're good. Jackson – I just don't want you up there at all.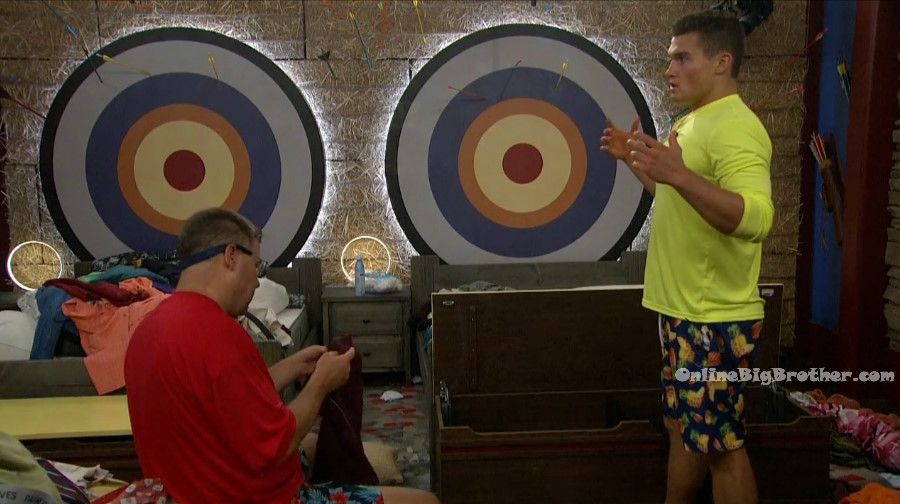 5:25pm Kitchen. Jackson, Tommy and Christie.
Jackson – I would like it to stay the same to ensure that Jess goes. Tommy – right. Jackson – not to even allow the possibility of a tie breaker.. because we have it. Tommy – you would be the tie breaker. Jackson – I know and I don't want to break it. Tommy – lets talk about it .. but if I do use it.. Jackson – it would be Cliff. Tommy – I would give you my word that you would have my vote no matter what.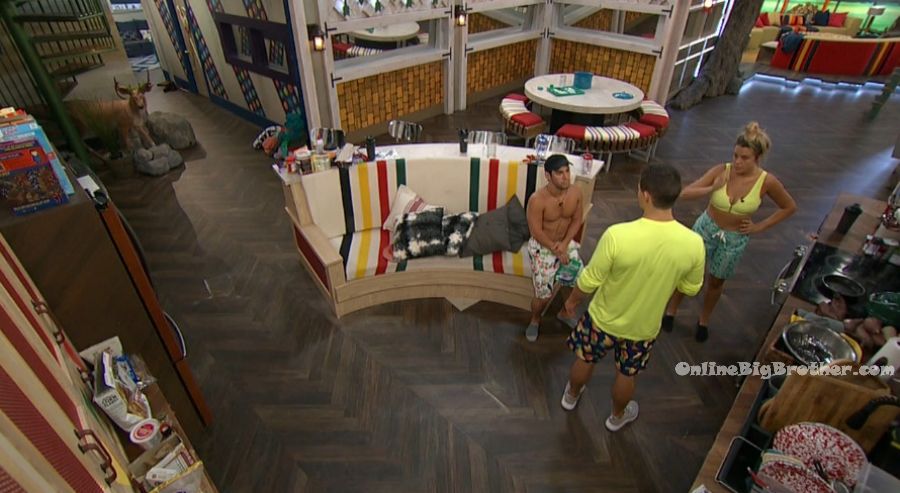 5:40pm HOH room. Jackson and Tommy.
Tommy – So you don't want me to use it. Jackson – no .. I just don't want to have to break a tie. Tommy – I hear that. Jackson – as long as I don't have to break a tie .. I will put Cliff up. I don't care. I will put Nicole up. Tommy – I thought about this if this would happen. I would talk to you and figure it out. I feel like yes I love the four of us so much .. I am so gung-ho about that.. but I know that you and Holly have each other and Christie is all I have left and I want to make sure she is guaranteed safety .. so I want to take her off. Jackson – that is cool.. as long as I don't have to break a tie. Tommy – I promise you how ever you want me to vote that is how I will vote. Jackson – I would rather go against Nicole or Cliff than Jess. Tommy – No I totally get that and agree. And I will tell whoever you put up Cliff or Nicole .. that I gave my word I would vote to keep them. Jackson – coming up we will have a lot of mental comps and I would rather go against Cliff or Nicole… than Jess. I think all of us would. Tommy – I think there are pros and cons .. but this week we are all on board. I will respect your HOH. Jackson – as long as Jess goes .. I don't care. I don't want to put someone up and break a tie.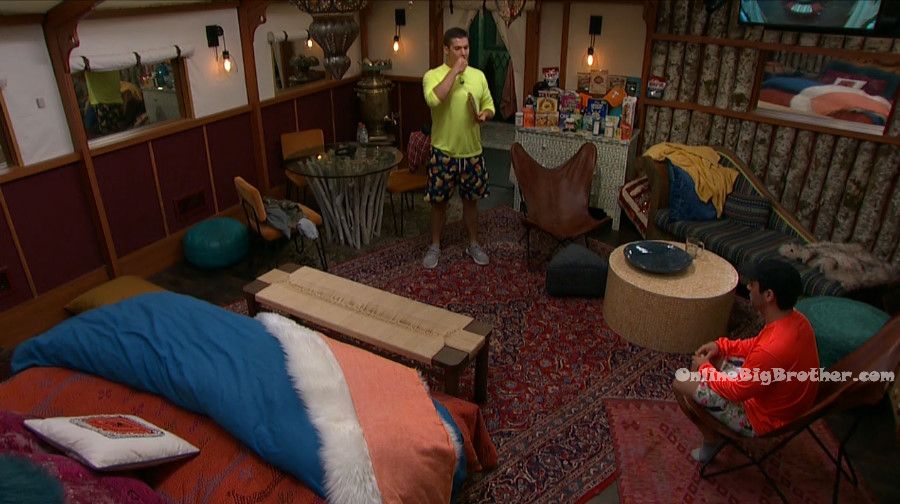 6pm Bedroom. Jess and Nicole.
Nicole – do you think he will use it? Jess – I think so. Nicole – so its going to be you next to Cliff. Or you next to me. Dammit! Jess – its okay.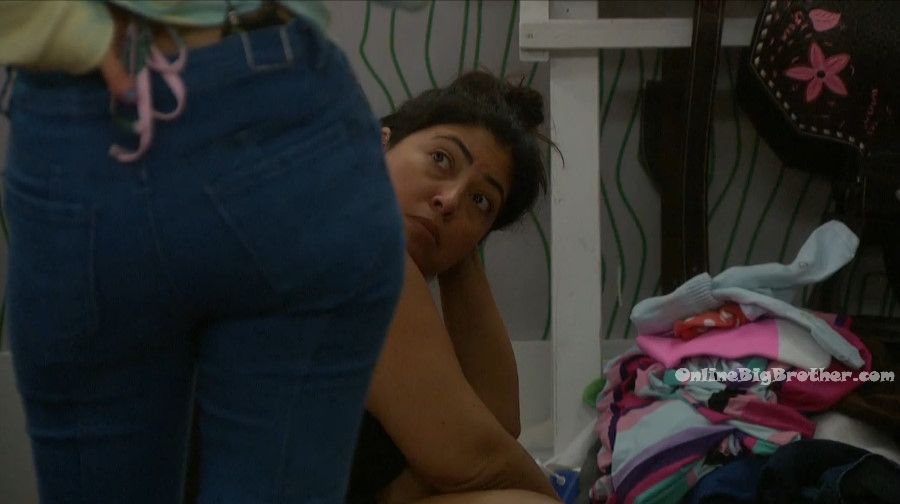 6:20pm – 6:37pm Backgammon..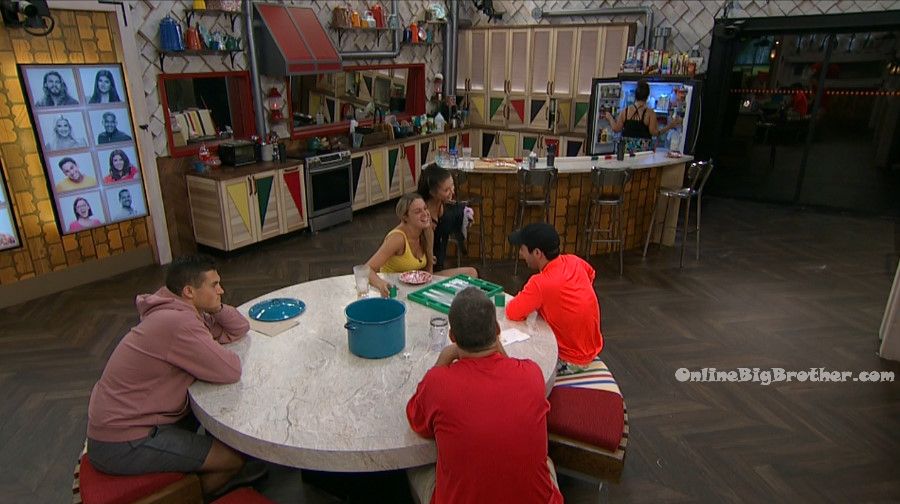 6:47pm Living room. Jess gives Christie a kiss. Jess – I'm happy for you. Christie – why are you happy for me? Jess – I mean.. Christie – I don't know if he is using it. I am not assuming anything. Jess – no, I know but it wouldn't make sense for him not to use it. Christie – you're not the target this week. I am not making any assumptions. All the other house guests join them in the living room. They all sit around chatting about random things and
7:40pm Big Brother blocks the feeds.. and then at 8:13pm the feeds switch to the kitty cams. (No idea why)
8:26pm Still showing the pound.
8:38pm The live feeds return. Jackson and Holly bicker coming out of the HOH room. Jackson to Christie – that was the longest lockdown we've had in a long time.
8:47pm – 9pm The house guests are making dinner and chatting about the veto comp.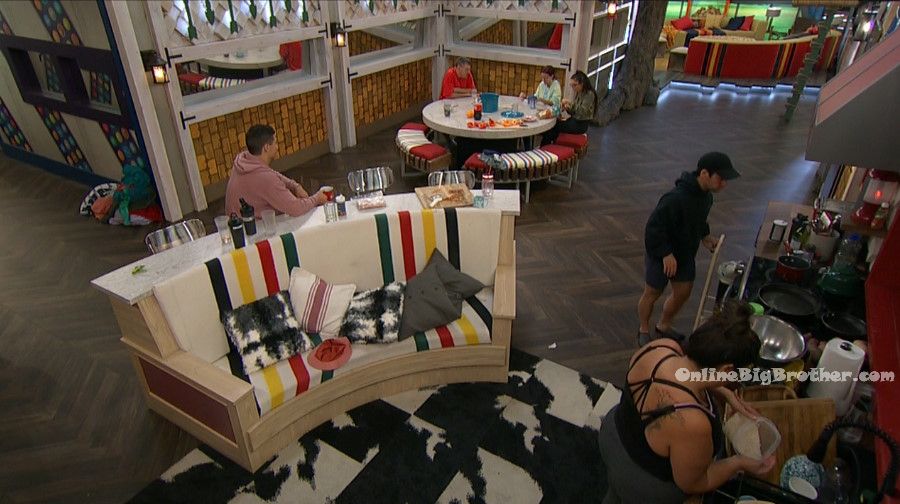 9:11pm – 10pm Backyard. Holly heads over to lay in the hammock. Meanwhile on the backyard couches. Cliff and Jackson. Jackson – rather than getting a second one with blood on my hands. I promise. Cliff – you don't have to promise me anything. We're good. Jackson – at this point in the game I want to give you as much reassurance as possible. Cliff – if I can't trust the other three in this group then my game is over anyways. Ride or Die! I've got you. That's cool, I do appreciate it. Jackson – I am going to try and convince him (Tommy) not to sue it. Cliff – going to the final 2 with you and Holly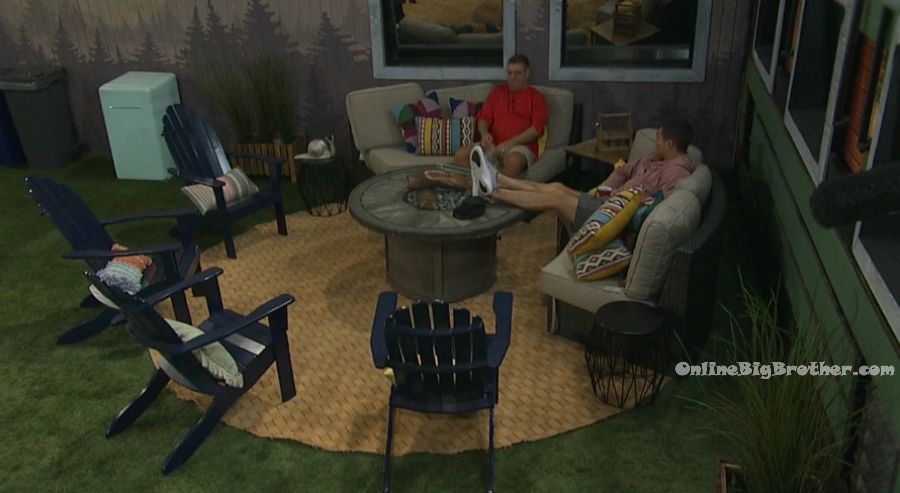 11:02pm Backyard. Holly talking to Christie about Jackson.
Holly – he was being a f**king a$$hole because he was ignoring me. And he wouldn't help me get my stuff when we were all on the lock down out of his room. Christie – no, you're lying. What a f**ker. Holly – I meant like my Jacket was there. And he was like here take your stuff. Christie – sick! Holly – like are you breaking up with me?! Christie – in the big brother house?! Holly – I was like should I get all my stuff out? Christie – wait, where are you sleeping? Holly – I don't f**king know! In the hallway or something. I want to f**king talk to him and have a conversation but everything is on camera. Like nothing is private and with any normal relationship especially one with this big of an age gap there are growing pains and we literally can't have growing pains because we're under a microscope. And everything is seen .. there are things that I want to express. And yet he is hung up on me calling him a f**king a$$hole when yesterday it was teasing like with you and Tommy it was perfectly fine. Christie – but if you say that and say do you acknowledge what you did wrong?! What would he say? Would he just walk away and say that he is not dealing with this? Holly – probably just walk away. Christie – that's so annoying and how he acts like nothing is wrong. Holly – That is what's so annoying how he acts like nothing is wrong. Or that he just doesn't care which is even worse. Like I called you a f**king a$$hole because you're an a$$hole. Christie – what was that during the comp? Holly – yes and then I had to sit there for 5 hours by myself. First of all I am PMS'ing and frustrated with things that are out of my control and things that have to do with him but it doesn't mean I am f**king attacking him. I want to be know for more than just being with him. Christie – I would just go lay with him like it was nothing. Holly – no he would go and move. Christie – then that is bad advice. Just go and do your own thing. Hopefully you can talk to him and it doesn't drag on for another day.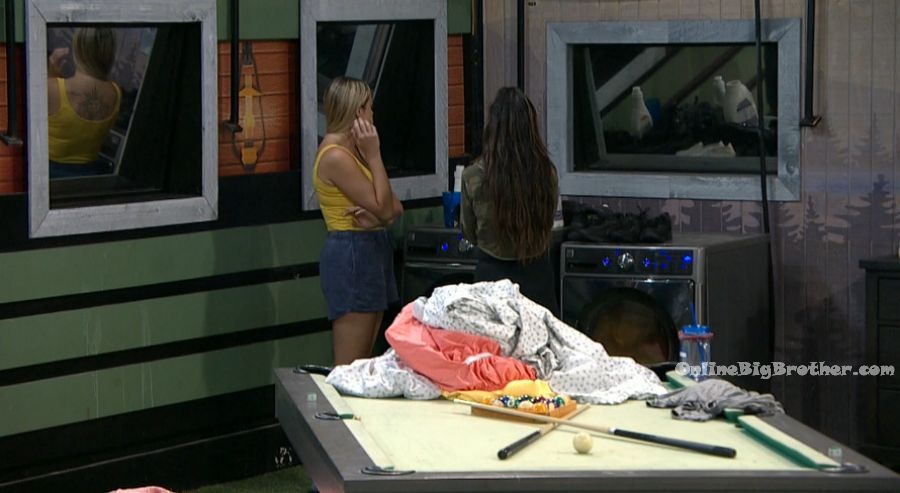 11:09pm Backyard. Jackson, Tommy, Holly, Christie and Cliff.
They talk about how one of them could win the 500K. They all say that they would be happy with any of them winning. Cliff – one of us is going to need to hire an accountant.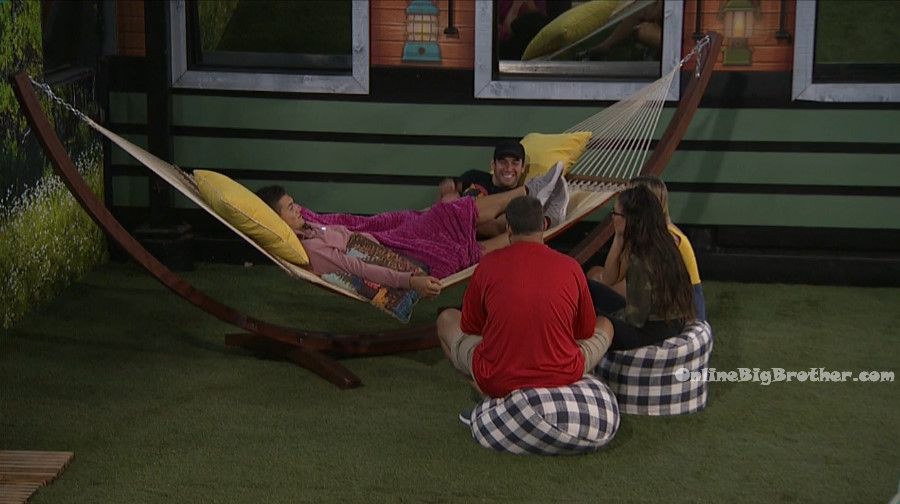 11:28pm HOH room. Holly and Jackson.
Holly – can we please talk? Jackson – sure, what do you want to talk about? Holly – first of all you're drinking? Jackson – I'm going to have a glass of wine. What? Holly – can we please talk? Jackson – yeah sure what do you want to talk about? Holly – Jackson! You're being mean. Jackson – I'm not being mean. I am not about to get talked to like that in real life or on national television. On national television you called me a f**king a$$hole in front of 4 people in the house and in front of national television. You realize that my mom is going to hear that, my dad, my family, my friends .. when I've been nothing but supportive of you. Holly – do you not see that I've been living up to that. Jackson – when you re-watch that you will also hear me say thank you for the coffee. You'll also see that I've been nothing but supportive. Holly – can we like sit down. I did not mean to say that. I was frustrated in the moment. Jackson – do you want to hear where I am coming from.. for the last 74 days I have spent every day supporting you, telling you how proud I am of you, trying to uplift you and trying to be the exact opposite of everything that you tell me that everyone in your life have been to you. I am not perfect and I don't expect you to be either but for the last 74 days I have heard you go back and forth being internally conflicted whether or not you're making the right decisions, whether or not what you're doing is best for you, what your image is going to be because of me, whether or not I could be potentially jeopardizing your future. We've talked about this on numerous occasions and last night you talked about how unhappy you are and how you don't feel certain things. I want you to be happy and clearly I can't make you happy. I want your last 3 weeks to be the best they can be. I woke up this morning knowing that I had to pick players for the veto so I showered but I was trying to let you sleep. We were getting carded so I put the lights on. You left and you gave me coffee and you will hear it back that I did say thank you. And I jokingly said that you're not going to have any hair after this because you're constantly picking your split ends and then you freak out on me about that and then you come over to me.. Holly – because.. Jackson – will you let me talk!? Do you want to talk or not?! You come over to me in front of Cliff, Christie and Tommy and you start going off on me. I tell you I am not doing this here but I will talk with you upstairs. And you continue to call me a f**king a$$hole three or four different times. Holly – I said it once. Jackson – and then walked away. But when you're talking about how you're perceived on the outside.. that all happened on national television. I am not going to be embarrassed on national television when everything I have done is for you! I am not about to get walked all over. I gave you some space to find some happiness within your self. I can't make you happy.. that has to come from within you. Holly – it didn't seem like that .. it seemed like you were done .. don't talk to me. Jackson – I wasn't .. but I am now. I deserve better. That's what all my ex'shave done. Jackson goes to open his wine. Holly – can we please save that. Jackson – I won this fair and square.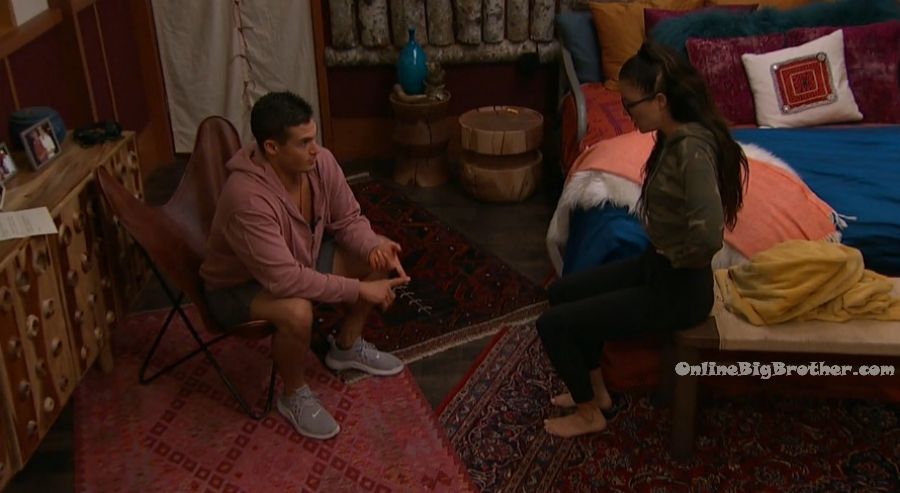 11:45pm – 12am Holly starts crying. Jackson starts heading down stairs. Holly cries come back. Jackson – I am coming back. Jackson goes down stairs to get his water bottle and comes back up and tells her not to cry. He hugs her. Holly – I am sorry. I am so tired. I felt stupid this morning. I hate this house! I don't want to be in here. Jackson – come here. Holly – f**king cameras! I just felt like you were dismissing me. Jackson – I am not dismissing you. Holly – its like when you got mad at me before and you shut down and shut me out. I thought that was what was happening. I felt stupid because I felt like I just opened up and that I was just so easy to dismiss. And that is probably just my f**ked up PTSD. Like I just spent all night telling you how I've never felt worth and then in the morning you didn't even say good morning. Jackson – I was trying to let you sleep. I had to pick players for the veto. And I am also trying to give you space. For the past 74 days I have tried to build you up.. Do you know how bad if feels like you're embarrassed of me? I told you and your family how much I care about you on national television. I've been burned way too many times. Do you realize how embarrassing and stupid that makes me look. I would never talk to you like that. I am sorry that you're not happy in here and that I'm not doing enough to make you happy. Holly continues to cry. Holly – I am sorry. I am just trying to navigate. I don't know what I'm doing. I am sorry. I came on here and did not expect to find you. I am not used to being on TV. I do want to be my own person. I didn't anticipate these feeling either. Jackson – I am sorry that I bring stress and unhappiness into your life. I think you would be happier with someone that is 31 and not on this show. Holly – this house, this situation, this everything brings unhappiness and stress.. you don't! I come to talk to you about things because you're my safe place. I do not mean that you are making me unhappy. You make things better. I am scared and confused and overwhelmed by this situation. Jackson – I am feeling all those same things. Holly – I don't need space. I didn't ask for space. Jackson – I am sorry for how I handled it. Holly – I am sorry for what I said. I don't talk to people like and I don't want to talk to you like that of all people. I also do want to factor in insane raging hormones that make me really f**king angry combined with cabin fever and claustrophobia of not going outside and it being day 74 and feeling like the walls are closing in. In a normal circumstance I would not say that. Jackson – this morning was exactly like everyone of my ex's have done. Holly – knock it off. Jackson – have I called you a f**king B***H?! I am going to feel the way you talked to me this morning whether you want me to or not. It is going to piss me off and it is going to link me to them whether you want it to or not. Holly – I am not your ex's.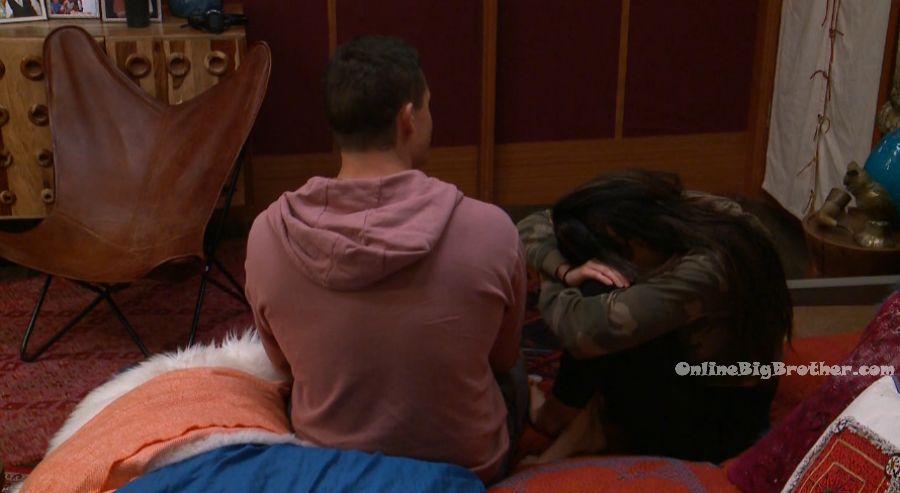 If you've enjoyed our live feed updates this season, please consider donating.
Simon and I work 24/7 all season long to keep you updated on everything that happens inside the house. Any amount is greatly appreciated! Your donations go directly to paying the fees required to run this site.