Head of Household Winner: JACKSON
Have note are:
Nominations are:
Power of Veto Players are:
Power of Veto holder:
Power of Veto Ceremony:
Grab your live feeds —-> BB21 Live Feeds Subscription Link
Rank your houseguests —-> Big Brother 21 Ranking
8:08pm – 10pmBig Brother blocks the feeds…(No idea why) The double eviction second HOH has not happened yet..
`
10pm Jackson and Cliff are playing backgammon. Nicole is watching. Jackson – and I know if I am this proud.. your family.. Cliff – I just think it was so cool they were watching live. It wasn't even a middle of the night competition that they maybe heard about it later or something. Nicole – they would see it like boom, boom, boom. Cliff – yeah we were jumping around so much. Jackson – the big brother double. Cliff – I wonder when you will get your basket Nicole? (For winning the HOH during the double eviction. She doesn't get the room just the HOH basket.) Nicole – I know, like do I pick it up in storage? Nicole is still wearing the HOH key from the first HOH around her neck. Holly – comes out of the Diary room. Holly to Nicole – Hey HOH!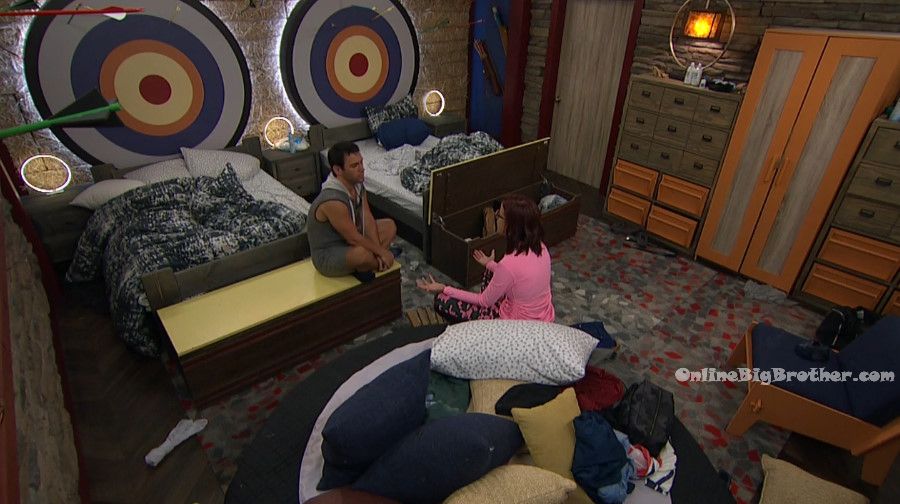 10:14pm Bedroom. Nicole and Tommy.
Nicole – I feel good with Cliff and I feel good with you. Me evicting Christie .. it wasn't an .. yes it was an attack on you. Tommy – no, no, I don't see it that way. The only thing I am thinking is that I don't think it would make sense game-wise for me to go next. I recognize that if a deal was probably made that I would be the one that would probably go. So I am just trying to sit back and relax.. and I will see what happens after that HOH. Nicole – absolutely. Tommy – I feel awkward being around people because I feel like I am awkward. I'm fine .. like I really am okay. I am happy to be here and I am going to fight. Nicole – and there is so much that can happen in the course of an hour and a day, in a week. Tommy – absolutely. Nicole – and I know because I've been in your spot before. Tommy – I really am okay. I do feel alone but its okay. Nicole – today I just stopped looking at people as pairs and looked at people as individuals. Tommy – I think it was smart. I think it was fine. Tommy – I am a bit relieved in a way because it was hard to play the game with her. You know if I win, you're not going up. Nicole – If and when you win this HOH .. I respect you and I respect your game and no matter what you do .. even if its me I respect it. Just do what's best for Tommy. Tommy – I have to talk to people and see who wants to move forward with me. Nicole – I would love to move forward with you on a level playing field. Nicole – I meant what I said when I said I trust you, I trust Cliff… I didn't say that to Christie. Tommy – trust me I get it. It was just the way things worked out. Nicole – we're all final 5. I love you so much and respect you so much. I feel bad for Christie. Tommy – she will be fine.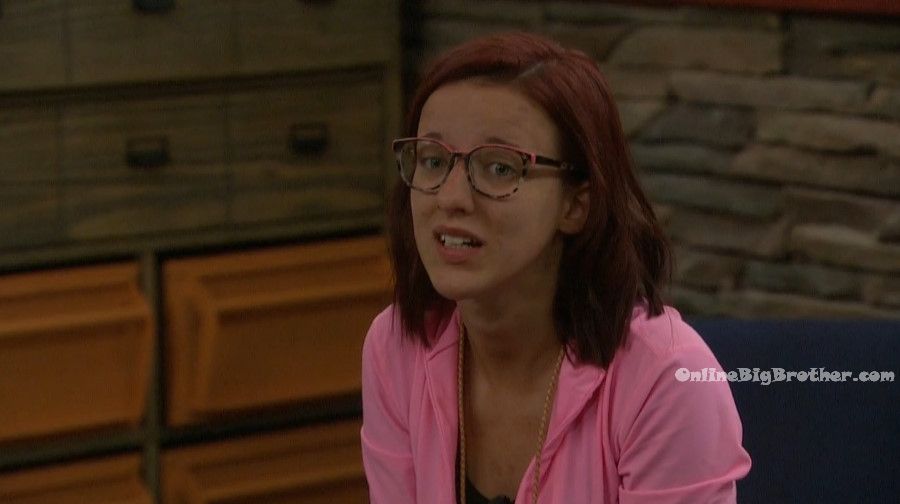 10:30pm Bathroom. Holly and Jackson.
Holly – I do hope that people are excited that we're still in here. When I think about jury.. like I know people are excited to see people. Like people just because they missed them .. you know what I mean. Obviously Sis will be excited to see Christie but like will she be excited that I'm still in here? You know? Like Jack.. will he be excited that we're still in here? I think so. He told me to go for it. Jackson – he told me back on day 30 something that he thought I was going to win it. Holly – really? Jackson – yeah by the pool before music in the morning.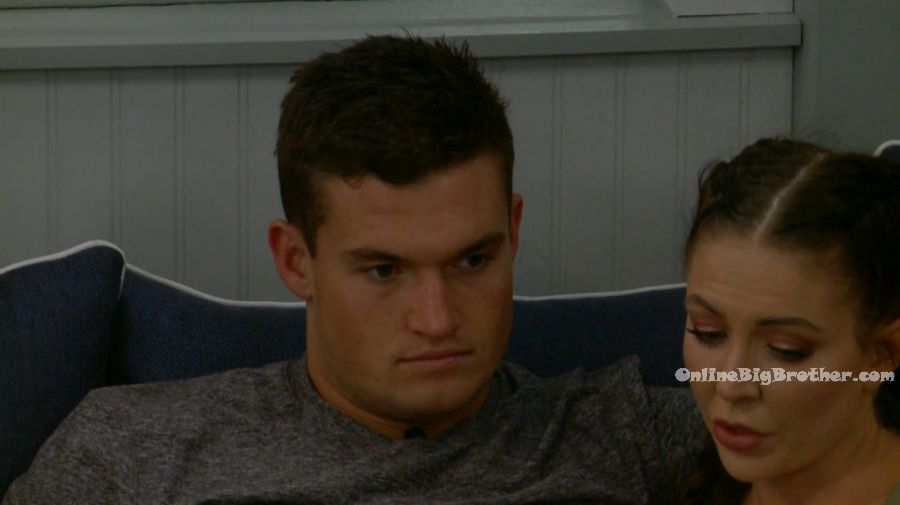 10:54pm Bedroom. Tommy, Cliff, Nicole and Jackson are laying around chatting. Cliff – you figure once we do HOH there will be one person up there and 4 down here. Holly joins them again. She isn't feeling well.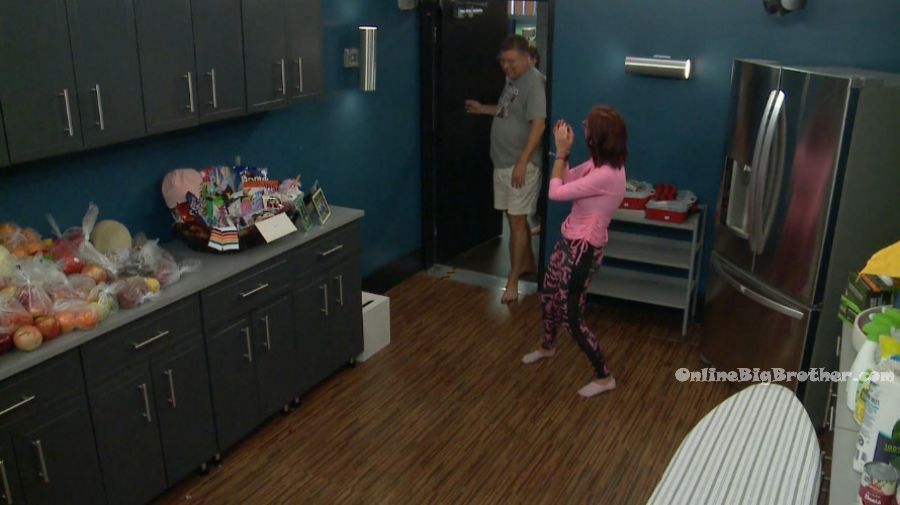 11:23pm Big Brother calls Nicole to the storage room to get her HOH basket. They all look at her HOH photos. Nicole then reads her HOH letter from her parents.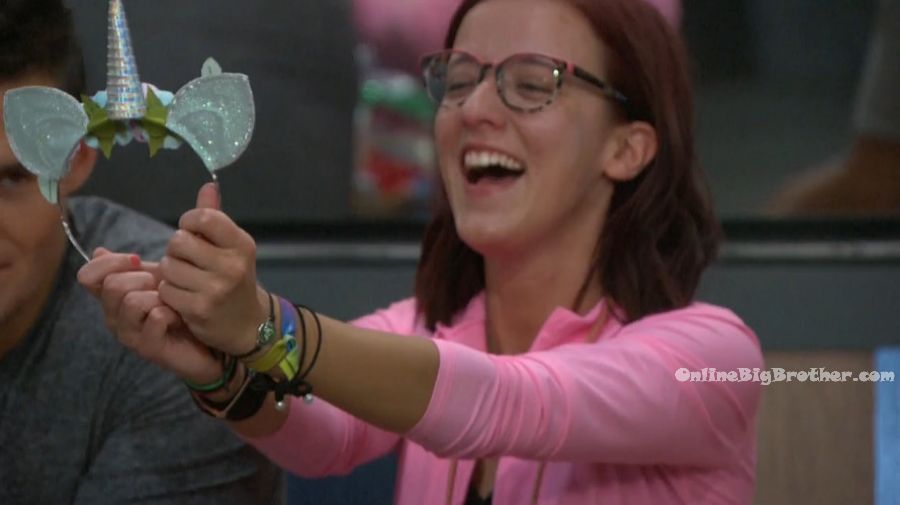 11:39pm – 11:50pm Nicole shows off her HOH photos to the live feeders. Tommy heads to bed. The others head to the kitchen to eat.
12:20am Bedroom. – Tommy and Cliff join them. Cliff and Nicole. Cliff – Nicole, I think I am almost as happy as you are for you. I just love watching the joy as you celebrate. Nicole – finally! I just can't believe it! Finally. I just can't believe it. I knew it, the second it started ..II was like I got this! Cliff – on to the next step. This isn't the only HOH you're going to win. This is just the first one. Nicole – you're right. Now we've got HOH's and Veto's to go back and fourth. Nicole – plow! Cliff – we will go back and forth and we will make it to the end. Nicole – those first episodes when they were forming .. we were the bottom feeders.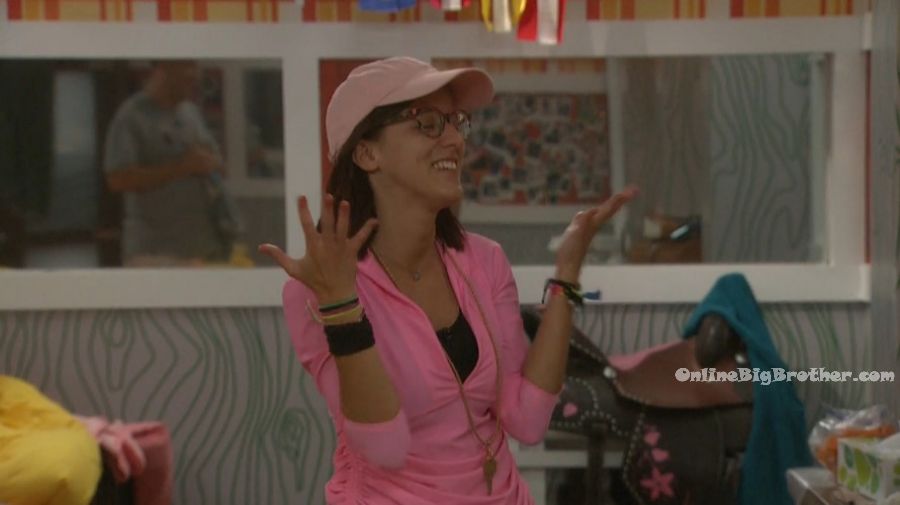 1:15am Jackson changing in the corner of the room.
1:20am All the house guests are sleeping..
Show your Support for all the sleepless nights Simon and I have put in for the last 76 days straight. Help keep the lights on, this site costs us a considerable amount to maintain. As an added bonus we also wanted to give a little more to those that donate: Click here for more information.
Any amount is greatly appreciated! Thank you so much in advance!