Head of Household Winner: JACKSON
Have note are:
Nominations are:
Power of Veto Players are:
Power of Veto holder:
Power of Veto Ceremony:
Grab your live feeds —-> BB21 Live Feeds Subscription Link
Rank your houseguests —-> Big Brother 21 Ranking
After being down for a couple of hours feeds return to reveal the Head of Household winner. SPOILERS alert it was Jackson.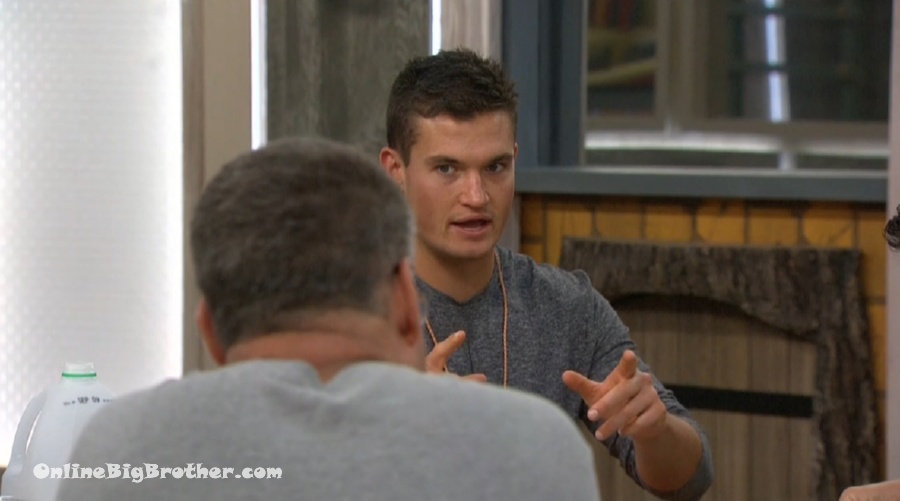 11:18 am
Holly – did you hear what Bayleigh said to me she's like no trust me I figured that ..
Feeds cut
When we're back
Jackson going on about after he won the HOH "I blacked out"
Holly – I'm so embarrassed I got zero points I hope America sees I got the answer right
Nicole – Guys I love us
Holly – I do to I love that this is our house
Nicole – I love the four of you so much
everyone says "Same" (Barf me a river)
Nicole – I'm going to have my cast photo hanging in my house I don't care if it's creepy
Tommy – I am going to to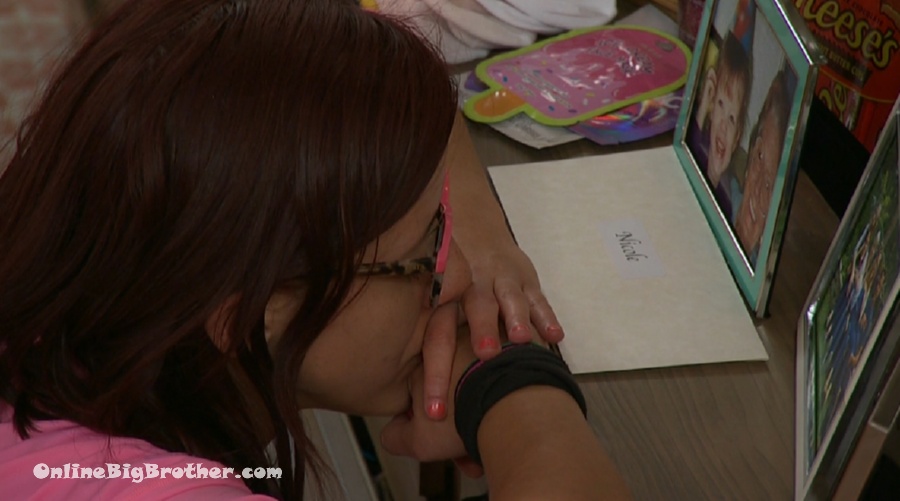 11:28 am Nicole
"Wow.. I'm so grateful for this entire experience absolutely tremendous.. "
"WOW WOW WOW WOW WOW"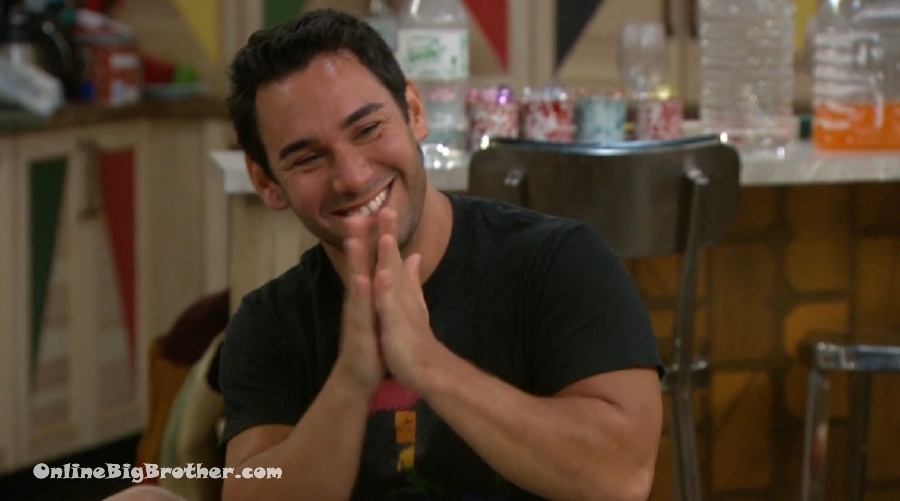 11:36 am Holly and Tommy
T – I'm gr8tfu to have at least one more week in this house it's so great I get to play BB comics and I feel like this week will be a really fun one this is a good week to be here. If this is my last week Great I get to be here another week
Tommy isn't going to harp on what happened last week he's going to enjoy this new week
T – I'm going to win Tomorrow I'm going to fight. It's all good
They hug
T – I love you so much
H – I've always had your back.. yours I've always had
Tommy starts to cry.. they hug again
T – You know how I feel about you ..
H – nothing game wise is personal with Christie I never regained Trust from her it's as simply as that
T – no I get it. She and I played the game so so differently. Just on a moral basis played very differently and that was hard for me
H – I was not about to let you walk out the door before her
T – thanks. That would have hurt
Feeds to fish
12:15 pm Tommy, Cliff, Holly, Nicole
They're talking about Jackson being worried about his "depicted" on the show.
T – I don't think it'll be that bad
H – Nayleigh confirmed jit today
T – yeah but I feel like it's going to get better as the season goes on. It goes hand in hand with the conversations we just had like I feel like people don't remember the beginning they remember what they last saw.
H – I hope so
T – it's your last impressions on the TV show. It's going to be OK I know that
Holly goes on about being worried about how she's being depicted
Tommy called to the Diary room Jackson comes in with the backgammon board.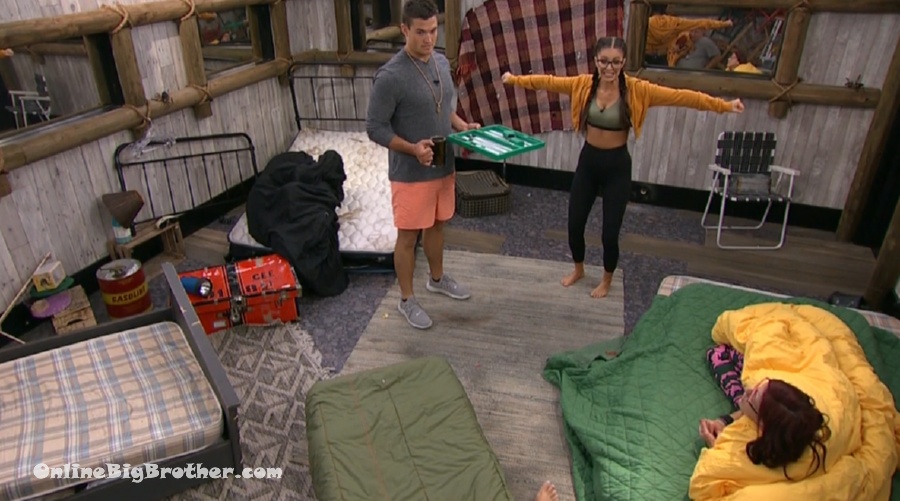 Jackson – I'll tell you this there is a 80% chance to see this final 4 to fruition
C – it's all about competitions at this point. I'll do whatever I can to do it
J – It's BBCOmic
C – he's good (tommy)
N – We can do it
H – I have faith
"Whatever happens happens.. no regrets"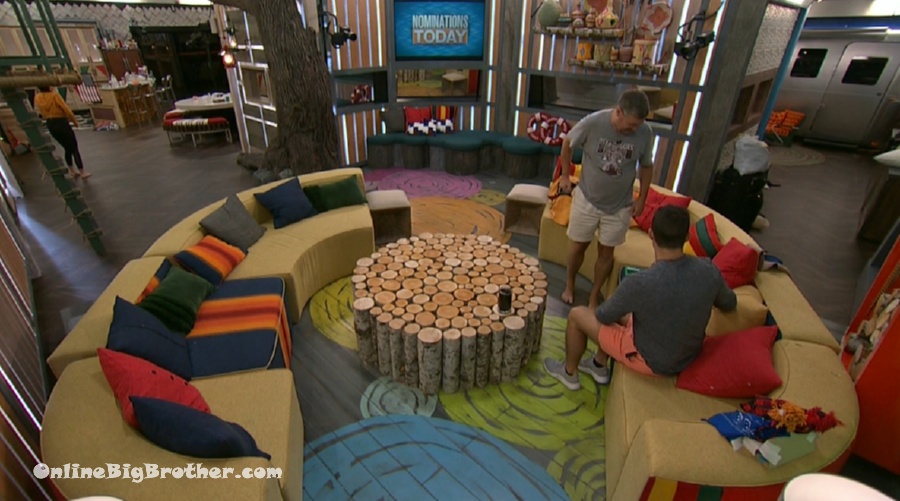 12:26 pm Cliff and Jackson
J – I'm glad we played that fair and square because trust me I was thinking
C – which part
J – A B C
C – oh yeah
J – I was like you know what that's not fair
C – it owld have been obvious
J – It would have been obvious and it would have been dirty. If I lose I want to lose fair. I thought about it that's the safe easy guarantee.. that's what we need for him to
Cliff says he would have seen Tommy realizing what is going on and knowing there's isn't a chance, "This isn't what we came into this house for"
J – especially this point of the game to get this far and not even having a hance
C – I know.. Yeah. I was excited when I figured out a way to do it
J – it crossed my mind. that's not a bad idea
C – people would HATE us if we did something like that. I'm not winning that way
J – I would rather lose with my head held high.
They talk about how crazy yesterday was
N – I had a moment in the storage room where I was trying to Iron my f*ing shirt and it was a revolving door of everybody telling me to go after everybody else
H – You made one of the biggest moves of the season. You go out the first HOH
N – She was SHOCKED when she spoke to me. She came in and was like YES YES her target was pretty obvious we all know it (Michie)
N – I was like Christie you're going to see the block and her face just … I felt so bad.. she was shocked
C – did she try to argue or she just took it
J – she was too shocked to put up a fight
They relive last night and how close Tommy came to winning the first HOH and how Close Christie came to winning the Veto.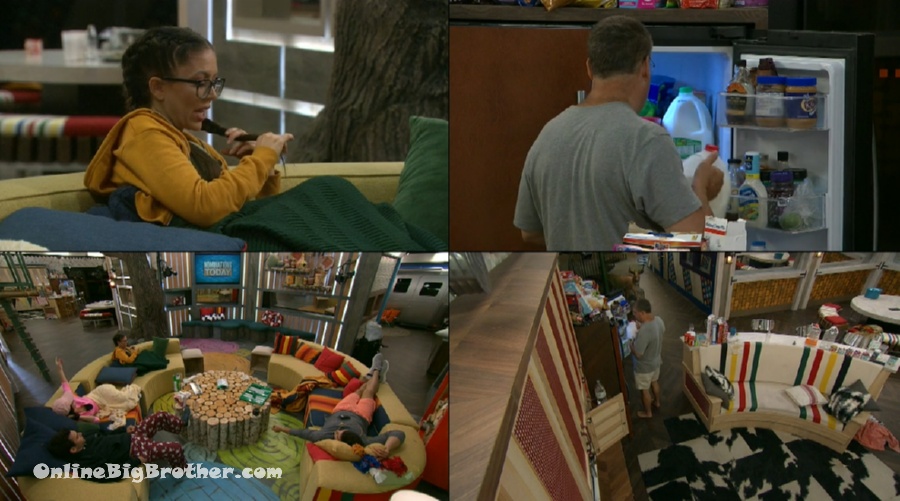 1:22 pm just lazing around now.. (Jackson's target is Tommy. Noms are today BBcomics is tomorrow)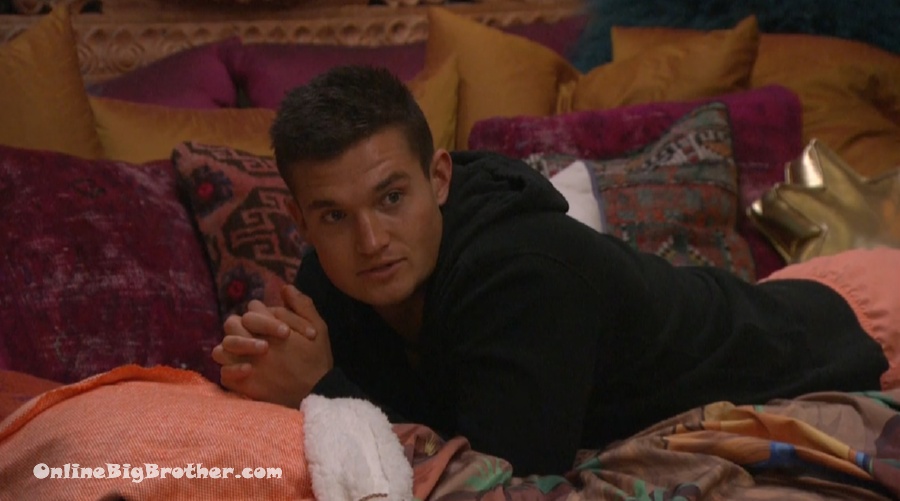 3:05 pm Jackson, Holly, and Cliff
Jackson says based on what Tommy has been asking he's pretty sure it's "4 V 1"
C – he'll play hard and he's got a decent chance this is the kidna thing he would be OK with
J – he could do well. I'm going as hard as I can
C – Please please
J – I've never thrown anything for someone else to take a shot at you. I have a final 4 with you and I'm playing as if I'm on the block os if she's on the block
J – I don't want y'all to go anywhere period
C – I appreciate that Jackson. We've fought through this thing and the loyalty we've shown to each other it's what got us where we are.
J – We made it this far I ain't stopping now. I want it to happen
C – 4 versus 1 to do it only has to be one person with a better time than him
J – We have a job to do we each gotta do it.
C – I want to do it
J – it's going to be exciting
J – I need to ask whether or not I get to compete in the next HOH
C – I feel like you can't but it's certainly worth asking. AS far as Nominations today I don't care obviously Holly isn't going up it's going to be Nicole or me ot really doesn't matter it comes down to the veto. If Tommy doesn't win then no matter who's up Tommy goes. If Tommy comes off then Nicole and I .. it's up to y'all to decide who y'all want to keep and send home..
C – Today I don't care I won't sweat it.
C – COngratz. if Tommy would have won today .. he wasn't putting up Nicole it would have been 2 of us up here.
C – that was wild you got the first question I got the second and Tommy got the third. (The hoh)
C – if it comes down to it and I can win this whole thing I'll do it. But I gotta say with your victories you deserve this sucker.
J – I feel the same way about you
C – I'm proud of both of us. Attitude wise there's been a lot of similarities
J – 30 years apart that's just a number
C – the best decision I made was lining up with you early in this thing
J – no matter what happens …
C – what happens we're cool. We're going to be buds and tight
Cliff says from the first day or two he felts a connection with Jackson, "we've both helped each other get further. I woldn't have it any other way Michie"
J – I dont' want you to go anywhere.. if that makes sense
C – say less
J – I have too much respect for you in this game. You deserve to be here
C – I appreciate that
It doesn't take swearing on a bible, Cross my heart on my sisters grave.. whatever when we shook hands
J – it takes a handshakes
C – I knew that we were good and that is all it took
Jackson mentions how he was scared when Nicole got up to give her noms he didn't think she was but still got worried "That gut pit fear"
C – She works with a lot of emotion it was hard for her. She also trusts me and she knew how I wanted it to go I've enjoyed every bit of this
J – if there's 2 people in this game that loves Big Brother they are sitting in here.
C – someone went home yesterday that I am very glad will not be getting half a million dollars. She's not the only person there's a few. Please do not send me home before Sis goes home
J – Christie was mine, I to this day do not regret sending Sis home over Christie
J – if I had known Holly and I were going to go Back to Back HOH and didn't need her deal that would have changed things. For me getting Sis out was.. I was coming off day 44 and I had nobody there except for Holly. Jess was saying ohh you're going to waste 2 HOH's get Sis out and me out. But she didn't look at it the way I was looking at it.
J – I was thinking backgammon when I was taking Sis out of the equation it took a vote away from Nick who I thought needed to go. But Christie, Tommy, and Sis were unbreakable.
J – Christie and Tommy aren't close their shared denominator was Sis. It brought Christie to start working with Holly and I. it brought Tommy
Cliff says he made it known that Jack was the lynchpin and "forntulety" jess overheard and "made it happen"
C – I admire you've played the long game. that's what I tried as well
Jackson explains how Jess complaining about him wasting HOH on people that aren't threats. He says it wasn't about getting JEss/Sis out it was about disarming their allies Nick and Christie.
C – yeah it's just the bigger picture I get it
J – keeping Chrsitie in this game was HIGH risk
C – I know
Cliff – you know how I felt about Christie I knew she was a snake just waiting
Cliff knew Jackson had a multi-week deal with Christie but Christie kept going around to Cliff saying she is a free agent.
They laugh about her trying to sell to people she only had a 1 week deal.
C – I was sweating bullets in the veto competition when I found out we were 6 for 6 .. really I'm going to be stuck with her again.. I know Tommy was the backup but still
They both agree the house feels 100% different with Christie gone
C – you take out one person and then suddenly all this paranoia and suspension and mistrust. it's night and day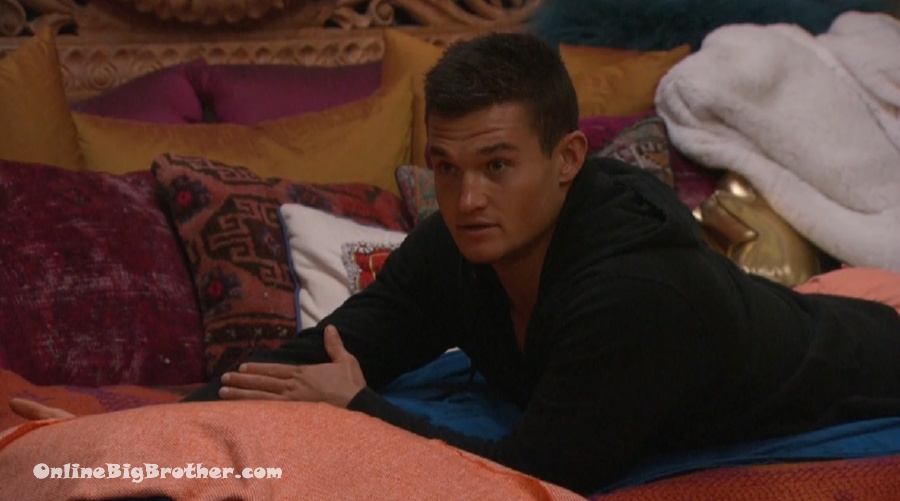 3:28 pm Tommy and Jackson
Tommy knows he's going up and knows he has to win Veto. They talk about Christie and go through their history in the game.
J – it was so disheartening to hear her say that she swears on her sister's life, her bible, she literally stuck her arm out on eviction day and was like write it in blood (see image)
J – She sais she would take 5th gladly.. use me she said quote use me
J – She swore on the bible, swear on her sister's live write it in blood she was not coming after us she was not voting against us and she wouldn't nominate us. SHe was on our side.
J – Then turning around the other night telling people she's gunning for us she's going after us she's doing this she's doing that
T – how do you know she really was. People that told you were saying things to us to
Tommy reminds him that Jackson and Holly was targeted but a deal was made on the other side as well
Tommy says the "double playing" wasn't him
J – Christie for me was the one person I didn't want to see outlast me
T – I hear that .. to be honest, me to. I f*ing used two vetos on her she was always running her mouth. I love her but I didn't want to go home before her
J – It was very toxic for me
T – yeah it's a lot
J – for me it didn't feel.. For someone that preaches so much certain things on principles and morals, your word. It felt disingenuous some times
J – it was disheartening
4:24 pm –
OnlineBigBrother Donations
If you enjoy this site and the type of content we produce Please consider a donation.