POV Holder:
?
Next POV
?
POV Used
?
POV Ceremony
?
HOH Winner:
Sabrina
Next HOH:
Next HOH is final HOH
Original Nominations:
?
Current Nominations:
?
Have Nots
None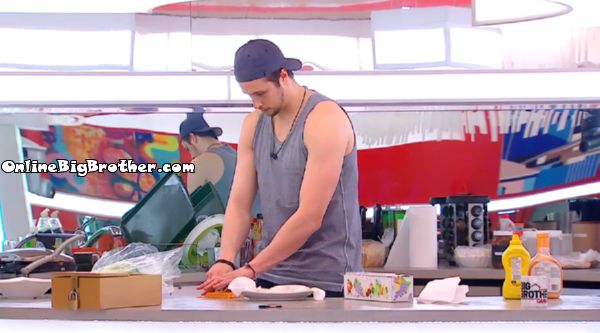 10:05pm Kitchen Neda Jon and Heather
Jon saying he's eating because he's nervous not because he's hungry. Heather hopes if they are going Diary rooms tonight that she goes soon so she can leave her makeup on.
Jon tells her to smell his fingers it smells like Bacon
Neda says no, "it's bacon and b@ll s@c"
Heather says she's lost 8lbs so that makes her only up 12lbs from when she came in.
Heather walks out for a couple seconds.
Jon to Neada – "Don't laugh this is all your fault"
Neda – "Yeah"
They talk about how Rachelle acted on the show. They think her boyfriend left her because she was all over some of the guys in the house. Heather adds if she did those things William would have left her. Jon says Janelle would have left him.
Neda says she cannot believe she didn't win HOH.
Heather says she cannot believe it either.
Jon wants to go to bed, NEda joins him. Heather says she's going to wait until Sabrain gets out so she can talk to the Diary room.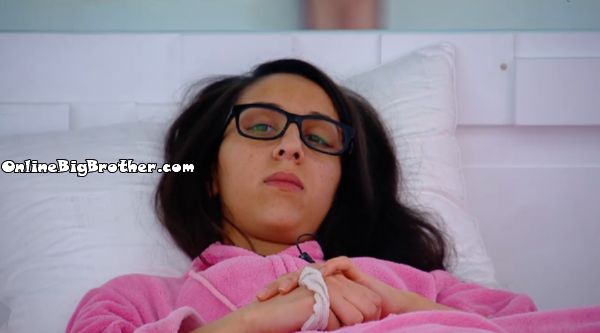 10:23pm Bedroom Jon and Neda

Jon asks If Sabrian has said anything. Neda – "She said we're OK"
Jon – "I'm tired Neds.. so tired"
Neda – "Me to"
They head to the bedroom. Neda tells him it doesn't matter that she won HOH. They agree if Heather wins the finale HOH she will take Sabrina. Neda brings up the cheers
Neda – "I do think now Sabrina has a very high chance of winning.. at the end Final 2"
Jon – "Right now there's not one left in this house that I will clearly beat"
Neda – "I dunno heather"
Jon – "Maybe"
JOn says getting to the final three with Neda and Sabrian ensures he gets 20 thousands dollars.
Sabrina joins them, says she's allowed to eat come Monday.
Jon leaves Sabrina says she wants to talk to Neda tomorrow but tonight all she is going to do is listen to music.
Jon comes back. Sabrina invites them to come listen to her Britney Spears anytime. She wants them to go outside with her. Neda and Jon say they will not go outside because there's too many mosquitoes. Sabrina goes outside anyways.
Jon tells her Heather will not take NEda to final 2. Neda thinks if it comes down to her or Sabrian Heather will take her. They start going over jury votes. Neda tells JOn she's taking him to the end if she has the chance he doesn't need to try anything.
Jon is convinced Heather will only take Sabrain to the final 2.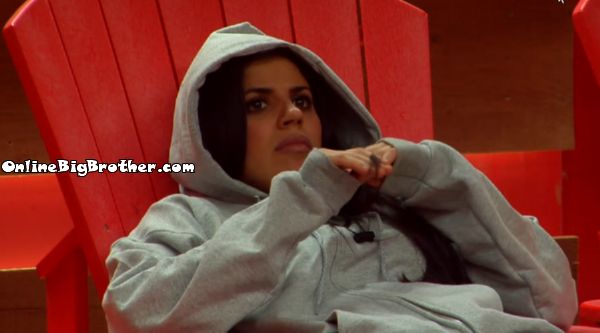 10:35pm Sabrina in the gremlin den
10:43pm Bedroom Jon, Neda and Sabrina
Jon wishes he could fall asleep and wake up to the POV competition. Neda agrees, "Put my mind at ease"
Sabrina doesn't think they will have the veto tomorrow.
Sabrina says she prayed to every saint on the planet because she knew if she doesn't win a competition she'll go home.
Neda tries to sleep but Big Brother tells them nap time is over.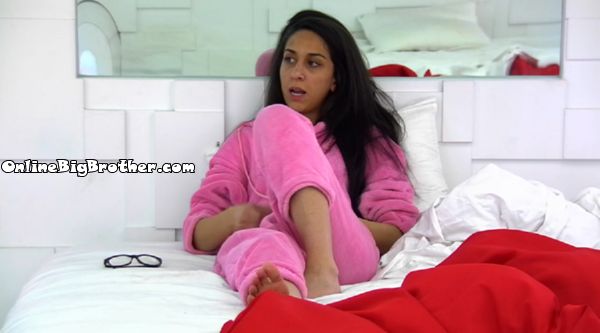 11:01pm Neda and Sabrina
Sabrina says before Adel left he told her not to trust Neda . Neda says she never talked Game with Adel ever. Neda – "Listen at this point in the game.. obviously I'm not having the best day"
Neda says there was cheers when Neda got something wrong silence when Heather got something wrong and Cheers when Sabrina won.
Neda start to play down her jury votes.
Sabrina – "Tomorrow I look forward to talking to you"
Sabrina knows Neda knows all the scenarios so she would like to go over those wth her "No bullshit"
Neda points out that Canada loves Sabrina.
Sabrina wants to talk to NEda but she doesn't want to anything to slip.
Neda says at this point it doesn't matter.
Sabrina – "It does matter do you want to win or not"
Sabrina tells her she will win against Jon in the final 2.
Neda says she f***d up her answer in the HOH.
They go into the bathroom to where Heather was.
[polldaddy poll=8014722]
Share it YO!!
Tweet