POV Holder:
?
Next POV
?
POV Used
?
POV Ceremony
?
HOH Winner:
Sabrina
Next HOH:
Next HOH is final HOH
Original Nominations:
?
Current Nominations:
?
Have Nots
None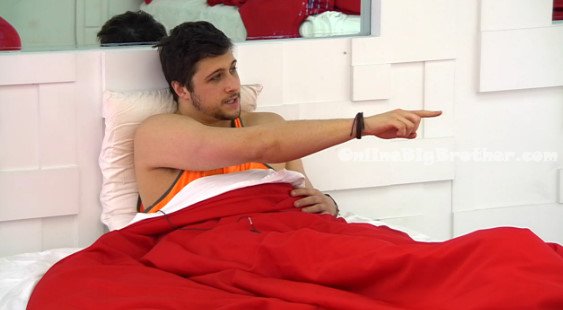 9:20am – 10:15am Big Brother wakes up the house guests. In the bedroom – Jon, Neda and Heather discuss what Big Brother might be building in the backyard. They talk about how they hope its a luxury competition. Sabrina joins them. They wonder if Big Brother is making the POV and will then take it away. Jon says that it sounds like a lot of hammering .. like connecting together. I have a feeling it will be a competition like a Divergent style. They talk about how few there are of them left in the house and how there used to be two people per bed. Neda comments on how nervous she is. Jon says he isn't. Jon says that if you had told him he would make it to jury he says he would have said you're nuts! They discuss this seasons cast. Jon says I found Kenny attractive. Sabrina and Heather head to the bathroom. Neda and Jon continue to talk. Jon says so after one of us wins the veto we will say what's going on. Neda says that would be the best case scenario, if we win veto and take Sabrina to final 3. Jon says worst case scenario, we make it to final 2 and I win $20,000. Do you have any idea what I can do with $20,000 in Newfoundland. Jon says if you win veto and the 3 competition thing ..you have a way better chance at winning in the end. If I win veto and win the 3 competition thing than I have a good chance of winning this. The house guests start cleaning the house. Neda says all they kept saying last night when you were in the bathroom – was okay girls final 3 .. never happened before. Neda says Sabrina was like I don't want to speak for Neda though.. and I was like yeah, yeah. Neda says that's what make me think Sabrina is lying way more to you. They realize Sabrina is telling both of them the same thing. Jon says I am not talking game with anyone any more. Neda says what about with meee… Jon says yeah with you. Jon says it all comes down to the veto if we win it we go (to final 3). Jon and Neda head down to the kitchen. Heather complains that Sabrina left her to clean the bathroom and went to the HOH room. Neda comments that Sabrina fully just went into her HOH room.. that's f**ked! Heather knocks on the HOH room door and Sabrina says come on in. Heather says I can't. Sabrina opens the door. Heather says I just wondered where you were if you wanted to join us. Sabrina says she has a migraine headache and was just listening to music. Sabrina joins them. Jon tells Sabrina that she is going to gain so much weight when she starts eating again. Sabrina says JON! Booger! Sabrina says I am going to start eating healthy when I'm off slop. Jon says even healthy food has lots of natural sugars that will make you blow up!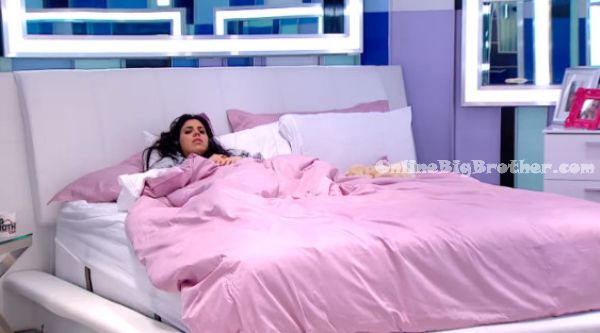 10:20am – 10:45am Heather, Jon and Neda are sitting on the living room couches. Neda comments on how all of the camera are pointed at Jon. She gets up and tries to get one of the cameras to point at her. It does and then it slowly moves back to Jon. They laugh. Jon comments on how The Gremlins was a good alliance .. it was like the Chamber of Secrets. Jon then argues with the girls about how stupid he thinks it is that girls say they're fine when they aren't. Sabrina hugs Jon and says I'm putting you on the block. Jon says you hug me and say that? Jon says I am going to be pissed if you put me on the block. I'd be twisted. I will probably win the veto and there's zero chance I would take you anywhere! Jon says no one would take you to final two I don't think. Jon asks who are you putting on the block. Sabrina says I don't know. Jon asks again. Sabrina says I don't know, there's 3 people to choose from you a$$ bag! Jon says put me on the block, it does not matter .. it only matters who wins the veto. Neda comments that it matters.. it shows what Sabrina wants. Jon says I want to go on the block. Sabrina says I am pretty sure you have a 90% chance of winning the veto. Sabrina comments on how Jon makes it sound like her HOH means nothing. Jon says you're nominations don't matter! Being HOH matters, it means you final 3.

[polldaddy poll=8014722]
If you're interested in making a donation to show your support, we would appreciate it as Simon and I work 24/7 all season long. Donations go directly to paying the fees required to run this site. Any amount is greatly appreciated! Thank you!