POV Holder:
?
Next POV
?
POV Used
?
POV Ceremony
?
HOH Winner:
Sabrina
Next HOH:
Next HOH is final HOH
Original Nominations:
?
Current Nominations:
?
Have Nots
None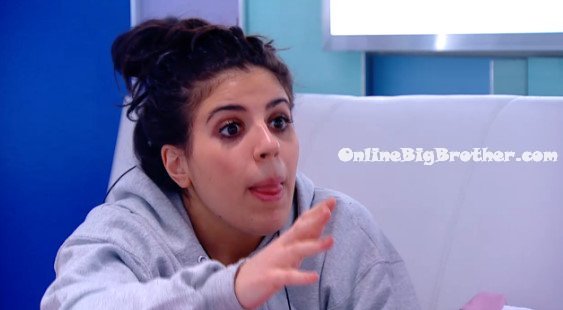 11am Sabrina says the one person I would not talk to is Sarah. A lot of the things she says is not my style. Sabrina comments on how Sarah was with married couples. And I would never ever be the way she was with you a 23 year old boy. Jon says that he would not hang out with Andrew outside the house unless he said the way he was in the house was not really him. Jon gets called to the diary room – Sabrina asks if Jon can't get mad if I put him on the block right!? I mean he is the biggest threat in here. Neda agrees. Sabrina asks if Neda wants to talk in the HOH room. Neda says if I win POV I would have to choose between Heather & Jon. Sabrina tells Neda that she is thinking of putting her and Jon on the block. Neda comments on how if Heather gets to evict Jon it would be a huge move to get out the biggest player in the game. Sabrina tells Neda that if it comes done to me I am choosing you to go to final 2. Sabrina says and you should take me. Heather should too. Sabrina says if Jon wins the veto .. he wins the game. Neda agrees. Neda says worst case scenario is he wins veto, we would need to win the final HOH. Sabrina agrees. Sabrina says I am scared you would get soft in that moment and not evict him. Neda says I have been prepping myself for that for awhile. Sabrina says if he wins the veto .. pack your bags .. I'll pack mine. If he wins the veto, we lose this. We would have to win the first part of the 3 part HOH. Sabrina tells Neda either way you don't go home in two days.. Heather won't evict you and he won't.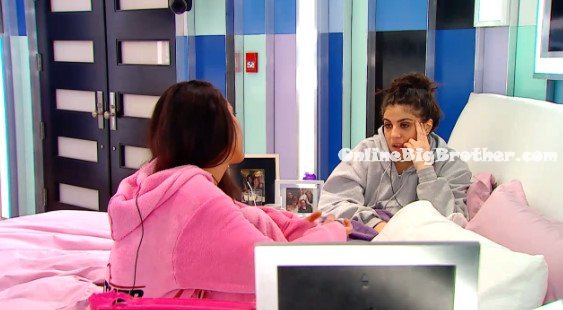 11:20am In the bedroom – Jon and Heather are talking. Jon says that Neda cannot with this Veto. Heather agrees. Jon says if its physical .. Neda is not physical at all. It all comes down to who wins the veto. Sabrina calls Jon to come to the HOH room. Sabrina tells Jon that she is putting him up on the block. Jon says I don't care, I knew you were going to put me up. Jon asks if she is going to put up me and Heather or me and Neda. Sabrina says that she isn't sure yet. Jon says you should put Neda up with me. Jon says it all comes down to who wins the veto. If I win I choose. If Neda wins she chooses. If Heather wins she chooses. If you win you decide who chooses. Jon is annoyed Sabrina didn't want him in the room with her and Neda. Jon tells Sabrina be careful what you say ..anything she told Neda will get back to him. Sabrina says if anyone brings me they 100% win. Jon says you obviously don't want me in the final 3. Sabrina says because you wouldn't bring me, you would bring Neda. Its smart if you would bring me because you would win .. but I know you would bring Neda. Jon says he loves this situation because I get to decide my fate .. if I win veto I stay if I lose I go home.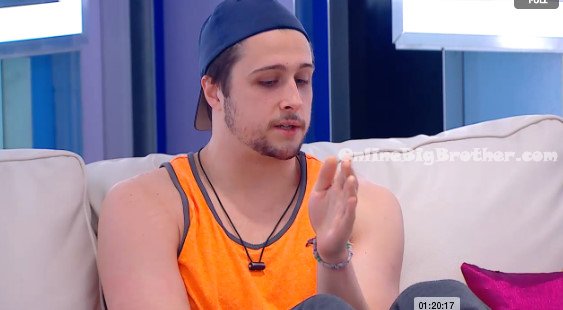 11:50am IN the bathroom – Heather and Neda play Rock Paper Scissors for who will go up on the block because it really doesn't matter who goes up. Sabrina says you guys decided this. Neda wins and so Heather and Jon will go up on the block. Jon keeps telling Sabrina that it doesn't matter who goes up on the block. Sabrina gets mad that Jon keeps making it sound like her HOH means nothing. JOn and Neda head to the bedroom and laugh about how they just played rock paper scissor and took all the power away from Sabrina.
11:55am – 12:15pm Jon gets Neda to play Rock Paper Scissor and she loses. Jon says Neda just lost, she's on the block with Heather. Neda says NOPE that wasn't official!!
[polldaddy poll=8014722]
If you're interested in making a donation to show your support, we would appreciate it as Simon and I work 24/7 all season long. Donations go directly to paying the fees required to run this site. Any amount is greatly appreciated! Thank you!