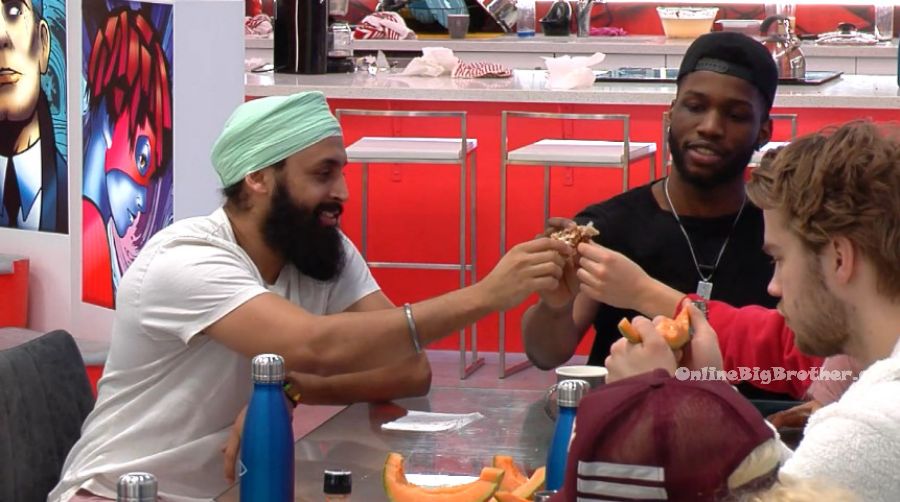 11:25pm Kitchen. The house guests are sitting around the kitchen table chatting and eating. Hira is doing a "Cookie Time" show asking Sheldon personal life questions. He then opens up the audience to asking him questions.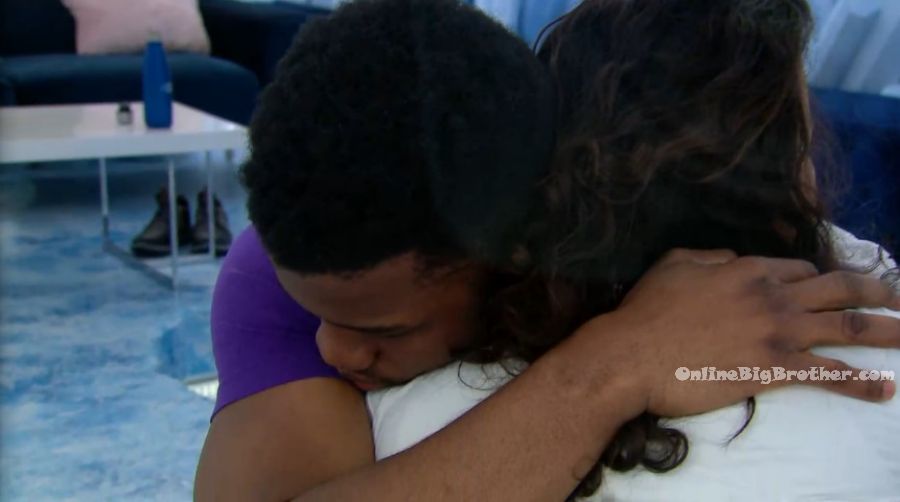 12:20am HOH room. Minh is crying to Sheldon. Sheldon – what are you thinking? Minh – I am just feeling like .. i just feel along right now .. you know?! Like I feel alone in this house and alone in this game. And the one person that I felt had my back .. just got himself evicted. So I just feel like I don't know how to move forward in this situation. It like never ends! It never ends. I was talking to Vanessa and said I just want you to know that I never talk sh*t about you .. ever. And she was like well I am hearing stuff today. Kyle said something and Carol. Then I went to see Carol and she was upset and thinking about self-evicting. She was like this place is hell. I understand where she is coming from because the first week was tough for me and now I am like feel like it is tough for me right now. I don't feel like I don't have anyone .. Like how am I supposed to play. When you made that comment in the bathroom – everyone knows you're a notorious liar .. I thought you were joking but actually you weren't joking. And I had a conversation with Kyle and he said it doesn't matter if you tell the truth.. the perception is the truth. And I just don't know .. I just feel like sh*t right now. Its just sh*tty! Sheldon hugs her. Sheldon – if you feel alone .. you have me personally. Minh – I want to be here.. I deserve to be here. I feel like there are people here that have done nothing. I want to work for it. Sheldon – you've been through a lot harder outside of this house .. and you made it out of it and you felt alone. Your fight is not over. Your game is not over. I do not specifically want you to leave. I don't think others want you to specifically leave either. Whether the perception is true or not .. if the perception helps other peoples game they will make it true. I do want you to stay and would work with you because I don't believe you would hold any grudges against me. Minh – I wouldn't. I am really like scared of Kyle. Sheldon – what kind of scared? Minh – not scared like he is going to physically threaten me or whatever .. I just see him as a very dangerous player. I just see that he is really good with his words and twisting his words. Sheldon – Kyle is good. Minh – I am weak to that. He has me speechless. Like how do you even begin to respond to his comments. I see through him .. you know?! I don't mean to talk sh*t about the guy. Sheldon – he is a very multifaceted person. Minh – I feel like the way he behaves is like a sociopath. He says that nicest, sweetest things that disarm you but there is something about him that is cold. He is too good to be true. Sheldon – f**k Kyle .. you just have to focus on yourself.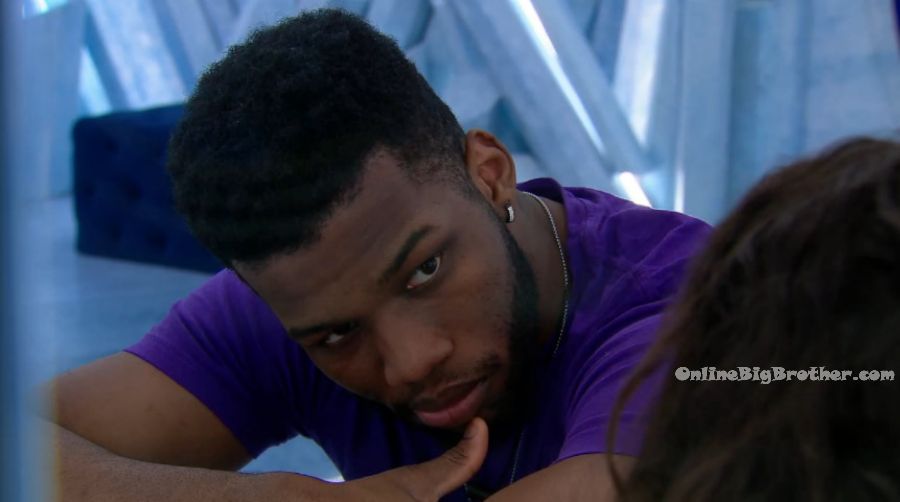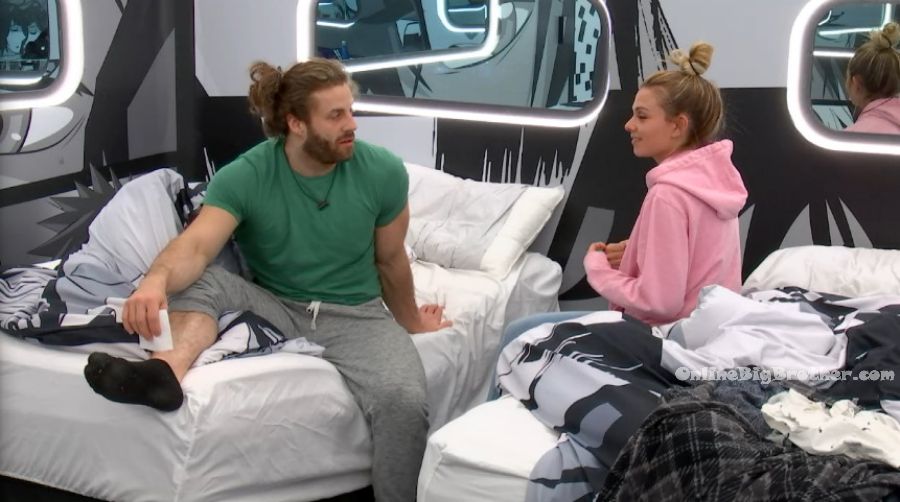 12:30am – 1am Bedroom. Madaline and Kyle. Madaline – I am the one that frikin' snap chats Dan Gheesling ..okay?! Like I love this game! At home I would just like dream about it! Like the past few years! Kyle – how crazy is that. That we would actually f**king be doing this?! Madaline – yeah like even step through those doors .. you know what I mean?! Like that was big! Kyle – i wonder how this is all going to shake down? Madaline – lets just say you are sitting beside someone in the final two like a floater .. you can just see who is a floater.. I don't have to give names. My biggest fear would be that.. Kyle – I burnt everyone along the way.. Madaline – yes. And if I am in jury ..from the bottom of my heart I wouldn't want to see a floater win this game and I would honestly try persuade them because you would have my vote over that person that didn't really do much in the game. And that would just mean they weaseled their way through and I don't like that. Kyle – I would also like .. if I was there in the end with anyone .. my speech would be very good because I own my sh*t. And I would own everything that I did to everyone. And I made my intentions known to everyone since the beginning. Madaline – MMmhhmmm.. yet you still made it that far. This game is like a mind f**k. Kyle – its tough to stay ahead of it. Madaline – like who is going to benefit my game all the way along. Kyle – if you win next week, who would you put up. Madaline – honestly I don't know. And I am just being honest, I don't know if I want to win next week. I just don't know. There are so many people in this house that I just don't talk game with and that scares me. Kyle – if I won HOH and I put two people up would you vote with me. Madaline – It would depend on who it was. Do you have a plan? Kyly – yes I have an A and a B and a plan if the veto is used.
Madaline – If your A isn't Rianne. Kyle – no. Madaline – then I would side with you. Kyle – I would like to establish a working relationship with the two of you. Madaline – that's what I thought you were trying to say. Kyle – I would just need to know where your guy's heads are at. Madaline – I would just need to know where your head is at with Vanessa. Kyle – I definitely know you guys want to throw her out. I am not stupid. I know you guys don't have a relationship with her. She is a strong chick. Madaline – I just wouldn't think that ..not that I would want to throw her up but I think that she makes a lot of … I am cool with her but I don't know exactly where her head is at. Kyle – we are obviously close. Madaline – she isn't someone I would want on the block. Kyle – you would want Chris and Angie up? I want Hira out. Madaline – so if Hira sat beside a pawn? Kyle – I am not sure yet probably. Madaline – why Hira? Kyle – because Hira can't keep my name out of his mouth. Madaline – personally I don't have that connection with Hira. But I don't know about Rianne. I just know she is a lot closer. Kyle – if I win and put him up .. obviously she is going to be working for him? There is a good chance? Madaline – I can't say yes or no. Kyle – in an act of good faith I would let you know my move before if I won. I am close with Chris but not as close as you think. Madaline – if we were to move forward in this game together .. I would want to keep him because if he is gone .. you would be the next one. Kyle – right. Madaline – if we were to move forward in this game till jury or past that I am down for that and I would not put up Chris. The other house guests come into the bedroom to go to bed.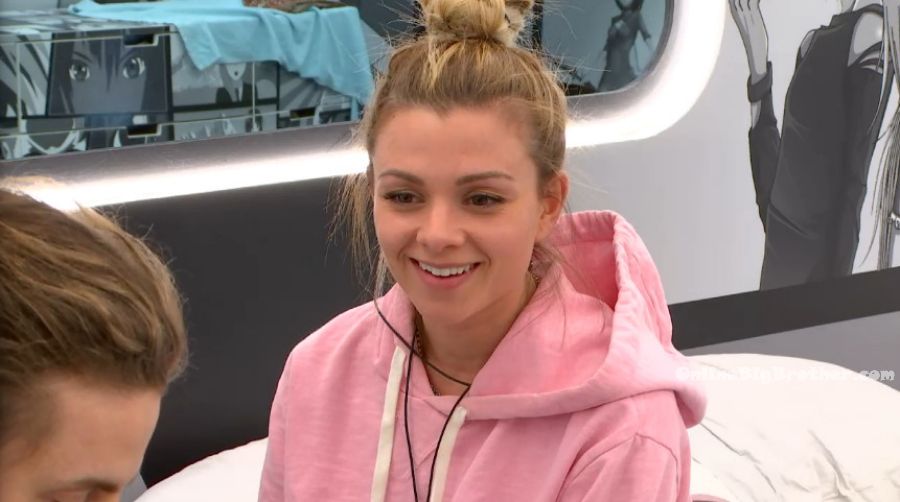 2am All the house guests are sleeping..