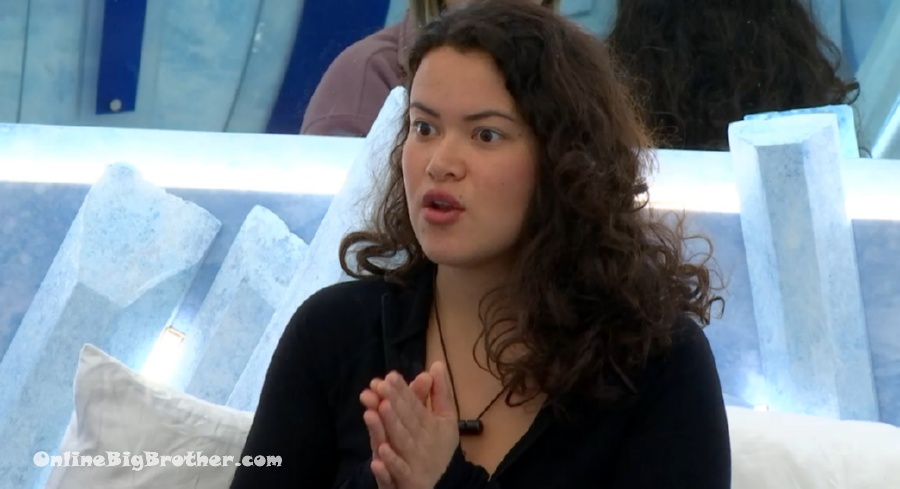 11:26 am Carol and minh
They argue for an hour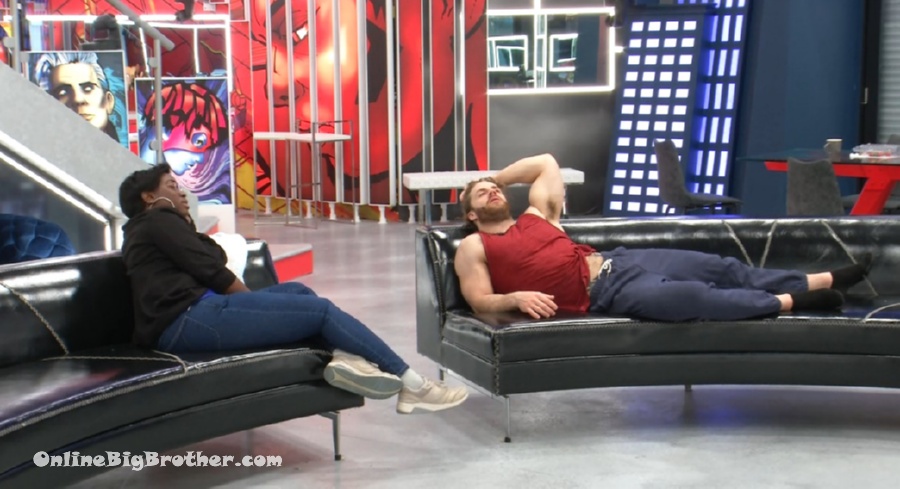 11:45 am Angie and Kyle
Angie says she wanted to say "Stuff" during the house meeting but it got so wild.
Angie – she's lucky not everyone got their chance (To speak) At the end of it she would have said everyone was ganging up on her. Sher really does like to play the victim.
Angie laughs "Sleeping in the have nots.. OK do you think people care"
Kyle – when she was done and the whole Jamar thing happened she was out talking being ecstatic about what was about to happen (Jamar's removal)
Kyle – she then comes in here and cries.
Feeds cut
When we're back they're talking about Minh and her mood swings.
Angie says when Minh is sad about things she can never tell if she's being sincere. They agree if Minh stays it'll be a waste because next week she'll need to go again.
Kyle – Another house meeting
Kyle – you know what's crazy when the whole Jamar thing happened she was playing. up I didn't know he.. Feeds cut
Angie says Minh could have stopped the whole thing and pulled Jamar into the Expedia room
feeds cut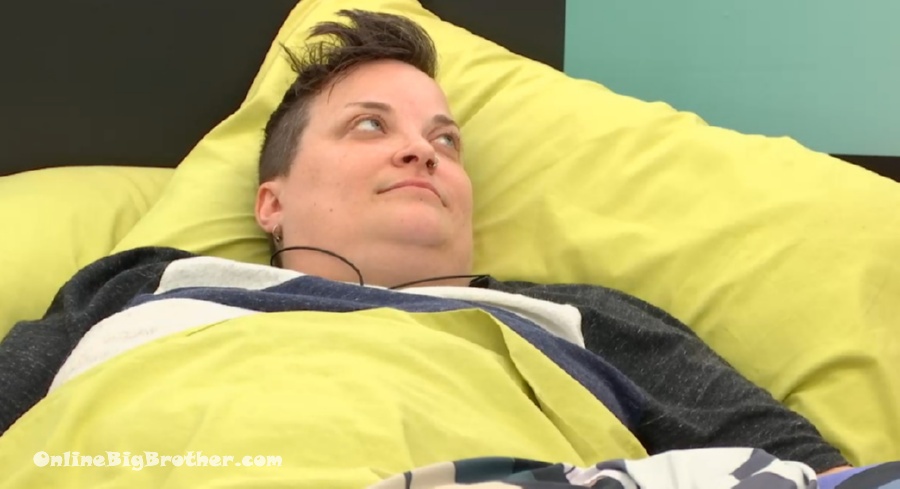 Noon Carol, Kyle, Vanessa and Brooke
(Houseguests will find out today if there will be an eviction)
Kyle says Minh has got to go, "I'm sorry she's out of control"
Kyle – She's f***ing insane Brooke I've been telling you since day 3. She's a crazy person that is why this eviction needs to happen just for our sanity.
Kyle jokes that Big Brother can keep the booze and parties they just need this eviction.
Kyle brings up Minh and Sue arguing in the HOH.
Carol brings up that Minh pulled her into a room telling her that Vanessa was telling her sh1t
Vanessa – the whole object is me.
Kyle says he sat down and smiled at her and she said "Kyle you can't do that'
Kyle – you can't tell me what to do and you can't switch on a dime like that. You're insane.
Kyle – worst self-aware.
Carol – I literally said If I win HOH I'm putting myself on the block
Carol – I seriously want to go home, I'm done
Vanessa – you want to go home next Thursday
Carol – I really do. I'm done I just don't want to self evict
Carol – I'm very very serious I'm done I got no fight left I hate it here I hate production..
Feeds cut.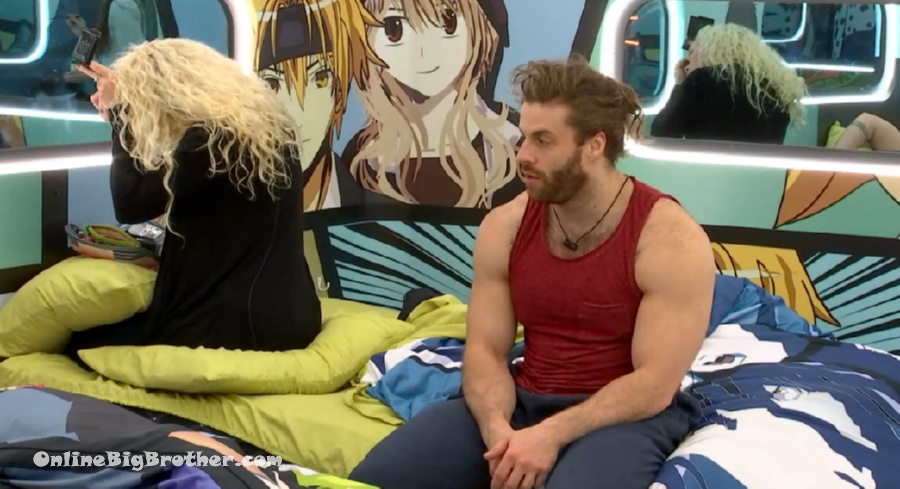 Carol – I don't really care anymore
Kyle – like I said dude if You're done you're done
Carol – I really am. I don't want to be here anymore
Carol – I know I'm in a great social situation I can make it to jury. I don't think I can win the game I don't think I can take part in the last like umm… challenges where it's endurance and running and puzzles. I don't think I have a chance That's not be being down on myself that's me knowing myself and what my body is capable at this point. Therefore like I'm just wasting time.
Kyle – just being honest with you If I win I need that guy gone (Hira)
Carol – I know I can't even get voted out of here if I wanted to because nobody is threatened by me
Kyle – if he wasn't here I would help you out with that.
Carol – I know that's fine. I legitimately would put myself on the block. It would be hilarious if I won HOH.
Kyle – can you do that
Carol – I don't know I would try (Ohh F*** off)
Carol – everybody in my life thought I was nuts to come here as is. They're not going to hold it against me
Kyle – everyone thinks we're nuts for being in here
Carol – you cannot fathom what it's like until you've been here
Carol – All I wanted to prove was if you're old, If you're big you can still make it here and I already proved that (ZOMG)
Carol – I would have at least doubled my followers that's all I really care about
Carol – I got thriving business outside of this house
(Carol is the worst pass it along)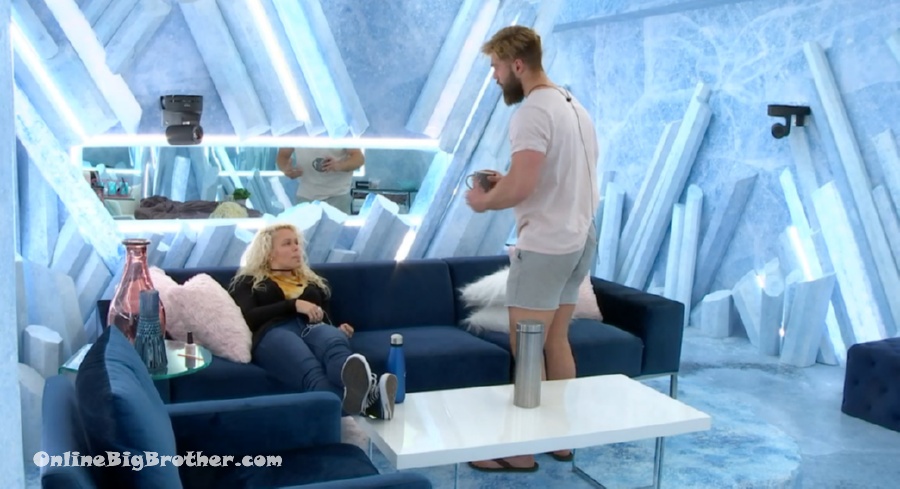 12:48 pm Chris and Vanessa
Talking about Carol and dragging her along in the game for at least 4 more weeks then they can cut her loose.
They need her as a number.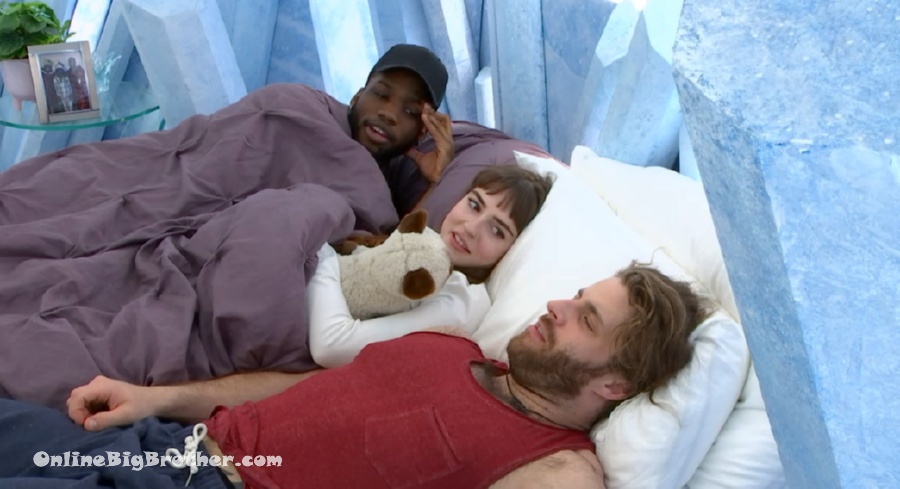 2:03 pm Sheldon, Kyle, and Brooke. Hira is also in the room on the couch.
Chit chatting about how much fun Chris is. They mention that Maddy has lost 8 pounds while on slop.
Kyle mentions how Chris is saying he's going to be the greatest slop bucket eater in BB history.
Hira – he will end up eating all the slop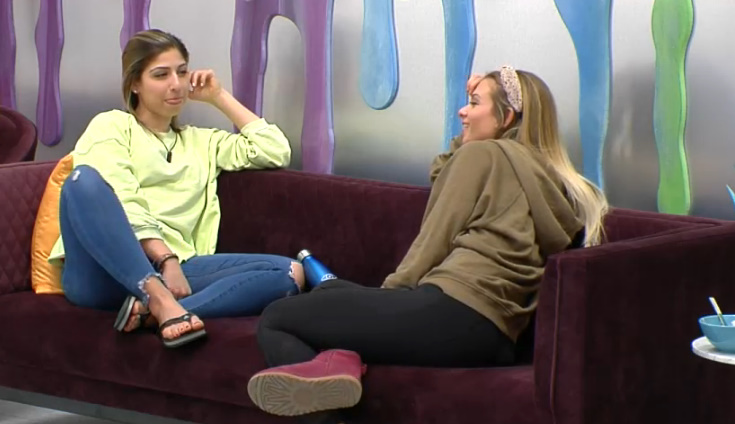 4:47 pm Sue and Maddy
Sue mentions that tomorrow is HIra's Birthday. They talk about Ming not being a nice person.
Maddy – her and I didn't get on the right foot
Sue – how can anyone be mean to you. Seriously it's bizarre
Maddy – may be because Jams was flirty
Sue – that's why I think she hated me. She wanted him
Maddy – where are you at gamewise
Sue – I don't know I'm still trying to figure it out. I feel like I can trust you guys, You all tell me where your heads at
Sue – I feel like I can trust Shell
Maddy – I trust Brooke I just feel like if I try to get close or something they're just too tight 9Brooke and Sheldon)
Sue – they're tight
Maddy says she feels like a lone wolf. Still talks to Ri though.
Sue – do you talk to Brooke and Shells about anything
Maddy says they talk a lot about personal stuff "I would like to talk more game with them because I feel they are both honest for the most part"
Maddy – Kyle drives me insane he was so close to Mike
Sue – I guess you guys talked game before
Maddy – we talked so much game before
Sue – are you guys good now
Maddy – yeah we're OKAY now but I'm not going to forget they did it to Mike. They were so close.
Maddy – they both opened up to each other he was like I have your back 100% I swear on my kids(Kyle to Mike)
Sue – that's why Mike freaked
Maddy says if Kyle is sitting with any of them in the final 2 he'll win the game.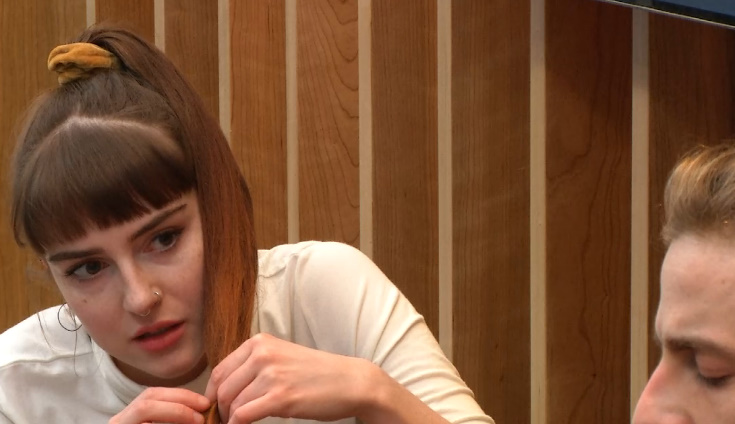 5:43 pm Brooke, Kyle and Vanessa
Kyle saying that Angie is going after JL.
Kyle – Carol wanted to self evict today
Kyle – we need a game plan going into next week you talked to anyone today
Brooke says Maddy and Ri were in the HOH both talking about Kyle and saying if Kyle was going to target someone it would be Hira.
Brooke says Maddy wants to win HOH to protect Hira, "She's either playing you or Ri"
Brooke adds that She was talking to Ri alone and Ri asked her what was her standing with Kyle.
Brooke – I was like yeah I love Kyle we have a very good personal relationship (ZOMG)
Brooke says that Maddy and Ri also mentions Kyle was brining up Sheldon's name "I kinda played off of that as well"
** Feeds have been down for over an hour
8:42 pm Feeds still down…
10:30 pm Feeds down until after Tomorrow's show..