Evicted: Chris Kirkpatrick voted out 5-0
Head Of HouseHold Winner: Carson
Nominations: ? and ?
Power of Veto Players: ?
POV Winner:
Veto Ceremony Results: ?
Evicted: ?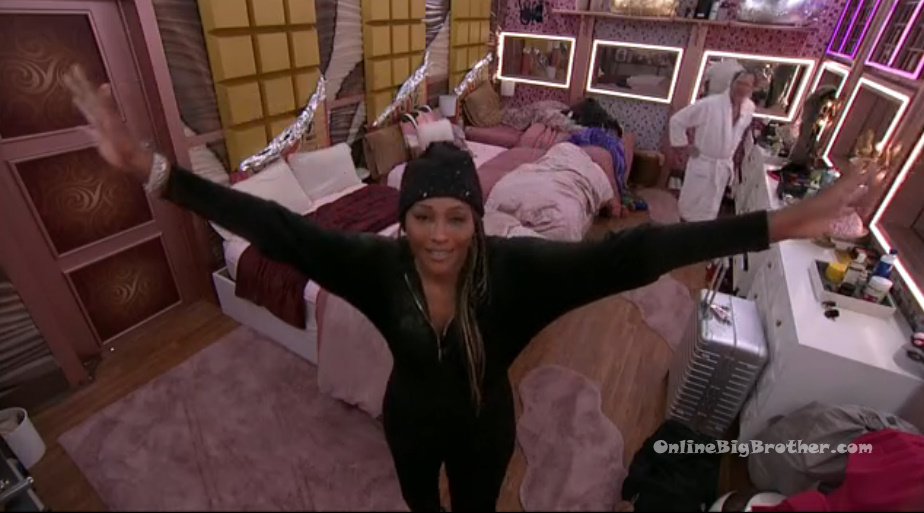 8:05pm The feeds return from the HOH comp. Carson is bringing his suitcase out of the storage room to unpack it again. He heads to the bedroom. Cynthia – you did it! You won! Carson – the tide is turning. Lets just bask in the glory. We had a nerve racking couple of days! Now we're going to have baths and king size beds! Cynthia – I know! I'm off the block! Carson – and a win from little old me! Cynthia – we turned it! We did it!
9:07pm Bedroom – Miesha and Todrick.
Todrick – what are you thinking? Miesha – I just think that it all comes down to veto or I'm going home. That's it! Todrick – do you think he will vote for us to stay? Miesha – no, because its an even week. Todrick – I hope I win the veto. Miesha – me too, if I get put on the block I'll get a chance to play in it. We don't know if you'll get a chance to play. Todrick – well hopefully it will be a veto and you'll be put up. Carson will put you up honestly. Miesha – and Todd I think. Todrick – yeah. And in a perfect world I would be able to win it so that way I am safe too. Maybe Lamar he would put up. Do you think he will honor his deal? Miesha – about not putting you up? Yeah. Todrick – but I would love to win it and take you off just to be on the safe side. I do feel better knowing that Chris wouldn't have done well at that competition at all. Do you think he would have? If Chris had stayed loyal to us this week .. I would have killed that! And Carson would have been gone. Miesha – I know! But they wouldn't have pulled him down. Chris just wanted to shake things up. Todrick – he f**ked us! No lube! Miesha – yeah. Not even any spit! Todrick – Carson would have been out of here. Miesha – I know. Todrick – like hands down. Miesha – and he was still trying to be all cute with me. Todrick – how did y'all leave things? Meisha – I just didn't even feel like looking at him. I wasn't out and out rude to him but now especially the way this is playing out .. this is just really frustrating. They head into the other bedroom to talk. Todrick – I hate that they (Cynthia and Carson) we're in there rejoicing. It makes me so mad. Miesha – I know. Todrick – what sucks is that.. if he hadn't turned on us, we would have had this game! Miesha – I know. Todrick – with Carson out. It would have been over! If you leave, I don't know what I would do because I am done. I would have to beat out someone.. I don't even know. Two people.. Carson and Shanna. Miesha – if we can make it past the veto.. then Carson doesn't play in the next HOH. Then we take it. It was so frustrating not being able to play in this wall comp. I'm built for it. Todrick – I wish I would have taken last weeks HOH. I have been so close to everything. I was just thinking I have to pull through for Miesha. My legs were shaking and I was like if I don't make a deal .. then we're both going to be up on the block. Miesha – did you make one up there on the wall? Todrick – yeah, right before I fell down.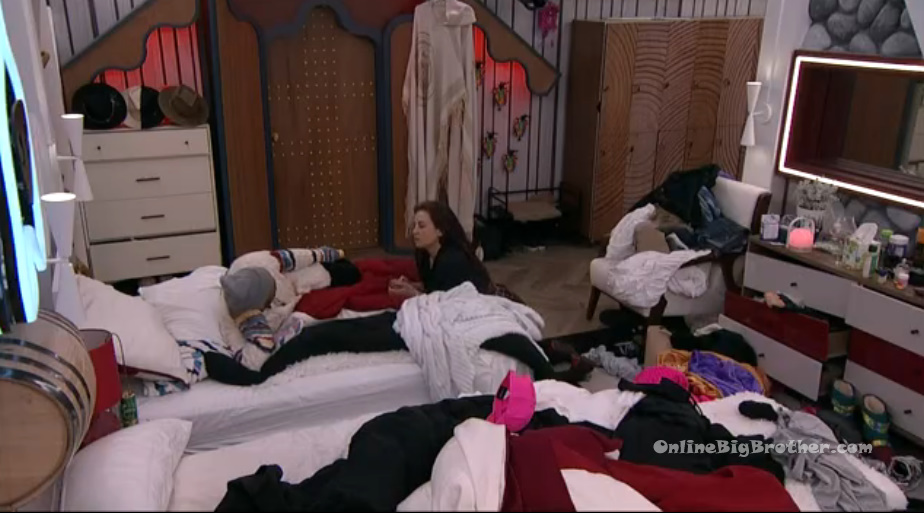 9:47pm Bedroom. Todrick and Carson.
Todrick – I love the finesse that you and Cynthia have. You guys have been in so many situations to realize that thte world keeps turning. But sometimes when you're new in the game and you have stuff to prove .. it feels like it is so huge and at the end of the day.. Todrick you're healthy, you're alive. This is not the end of the world. I have to keep reminding myself of that. Carson – and the only thing that I would say to you is wisdom .. remember your brand and who you are… and do things with grace. Because I was looking at the memory wall.. and Miesha is so respectable and puts in the hard work and she is so prepared and that is so admirable but her brand is to be ruthless. Like kicking a$$ in here and playing a no hold bards game is very on brand for her. Its actually good for her brand whereas I want to play with integrity because I really want people to watch this show and be like god I watched this show and really liked him but he seems like a real jerk! My brand is not ruthless. My brand is joy and helping people like feel great about themselves and how they present themselves or their faces to the world. That's all I would say to you. And I know you have a great relationship with her and you're fine and dandy but just be mindful of your brand. Todrick – yeah. I appreciate that. And if you ever feel like I have done something.. Carson – no I would have come to you. Todrick – I appreciate that. I am very very proud of you.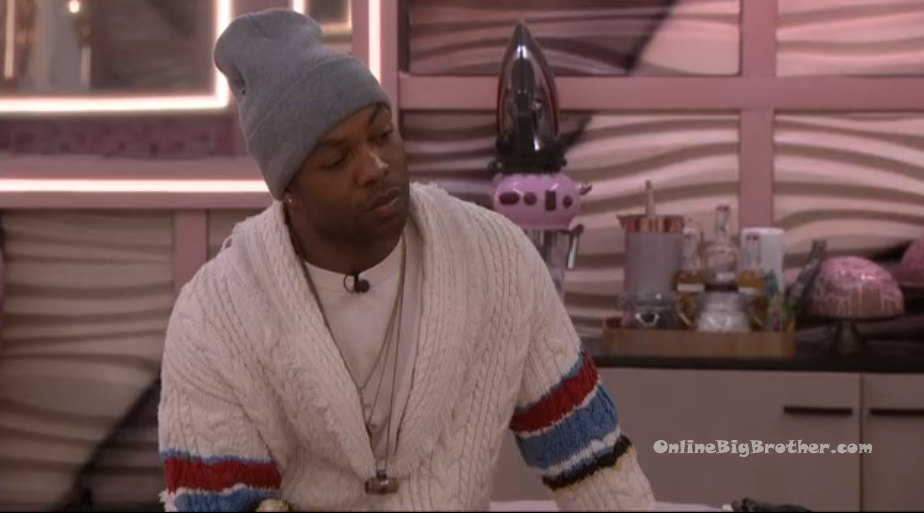 10:18pm Bedroom – Shanna, Carson and Cynthia.
Shanna – did you see what Todd said to me? He was like ohhh.. you didn't vote for him (Chris)? Oh we thought you were going to have that one vote. You didn't vote for him? I was like Todd, I went with the house! Like I did for you. Even though your friend put me on the block. Like he knew he was going home. Say if you put up Todd and Miesha and one of them wins veto and comes down who do you replace? Carson – oh do I replace? Shanna – yeah. Carson – oh Todrick already came in here and said you know.. Big Brother blocks the feeds. Carson – I'll put up Miesha and Todd. And hopefully they won't change it and one of them will.. Shanna – if Cynthia and I play in the veto, hopefully we can keep your nominations the same. But then Cynthia and I will vote for Miesha. Lamar and Todrick will vote for Todd I think. You (Carson) would break the tie. Carson – and I would get rid of her (Miesha). That would be the best scenario. Shanna – when Todrick makes a deal with you .. you have to say if you play in that veto, you keep my nominations the same.. or I am going to backdoor you. Carson – okay. Shanna – Or I will put you up if Miesha takes herself down. Carson – okay, got it. Shanna – we need to get her out of this house and she has a very good chance of winning that veto depending on what it is. Carson – yes and she is going to be so inspired to win. Shanna – and if she did win and take herself off you would have to decide who to put up on the thing… you would put up Lamar and we would have to vote Todd out because he is so pro Miesha. Carson – yes. I agree.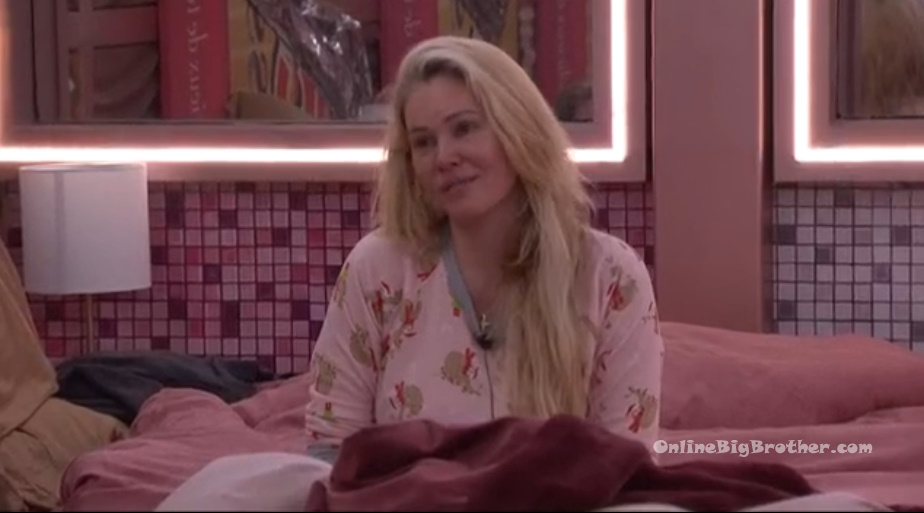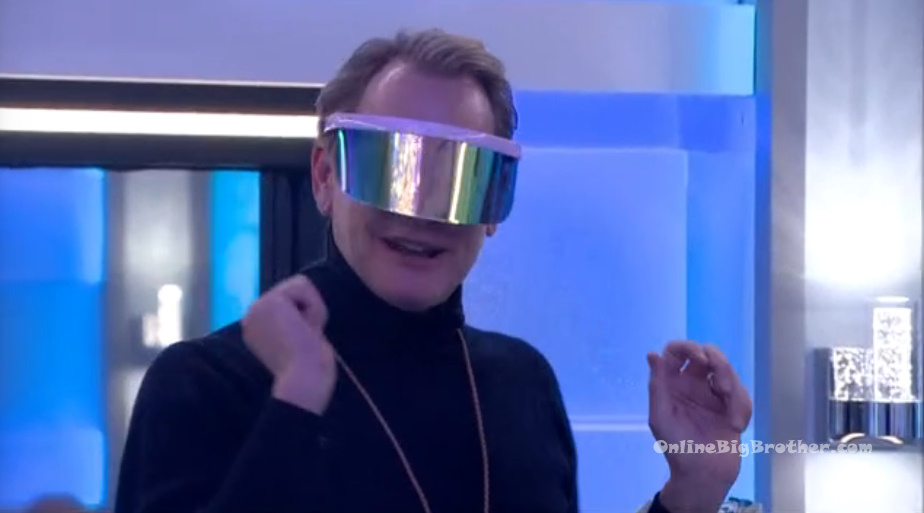 12:22am HOH room.
Carson got his HOH room. They're up there looking at his photos and HOH basket. Carson reads his HOH letter.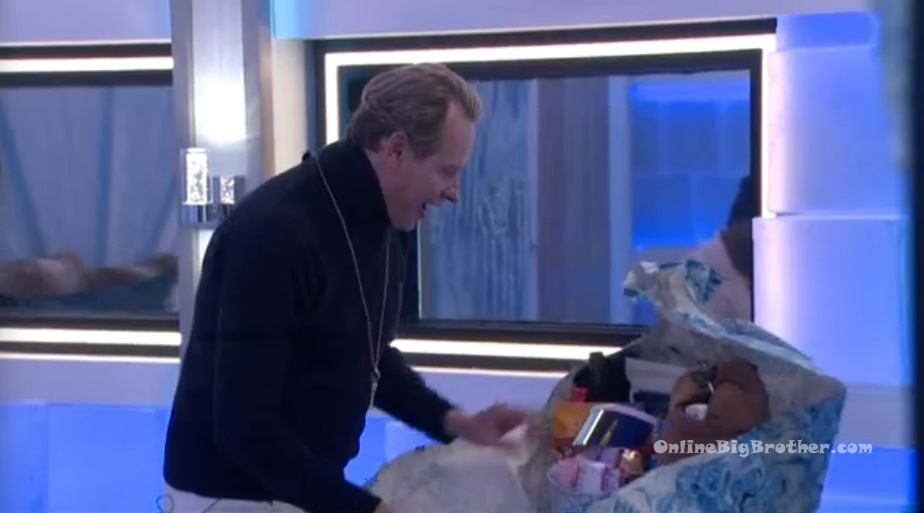 1:10am All the house guests are sleeping..
3:18am – 3:45am Backyard – Lamar, Todrick and Todd.
Todrick – what are we going to do?? Todd – nothing we can do! They're going to put us up! They're going to put up me and Miesha. I already know that. Todrick – you think so? Todd – yeah. Lamar – you never know. Todd – they will. Lamar – you got to see how things play out. Todd – I ain't crying over it. Lamar – say its you and Miesha. Todd – they'll go for Miesha before they go after me. She knows that too. Todrick – but if we win the veto we can pull Miesha down. Todd – yeah but whoever else is up there is gone. Pull Miesha down.. the other person is going home. Lamar – does the other person go home that day? Todrick – on the live show. People go home on Monday's and Fridays every week. Big Brother switches the feeds and then when they come back. Todd – ..you want someone else to win because you know that you can't. That's all you're doing. Don't be telling nobody man! Todrick – who? Todd – you. Todrick – have I told anybody anything this whole f**king game? Todd – you saying you didn't tell Carson if I go down not to put me up? Todrick – what? Todd – never mind. Todrick – I told Carson today if I fall, not to put me up. Todd – yeah, we know that. Todrick – yeah but that's not telling anybody anything. Todd – I heard it. Todrick – that's what you should do if you're about to fall. You make a deal. Todd – its alright. Todrick – because if I fell and didn't say it he would put up me and Miesha. Todd – now they'll put up one of us. Todrick – you think that was shaddy I did that. Todd – no. Lamar – no, you threw yourself a life raft.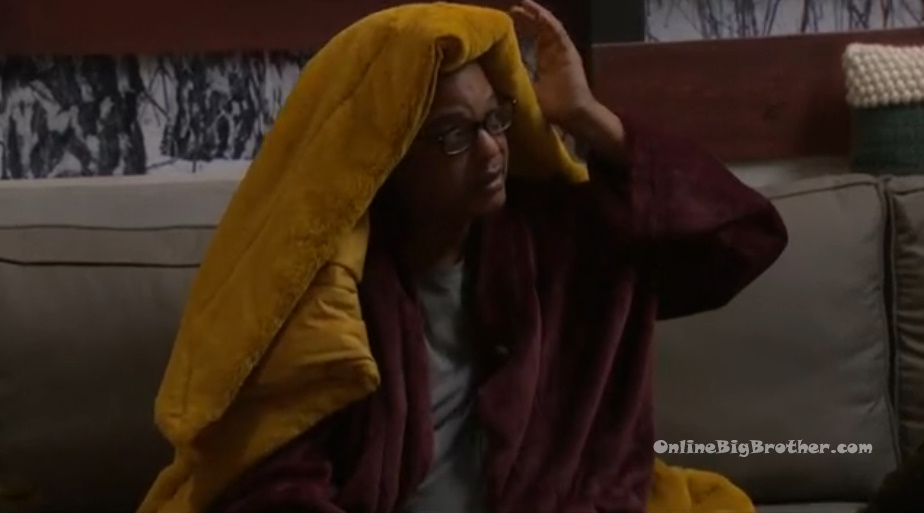 Nomination Results: As HOH, Carson nominated Miesha and Todd for eviction.
Subscribe and watch the live feeds with the FREE Paramount+ Trial.