Head of Household Winner – Cody
Have nots – Nicole
Nominations – Christmas & Tyler
Power of Veto Players are –
POV Host: –
Power of Veto holder – Cody
Power of Veto Ceremony – Cody did not use the veto
Live feeds —-> Grab your Live feeds here. Try it free.
Rank the houseguests —-> Big Brother 22 Ranking
BREAKING unexpected Spoiler – Cody did not use the veto..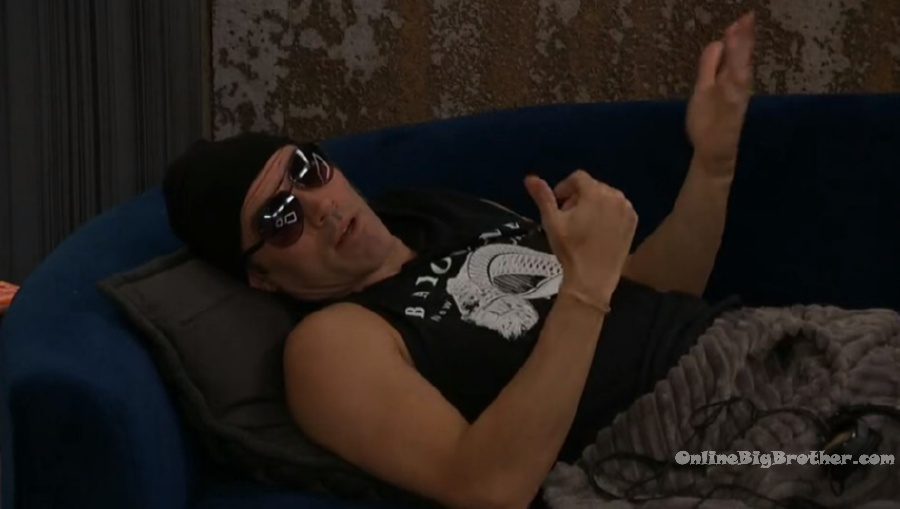 5:10pm HOH room. Enzo and Memphis.
Enzo – its done! That's it! What are going to do! Memphis – Like I am sure he (Tyler) is going to ask everyone. I am just going to be like I don't know how everyone else is voting. But I will probably wait till Thursday morning. Enzo – because then you want Christmas to be a little on edge too. Like whatever the f**k .. I mean we already told Christmas so she already knows about it. Memphis – Yeah she knows but I still feel like she is all over the place. Enzo – yeah she is all over the place. Memphis – like if I have to ask you that next week I am going to be pissed. Next week is going to get interesting. Enzo – its going to get crazy. Memphis – the only way for us to pull this off ..the only way that it can end up us four.. Ezno – we have to get rid of Nicole. Memphis – but the only way we get rid of Nicole without pissing Cody off .. because that's what he wants .. if he wants to keep Nicole because I am assuming he does. Enzo – I think so too. Memphis – the only way that we can do that without him batting an eye is that .. I mean really the only way is if me or you are on the block with her (Nicole). Ezno – but that is why I kept her .. I was like yo she's a champion .. she already won money bro! Memphis – think about it this way if Christmas wins HOH next week she will put up Nicole and Cody. Enzo – and then we win POV .. that's it! Memphis – win POV and then vote her out. That is easy! IF I win, I'll put up Christmas and Nicole. Enzo – we can't have Cody win the POV right? Or it doesn't matter. Memphis – if I win the POV then we're f**ked because then we have to convince Cody to vote Christmas to stay. Memphis – the best situation is if Cody is on the block with Nicole. Enzo – then that's it. Memphis – because then he can't vote. I don't want to convince Cody that we have to keep Christmas because that is going to be a hard sell. Enzo – yeah. He thinks she is really tight with you. Memphis – and then why would we keep her .. she is a much better competitor than Nicole. Enzo – exactly! Memphis – if you win HOH you could put up Nicole and Christmas and then if Christmas wins the POV .. you put me or Cody up and then we send Nicole home. You either want Christmas as HOH or as POV winner. Enzo – I will just tell Cody that I saved f**king Nicole to make you happy and Memphis happy… AND now you have to make me happy! I want her gone. She is a champion. That's it! Memphis – he won't be combative. Memphis – I would rather you or me win HOH and POV to make sure that Nicole doesn't. If she doesn't win either of those she is going home no matter what. Ezno – Cody isn't in it (HOH) so its just me, you and Christmas against Nicole. I think we should win it. Like what the f**k!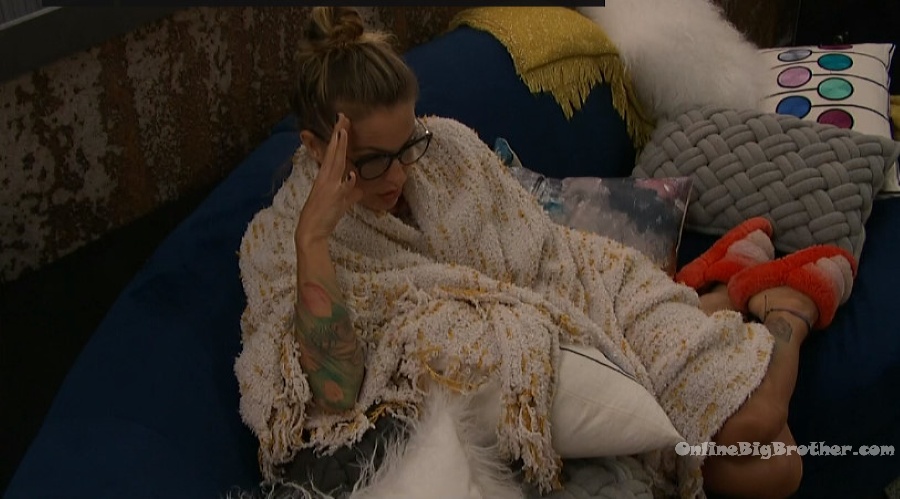 5:28pm HOH room. Enzo and Christmas.
Enzo – how you feeling? Just keep doing what you're doing. Christmas – okay. I was just on an emotional roller coaster from that triple. It like got.. it was like .. It was the triple, going on the block, losing the veto. That sucked. And then underlying pressure that it was Loyal's birthday on Thursday. I was just having a lot of emotions.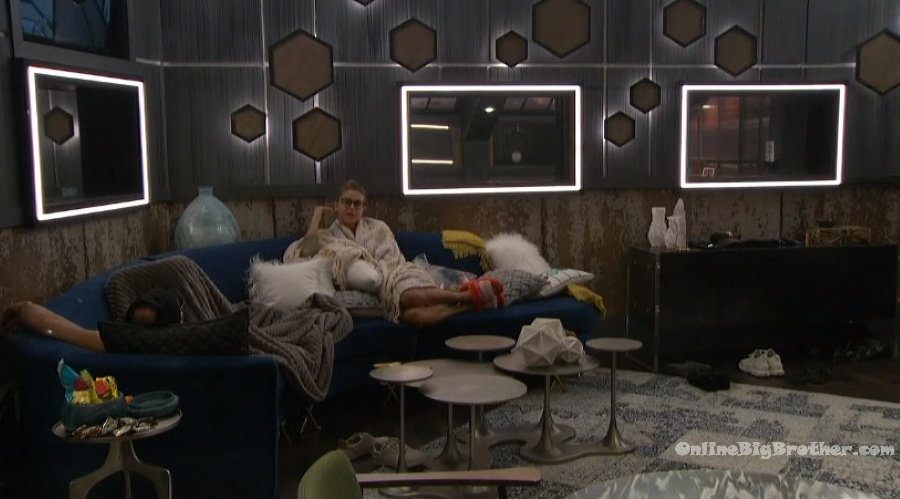 5:33pm Big Brother blocks the feeds..
5:57pm The feeds are still blocked.
6:13pm – 6:31pm The live feeds return. Bedroom. Memphis and Christmas.
Christmas – we haven't had many game related questions. How many house guests have been evicted with zero votes to stay? Memphis – that exact question literally happened already. Christmas – How many house guests have been on the block twice? Nicole joins them. Memphis – I have questions for you. Nicole changes and leaves. Memphis – no those questions will definitely happen. Christmas – two vetos, two HOHs… that's it! Memphis – you don't think they'll do one more endurance? Christmas – yeah one of the three. Memphis – well yeah but you don't think they'll do another. Christmas – maybe. They start studying the past events of the season. Memphis makes a mistake. Christmas – that's okay that's why we do this. I've been studying my a$$ off because Nicole is good at this stuff and I am not going to be out smarted by her. The good thing is that you have me and I know all of that and you know I am taking you to final two if we win!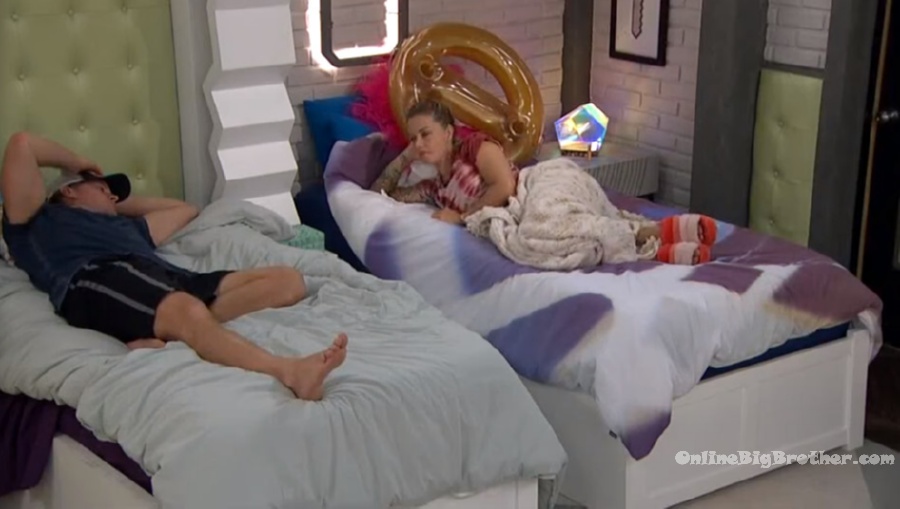 7:05pm Bedroom Cody and Enzo studying the past events of the season.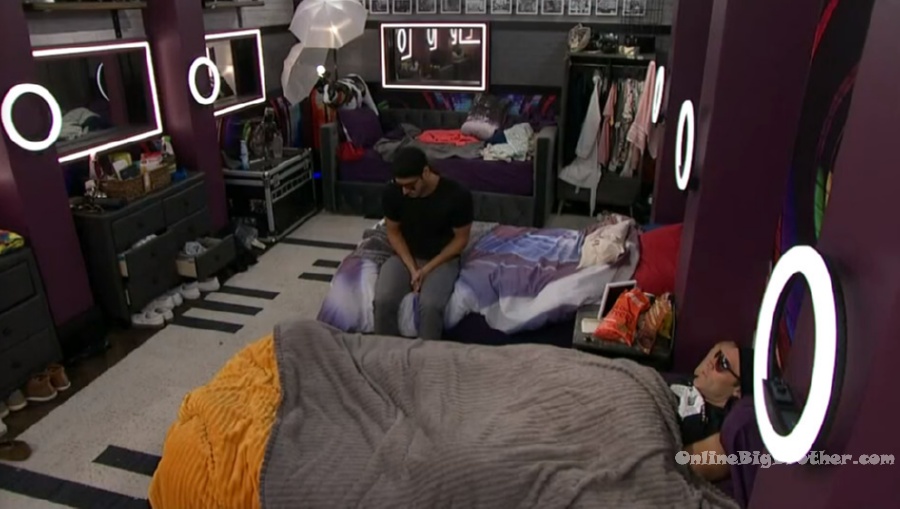 7:10pm Big Brother blocks the feeds.
7:38pm Big Brother switches the blocked feeds to the kitty pound..
8:22pm The feeds come back with all four feeds showing Nicole with a face mask on in the havenot room. Nicole – I am studying because I need to win this next HOH so bad! I have to be quick too.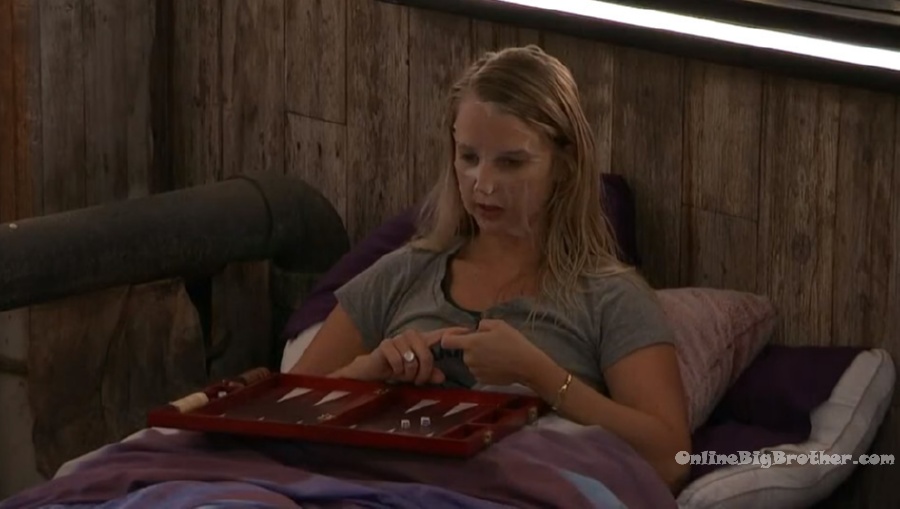 9:31pm All four cams on Nicole sleeping in the havenot room..
9:58pm Kitty cam all day all night..
10:39pm – 10:47pm HOH room. Cody talking to the cameras..
Cody talks about how he's becoming a beast at frying up foods. Tomorrow is the veto ceremony. This week has definitely been interesting. Getting back into the game is very very interesting. Every move could go incredibly or poorly. I am playing out every single scenario in my head which I never ever did in my first go around. I was thinking about things but not to this extent. Thanks a lot Derrick! This game is exhausting! Exhausting to always have conversations. This week if it goes one way .. just got to hope. This is where a little luck comes into play. And I can't even compete in the next HOH. I just need a little luck on my side. Tyler and Christmas on the block. I had the triple threat with Enzo. He is so hard to get a read on because he is sneaky. Christmas – is pretty straight forward. Like if she wins I know I am going on the block. I just want Enzo or Nicole on the block next week. That would be ideal! It is 100% going to happen! Nicole is going to win this next HOH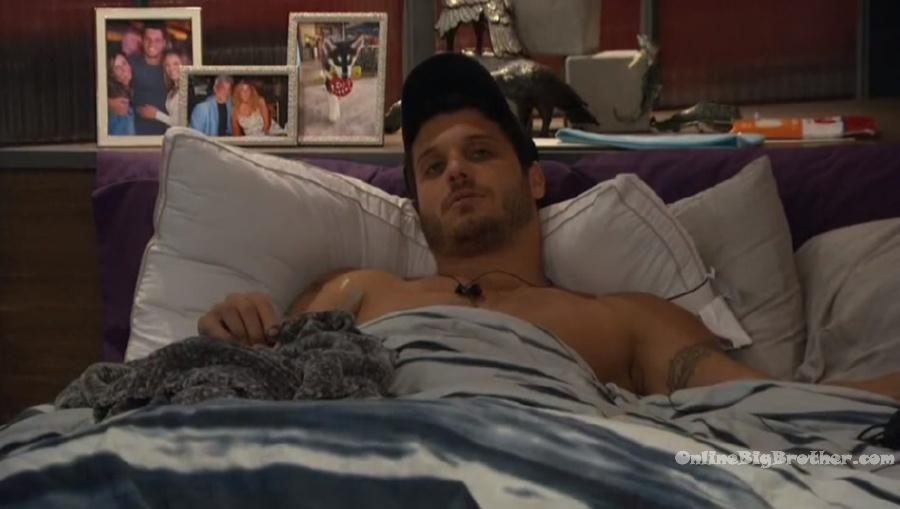 11:07pm Bedroom. Christmas and Memphis.
Memphis aka Gramps is having back problems again. Christmas – I can't remember the type of HOH they have before the final three. Memphis – yeah I don't know. I have a feeling it will be sh*t that we've never seen before. Christmas – Yeah, like bizarre stuff. Unless they did the oil slick again. That would be great going into this week because then Cody is out and it would be me or Enzo. Memphis – yeah that would be great! Christmas – yeah, you can't do that. I would be a maniac. I think Enzo would be really good at it because he's so tall. You might have to even sit out. Memphis – are you kidding me .. you ain't keeping me down!
11:25pm Memphis and Christmas say good night.. Big Brother turns out the lights.
All the house guests are now sleeping..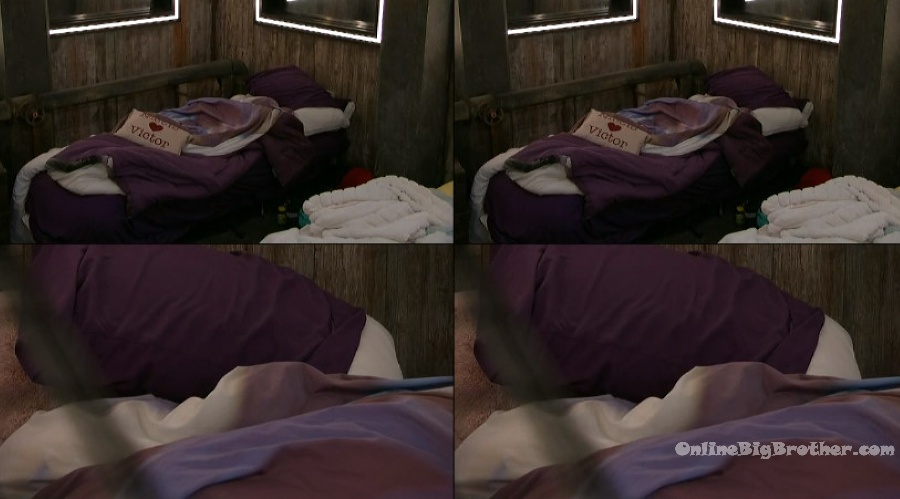 Show your support by making a donation.
If you're enjoying our live feed updates this season, please consider donating.
Any amount is greatly appreciated! Your donations go directly to paying the fees required to run this site.