POV Holder:
JohnnyMac
Next POV
?
POV Used
?
POV Ceremony
July 5th
HOH Winner Team 1:
Becky
HOH Winner Team 2:
Shelli
Nominations 1 :
Steve, Jason
Nominations 2:
Day, JohnnyMac
Battle of the Block Winner
Steve & Jason
Next HOH/ Next BOB
July 9th / ?
Original Nominations:
Day, JohnnyMac
Current Nominations:
?, ?
Have Nots
Steve, Jason, James and Meg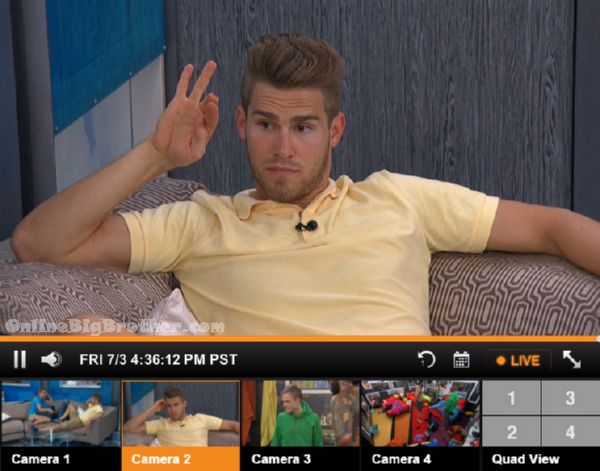 4:32pm Shelli and Clay HOH
Shelli going on about Day and Audrey are the ones that need to go first and everyone in the house knows that. She blames all the drama this last week on those two. Clay starts talking about alliances and how they need a small core group and not have a large 8 person alliance. They need a real alliance instead of making new ones every week.
Shelli says Austin and Jeff will vote for DAy if she puts Day up. Clay isn't worried they have the votes.
Clay asks her who would she want in her alliance.
Shelli – Vanessa, Jeff, Jackie, Meg, Becky and Clay
Clay – And John is our number 8
Shelli's core 4 people would be Jeff, Becky, Jackie and Clay
Jackie joins them and Clay leaves.
Shelli tells Jackie Day is going home this week and Audrey is going out next. She wants Jackie to be safe JAckie isn't going up.
[envira-gallery id="118674″]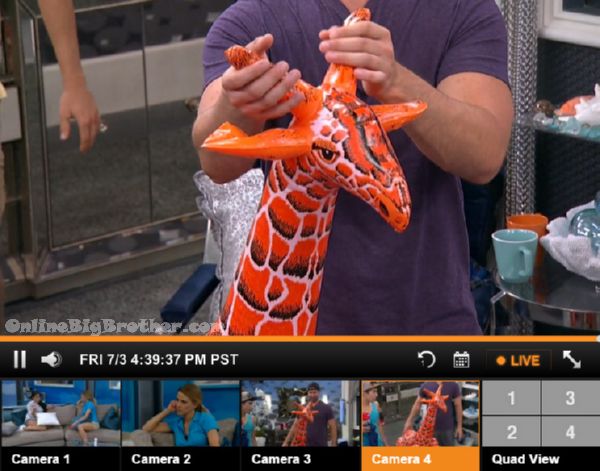 4:39pm PLaying with the inflatable giraffe
Jeff calls it gazelle the giraffe
Jeff and James have some jokes about it being a girl. Jeff jokes that he caught James "Behind it"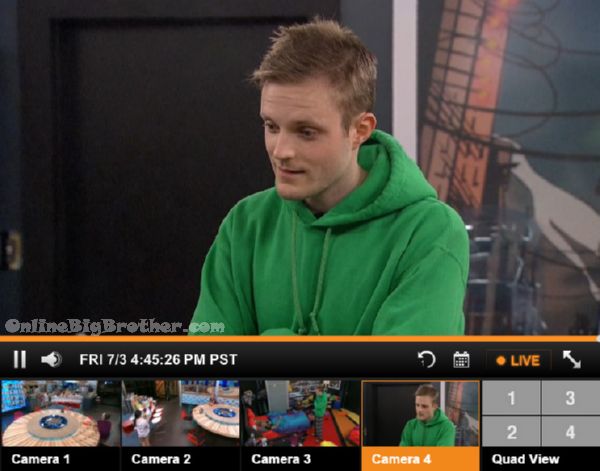 4:47pm Bedroom Vanessa and JohnnyMac
Johnny mac says it's way too sketchy if he doesn't use the veto.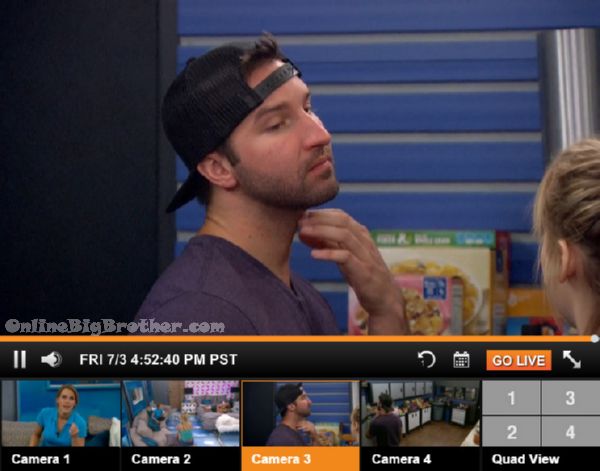 4:51pm Storage room Jeff and Meg
Jeff says Clay and Shelli haven't talked to her
Meg says Liz is going up
Jeff – that's stupid of them that's a dumb move why wouldn't they put up Audrey
Meg – they don't want her out
Jeff – I'm just going with the flow.. that's a bad move
Meg – it's their HOH it's fine.. how sad is that, THEIRS.. it's hers
Jeff thinks it's a move that goes against he house
Meg thinks she's the only one that knows the plan so tells Jeff to keep it a secret.
Jeff – we gotta get our final 4 deal sealed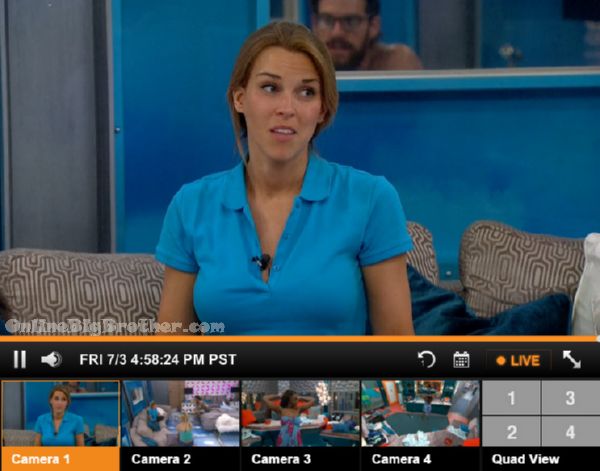 4:54pm HOH Liz, Austin and Shelli
Shelli tells her she's going up as the replacement nominee.. Makes it sounds like it's going to help Liz' game by doing this. She points out everyone is behind JohnnyMac for going up as a pawn and last week Jackie went up as the pawn and stayed.
Shelli – everyone's on board with Audrey next week
liz says she's fine she trusts Shelli
Shelli – Don't tell anybody you know .. If you start telling people everyone will be talking.. and DAy will start campaigning.. If she finds out it's you she'll gun for you.
Shelli says Clay is the only other person that knows about the twist.
Shelli – You're a pawn
Austin asks how close are James and Meg to Day
Liz – Meg is closer to me
Austin is worried about the "Last Laugh" twist. Shelli thinks it might be something silly like she has to wear a unitard or it could be they get to choose a person on the block.
Liz – Alright we'll take one for the team
Liz is worried about Day's campaigning they agree to keep this secret as long as possible.
Shelli again says nobody other than clay knows. (I think Meg, Jeff, Jackie and Vanessa know)
[envira-gallery id="118686″]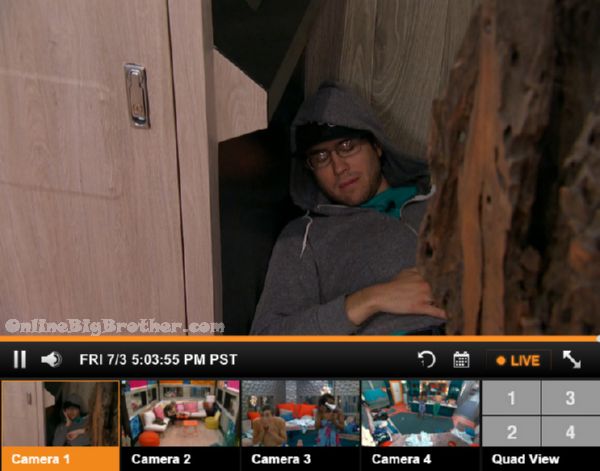 5:05pm Hammock room Vanessa and Steve
Steve calls the spot between the wall and photo booth his "Getaway spot"
Steve doesn't think the POV ceremony will be today.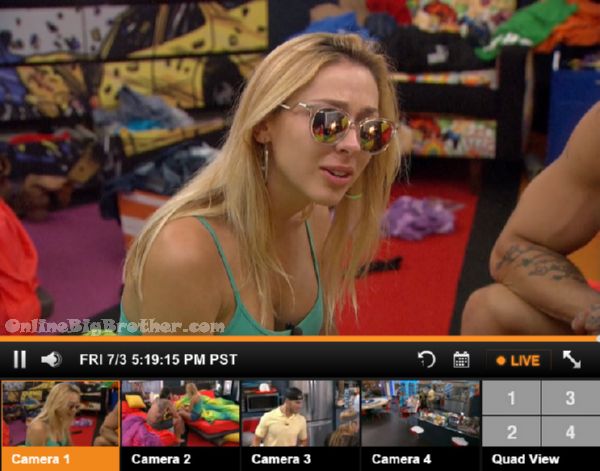 5:13pm Bedroom Liz and Becky
Liz says she thinks she's going up. She's worried about it because DA has friends and numbers she was in the 8 person alliance.
Austin joins them tells them that Day isn't a teacher she's a poker dealer in LA. Austin explains she never told him straight out. He figured it out by the way she knows cards. Austin says he's a "Degenerate" when it comes to gambling's plus he has friends who are really into it. He knows the slang.
Austin thinks Audrey was america's player it would explain a lot of her actions lately.
Liz leaves. Becky says if Liz plays her cards right she'll be fine. Austin says it can get weird in the house with the numbers.
Becky – Nobody is safe on the block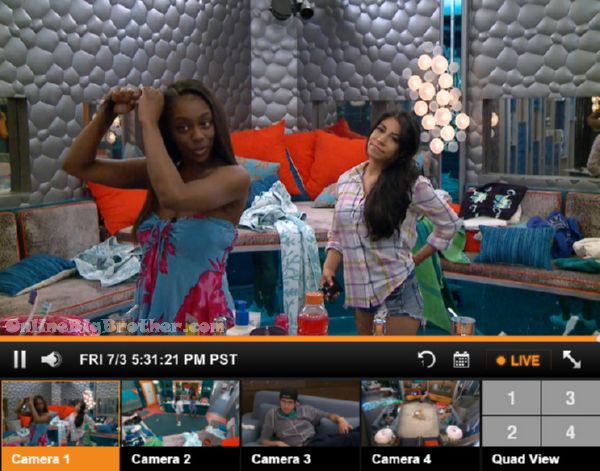 5:32pm Bathroom Day and Jackie
Day says this was all planned from the beginning.. some people will not look her in the face she doesn't feel safe.
Day thought it was Austin that voted Jackie. Jackie tells her it was Audrey.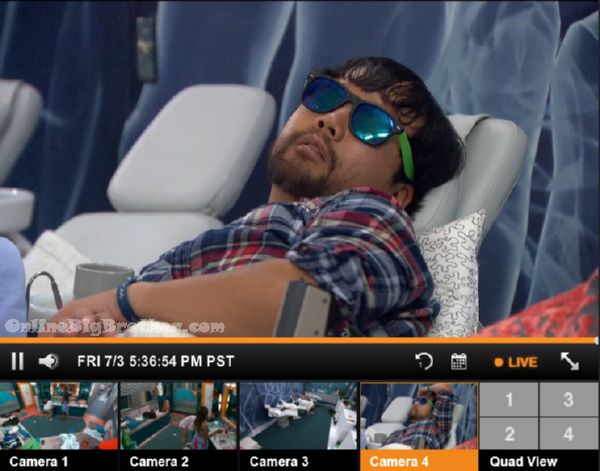 5:37pm Have nots James and Meg
Meg "Whats crazy is how absolutely Shelli and Clay are a pair now"
James agrees says it's like they are both HOH's
James just wants to get to jury says being stuck in the jury house with Meg won't be that bad.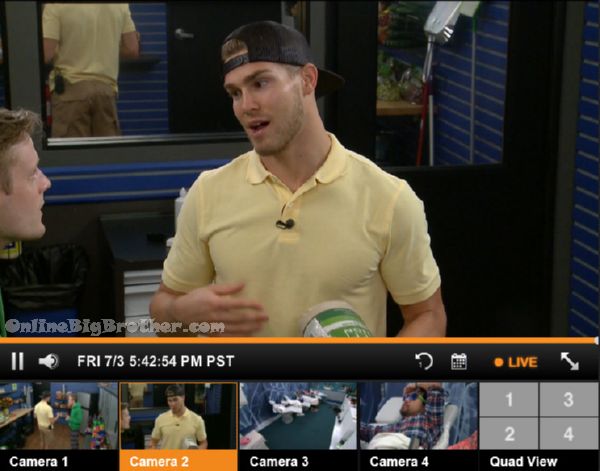 5:43pm Clay and JohnnyMac Storage room
Clay giving him tips on playing the gam, ask more questions. John tells him he heard something slip downstairs
JohnnyMac says he doesn't think Vanessa meant to do it they were just talking.. Austin was in the room and Vanessa said something about them trying to get John to not use the veto.
Clay tells him not to worry they pulled in Austin and liz and talked to them.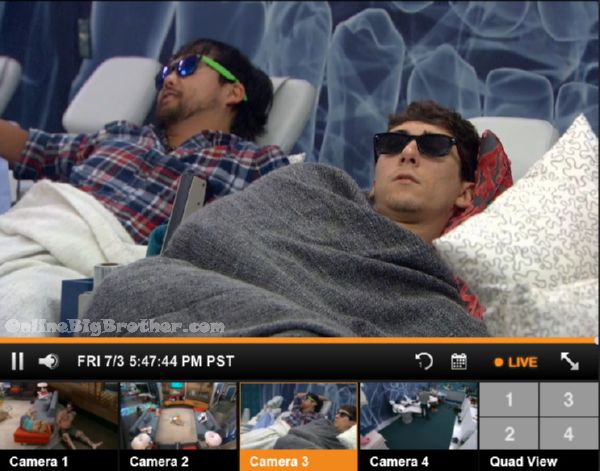 5:48pm Have Nots Jason, Meg, James
Talking about Audrey always wearing her sunglasses
Meg asks why does she always wear them
jason – I don't know because she's scary
Meg laughs
James – that's what makes it scary
Meg – makes it terrifying
Makes it terrifying
Jason – she's f**** terrifying
Jason says during the competition he could see her eyes through the sunglasses it was the first time she saw her eyes in 6 day.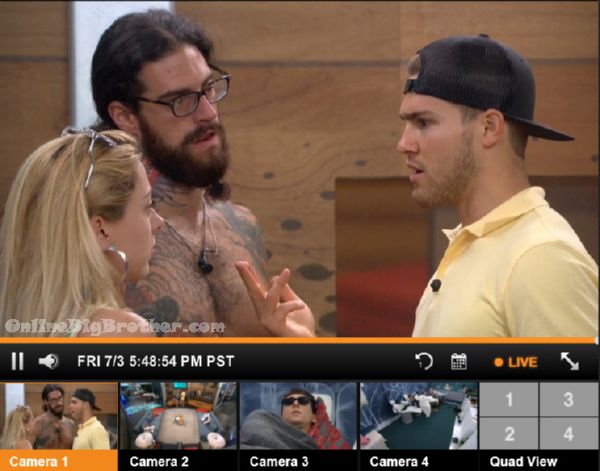 5:49pm Austin, Clay and Liz
Austin says Liz is scared. Clay says there's nothing to worry about they have the votes.
Clay – no one is voting you out Jeff likes you
Clay counts they can bank on 9 votes where they only need 6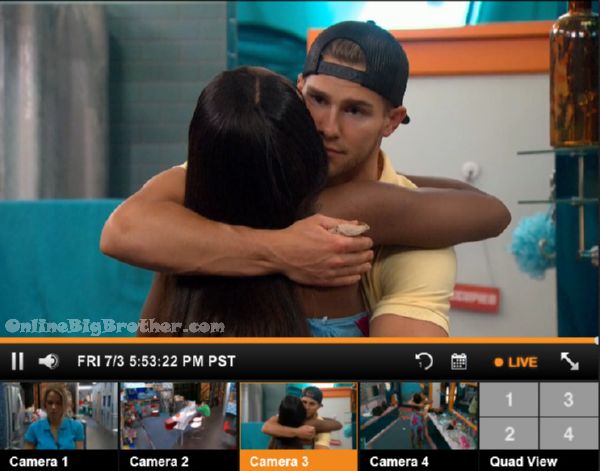 5:51pm Clay and Day
Clay says she's not up because of who she is it
"I have love in you as a person and a friend"
Day – when did I become the bigger target than Audrey
Clay – She's going home.. if not this week.. I really don't know what is going on in the veto.. Sheli doesn't want to talk about it.
Clay – if she goes up she's going home.. if she doesn't go up she's going next week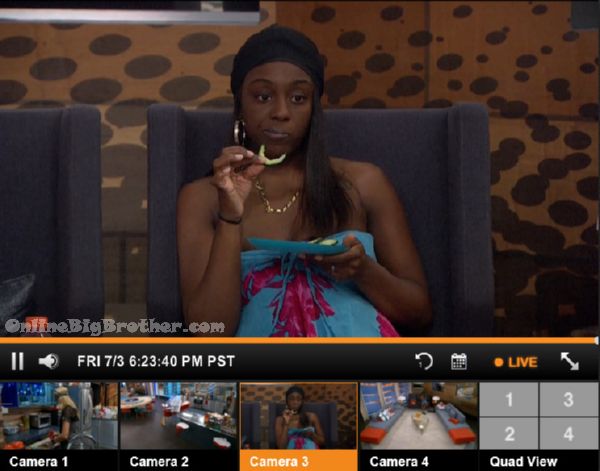 6:33pm Most the house is sleeping
7:13pm Vanessa, Steve and Jason have woken up mostly chit chat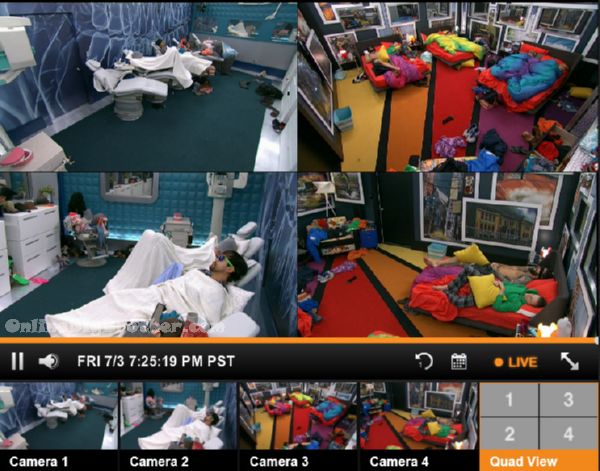 7:26pm ZZZZZZZzzzzzzzzzzzzzzzzzz
Live Feed subscription gives you CBS All Access thousands of archived shows. Live Shows like Big Brother, all the Big Brother Seasons, and 24/7 coverage of what is happening inside the Big Brother House. Plus there's flashback that lets you go back to any second of the feeds and rewatch what happened. Simon and Dawg will index the season just watch the parts worth watching. All this for $5.99 a month try it out 1 week free. Support our efforts and get your feeds via a link on this site. Live feed subscription Sign up
[polldaddy poll=8961340]
Share it YO!!
Tweet