The Situation:
Jared and Cameron are living in the house as "Zombies"
No HOH, No Power of Veto, No Eviction. Jared or Cameron will get a chance to reenter the game.
Jared and Cameron compete in a 3 part comp to decide who gets to play in the puzzle comp to reenter the game
Jared lost the Zombie competition so Cameron gets to decide to do The puzzle competition to reenter the game
Lock your ranks in before midnight
7:30pm Dinner Time.
Jag and Blue head to the bedroom and pull out their secret stash of sriracha to spice up their dinner. They then head back to eat with the others.
8pm Bedroom – America and Felicia
Felicia – Bowie Jane and Me and whatever.. and so I said so where is everyone on this Cirie thing? Like what happened and he said well everyone's had a chance to talk to her and they all feel like she gave them good conversation and she's not a threat so I don't think anyone wants to put her up. And I am thinking??? America – I heard the Cirie thing. I've talked to her and she's established that she's good with everybody but I don't think people are fully trusting that she can't be good with everybody. i'll talk to Cory later. He's had more conversations than I've had and people are willing to tell him the truth over me for some reason. Matt comes by and Felicia tells him she wants to chat with him.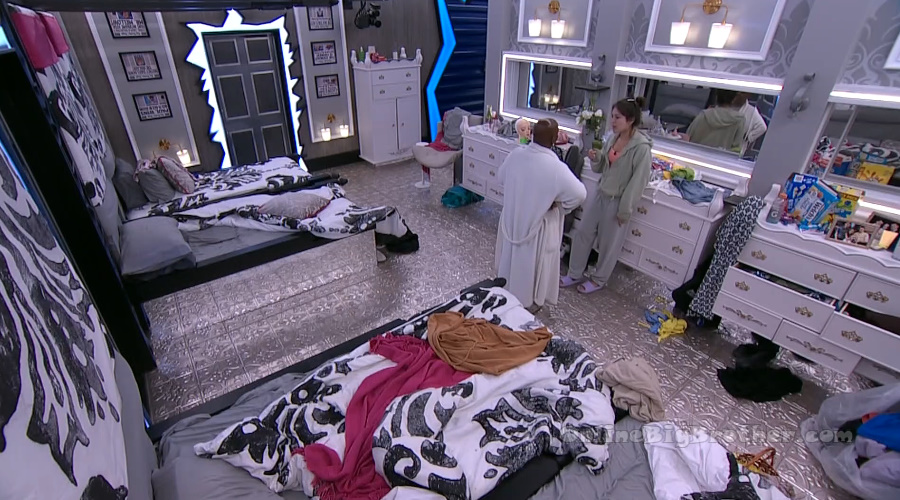 Havenot Room – Felicia and Matt.
Felicia – I am just wondering what you are hearing on the street versus what I am hearing on the street. Matt – Yeah, I had a really good talk with Meme. Just talking about being careful moving forward. Everyone is waiting to see what happens with the thing (Cam or Jared coming back). I feel if obvious answer Cam stays.. If I win, I would put him up and then next to him would be Bowie. I think just because I can trust everyone right now.. there is no one I don't trust. I had a talk with Meme about that. Cory and America, I could work with them. Trust them but there were little comments that were a little weird. Like he would have never made a move .. that he would have never made the move without me and Jag… like on his side. So it made me feel used and I don't want to be someone that's being used. So it just kind of got to my head a little bit. So I am just kind of keeping that to the side a little bit. Its not enough for me to be like oh I am going to put you on the block. It sounded like I did the dirty work for him because I don't want to play anyone's game but mine. I don't think anyone has given me a reason not to trust them. I genuinely feel like there are no alliance right now because everyone is scared of meeting with alliances. Everyone is just so focused on who stays and who doesn't. Felicia – there you go.. and who wins HOH. A part of me believes that Cameron would put me and Cirie up. If I do end up on the block all I need is 4 votes. Matt – yeah that's right. We just have to worry about whoever comes back into the house wins. Felicia – we will be okay Matty.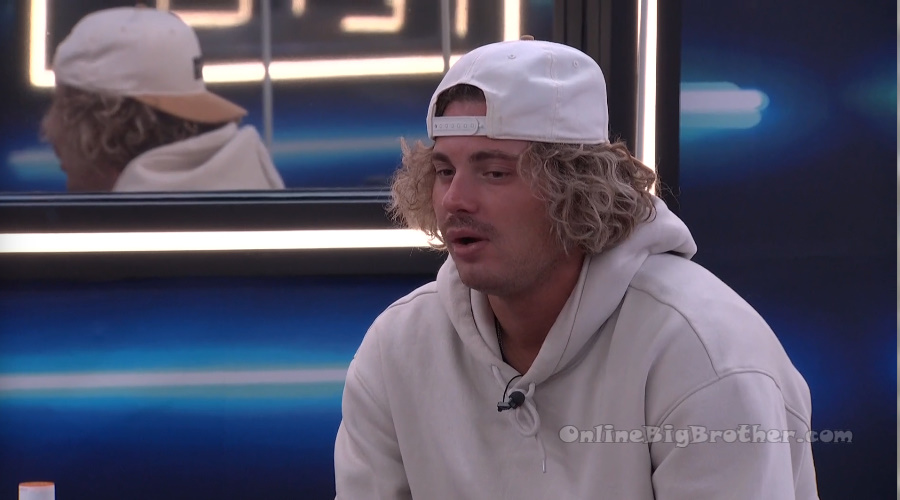 8:30pm Kitchen table – Cirie and Cory talking about Survivor. Cirie – you know more about it than I do.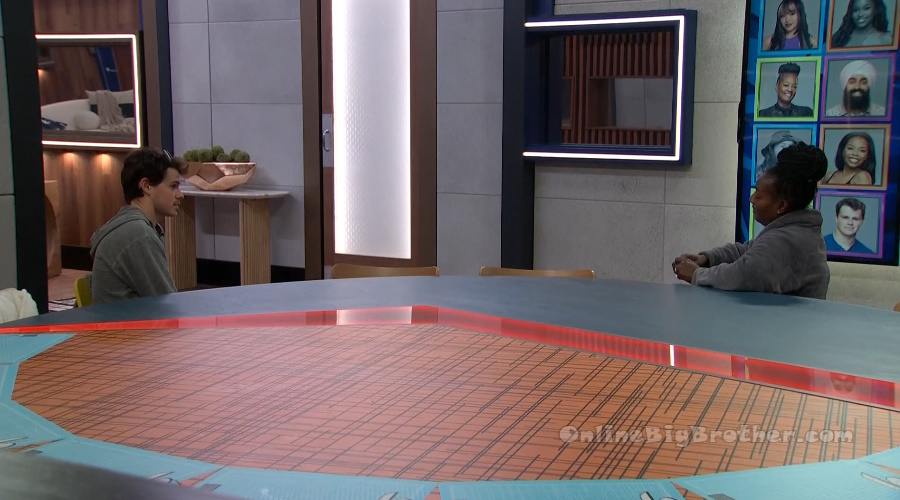 8:40pm Games Room – Cameron and America.
Cameron – so you guys made up? I proud of you. America – yeah we made up. We talked it though. Cameron – I figured you would. America – you know there's a lot of uncertainty after this. We're just going to .. its not just here is basically it. We'll try on the outside and we'll see. Cameron – so he does care. America – yeah, and I care too. Cameron – my point .. I don't know why he said or even acted. I told you both. America – well its more about the me and you thing. Cameron – what are you talking about? America – and me reassuring him that its nothing. And so he said well okay if its nothing, I don't care. Cameron – cool and I don't care either. America – I know you said this yesterday. Cameron – just letting you know it doesn't hurt my feelings anymore. I am over you. America – shut up. Cameron – it was funny seeing you pissed off. America – we had the conversation, we made up and he made me feel better.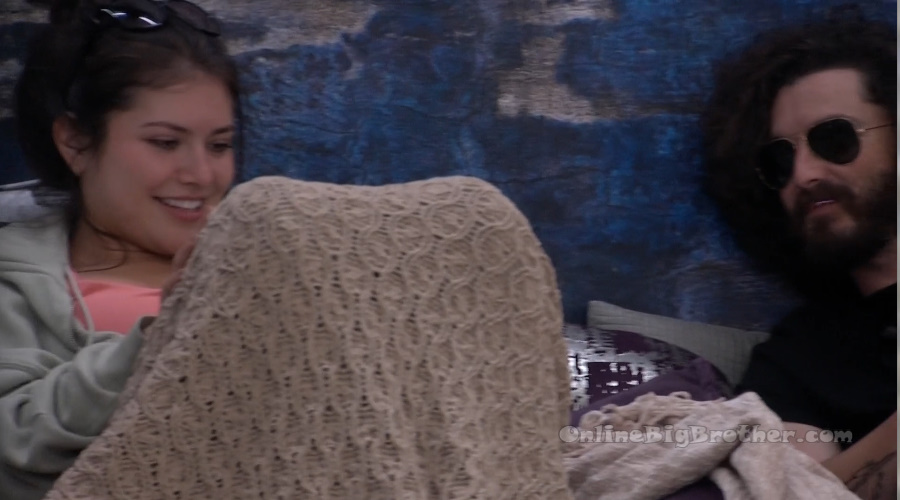 8:55pm Comic Bedroom – Jared, Blue, Cirie and Matt.
Jared – Obviously I am going to speak as far as me coming back .. I don't want to speak Cam into existence. But I think with me coming back it is going to take a lot off of everybody. Matt – off of what? Jared – its going to take eye off of everybody because people are going to be looking at me .. if I come back. Matt – but if Cam comes back everybody is going to be watching Cam too. Jared – yeah same thing. That's what I said .. regardless of who comes back. Personally I am not going to speak Cam coming back. I think everyone can be somewhat at ease because for most people ..especially outside of here.. people are going to be looking at me. Matt – I think what everyone is saying is the easiest move .. I obviously have a different agenda but everyone's easiest move is go for the person that comes back. That is not my move at all. Jared – that is how I feel. Matt – yeah that is not my route.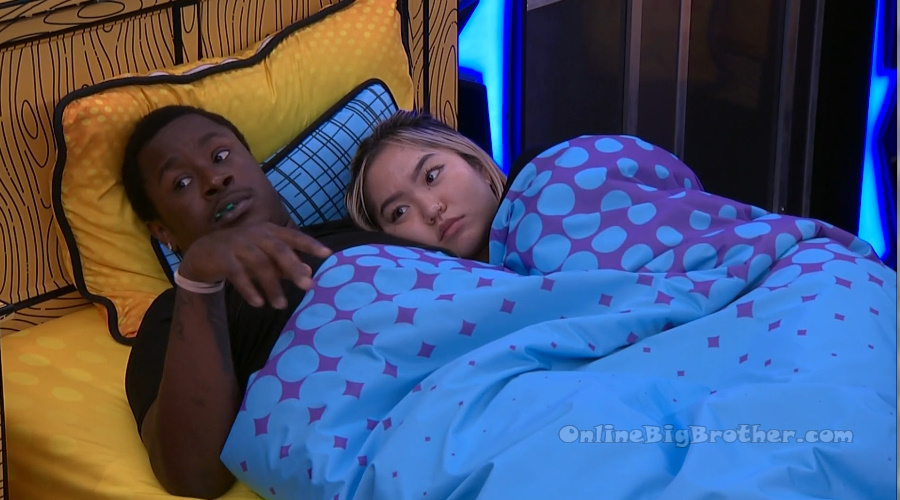 9:18pm Comic Bedroom – Cirie and Blue.
Blue – And you know right its not all about closure.. its not all about tying the present up with a pretty little bow. I think for his sake too just like being able to have those conversations and that's what I told him .. think about it in a TV sense.. like its more entertaining as a viewer to watch him (Jared) come back because what the f**k does Cam have? Cirie – right?! Blue – A$$ KISSERS!? Okay!? But like for him he's made amends .. If he wanted to come back and start new it will be really fun. Cirie – right. Or even if he wants to start chaos that's fun too. Either way that's fun. What does Cameron have? This is fake. Cirie – and that is so not fun. Felicia – the first opportunity I am going to send his a$$ right back out. Blue – But he (Jared) has a chance. Cirie – a real one. Blue – so that's fun, that's entertaining.
Felicia then does a prayer to ensure Jared comes back into the house (apparently to do the lords work).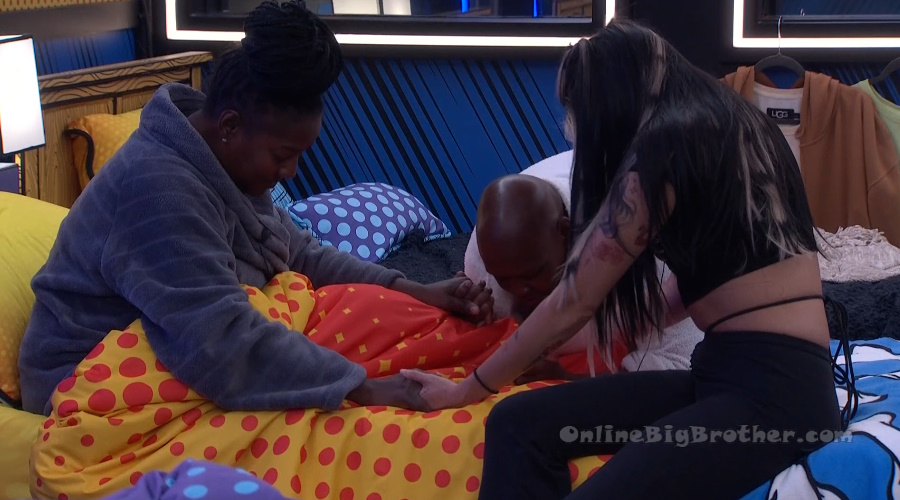 9:40pm Bathroom – Bowie and Cory.
Cory – I don't think they would put up Matt or Jag as a pawn because they're just too scary because they could win HOH. I don't know if they would put up me because everyone thinks that I'm going to win the next quiz. But like I haven't heard your name .. I think you should be fine. Blue – I know everyone is saying not but with some people you just never know. Cory – I think one concern for you is are you going to be the easy pawn? Bowie – yeah but that's what I didn't want to happen. Cory – Hopefully you're way less likely to be targeted .. then if they're actually trying to make a move it won't be you. If they're trying to make a move on someone else you might be a pawn. Bowie – yeah its a catch 22. You can't have it both ways. Cory – and I think I am somewhere in the middle .. I'm a okay pawn and a target. The thing is there are so many people that could win and you wouldn't even be a consideration.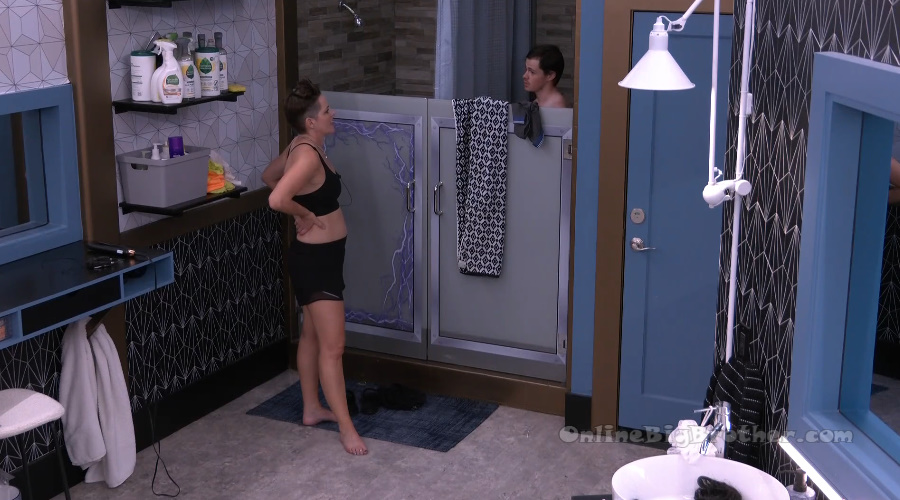 10pm Bedroom – Jag and Blue.
Blue – When I was in there Fe (Felicia) was like if Cameron comes back he is going to put me up on the block. And so I was like someone definitely told you because what kind of gut feeling is that you know? Jag – I think that could probably be a gut feeling because he put her up. Blue – yeah, true, true, true. Jag – my conversation with Fe .. the only names she mentioned to me was Cirie and Jared and I was like why are you back on your bullsh*t. We were talking and she was like not knowing where they're at and how she feels sort of thing. She was talking about I don't know who to trust and then she mentioned Jared and Cirie. I was like oh yeah a lot has happened and you got to .. And I sort of danced my way out of saying anything there. I was saying why are you still saying the same names. Blue – yeah that got you in this place. Jag – I was like we're done with it. We're off the train, you know what I mean? Like I know she hopes Jared comes back but at the same time she is still like saying his name. If she is saying names I don't know if she is actually going to take a shot or weaponize other people but both are dangerous.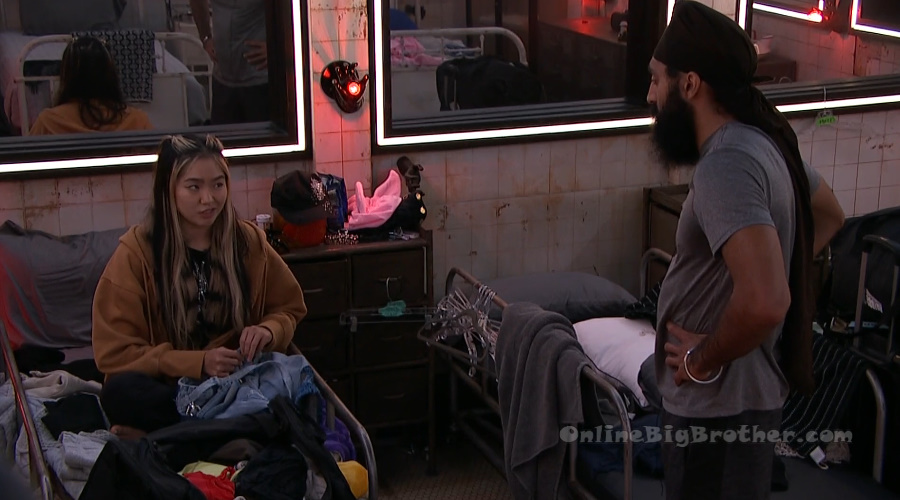 10:40pm Blue and Jared are chatting in the Games Room. Jared – if I put Jag up would you vote him out? Blue – Over Cory? Or Felicia? Jared – anybody, if that's who I was going after. Blue – yeah. Jared – are you just saying that? Blue – I don't know maybe. Depends. Jared – if I come back tomorrow I am just going to be like thank god! Even if Cory or America win HOH I'll be like there's a way around this sh*t. Blue – I am confident about tomorrow. If Cam comes back I am just going to walk out the front door.

10:50pm Cameron made pancakes …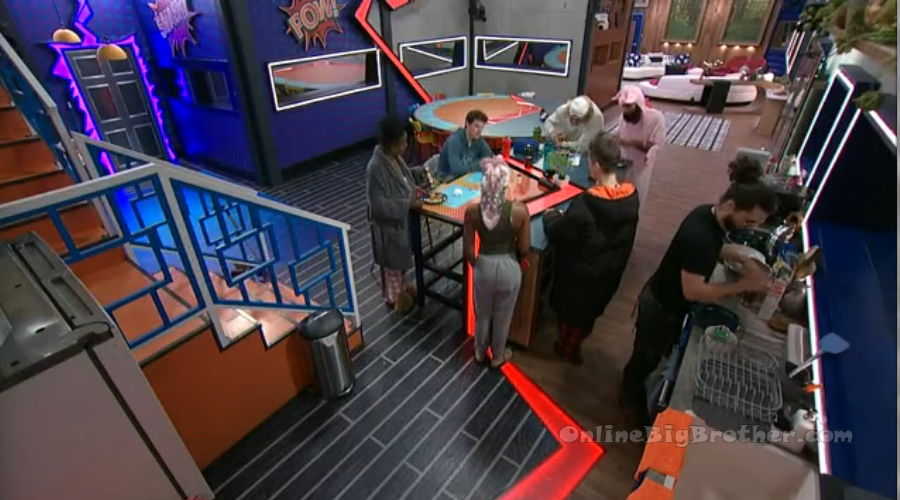 1:05am All the house guests are sleeping.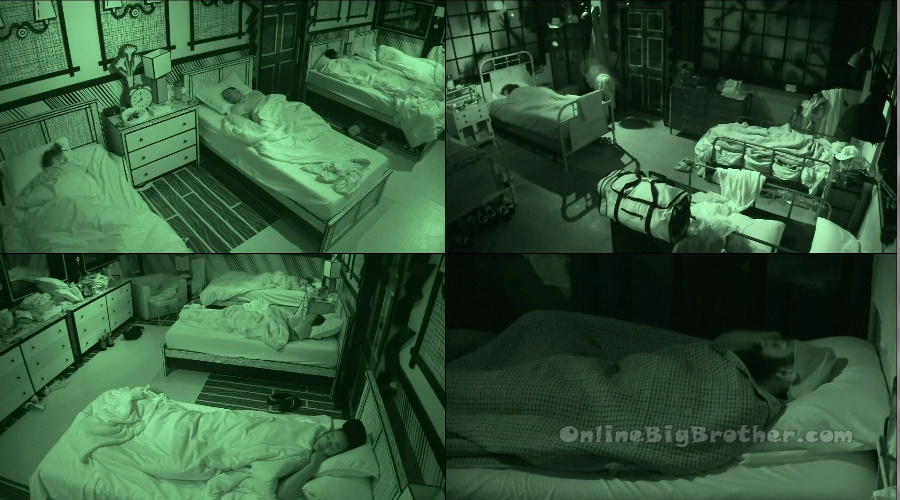 If you've enjoyed our updates this season and want to leave a tip you can do so through PayPal.
You don't even need a Paypal account to contribute. Any amount is greatly appreciated!