The Situation:
Lots of bullsh1tting going on.
Jared and Cameron are living in the house as "Zombies"
No HOH, No Power of Veto, No Eviction. Jared or Cameron will get a chance to reenter the game.
Jared and Cameron compete in a 3 part comp to decide who gets to play in the puzzle comp to reenter the game
Jared lost the Zombie competition so Cameron gets to decide to do The puzzle competition to reenter the game
Lock your ranks in before midnight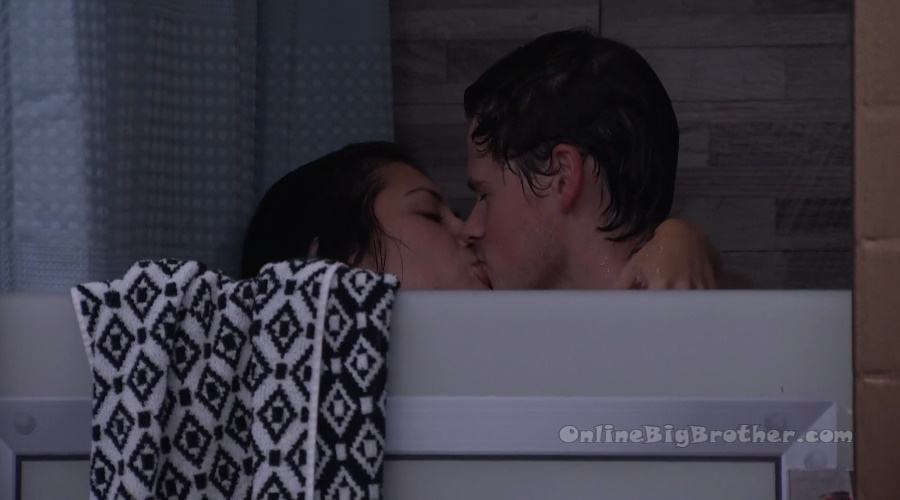 7:17pm Bathroom – America and Cory.
America – Did you have fun? Cory – that was one of the better birthdays in my life.. if not the best. America – in the big brother house that is huge! You'll always remember your 22st birthday. Cory – that is pretty cool. The thing about showmances is they're dangerous. America – you want to avoid them at all costs! Cory – of course! I talked to POO and Cirie. America – how did it go? Cory – I will save you the POO one because it was long. The Cirie is fine. I think honestly I told POO to talk to you. He was talking about like I know there is power in the house is you, Jag, Matt, America and I know like I want to move forward with you guys.. Mmmm..sounds convenient. I was like YO you got to talk to America because like America is part of the decision making. It doesn't even have to be about game just have a relationship with her. Because he was talking about how he's had talks with everyone in this house except you. And I am like BRO WHY? America – literally same! Since he's come back in this week its the most time I've spent with him in the last 8 weeks or 7 weeks. Cory – there is a lot to like there are just other parts too. America – no I know and the only part I know is the HOH him when I am trying to talk to him and he is just not listening. Cory – he's a d**k but I really like him. America – no he is a fine cool guy and now I feel bad about sh*t talking him all the time but.. Cory – its big brother. America – whatever .. but he doesn't even like her. Cory – right now I think his plan is to target me. And he told me that he wouldn't say who he would put up but that he wants to work with all of us and doesn't want to get into a Hisam situation where he says everyone is safe but I think he did tell Jag that he wouldn't target him… and he didn't tell me that, so we just have to fix that and obviously if he is putting me up, you're going to be next to me so… America – yeah. Cory – at this point I trust the work that you do with Cameron. America – well f**k maybe its just me but I feel like he is grumpy with me when I talk to him.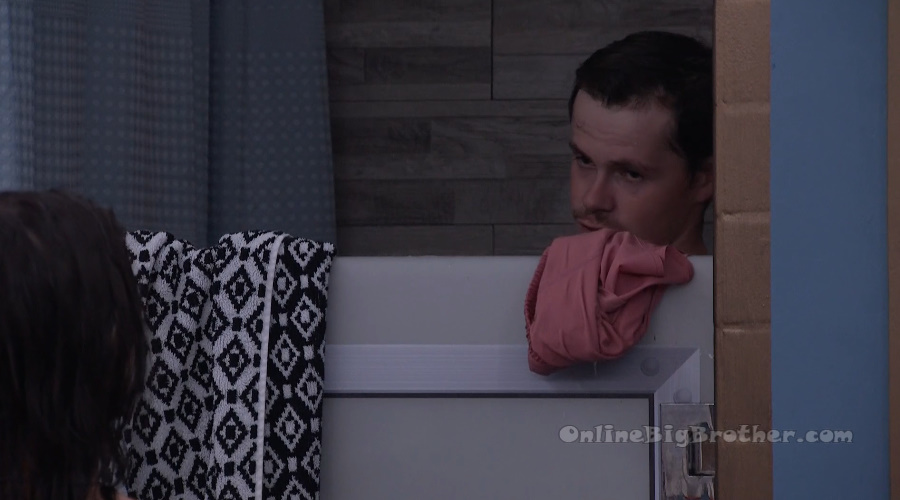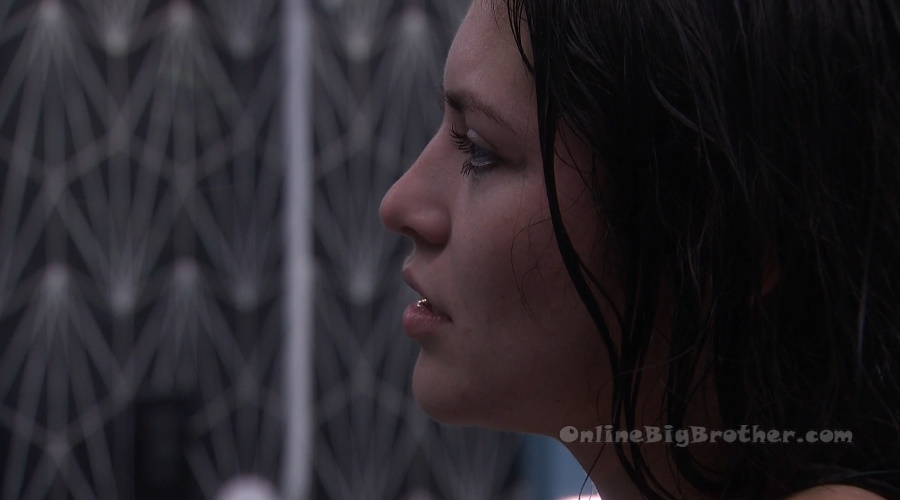 7:38pm By the Pool – Meme and Cory
Cory – I talked to POO this morning for an hour .. 2 hours. Meme – how was that? Cory – it will be a scary thing if he wins HOH. I think it was a great conversation. He has to nominate someone and if you start to do that math about who he wouldn't nominate and there aren't that many people left, you know? Meme – yeah. Cory – That's okay, I did just win an HOH and he did get evicted 6-1 on that HOH so I don't exactly feel like I am being wrongfully accused of any of the sh*t that's happened. I explained why and he understood. He's a good sport. And he wanted a clean slate moving forward. But I think its hard to have a clean slate gamewise. Meme – yeah. Cory – How do you feel? Meme – I feel good. Vibes have been good. Cory – can I ask you something.. this me, you, America, Felicia thing and obviously it comes down to what you and I want.. is it real or not real? And I will talk it through ..for me I trust America .. and I am building a better and better relationship with Felicia and in terms of moving forward with ya'll it sounds awesome but I can't imagine us sitting in a room talking all the time. That feels a bit odd but I know like Felicia is always down for something. I am usually down but because of all the bullsh*t recently I am hesitant and I think America wants to work with you. The person I really wanted to talk to about it was you because when it comes to you and Felicia I am much closer to you than I am to her. Meme – I think I want to know how you feel in terms of comfort level and game wise with Mama Fe. I know Mama Fe is her own force and an interesting force at that. Cory – Me and America is pretty obvious. Matt and Jag are fairly obvious. Blue and Jared. You and Felicia .. I was like this seems like an actual thing. Meme – my decision to keep Felicia… I love Mama Fe but there were some very interesting things that I observed about Izzy's game that I felt could be troublesome down the road. But to be frank no one ever asked me why I was where I was with my vote. Cory – if we're doing this I am down to just do this.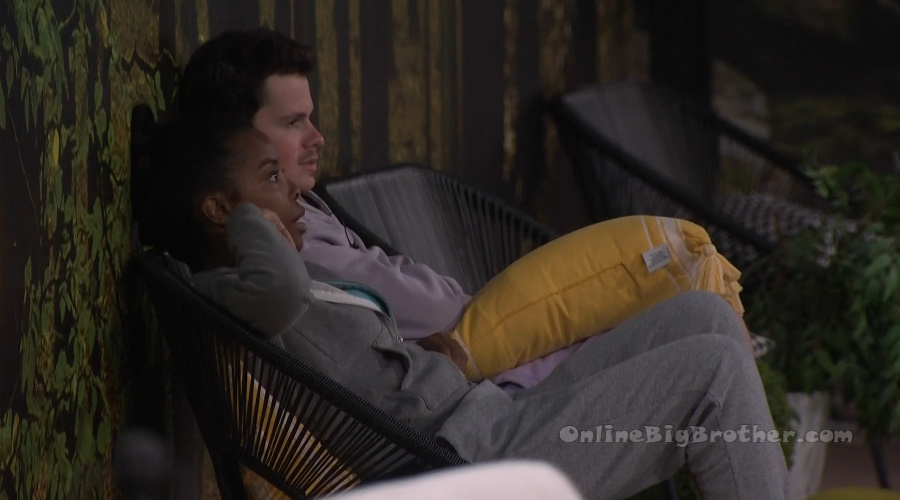 7:54pm Kitchen – Cameron and Matt.
Cameron – I am ready for Thursday. I am ready to just f**king do it. Matt – and then from there.. Did Jag tell you the names? Cameron points at Matt – Bounty Hunter. Matt points at Cameron – Gunslinger. Matt points as if Jag is there – Outlaw. Matt – clever! Cameron – everyone is going to love this sh*t! They're going to eat it up! Everyone at home is going to be like FINALLY!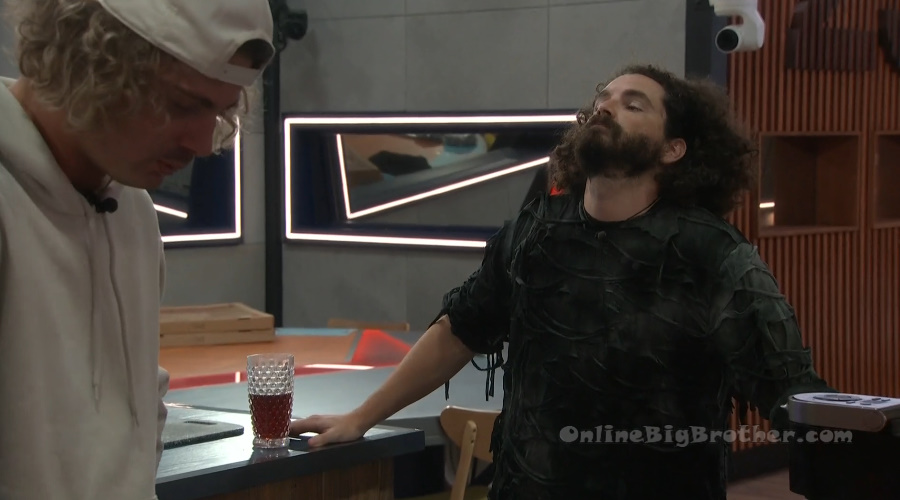 8:40pm – 9:50pm Backyard – Cirie, Jared, Felicia, Bowie and Meme are chatting. Felicia talking about eating cheese – I am going to light up our room tonight!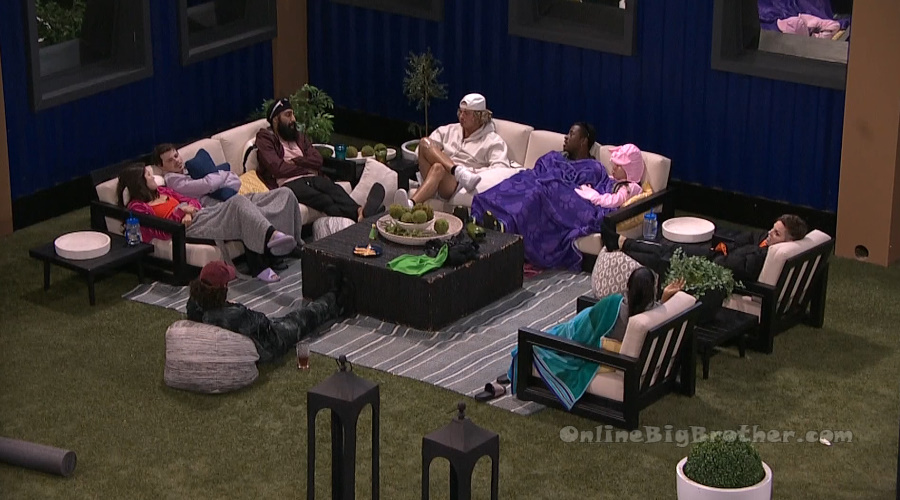 10:15pm – 10:33pm Backyard – America, Cory, Jag, Matt, Jared, Blue, Bowie, Meme and Cameron. Jared thinks they could save all the alcohol from the HOHs and then have a massive part. Cory – I don't think the would let us. I think they limit the amount of … BB blocks the feeds. The conversation turns to talking about whether or not the paint in the competition was edible or not.
11:40pm Bathroom – Cory, America, Matt and Cameron are chatting about random things.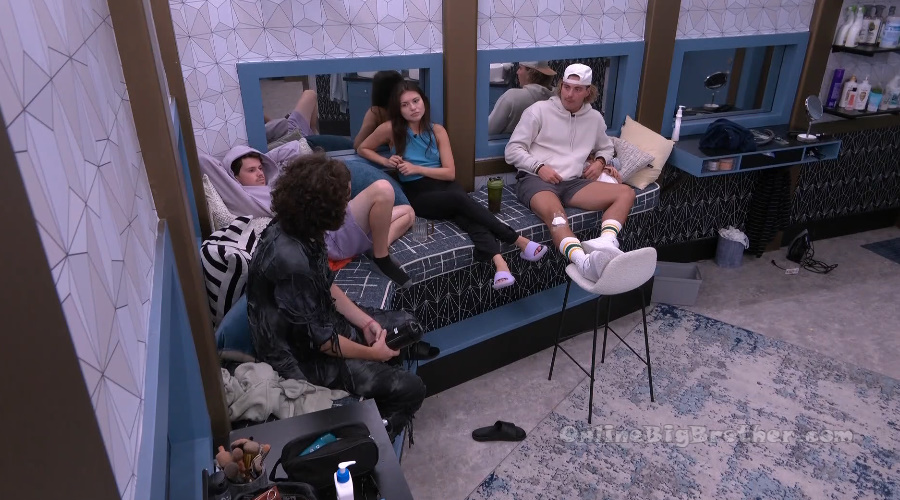 12:19am Bathroom – America, Cory, Jag and Blue hug before going to bed.
12:40am The house guests are sleeping..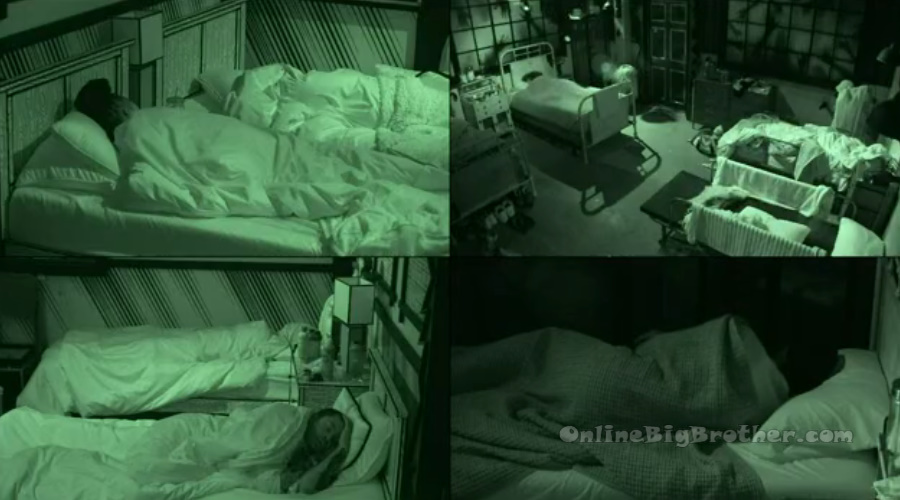 6:34 am zzzzzz
If you've enjoyed our updates this season and want to leave a tip you can do so through PayPal.
You don't even need a Paypal account to contribute. Any amount is greatly appreciated!