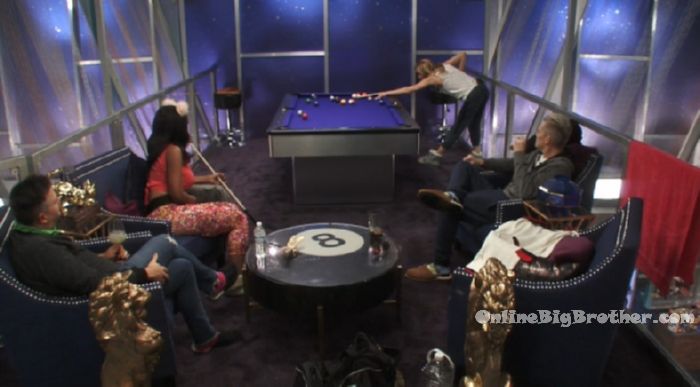 Try the Live Feeds FREE for 7 DAYS! Click here for your: FREE Trial
9:20pm Omarosa and Brandi are starting a pool tournament. Mark and Ross are watching and chatting with them. They talk about how before the cast was release Julie Chen tweeted out 11 different emoticons hints for each one of them. Brandi and palm tree, Mark a microphone, Metta a basketball, Chuck a karate kid, Marrisa was theater face, Shannon was a pie, Omarosa was a brief case, Ross was a talking head, James was a time clock, etc.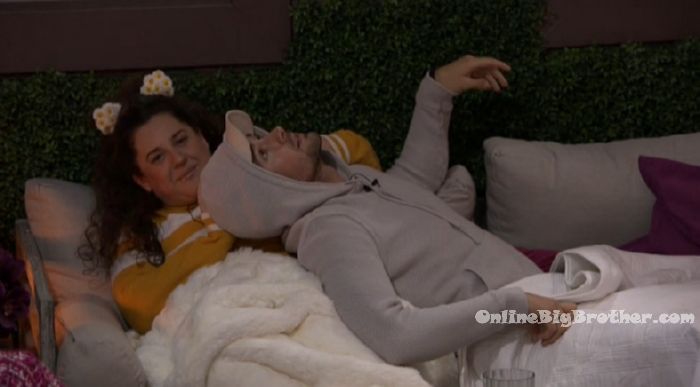 9:45pm Mark, Ross, Marissa, Brandi, Omarosa, Metta and James all head out into the backyard. They roast marshmallows and make s'mores over the fire pit. Marissa says that she has never smoked weed or anything else but that if it showed up in the house right now she would be "down".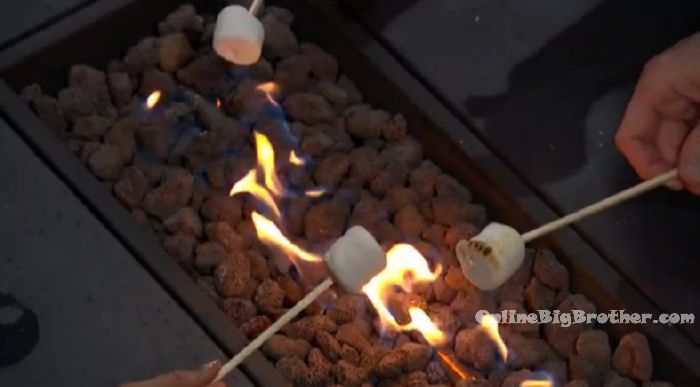 10:25pm Metta comes up with an orchestra game were when he points at them they each make a sound. Marissa then conducts them.
11:06pm Backyard. Metta talks about his wife Maya being from Vancouver Island. (Simon and Dawg live on Vancouver Island) Metta – its beautiful! Unreal! Omarosa – when you're on Vancouver Island everyone knows you're there, don't they? Metta – not if I don't announce it. Its a small city where she is from with like 50k people. A river in the back with all these pools. Natural pools. They get their water from the glacier. Its unbelievable.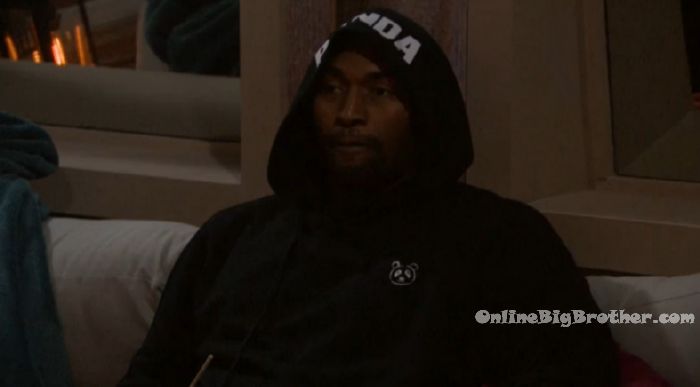 11:35pm HOH room. Omarosa and Ari. Omarosa – we have to figure something out. The house wants Brandi out. Ari – more than Ross? Omarosa – yes. Ross has the guys and he has Marissa. Then you'll be by yourself. You've got to find a path. Think about it Ross already cut deals with everybody. Ari – who is saving Metta? I mean is Metta saving Ross or ? Omarosa – I don't know where Metta is. Do you know where Metta is? Can you lock up Metta? Then me, you and Metta can work together? Its hard because he talks to.. Ari – I don't think he will tell anybody. Omarosa – if Brandi goes who is your.. Ari – I am all by myself. Omarosa – You're not by yourself.. HELLO?! I am somebody! Ari – no I know but I don't have Ross, James, Marissa..
Omarosa – you have to try and get to Metta. You have to tell him no to leave. Like if he goes you have nobody! Ari – do you prefer Brandi to go home or Ross. Omarosa – it doesn't matter, I don't have any control with this twist. I have no control now. Its going to be up to America. Ari – Oh my god! Omarosa – Ari you can do it just talk to Metta. Ari – but they still have the votes. Omarosa – not necessarily. Think about it 2 people on the block, 1 person HOH, 4 people voting … that's two / two. We don't have a lot of options. And next week I can't play in the HOH … I'm a sitting duck.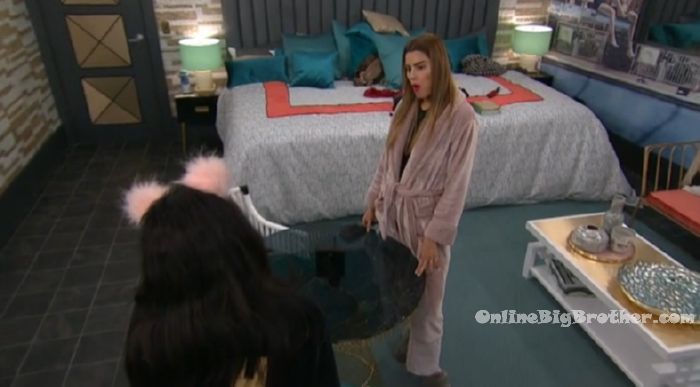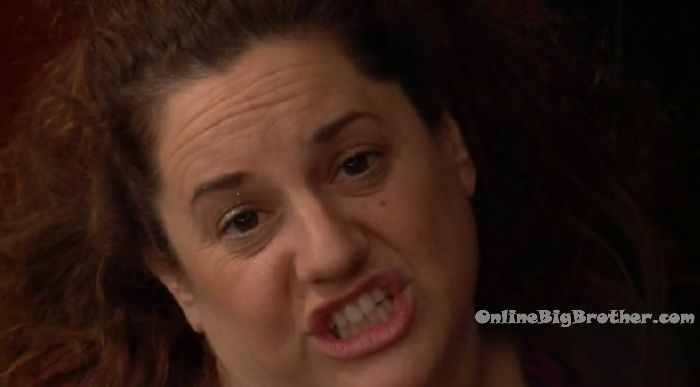 11:55pm Bedroom – Marissa and Ross. Marissa tells Ross that Omarosa told her to tell Ross that Brandi is the target and not him. She says then Omarosa told her not to tell Ross. Ross – you know what she is doing? Marissa – she is looking at the numbers knowing that Ross is not getting voted out. She told me not to tell you .. knowing that I would tell you. I mean she is GOODDD! Ross – we need to learn from her. Ross – she is betting at this than us. BRAVO! Well we will find out tomorrow. Marissa – its like we're on a reality tv show with OMAROSA and she is playing all of us!
12:30am Kitchen – Marissa, Ross, Ari, Omarosa. Marissa – I think everyone knows that no matter the situation I am voting for Ross to stay. I don't feel like I am betraying Brandi. I don't feel like I am betraying you, Omarosa, the boys… everyone knows how I feel about this situation. If tomorrow that veto changes things up, then I would be happy. Ari – what if the twist is… Ross that both of the people come off? Omarosa – that would horrible.. that would mean I've pissed off half the house. Ross – its all going to be okay. …and in a week it will all be over and we can all go back to being friends. Ross heads to bed.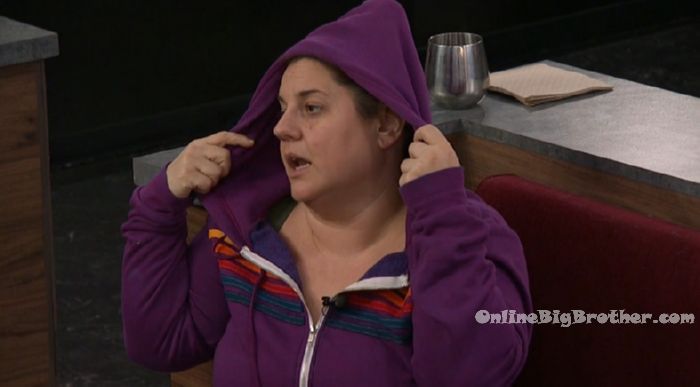 FLASHBACK and watch everything you missed: Live Feed 7 day FREE Trial!
Time to start ranking the houseguests on Celebrity Big brother. Nothing has changed with the ranking system since BB19. If you forget how it works here's the skinny.
You apply a ranking from 1-5 to each houseguest using one of these two pages: Voting (with images) and Quick vote (without images)
You have until the end of each day to "Lock in" your ranking. Each day the rankings are compiled and viewed on the grid.