POV Holder:
Ramsey
Next POV
April 16th
POV Used
Yes
POV Ceremony
April 18th
HOH Winner:
The Brothers
Next HOH:
April 21st
Original Nominations:
Ramsey and Maddy
Current Nominations:
Tim and Maddy
Last Evicted Houseguest
Paige, Sharry, Christine, Kelsey, Loveita, Dallas, Mitch, Raul
Have Nots
Tim, Cassandra, Kelsey
Watch the Big Brother Canada 4 Live Feeds anywhere in the world with HideMyAss VPN.
ALLIANCES IN THE HOUSE
There will likely be a lot of alliances during the season – keep track, read our alliance help guide.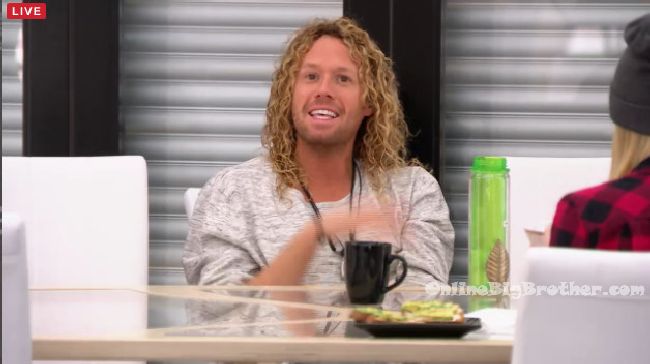 10am Tim says he loves Canada and wants to come back and see it properly. Its like a dream I never asked for. I'd like to know how to get dual citizenship. Nikki says she would live in Montréal. The conversation turns to talking about vehicles and sports.
10:35am In the HOH room – Cassandra complains to Kelsey that Tim doesn't stop talking. Cass says we're the only normal people in this house. Tim won't stop talking. Maddy has mad in her name she is so mad. Jared the control freak. The brothers are annoying .. they have an HOH room and won't even sleep in it. These people get on our nerves. Cass leaves. She and Nikki talk about how annoying everyone is talking about the movie "Into the Wild". Nikki tells Joel he can join their anti-film club. Nikki tells Nick not to follow the crowd and watch it. Joel tells him to watch "Walk the Line". Nikki says they could start their own movie club.

10:50am Cass tells Nikki we just have to think about who is going to beat us in the end. If ever win HOH I would never get you out. Nikki says I would never get you out. At the end of the day Jared has Kelsey. The brothers have Joel .. I think. Cass says Joel is close with all of us. Nikki says he could win this. Nikki says she thinks the brothers should really go. Cass says I think everyone thinks that. Nikki says I think them against a pawn. If they get any further, they'll win it because they're likeable characters. Cass says Jared could win it too. I don't give a sh*t about being phony to these people. Nobody care about that dumb movie. Nikki says they'll get bored of it and then have nothing to say to each other.
11:20am In the kitchen –
Cass tells Maddy this is going to be a hard week for her. Maddy says I have 24 hours to change it. I can't decide if I should go to people and be like this week f**king sucked and I'm all alone. I could try to convince people Tim is stronger. People personally love Tim as a human being, game wise they also love him. Maddy says now lets look at me, people personally don't like me and game wise they don't like me. So its hard to convince people to keep me. If People didn't like Tim on a personal level this would be easy… I could be f**k Tim is stronger. Cass says its difficult. You've got a battle.
12pm Cassandra tells Joel its hard in the house. I feel so sluggish. I've gained like 15 pounds. Kelsey asks Cass if she wants to paint her nails. Cass says I don't know maybe we should ask Jared if its okay. I can't do anything without him telling me how to do it. I can't even breath right. Kelsey says I wish you guys could just get along. Just tell him to kiss your a$$. Suck your d!*k.
12:30pm – 1:25pm In the bedroom – Maddy says I have so much information that I could use to stay but what if I go and all these people are feuding. Cass asks what do you know that could help me? Cass says I think Tim would take me to the end. Maddy says she thinks Tim would take someone quite big .. like Jared. Maddy says at some point I am going to grab all the potential voters and bring them into a room. And say if you 100% are not going to sway then please leave the room. Maddy tells Cass that when her and Ramsey asked Tim to be in a four way he said he does not want to work with you. You have a big social game and you will lie and flip flop. That's why the four way didn't work. He doesn't think you will ever go against him. If Tim drops you he has someone behind him that will vote to evict you. He will always have Nikki. Just like Jared, he will always, always have Kelsey behind him. Maddy reminds Cass that Tim voted her out. Cass says that she'll vote him out to get him back. Cass asks who is better for my game to get out first Jared or the brothers. Maddy says she thinks either. Tim values your friendship but doesn't care if you're on the block. He told me several times he was happy for you to go that week he voted you out. Maddy says if I won HOH in a double I would put up the brothers and a pawn or Kelsey. Cass says that Kelsey doesn't deserve to win. She's been in summer camp. I think Joel's been riding my coattails this whole game. Cass says that even a sh*tty player like Kelsey would beat me because of all her friends in jury. Maddy says as soon as I'm in jury I've given up and don't give a f**k who wins. I'll probably just go with the majority. Cass says I think we need to have an open forum. If you get two other votes I will vote for you. Maddy says Nikki is a write off. Maybe if I can get Jared, I can get Kelsey. Cass says Jared won't.
1:30pm – 1:40pm Joel and Cass whisper about getting Jared out next week. Cass asks if Tim will come after her. Joel says no. Cass says she thinks Tim wants to win. Cass asks when do we get Nikki out? Joel says at 6 or 5 we get her out. Cass says I think we're like the Jon and Neda. Tim joins them.
Phil dresses up as Alfalfa from the The Little Rascals.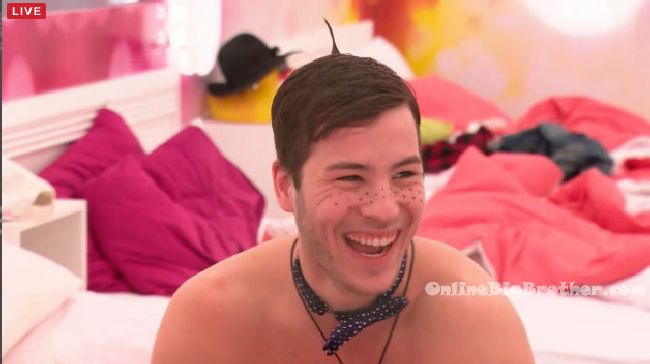 HOH room – Tim tells Cass that he's bored. He says he asked Maddy if she was going to campaign so he would have something to do. He said he asked if she needed some pointers and a head start. Cass tells him that Maddy plans to call a house meeting.
4:20pm – 4:40pm In the high roller room – Maddy lets Phil know that she is going to call everyone to the living room later to talk to them. She says she wanted to warn him first because she'll be saying something's wants him to know where she stands with him. Maddy then heads to the bedroom and practices her house meeting speech.
If you've found value in the videos and live feed updates this season, please consider showing your support by making a donation. ANY amount is greatly appreciated! Without your support this site and our spoilers would not be possible. Your donations go directly to pay for the considerable costs associated with running & maintaining this website.
Watch the Big Brother Canada 4 Live Feeds anywhere in the world with HideMyAss VPN.
[polldaddy poll=9390090]
Share it YO!!
Tweet