Head of Household Winner – Holly
Have note are: Cliff, Nicole, and Jess get punishments
America's Prankster – Nick
Nominations are: Christie & Nick
Power of Veto Players are – Christie, Holly, Nick, Jackson, Jessica, Cliff
Power of Veto holder – Jackson
Power of Veto Ceremony –
Grab your live feeds —-> BB21 Live Feeds Subscription Link
Rank your houseguests —-> Big Brother 21 Ranking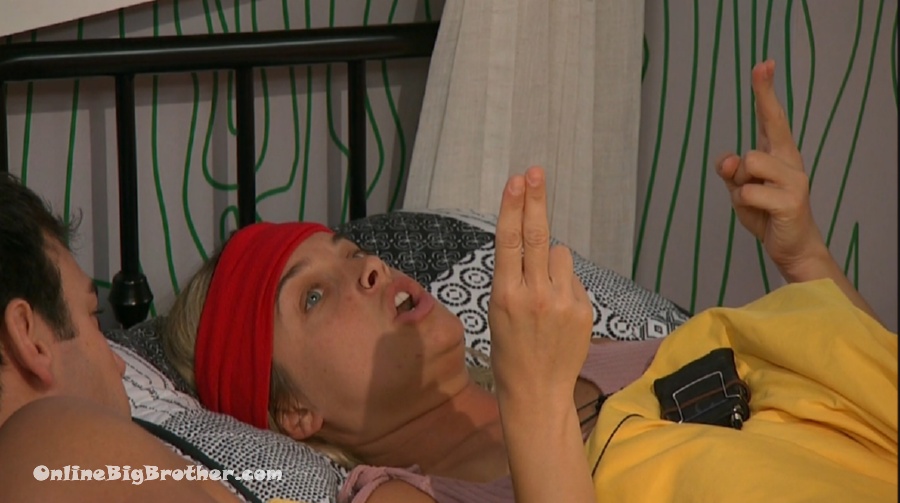 Midnight Christie and Tommy RV
Christie says Nick has been Holly's target since day 38
Christie – me and you need to find the time to talk like really talk
Christie – I slash we have a really big decision to make going into next week. Michie and Holly really want to work with me and I want to make a final four. Cliff and Nicole also really want to work. They never said it directly
Tommy asks if Cliff/Nicole is working with Michie/Holly
Christie makes a face no
Christie – CLiff is terrified of Michie "he said to me today I don't want to compete against him"
Christie goes on about how Cliff told her he wants to be in the game with Christie and Tommy people whos "Faces light up about this game"
Christie – I need three votes, I have Jackson
Christie says she has to decide who the two of them will go final 4 with Cliff/Nicole or Jackson/Holly
Christie – I would rather go with Cliff and Nicole or CLiff and Jess
Tommy – Nick's got a plan up his sleeve.
Christie – you have to tell me
Tommy – I told him their only shot is if they take you off and put someone else up
Christie – I think it's a really horrible plan. Jackson is not using the veto
Tommy says that Jackson wants Nick in the game as a shield
Christie – Nick is so dangerous in this game.
Christie – he is so dumb why did he put me up.. that was so dumb (Cause everyone watching sans that one person in the comments wants you out and we manifested it)
Tommy – he's then going to offer Holly and Jackson safety for the next week .. you're off the block
Christie – where does that leave me for next week
Tommy – I don't know..
CHristie is annoyed by this plan because it leaves her exposed the following week.
Tommy says it's good because it leaves a target in the house for Christie.
Christie – alright
T – you pissed at me
Christie – I don't get it
T – I told him the only way he gets my vote is if you get off the block
Christie says they have to get Nick out "He's so strong"
Christie – I feel like an idiot Tommy. I feel like I think about you with every single decision
Christie starts to cry "I literally threw a competition"
T – hey WHOA
Jess rolls in "Smells like a rancid ice cream parlor.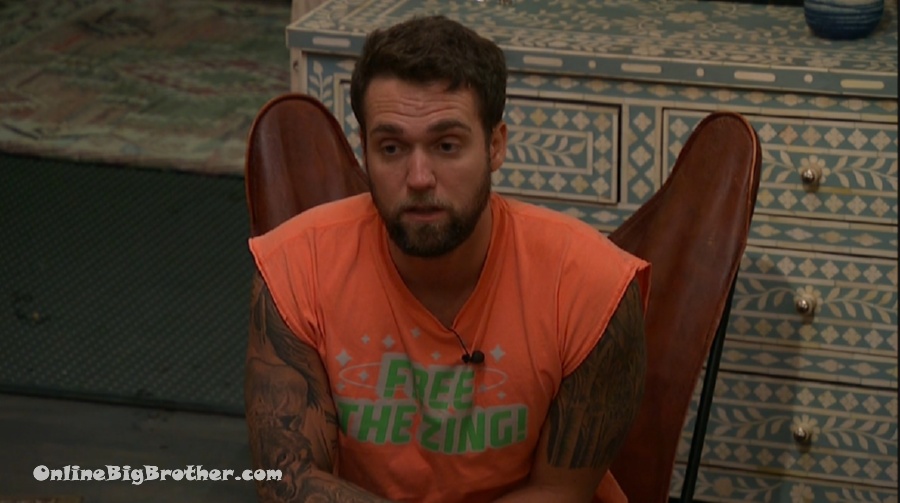 12:04 am Michie and Nick
Nick says he's the prankster he put Christie up because she's been throwing his name out there
Nick – I will throw this next HOH whatever. I will not f*ing win you can f*ing take me out next week
Michie says he needs to seel this to Holly "I'm playing my own game."
Michie goes on about being in the last surviving showmance. "if she's on the block and she's not next to me she will go home, your hardest sell will be here.. you are on the block because she thought you were going after her"
Nick – she wasn't my target a pawn.
Nick explains he wanted Jess and Holly up only because at the time Christie wasn't in the house otherwise he would put Christie and Jess up. Holly was always the pawn.
Nick – I put up Christie because I thought it could beat her. I'm f*ed now because I won't be able to get votes. Like literally if noms stay the same I'm literally toast, I'm literally willing to go up if you win next week whoever wins next week I will be a pawn I'll throw the f*ing competition.
Nick says keeping him in the game keeps another big target that will shield Michie.
Nick – I have your back in this game. even if it's in here for one more week it would benefit you so much I will put up whoever you guys want.. WHOEVER
Jackson – if I won America's prankster I would have nominated myself it's the smart thing to do. High risk high reward
Jackson says it would have allowed him to backdoor someone and have no blood on his or Holly's hands.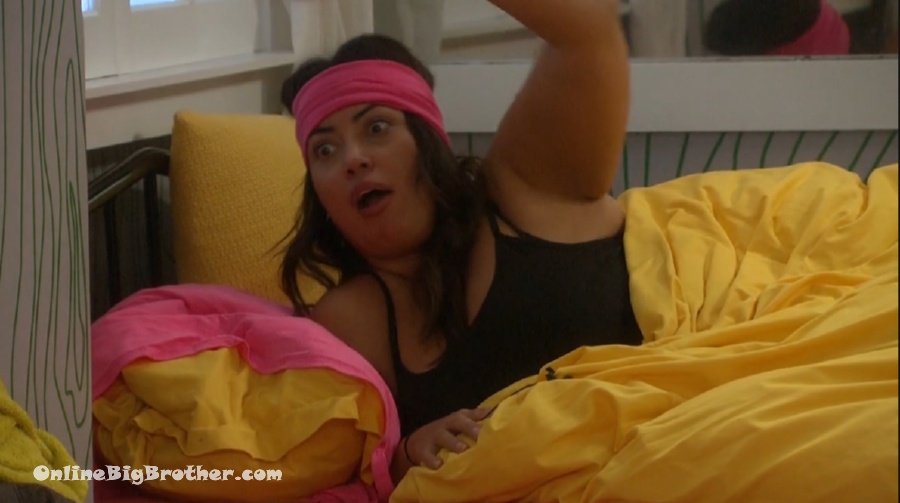 12:18 am Christie and Jess
Christie wondering what Nick is doing in the HOH for so long
Christie – I'm over this game. (wait I thought your face lit up when mentioning it)
Christie – go home like honestly (Nick)
Christie goes on about how she can't wait to see her family "I feel like I'm going to lose my mind"
Jess talking about having to maneuver yourself in the game and talk to people "Who, what, where"
Christie having heard Nick down from the HOH – "Should I go upstairs now"
Jess – why you already have
Christie panicking that Nick was in the Hoh for 10 minutes
Christie about Nick "I can't stand him"
Jess says Holly wanted him out since week 4.
Jess says the goal is to take out your biggest threat (as HOH)
Christie – and not piss off the entire hose
Jess says some people probably want Nick here "Nicole wants him here"
Jess says as if it's between Christie and Nick "I'm going to pick him to win I Don't care how many vetos whatever. He's playing this game alone"
Christie – pretty much
Jess – he doesn't have a Holly, he doesn't have you know… like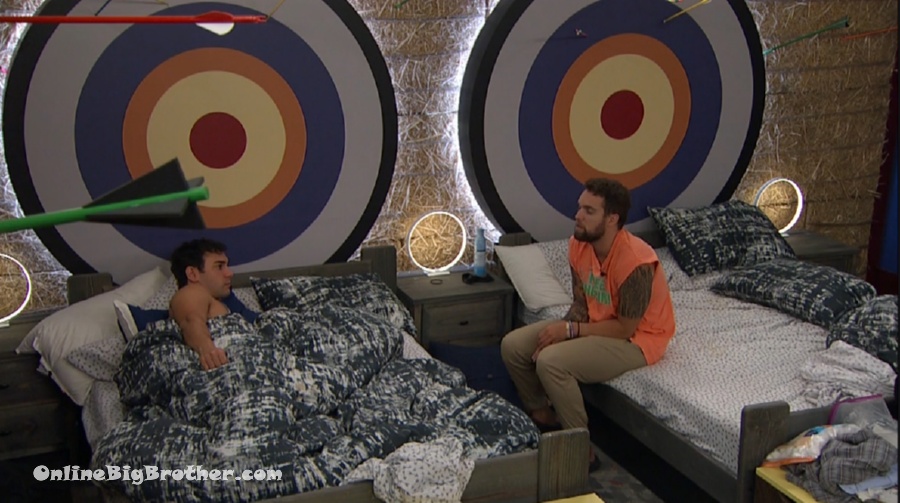 12:22 am Tommy and Nick
Nick giving Tommy an update about his HOH conversation
Nick says even if Jackson doesn't make the deal pre veto ceremony he can he can still offer it as part of the campaign post veto ceremony.
Nick – I'm going to fight until the end bro.. I wish I had f*ing told you. I'm sorry I was getting paranoid.
Nick says that someone told Michie and Holly I was putting her up next week, "Probably Christie"
Nick admits he was talking too much saying too many names as people he would put up
Nick points out how Christie has flip-flopped to working with her biggest enemy in the house. "If that's what she'll do how do you know she doesn't do it again when times are tough"
Nick – you'll always have my vote, I'll always take you down you never have to question. LIke..
Nick thinks that America gave him the power because they think the position he is in isn't his fault
Tommy – there are other ways around this even if he doesn't use the veto
Nick – I got so many good points even if he doesn't use it I'm still not dead
Nick says if Cliff hears he does have the votes he will tell Nicole to just vote him out.
Tommy – Nick don't go there you're thinking too far ahead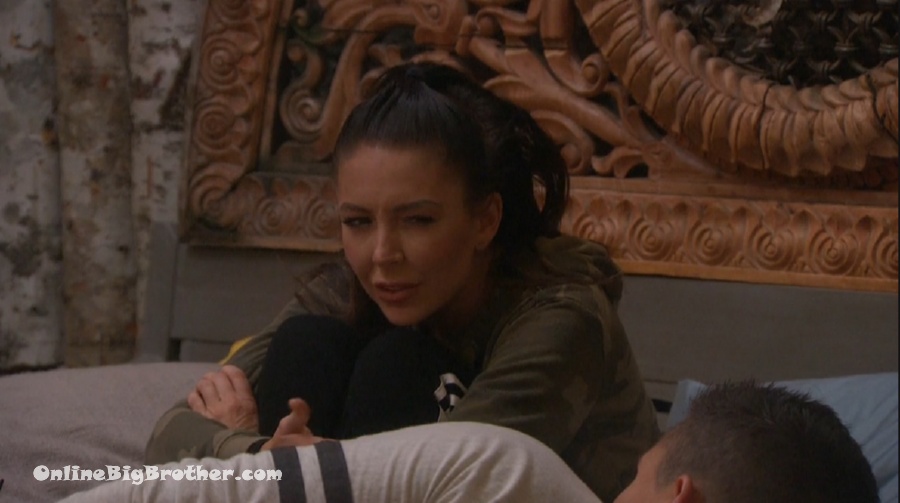 12:35 am Holly and Michie
Holly says she went off about her ZING. Production comes on over the PA "you are not allowed to talk about your diary room sessions with other houseguests"
Michie – Nick is pitching us hard.. he's going to tell you he's America'sd Prankster and he'll do whatever we want. He'll throw comps, He'll win comps, He'll put up people we want. He said If I used the veto on Christie he doesn't want me to use it on him he wants me to use it on Christie and he said he would put up who the f* they want
Holly – I don't want anyone else up right now. Who would it make more sense to get out.. nobody
Michie – JESS (OMG YES)
Holly – right now?
Michie – the only wildcard about putting me up or you up. I'm not pushing to use it I'm just playing devil's advocate.
Holly – look at Nick in comps and look at Jess in comps. We need to get Jess out YES but .. we have a higher chance of beating her
Michie agrees with her he's just wanting them to discuss all options
Holly – the next person I would want out Is Christie
Michie says he made it clear to Nick that this is Holly's HOH and he has to sell it to her.
Holly brings up "Going far with people we respect"
Holly – I want to move forward with people that I am ok with losing 500000 dollars to if it comes down to that. (WAIT so you're okay with Jess winning)
Holly – I don't want Nick to beat me.
Holly – on a strictly moral level I want to move forward with other people (not Nick)
Michie warns that Nick is going to be aggressively pitching.
Michie says Nick not only got to pick one nominee he also got to play in the veto he's had enough chances to save himself this week.
Holly – I came into this game to make big moves and he's one of the biggest competitors in this game. Resume builder for me, Get Sam out because he was a BIG threat, Get Nick out because he's a BIG threat… BOOM
12:49 am Nick getting ready for Bed.
Nick to Christie – Goodnight I love you
Christie – love you
Nick – love you more
They congratulate each other for doing good int eh POV.
Nick – maybe you'll come off
Christie doesn't think she will "it's a game"
Nick – you should though (come off)
Christie starts to cry "nothing feels real"
Nick – you'll be fine sitting next to me
Christie- you think I hate you but I don't want you to go either. This game just sucks
Nick – I'm sure you don't want to be on the bloc. I think it can happen
Christie – it's just scary I'm not going to ask anybody to use the f*ing veto on me. I just feel like sh1t
Nick – I'm just saying you could come off and someone else could come on
Christie – Michie could go up if I come off
Nick – no he doesn't have to
Christie – It's a possibility
Nick – I don't think he has to go up
Nick tells her he put her up. Christie hits him with her scarf.
Nick – who was I going to put up you just called me out.
Nick says he talked to Jackson and told him it's not good for his game to let Nick go
Christie – how are you going to get votes.. you will need to promise everyone safety it's going to look extremely sketchy.
Christie – people will know for him to use the veto on me he would have to be extremely secure. When you are rallying votes people will be like Who will you put up
Nick – I am literally going to throw the next competition like that will be my thing. Anyone can put me up and I'll fight for the veto. I'm f*ed unless you come off.
Nick – I don't have another choice.
Christie – it's a decent plan it has cracks.
Nick – but you come off the block and know you are safe.
Christie – if you come off the block and you are swearing in blood you are not coming after me next week
Nick says he won't even win the competition he wants another week says he never had a fair shot this week.
Nick – if I got you off the block could I get your word
Christie – people are going to ask you for swears and sh1t now because we're going into Jury.
Christie – talk to Holly
Christie still going on about Jackson not using the veto because he might go up. Nick reminds her Jackson can't go up "he has a veto"
Christie – ohh right.. he can't go up
Nicole – and Holly's safe too
Christie – who would you put up
Nick – whoever they ask me to. I am assuming I know who that would be and I don't care (jess)
Nick – there are only three options, CLiff, Nicole and Jess. I would rather go home than put Nicole up
Christie – putting up Jess.. yes she's vocally coming after you BUT. Cliff is much more dangerous
Nick says Nicole would be fine with Cliff "She'll get over it"
Christie says when she was trying to get votes Cliff told her him and Nicole are a package deal.
Nick – he said to me If I was ever sitting next to Nicole he wold vote me out
Christie says Jess is coming after Nay male in the house, "Cliff is more strategic"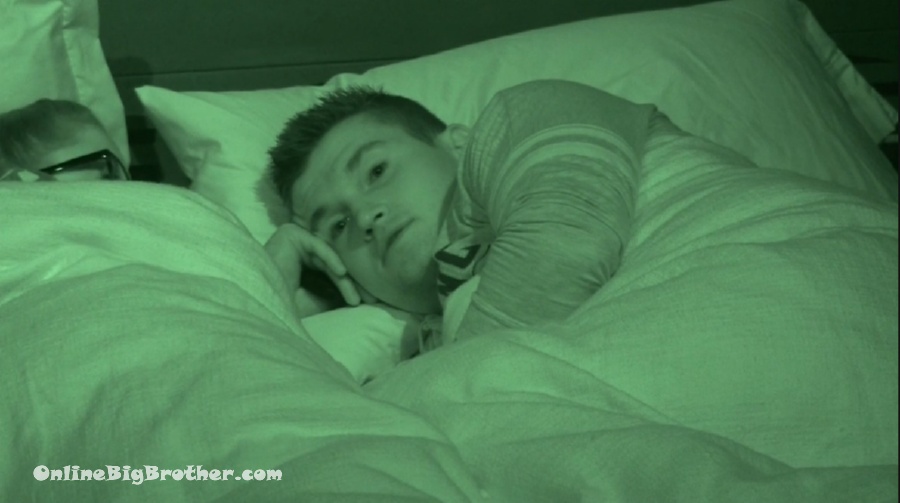 1:03 am Michie and Holly
Holly – Getting Nick out will also secure getting Nicole to work with us
Michie – agreed cause Nick is under the impression it's just me and Five next week in the HOH which is GREAT (Michie thinks he's got everyone)
Holly is worried Nick will stir shit up
Michie – that's what scares me about the time between Monday and Thursday
Holly – we have such a great thing now.
Michie – Cliff and Nicole shook on a final 4 we need to keep that as close as possible. Christie and Tommy need to be under the impression we want to work with them but not lock anything in because they will be jury votes and we can't go against a word at this point
Holly is more worried about Christie, Tommy and Jess coming after them over Cliff and Nicole
Michie – I'm not worried about Cliff and Nicol. What are they going to do work with Christie and Tommy? Work with Jess?
Michie – Tommy wins HOH and puts us up he's f*ed for Jury votes and also .. there's .. both of us get a chance to play in the veto. Cliff and Nicole are voters if one of us comes off.
1:28 am Nicole alone backyard
Nicole – I know Cliff and I are working with Michie and Holly. The way Tommy has been acting lately I get a weird vibe that Michie and Holly also made a deal with either him and Jess or him and Christie.
Nicole – I wouldn't be surprised if they set themselves up with a good position with making final 4's with 23 different groups. I wouldn't doubt it
Nicole says that Cliff is closer to Michie and Holly on a game level. I wonder if I were to win HOH next week who would I put up? Do I go the Sorry you guys are a huge threat Michie and Holly route and potentially break a final 4 deal? Do I go the Tommy Christie route, I don't know
Nicole – of the two nominees I feel for Nicole's game It would be better if Nick stayed because I feel if Christie won HOH she would put me up only because I know in the past she questioned where my head is at.
Nicole – If Michie won HOH I don't think he'd put me up. I don't think Cliff would put me up if Nick stays Jess wouldn't put me up. Christie, there's a good potential she could and Tommy maybe.
Nicole says Cliff is worried that she's giving too much information to Nick so he's been holding back, "that's fine he's allowed to play his own game. I want to make sure we compare notes and do what's best for us moving forward"
2:00 am everyone on the feeds is sleeping
3:25 am PIE TIME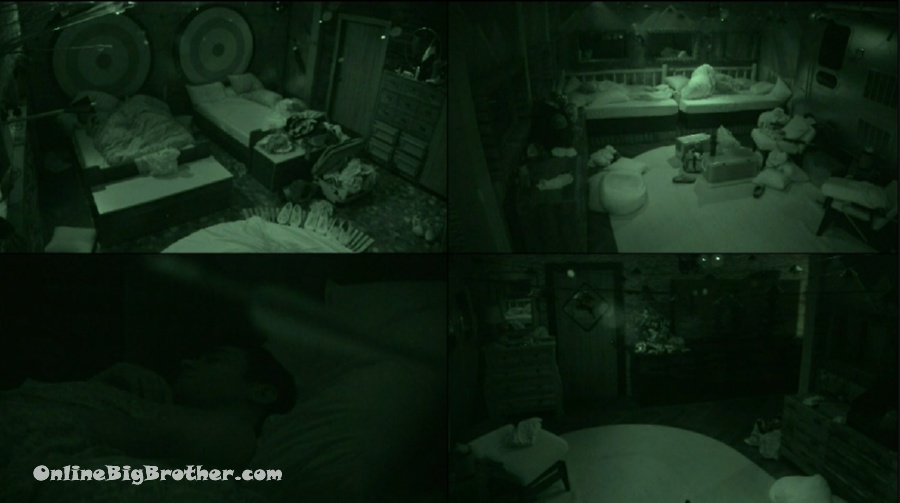 6:07 am everyone sleeping ..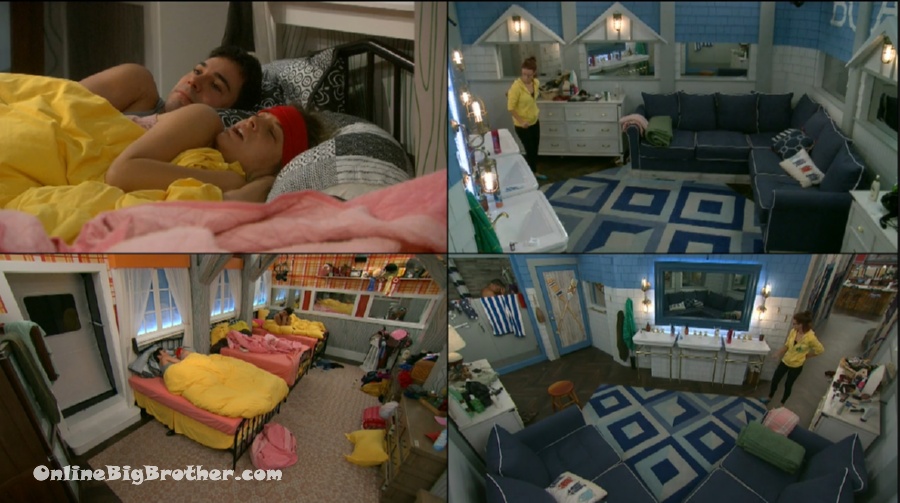 10:25 am Houseguests waking up.
RV room talking about Nick's cuddling. Christie says she didn't get Zach and Franke's cuddling but now after seeing how TOmmy and Nick are she gets it
Christie – this is normal
Tommy – his girlfriend is gone and Nick is so confident in himself and open-minded he just likes attention once and awhile that's what it is
Christie – he's very affectionate.. he likes to touch
Tommy – he likes to touch and be touched he requires it.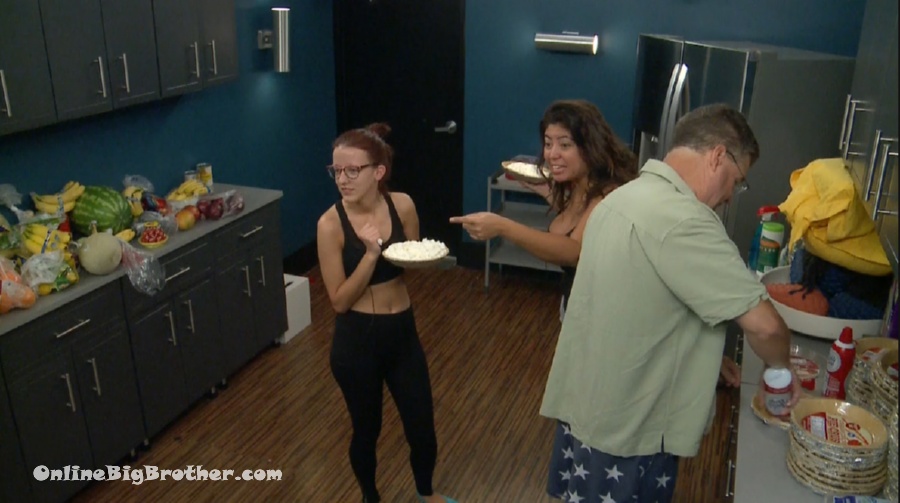 10:40 am Pie Time
They have to surprise someone. They agree to hit whoever comes into the storage room next.
Production over the PA "there are fresh batteries in the storage room"
Jess – I feel bad whoever comes in here
10:50 am Jess gets Nick (So much for cliff pushing him in. Cliff maintains a nice safe distance)
Cliff gets Nicole and Nicole gets Cliff..
10:53 am Nicole took alot of damage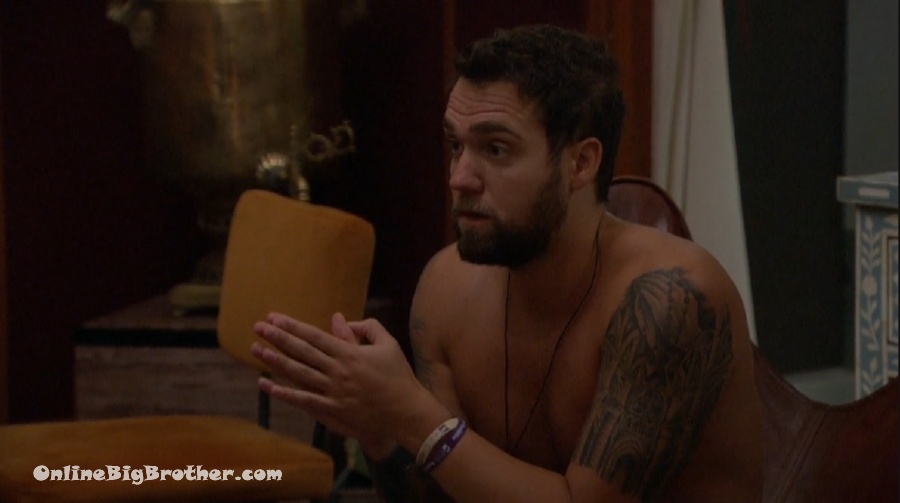 11:30 am – 11:50 am Nick and Holly
Nick – I have a proposition
N – so, the only way to really show loyalty when people don't know what you are doing. I am America's prankster I told Jackson yesterday I let him know MY word means a lot I could have put him up but I didn't .. I did not.
N – I'm good for your game to stay only because I'm a big threat. I'm not asking him to use the power of veto on me BUT if he uses it on Christie you two can pick. I can put up literally any person. Any person you want.
N – I will throw the HOH, I can now guarantee you I will not put you up. Even if it's for a week.
Nick pushes that with him going in the house they become the bigger target and Jackson doesn't play in the HOH, "He's going to get f*ing attacked. "
They go back and forth about if anyone specifically said they re after Holly and Jackson
Holly – Jess is mostly against men
Nick goes on about he'll throw the next HOH "you can't compete next week.."
Nick says Tommy promised Christie this week he'd vote for her.
Nick promises her he'll take her off, throw every comp and vote their way forever.
Nick backtracks saying he'd put Holly up as a pawn.
Nick says he doesn't have Tommy's vote, probably Nicole and Cliff. he doesn't see jess voting out Christie.
Nick suggests Cliff goes up to replace Christie. reiterates his deal above.
Nick – you have my word I've never lied ..
Nick says he'll throw the next 3 HOH's "as long as I'm here It protects you and Jackson"
Nick – use me to your advantage use me to protect you guys.
Nick – even if you don't use the veto because you think the person I'm sitting next to is more threating
Holly says Nick is the bigger threat to her but Christie is high on the list also.
Nick says people have been making decisions for their own games and he's been making his decision for the people he's loyal to
Holly goes on about how her first HOH was for the team.
Nick offers the same deal to her regardless if the Veto is used.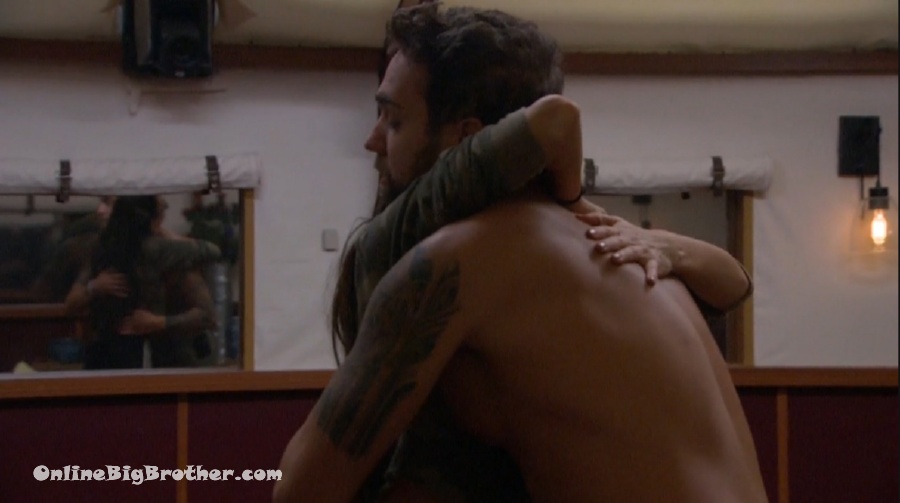 They hug it out
"I appreciate you so much I love you so much "