Head of Household: Martin
Nominations: Jay & Jacey-Lynne Betty
Power of Veto Players: ?
POV Winner: Jacey-Lynne
Veto Ceremony Results: Jacey-Lynne used the veto on herself. Martin nominated Betty
Evicted: ?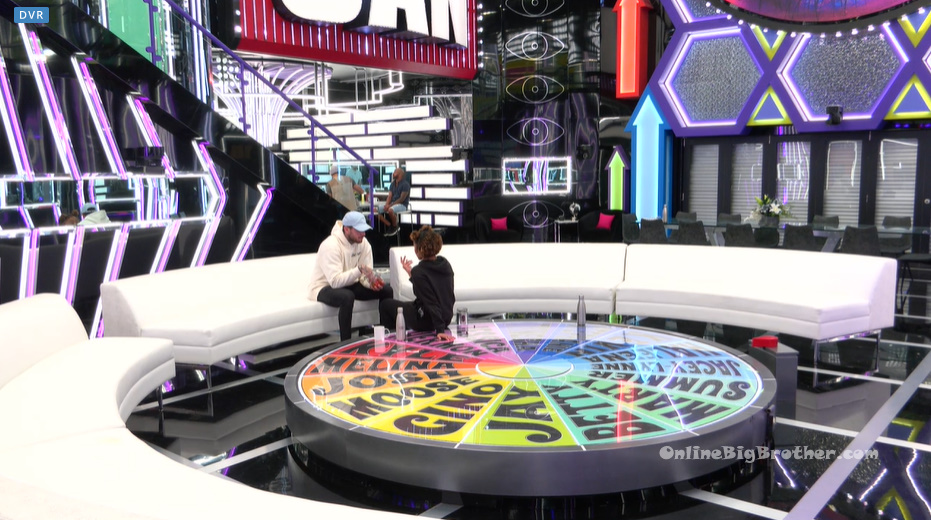 5:50pm Living room. Gino and Summer.
Summer – I don't if people are joking or if they think its a thruple or whatever but.. Gino – I just found out about it happened last weekend kind of right. Summer – yeah two boys and one girl. How fun. If we can create another .. I won't say thruple but like if we can just create another like ohh.. is this going to be another showmance situation whether its real or not. Do that. So either talk to Kyle. Gino – you should talk to Kyle. Summer – okay, maybe I will. And it doesn't even have to be a game thing. It could be like lets deflect off of Gino a little bit and get people talking about another potential relationship. Gino – yeah I like that. Summer – I might be the only one saying it to you directly but.. Gino – no I appreciate that. I like that.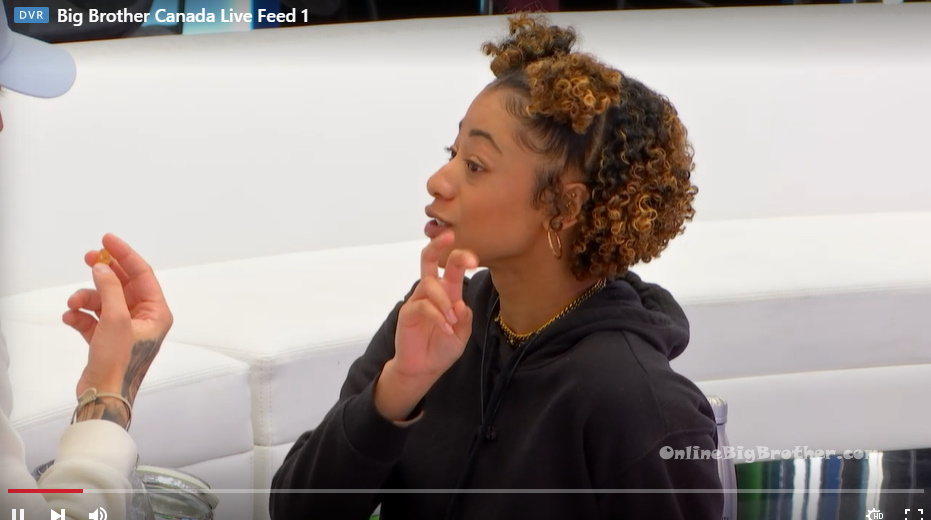 8:20pm HOH room. Summer and Heleena.
Heleena – I really do vibe and trust with you. I really do. I really do mans down like I trust us. I haven't told anyone like I trust this. We think with this (brain) rather than this (pen!s). Like real talk I have your back. Hopefully it is reciprocated. Summer – yeah yeah of course. Heleena – of course in the end we will all have to play the game and cut when cut but as long as we can and I can I really do want to work with you. I feel like we can help each other because like I've got your back and I want you to know that. Summer – same.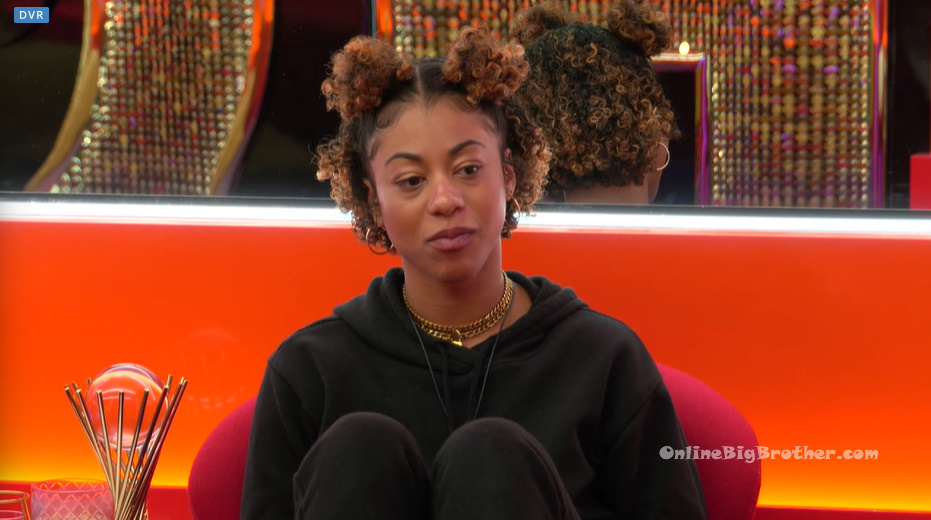 8:45pm Big Brother blocks the feeds.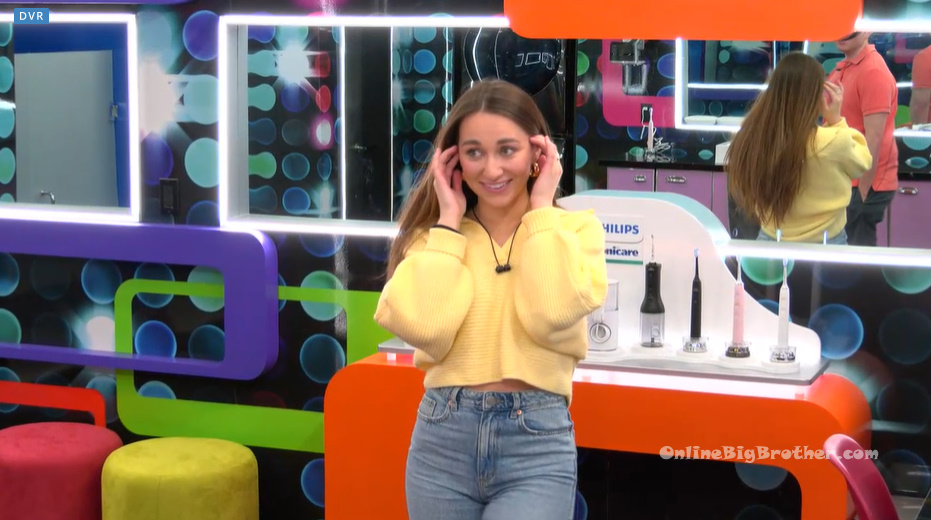 9:48pm The live feeds return. As HOH Martin nominated Jay and Jacey-Lynne for eviction.
Bathroom. Kevin and Jacey.
Jacey – tears are over so that part is over. Kevin – you're in a very exclusive club. Jacey – yeah! I am feeling really welcome! Thanks Kev! Now I know what's up in the worst of ways. Now I know what its like …well not really but soon. Betty joins her. Betty – how are you feeling about the whole thing? Are you the target? Why are you on the block? Just because you don't talk game with him? Jacey – I guess because… I thought we had great conversations. From what I am told I don't think I am the one being targeted… so lets just go for the dang veto.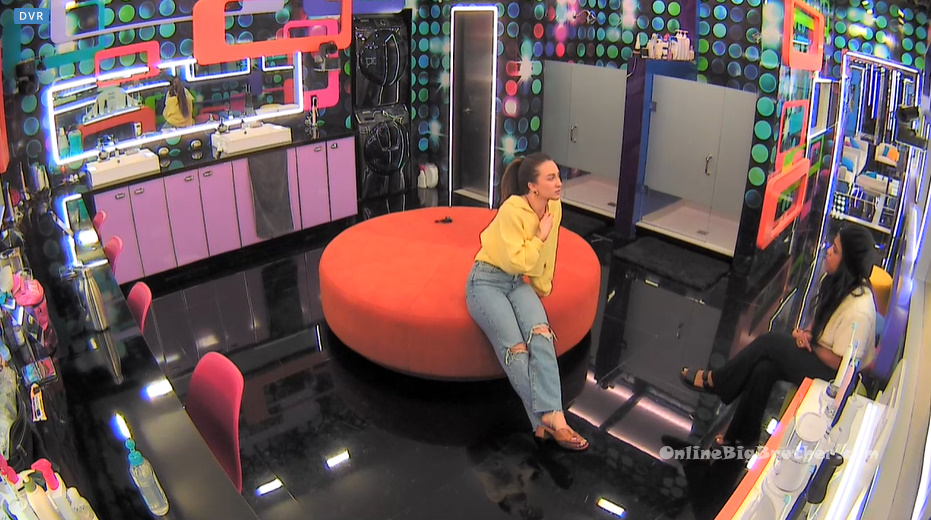 10:30pm Hermon and Martin.
Hermon – you did a good job buddy. You handled it with class. You said it the right way. Your reasons were good. Martin – you're still good for if I pick house guest .. if I pick you? Hermon – yeah. Yup. 100%! To be 100% honest with you I know my target is bigger just because of week one so its not something that I really want to do but if I get picked 100% I will f**king go for it because you're my guy. If you think there is someone else that would go for it too that would be great. If not, I will wear it. I will wear it. Martin – if you can't I can check with Gino or whatever. Hermon – yeah f**k it. Its all good. Martin – you're bigger than him. Hermon – yeah yeah yeah. Hermon – do you have an idea of who you want to go home? Martin – oh yeah, Jay. I told him. Hermon – really!? Martin – yeah. Hermon – holy f**k! Martin – he was fishing around and I was like are you looking to find out who the target is and he was like yeah. I was like you. Hermon – you're a gangster Marty! You have big balls!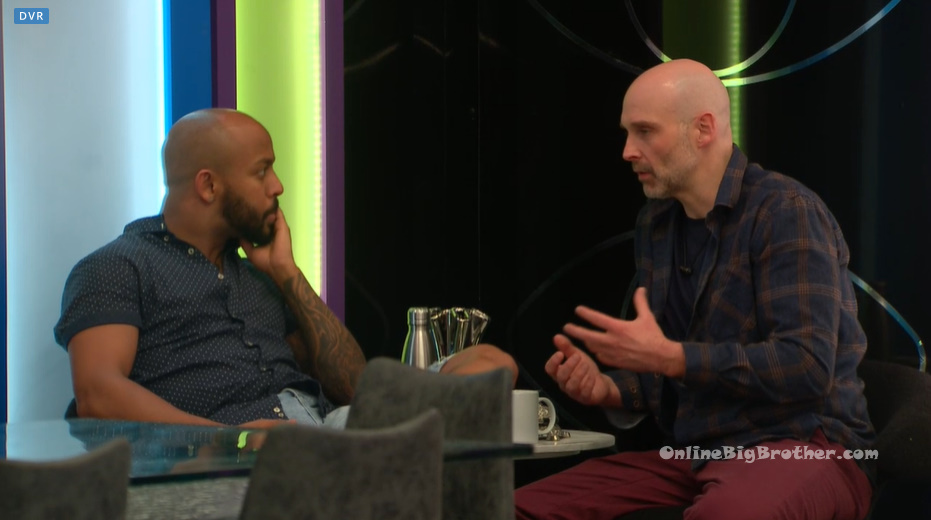 11:10pm Dinner table – The house guests are eating a pasta that Jay made.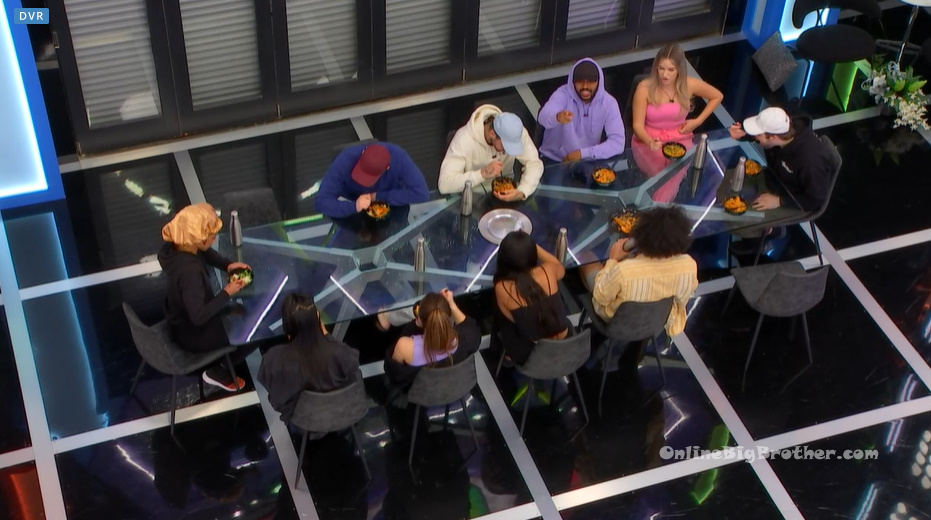 11:35pm Bathroom – Jay and Summer.
Jay – the last thing I said to him was make sure you have your numbers if you're going to come for me. ..And it is close! As long as Jacey f**ks it up … well I am going to win veto but if that doesn't happen .. all I have to do is not f**k up what I am doing now because I knew this was going to happen .. this kind of sh*t. But I am a nice girl, I am also a big b***h! So like when I am really nice.. it doesn't seem weird. You know!? Summer – yes. Jay – because I've just always been nice. Summer – yeah. Jay – so me making dinner last week… and me making dinner this week.. there is no difference because I am playing the same game. Just one whole man didn't like me that much. Summer – straight up if I am playing in it, I am throwing it. I just think it would be best if you take yourself off the block. Jay – yeah.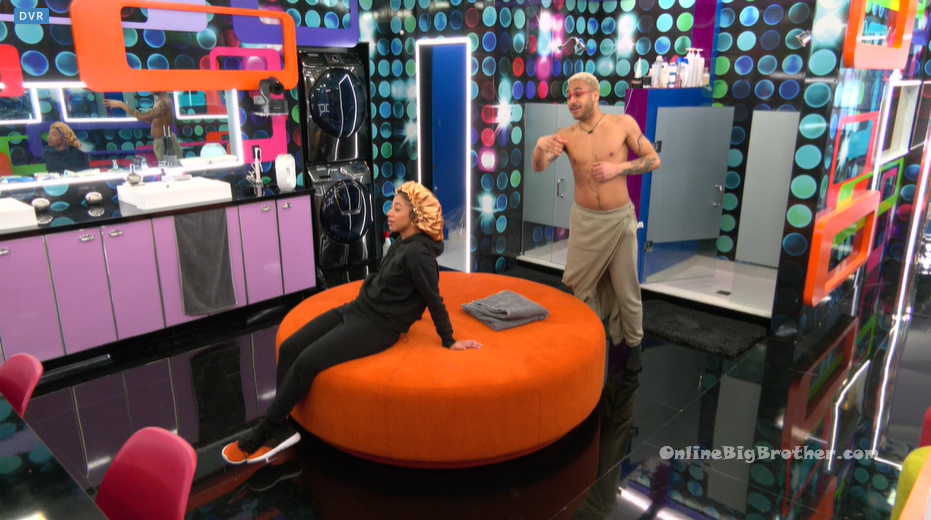 Saturday:
8:36pm – 12:10am The live feeds were blocked for the power of veto competition. When the feeds return – Jacey-Lynne won the veto! She will obviously take herself off the block and Martin will have to nominate a replacement.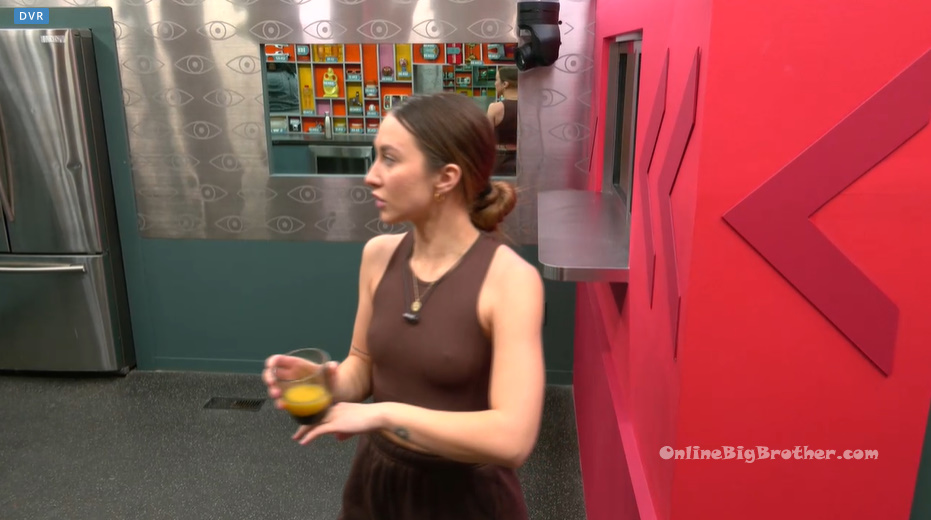 Veto Ceremony Results:
Jacey-Lynne used the veto on herself. As HOH, Martin then nominated Betty as the replacement nominee.