Head of Household: Martin
Nominations: Jay & Jacey-Lynne Betty
Power of Veto Players: ?
POV Winner: Jacey-Lynne
Veto Ceremony Results: Jacey-Lynne used the veto on herself. Martin nominated Betty
Evicted: ?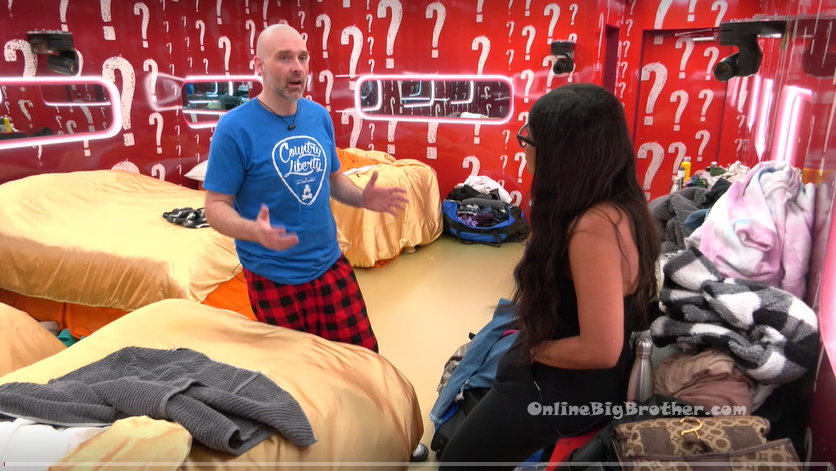 10:20am Bedroom – Martin and Betty.
Martin – I always said I wanted to play an honest game. Betty – I would never target you. Martin – I'm not targeting you. I am targeting Jay. If I don't have to break my word, I don't want to do that. Betty – Its cool. I know I've got a vote in your favor. That's cool. Just don't guarantee because Jay is saying there are a lot of people on his side and I am not. I am obviously going to fight for myself but awww.. man this early to be lied it really hurt my feelings. Martin – I am sorry I did that. I didn't want to blindside you. Just the reason why I waited till the last minute .. if it gets out there. I just did what I thought was best for my game. I know Jay is going to go down swinging. Is he guaranteed to go home.. no. Betty – no, I'm sure he is going to get them (votes). I am definitely telling you now .. it is going to take a lot for me to stay in this game. Just because I am buddy buddy with people doesn't mean I have their votes. They are definitely swinging.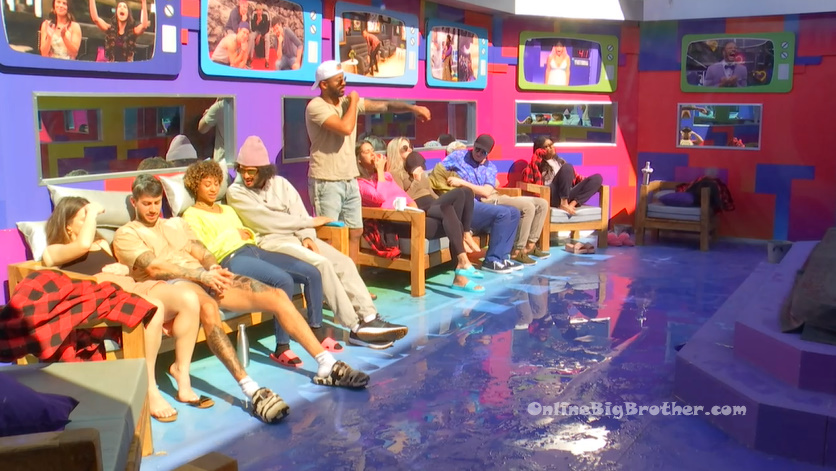 12:20pm Hot Tub area – All the house guests hanging out enjoying the fresh air.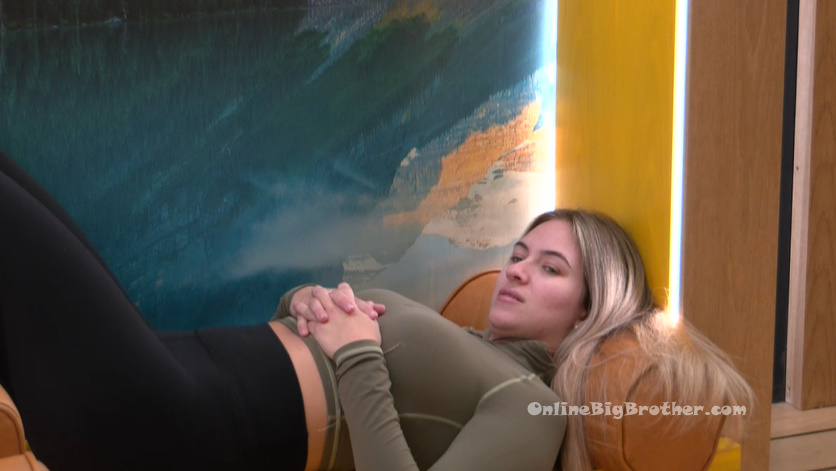 2pm Expedia Room – Betty, Jacey, Steph
Betty – I guess I should talk about the fact that I am on the block. It is just really awkward. Steph – no I know. Betty – I just feel like do what works best for you game. If that is keeping Jay, do that. If that means keeping me, do that. I am really not here to start a smear campaign against Jay and I won't… I just can't see myself doing that about anyone. Steph – yeah. Betty – so yeah, if you guys do decide to keep me that is great. You never know in this game who can win power but I feel really strongly about not targeting people that have not done anything but show me love. That is just important to me. Jacey – of course. Steph – yeah. Betty – that is where I will leave it. At the end of the day its all love. What anyone decides to do.. its to benefit their own game. I won't hate on anyone. Steph – you are liked to have around. Betty – thank you. I know Jay is as well. Steph – yes, you both are. Betty – I just want to stay. I don't know what else to say. Steph – its a tough position to try and sell yourself too right!? Jacey – no you actually feel disgusting to do it. Just everything you say to everybody seems so fake even though its real. Like oh my god, they think I'm fake. Its just such a gross feeling. Betty – and its just so inauthentic to like no having spoken game with you but hey I'm on the block. I just don't want anything that I say to see disingenuous or inauthentic. Steph – and I don't think anyone will, I mean look at the position you're in right!? Betty – Yeah, I am just really not looking to take a stab at any girl at all right now. I was a little reluctant to come and talk to you because I did hear that you have a vote in Jay's corner but.. I came here to play and that's what I want to do. Steph – that's what I want to hear. I appreciate you even though hearing that. I never said that (having a vote in Jay's corner). I appreciate you being up front and honest. The sh*t that I've heard the last few days.. its like broken telephone.
3pm Expedia Room. Summer, Jacey and Kyle chatting.
5:10pm Fashion Show Time…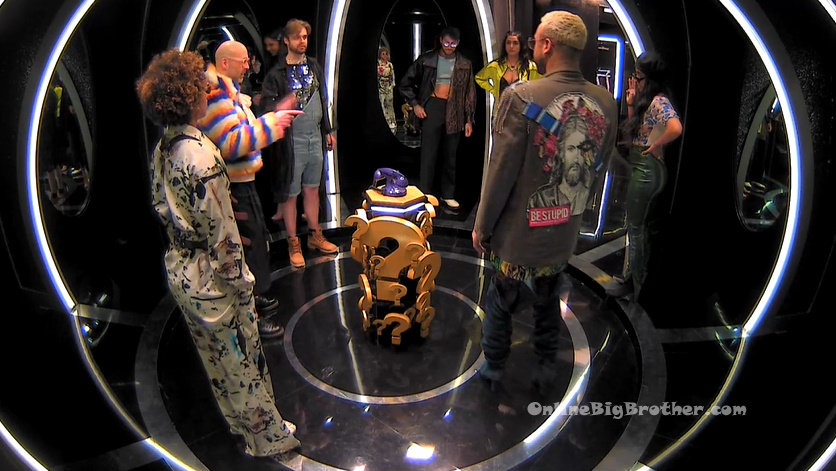 Wednesday Evening: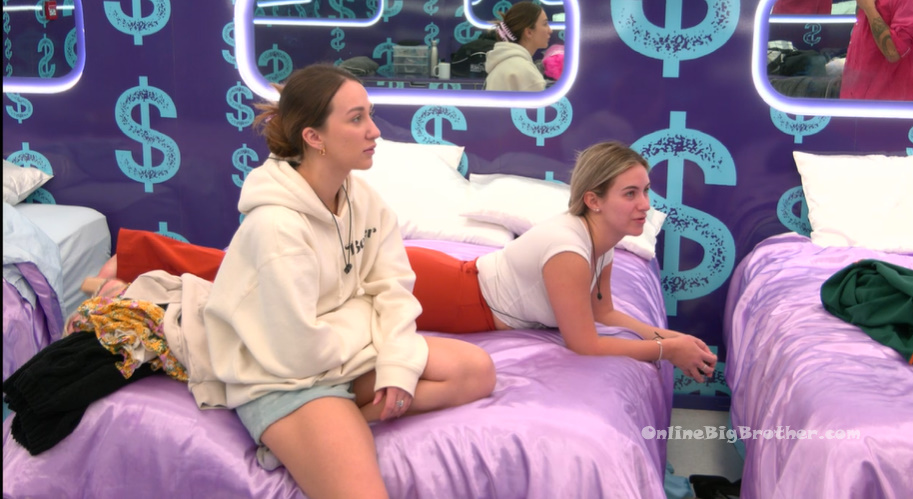 9pm Bedroom. Jay, Jacey and Steph.
Jay – I just want to say that I love you both. Its been a gentle time. Please do not vote for me and you better.. Big Brother blocks the feeds. Steph – tear sh*t up eh!? Jay – yeah, f**k it up! Don't just make out with boys. Okay!? I know its tempting. Jacey – we won't. Jay – they're both very hot but if I just see you in showmances and thats the reason you go out .. I am going to be very disappointed in you both. Steph – we won't! We're going to run it! Jacey – we're running it. Jay – also Kyle is really sneaky! Be careful of that f**k.. but keep making out with him and then.. (whisper) Steph – we're going to manipulate. Jay – Played a bit too hard. I was just too much myself. Steph – you're amazing. They all hug. Jay – tomorrow I will be really sad but today I won't. It sucks to just be better than anyone else. I am just going to use the platform to say what I want.