Head of Household: Martin
Nominations: ? and ?
Power of Veto Players: ?
POV Winner: ?
Veto Ceremony Results: ?
Evicted: ?
** As HOH Martin plans to nominate Jay & Jacey-Lynne with Jay as his target.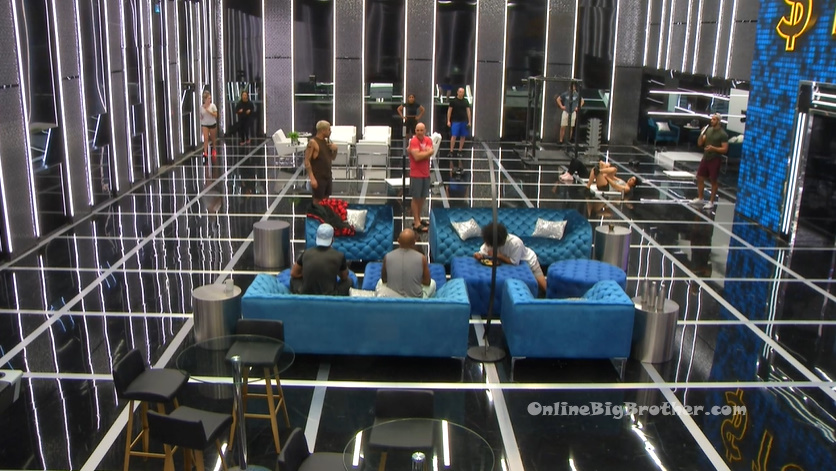 11:05am Backyard – Martin – hey guys can I get everyone's attention? Whenever they said they were going to close the backyard in 4 hours … so like 3 hours from now.. if we can all gather in the living room. I just want to have a quick word with everybody. If that's alright. Just 5 minutes. Its nothing official, just a quick thing I want to say. He says that he didn't realize nominations were today. He thought he had a full day to talk to everyone.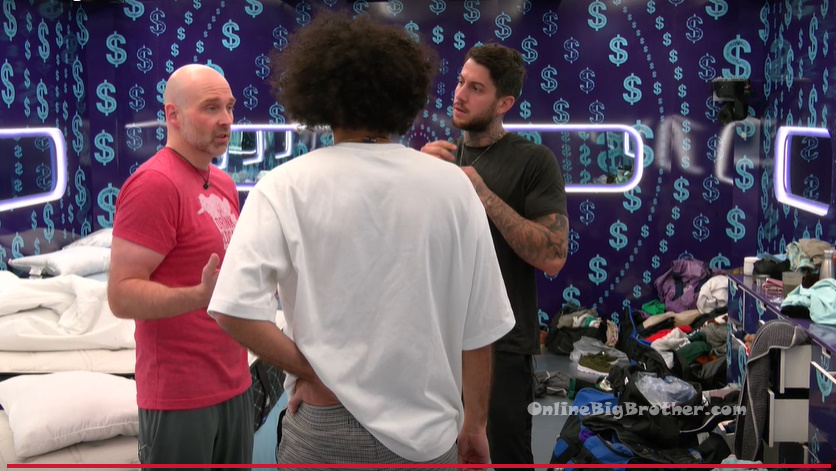 11:23am Bedroom – Martin, Moose and Steven.
Martin – obviously us four are safe no matter what. I already know what I am going to do, I am going to put up Jacey-Lynne and Jay. The reason why is because especially Jay I tried to talk to game with him and he never talked back. And I had a feeling that if he had it, I would have been up. And Jacey, I love Jacey and I've had a few talks with her but .. I know she is a big target and she is going to stay a target. She is going to stay a shield for us but like to be honest I never worked anything out with her and I don't think she would put me up. To be honest if she gets it I don't think I would go up. Moose – I hope its not endurance .. like we just did a work out and that's the thing with noms you never know what the challenge is going to be. Martin – but are you guys good with that? Moose – yeah, yeah I'm good with that. Moose – I've been throwing the scent off… just because people are like they're French, they stick together. So I want to remove one of us from the equation because like I've told multiple people like that I am scared that you're HOH. Steven – who is your real target? Like who do you want out? Martin – Jay. That's the one that scares me. I tried to talk to him and I just get a bad vibe. I love the guy and its nothing personal. Its just if he got it he might put me up. And Jacey its not as deep.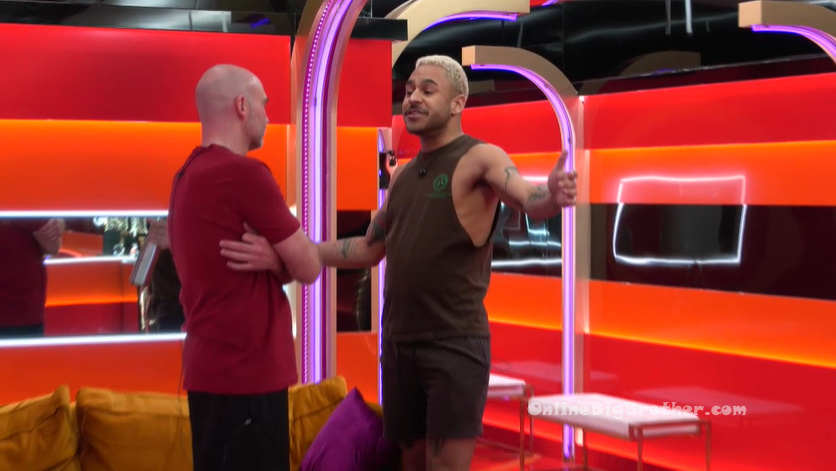 1:20pm HOH room – Martin and Jay.
Jay – all I want to say is that I want to stay until Jury and I hope you've had good conversations this last week and I don't know where your head is at. You're not my target at all. I don't know what you're thinking. I'll be straight up with you and I hope you can be with me. Martin – that's what I was planning on doing. To be honest Jay, we had one conversation me, you and Betty .. and for me this was an olive branch and I honestly tried to hang around you.. and that you would reach out to me. I had a lot of conversations with everybody. I love you as a guy and this is not personal.. its just game. Jay – are you putting me up? Martin – yes. Jay – do you know who you're putting me up with? Is it Jessica? Martin – no…. I will just leave it as that for now. But at least I am giving you the chance to win the veto. And look if you win the veto and take yourself off and next week if you win and you're like you put me up so I am putting you up .. I will respect that. I offered you an olive branch. Jay – I thought that conversation with me, you and Betty was.. Martin – I wanted to solidify that after and I did that with other people and I didn't get that ..because I think you would be good in this game and that is why I was doing this. Jay – the last thing I would want to say to try and change your mind.. I came here to make it to jury and if I go home I go home to no job. If I go home this week I am f**ked! And I know that is life.. Martin – that is everyone. Everyone come in to get to jury and I need money as well. Jay – Its not the money ..I need the per diem every day. Martin – I calculate every day how much I am earning. Jay – thank you for not backdooring me. Martin – that's what I mean you still have the veto. Jay – that's good that you see me as a threat. I told you that Stef and Summer were the people I was looking at and you weren't even on my radar. Martin – its just talking with everyone and last night I don't know if you heard me but Stef I made a deal with her. So I respected that. Its not personal and the thing that you did at the ceremony I respect that. Its not personal. Sorry man. They hug.