Watch the feeds for free from the US using a VPN. We recommend HMA https://www.hidemyass.com/vpn/r16399/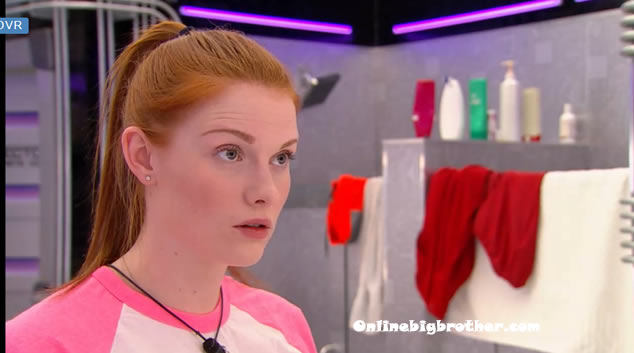 Kevin and Ika in the Kitchen
Kevin says he's thinking about putting up Jackie.
Ika tells him theire deal from yesterday still stands. It's always been her, Demetres and Kevin. (LOL) If she stays here she's not going against Kevin.
Ika says Jackie told Demetres before the POV that you wanted Demetres out.
Kevin says he never had a target, "Jackie is the worst"
Ika says her best chance to stay is against Jackie and if Kevin wants her to stay.
Ika pleads with him to to see that the three of them are the target. She knows it's hard they were in the same position last week.
Kevin asks who would vote for Ika if she's against Jackie, Dre, Demetres and ? William ?
Ika says William will vote with whoever Kevin says.
Kevin – I would rather have JAckie go over you.. I never told Jackie a target at all
Kevin – She's actually poison in this game
Kevin and Ika agree they would rather Ika, Demetres or him win this game.
Kevin says if Ika goes this week he'll drag Demetres to the end.

Jackie and Kevin Blue Room
Kevin tells Jackie that Demetres is saying that she told him that he was Kevin's target.
Jackie – Kevin.. when we talked the kid was sitting there and worried..
Jackie – i'm trying to give him words of motivation
Kevin – telling him he's my target isn't words of motivation
Jackie – it was never directly that you were Kevin's target.. he might have taken it in like that
Kevin – gotcha
Kevin says it's damaging to him when he never said Demetres was the target.
JAckie says she never told him directly..
Kevin – that's fine.. I don't have a vote.
Kevin says Demetres just told him Jackie said he was the target Directly
Kevin – maybe he's just exaggerating the story a little bit
Kevin says Demetres is a massive threat to win the game at this point, "He's a beauty" (
Ika and Karen in the bathroom
Ika telling Karen that Jackie told Demetres he's the target.
Ika adds she told Kevin that so hopefully he keeps Karen off the block "She pretends to be your friends Karen then she'll stab you in the back"
Karen – that's why I told you guys I never trust her

Ika and Kevin Bathroom
Kevin says Jackie is claiming she never directly said he was the target.
Ika goes on about Demetres not being a liar
Kevin – you have a good chance to stay right now
Ika says she swore on her kids to Dillon taht she wouldn't put him up and it didn't happen. Adds she did the same thing with Jackie.
Ika – I'm telling you if I stay here I will not come after you
Kevin – I'm going to put Jackie up you just need three votes to stay
Kevin says him and Demetres have to work together.

Dre and Dillon outside couch
Dillon and Dre agreeing it's the smart move to get Ika out.
Dillon says it sucks that it's them two, "WE have the numbers to keep her"
Dre – if we keep her Dillon.. we keep the Demetres Ika duo in this freaking house and wants going to happen if it's not 1 of us that that wins it…."
Dillon – if we keep her they kinda have to stay true to us.
Dre – we keep her and we win HOH .. who goes up.. who are you putting up you going after Kevin..
Dre points out if you're just going to put Ika/Demetres up again you might as well take her out now.
Dre – if we keep them it's because we're going final 4 with them..
Dre – it makes no sense to keep them if we put them back on the block
Dre tells him that he's in more danger than her if they decide to keep them.
Dillon – unless we make a final 4 deal with them
Dre says they've had a influence on the game since week 1 is it a logical decision to keep Ika/Demetres in the game.
Dillon – no
Dre asks are we keeping them as shields?
Dillon – I'm voting her out (Ika)
Dre – keeping Jackie around allows you to always have a replacement nominee

Ika Demetres and Karen poolside
Kevin and Karen HOH
Kevin – I need you and Dillon to trust me. Karen – I do. Kevin – I want to work with you guys. Karen – I haven't not trusted you. I'm telling you everything that I know. Demika right now knows that they shouldn't have betrayed me when they did. This morning she was trying to apologize to me again. I said well you put Jackie above me. So they know they're on shaky ground with me. I don't trust what Dre is saying. If I go up and they flip it on us… Dre will stay more loyal to Ika. I believe that. Will William come with you and really vote Ika out? Kevin – yeah. Because I don't have a vote, its like 3/5. When Bruno left he said look after Karen and Dillon and that's what I'm doing this week. Karen – so if Ika goes home. Kevin – yes. IF I put up Jackie, Ika will go home, yeah. Karen – but Jackie can't know that she's safe. Jackie has to stay a squirrel all this week so she stays on everyone's radar for next week. She can't ever know that Ika is the target.
Kevin and Dillon HOH
Dillon – I'm kind of worried about Jackie. Kevin – dude! Yes, after this morning. I am very worried about Jackie. Dillon – that's why I wonder do we want to get Ika out? Kevin – I mean I am putting Jackie up. I can see reasons for keeping Ika. I can see reasons for keeping Jackie. Dillon – what's best for us moving forward? Kevin – like if Jackie stays and she won next week .. would she put you and me up? Me and Demetres up? I don't know, you never know with Jackie. You literally never know with Jackie. Ika – I don't think would go after you.
Dre & Ika.
Dre – if I had won that comp I would have pulled you out. I wouldn't even think about it. Ika – I know. I feel bad for him (Demetres) because in the game he does have both of our backs. Dre – he does. Ika – he does, he care about you a lot. He was like – does Dre not like us anymore? And he looked sad. He looked so sad. Dre – I'm going to talk to Dillon and William and then we have two. Ika – I know, hopefully I could stay. Dre – obviously I don't want to influence Dillons game to the point where Karen doesn't trust him or things like that but at the same time if we can trust him 100, then we can be a powerful 4 and go far. Ika – I think so. Dre – but the thing is I want to make sure that Dillon isn't going to try something behind. Ika – but at the same time if Karen is saying I'm being mean … that's why I stay clear from her because the things that she was saying and doing about you .. it was funny because we didn't believe it.. but people might actually believe it because I've been a b***h, you know what I mean. Dre – I don't like Kevin. Ika – I know. Dre – I'm trying to ruin his battery. Everyday I listen to music so much! I want it to be at 0% at the end of the night when he comes in. Ika – oh my god, he thinks he's playing this amazing game and I'm sure he is, I just can't see what he is doing. He's just so hard to read. Dre – if we can make him believe we want to stay with him forever. Ika – I just don't want him running back and telling Dillon. Dre – if we say we're in with Dillon, we're in with Dillon. And that's it, no one needs to know what's happening.. when the votes come out the votes come out. People get mad, people get mad. Turn up. Turn up next HOH. Ika – then the next HOH its me, you, Demetres and Dillon playing. Kevin can't play, Karen can barely play and Jackie's gone … Will is playing. Dre – the only thing is that Dillon really really likes Karen. Ika – I don't care, I'll put her up. KAREN HAS TO GO! Karen has to go because she will go to final 3. That's a spot she's taking up from one of us. She goes, Dillon is focused. I'm tired of her and her lies!
Feeds back.. 🙁 #BBCAN5 pic.twitter.com/zDBkQnMswO

— OnlineBigBrother.com (@bigbspoilers) May 1, 2017

[polldaddy poll=9734567]
[polldaddy poll=9734569]