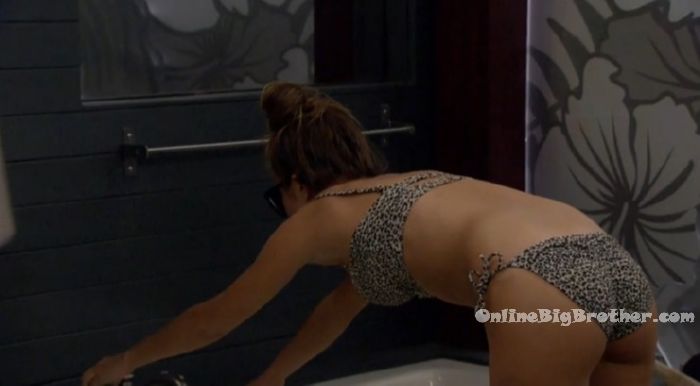 8pm – 11pm Morgan and Shelby are playing Jenga. After they head up to the HOH room. They go into the bathroom. Shelby puts on her bikini and sunglasses. Shelby – get ready America we're about to do bath time with bikini girls. Only its just going to be me in a bikini. Morgan goes and puts her bikini on over her shirt. They start their Bikini Girls show called "Bubbles and Beef Cakes" edition. Morgan – our first beef cakes .. lets do some of out own. Shane Vs Justin. Two long haired boys with nose rings from BBOTT! Shelby – who do you want to take? Morgan – I'm going to have to go with Shane on this one. Shelby – I guess that leaves me with Justin. Morgan – Shane .. he looks like Jesus. When he shaves he looks like a five year old .. Shane keep the beard. He's a little on the short side but his body is toned. Shelby – I'll do Justin. Justin you can't understand a thing he says. He sings all the time and if you're into that that's great but I find it a turn off. Morgan – if we take into account how annoying Justin is .. Shane wins. The next beef cakes are Paulie and Cody. Paulie was a little bit of an a$$hole but if you just stare at his abs and don't listen to a word that comes out of his mouth I think girls would like him. Shelby – I'll do Cody. He didn't say anything overtly sexist on his season .. so who do you think won this round. Morgan – Cody wins. Shelby gets called to the diary room and when she comes back she tells Morgan that they (BB) might do a segment on Bubbles and Beef Cakes. Morgan gets excited.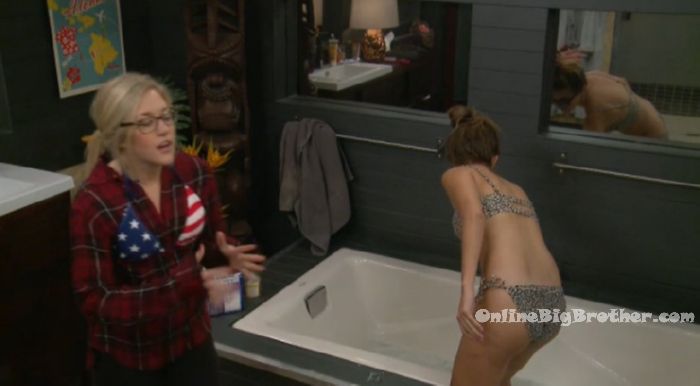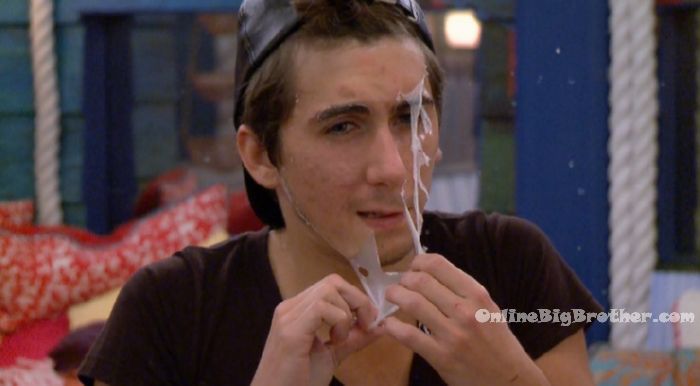 9:50pm Justin and Kryssie talk about everything they miss. Jason comes into the room after pealing off his face and says all you guys talk about is everything you miss.
12am Morgan and Shelby go to sleep.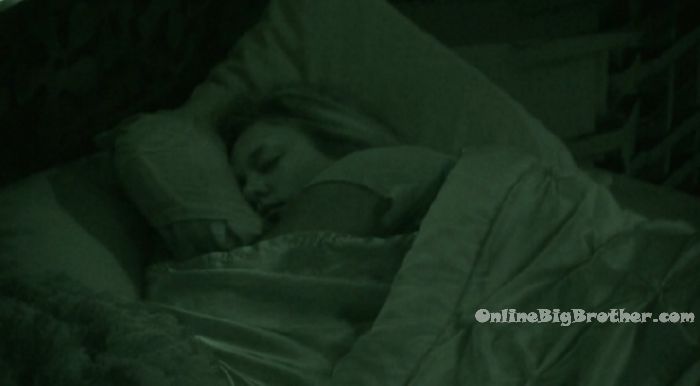 12am – 1am Justin, Kryssie and Jason head to the kitchen. Justin and Jason start making food. Kryssie is playing Jenga. Jason eats at the table and burps trying to blow over Kryssie's Jenga tower. Jason heads to the living room and tosses things at the bowls on the coffee table. They head to the bedroom. Justin – luckily at this point in the game we don't have to talk too much game. Kryssie – I know. Justin – because I would be tripping out. Kryssie – I love that we have 1 more day of playing nice and then we don't even have to pretend to like these people any more. Justin – tomorrows really important to go through with the plan .. because then it will just be 3 against 1. Man, we've been the underdogs this whole time. Kryssie agrees. Jason – that changes tomorrow!! Because I'm going to kill this hoes!
Justin – I've been through a lot kid. I've been sexually abused too. I never told you that. Jason – I lied about it last time and then the psychologist asks… Big Brother switches the feeds to Morgan and Shelby sleeping.
FLASHBACK to any point in the season!
Click here for your: FREE Trial!