POV Holder:
Tim
Next POV
May 7th
POV Used
Yes
POV Ceremony
May 1st
HOH Winner:
Kelsey
Next HOH:
May 9th
Original Nominations:
Cassandra and Tim
Current Nominations:
Joel and Cassandra
Last Evicted Houseguest
Paige, Sharry, Christine, Kelsey, Loveita, Dallas, Mitch, Raul, Maddy, Jared, Nikki
Have Nots
No more havenots
Watch the Big Brother Canada 4 Live Feeds anywhere in the world with HideMyAss VPN.
ALLIANCES IN THE HOUSE
There will likely be a lot of alliances during the season – keep track, read our alliance help guide.
8:45am In the kitchen – Phil is giving Joel a pep talk about the big brother experience.

In the bedroom – Cass says she doesn't know what to say. Tim laughs and says ever think about saying the truth? Tim says I think they think that Joel can't win because everyone underestimated him this whole game. You just have to find the truth. You don't have to lie. Cass says I'm not going to lie. Tim says in Australia I imagined what it would feel like to win and then I won. Maybe I need to imagine myself winning. Tim asks if anyone has ever won two big brothers? Cass says no. Tim asks what?! Cass says now you want to do it. Tim tells Cass that she should say that Tim will work with Joel next week. (So the brothers will want to get rid of Joel over Cass.) He doesn't hold grudges. I always do forgive and forget.
9:25am In the bathroom –
Joel asks Tim if he can talk to him. They head to the bedroom to chat. Joel says I feel completely irresponsible. I don't know if it would make it better for me to just leave so that you and Cass have a fighting chance. Tim says you're not going to leave. I always thought that you were 100% with us. And maybe it was just too much pressure for you to not be exposed. Joel says I feel like crap that I am the reason we are going to be split up. Tim says no, its not just you.. its the others as well. Joel says he thought he could be still good in the middle. Tim says you could have if there was one of us on the block. Joel asks who do you think has a better chance at taking them out next week. I don't know if Cass is better to stay. I don't know if people will see me as untrustworthy. I don't think there is anyone if I win my way to the end ..that there is anyone I would get jury votes from. Tim says I think you would beat me and maybe the brothers. Joel says I'm just not confident in my ability to win my way to the end.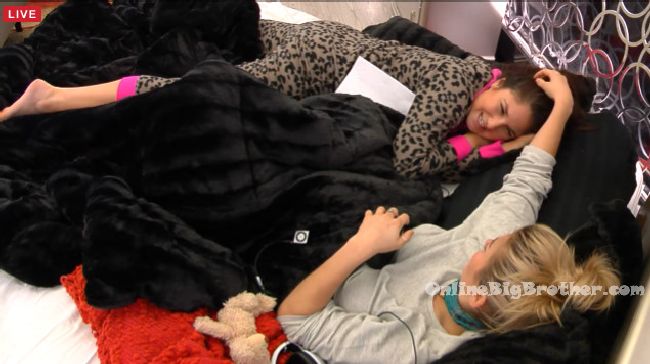 9:25am – 10:15am Cass heads to the HOH room and tells Kelsey about how Joel is thinking about self-evicting. Kelsey says this is big brother .. and as soon as it gets tough for him he wants to leave. Cass talks about how Joel went to school for acting. Kelsey that she won't vote for Joel in the end and will tell everyone in jury about how you guys took sh*t for Joel the whole game and when he had the chance to make right he didn't. Cass says I don't know if he is doing this so that I don't campaign at all. I think he is working the sympathy vote with Tim right now. Tim will work with Joel. He sees him as a winner and a misfit and will help him win. Kelsey says I don't know, I don't know… I feel like we will just have to wait it out and see. Cass says Tim said all Joel needed to do was own up to it and apologize and I would work with him. I was like so does that mean you're voting me out?! And he was like I don't know. Kelsey tells Cas to talk to the brothers. Cass says they won't listen to me. Kelsey says just just talk normally to them. Kelsey heads downstairs. She tells the brothers that she had an interesting talk with Cass about how maybe Joel is faking all this. Phil tells Kelsey not to listen to anything Cass says.

11:45am Bathroom – Cass says what really frustrates me is after I go, they're going to go after you next week. Cass asks would you really do that for me? (Self-evict) Joel says I just don't know if it would make it right with everyone. I don't know what the right thing is to do. Cass asks do you want to get your true alliance further or do you want to keep fighting. Joel says now that everyone is against me.. Big Brother calls Joel to the diary room.
12:45pm In the kitchen – Tim, the brothers and Kelsey are talking about what it take to win. Kelsey says that you should be rewarded for not having to lie and cheat. Not the other way around.
Tim heads to the bathroom where Cass is getting ready. Cass asks him if he will help with the brothers. Tim says yeah.
1:35pmJoel tells Cass that he couldn't live with himself if he walked out. He says in the final pov if he won it he would use to to take her off the block to show that he trusts the would keep him. Joel tells Cass that he won't campaign against her.
2:40pm – 3:40pm Cass asks Tim again if he will help her with the brothers. Tim says he doesn't want to be a part of affecting her fate. Tim tells Cass that what has cost her the game is over playing. Tim tells her that her goal should be to be able to just be in the same room with the brothers. Once you can be in the same room together then you try and talk to them. Tim tells Cass no more game talk. Cass says she's about to leave in 72 hours and needs to get the ball rolling. Cass says she went into the room with the brothers and they left. Tim says because you smell .. they smell your bullsh*t. No more bullsh*t. Leave it at the door. Cass tells Tim that she doesn't think Joel would have used it (veto). Tim says he doesn't think so either. He thought Phil would use it and I would go home. Tim and Cassandra are chatting about random things.
HOH room – Kelsey and Phil are listening to music.

3:50pm – 4:25pm HOH room – Cass tells Kelsey that if Joel stays Tim will work with him. Kelsey says I don't know. Cass says If you save me this week I am indebted to you and the brothers. Tim and Joel join them and big brother blocks the feeds.



8:10pm Tim tells Cass she needs to do some campaigning on him. Cass says I would rather go campaign other people because you're almost up to here.. you make one more comment and you'll be up to here. Tim says I want to go higher! Cass says you're not even from here. Tim says guess what you're on the block and I'm not! Cassandra says done!! Tim says good that means I get a Cassandra free afternoon. Serenity!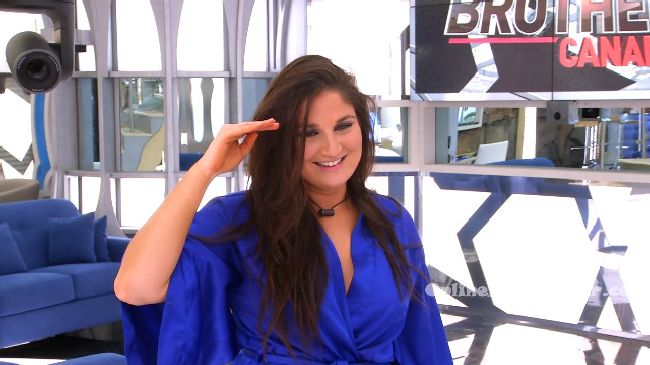 Sign up for a 6 month subscription and watch the rest of Big Brother Canada 4 AND Big Brother 18 with HideMyAss VPN.
Help Support Online Big Brother
Show your support and appreciation: Support OnlineBigBrother.com
HELP keep the spoilers coming. Show your support by making a donation.
[polldaddy poll=9404266]
Share it YO!!
Tweet