| | | | |
| --- | --- | --- | --- |
| POV: | Kaycee | Next POV: | Sept 8 |
| POV Used | No | POV Ceremony | Sept 10 |
| HOH: | Kaycee | Next HOH: | Sept 13 |
| Noms: | Sam & Haleigh | Have Nots | Havenots are done! |
Without your support this website wouldn't be possible.
Please consider making a donation. Any amount is greatly appreciated. All donations go directly to paying the considerable costs associated with running this site.
1:55pm Kitchen.
Tyler and Haleigh are chatting about the BB comics veto competition from last night. Heleigh – I probably went 6 or 7 times and would stand and stare in between each one. I'm really disappointed in myself. Tyler – It's okay. It was fun though. So they've never done that one before. Haleigh – all they've ever done before is you're holding onto that thing and sliding along.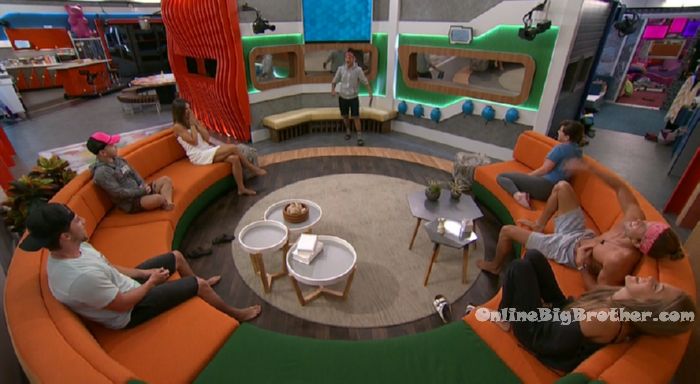 2:10pm Kaycee gathers everyone in the living room. Kaycee reads the card. "This weeks havenots are….. NOBODY!!!" Congratulations the havenots are over for the summer!! LETS GO!!!!! All the house guests cheer! Sam – I think I might keep the big saucer as my bed. Is anyone opposed to that?! Haleigh – you don't want your bed? Sam – no. It gets darker in there. Kaycee – we made it guys!! Sam to JC – why aren't you happy? Oh you just woke up? JC nods. They joke about how funny it would have been if JC was named havenot again this week. Kaycee – you know what I was thinking about that they do some seasons… home videos. JC – I think that's top 5. They talk about how Steve and Swaggy were the only ones that never went on slop. Kaycee comments on how she wants to get a tattoo of the game controller with BB20 on it. Haliegh says she wants something too but something that represents this season. Its sad that the only thing I'm remembered for is the Shakespeare (reading the book). JC – and your HOH. (Where her alliance member Rockstar went home.) She then says she might get a camera pointed at the BB20.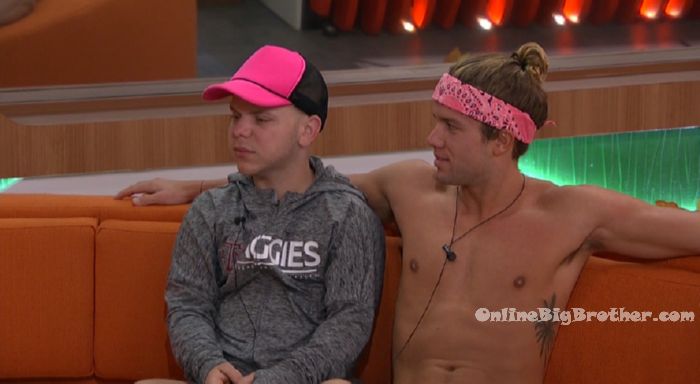 2:33pm – 2:52pm Big Brother blocks the feeds.
2:52pm – 3:20pm The house guests received videos from their loved ones at home. Tyler – hey, JC Regina needs that cheque to go shopping. Brett says he isn't sure where his mom was… maybe the house in Florida. I am so bummed my brothers weren't in that. Damn I wanted you guys to see my brothers so bad. Sam – can we watch them again!? Haleigh – my dad… its about time you come home. Sam heads to the havenot room and says be still my heart!! Haleigh – I am so worried now because Cooper wasn't there (her dog). Brett – I really wish my brothers were there so you guys could see how funny they are. They continue to talk about they're videos.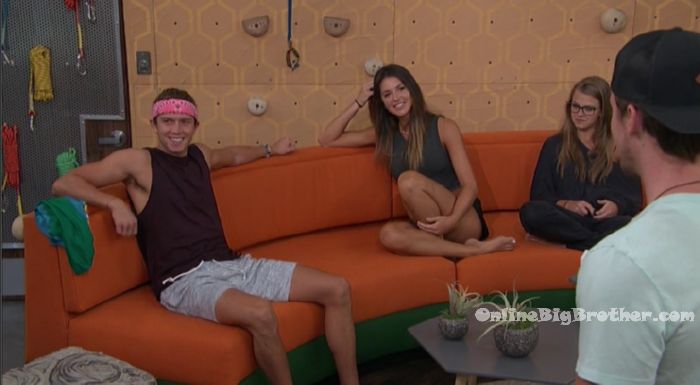 4pm Kaycee, JC, Haleigh, Angela and Tyler are all in the bedroom chatting about their families. JC – its going to get easier because now we don't have havenots.
4:45pm
Kaycee is up in the HOH room listening. Meanwhile the other house guests are making dinner.
4:47pm Big Brother tells the house guests they're on an outdoor lock down. All the house guests head out into the backyard.
Sam is prepared for it to be a long lock down..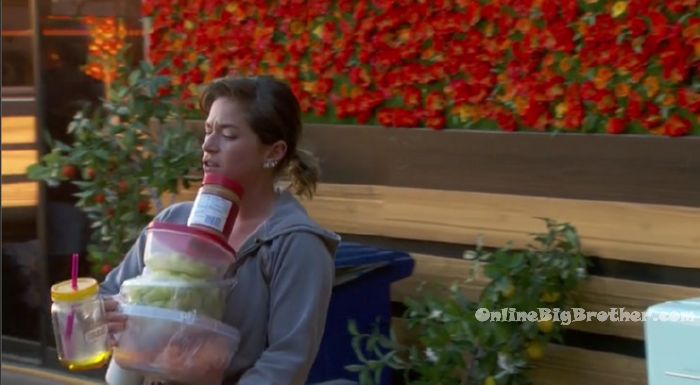 5:45pm Tyler, Kaycee and Angela start working out. Meanwhile inside Brett is making steaks.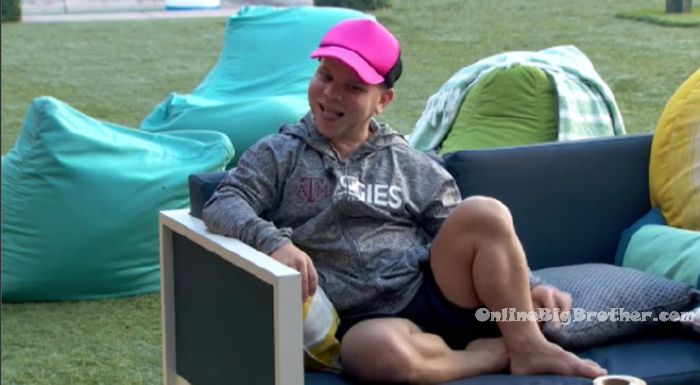 6:40pm Brett, JC and Tyler. Brett – you know what's crazy is Toys R Us went out of business. JC – its because of everything online. Brett – I don't like shopping online. I like brick and mortar. But now it is so quick. If you live in the right city near an amazon delivery (Amazon Canada
, Amazon USA
) [Shameless plug], you can get it the same day. That's insane! JC – like LA and Miami. JC notices the production scratched out Whole Foods off a food container. Brett – you never know with those live feeders. Tyler – what about them? Brett – if they'll see whole foods on something. JC – on the bottom of it and like this (small)? Brett – yeah. JC – f**k if they can see this on the live feeds .. they have seen my whole f**king body and my b*tt hole and everything! Brett – they probably have. Your beauty hole.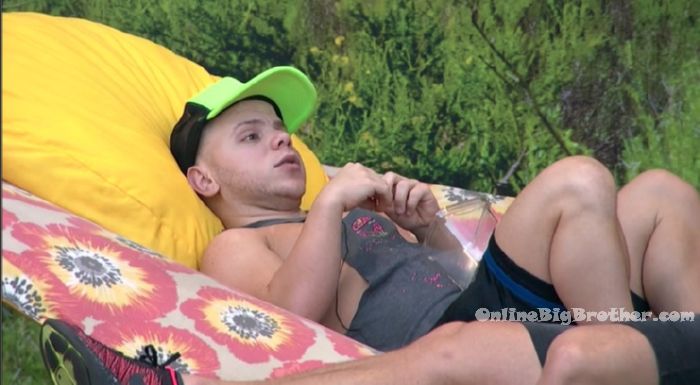 7:03pm Brett and JC. Brett – dude I roasted.. I hope Rachel kept her sense of humor because I roasted her. JC – where did you roaster her? In the DR? Brett – about the dinosaur. JC – ahhh.. damn!! JC – she wasn't event that old. She's 29. She really does look younger. She looked F**KING AMAZING! She is very good looking. Brett – I'm not saying she wasn't. JC 0 she had the best body in here. She has a better body than Angela. Are you telling me she has a better body? Brett – I don't feel like doing this comparison. JC – what its between you and me talking about girls bodies. Brett – we're on national television and I don't really feel like doing that. JC – I think Haleigh has a better body than her (Angela). Brett – they all have great bodies. I think anyone that came here has a great body. Brett heads inside.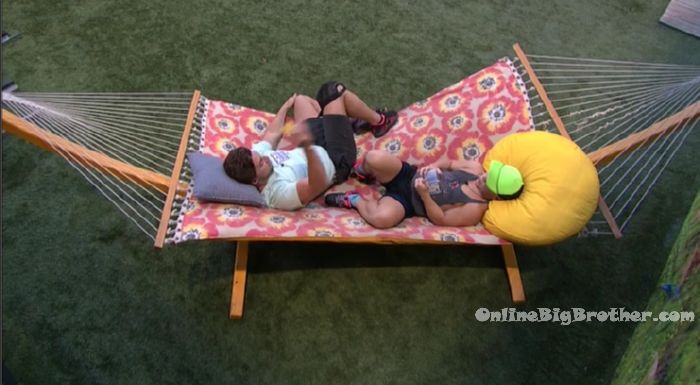 Kaycee – what kind of pick up lines do you like? JC – just don't remind me that I'm short!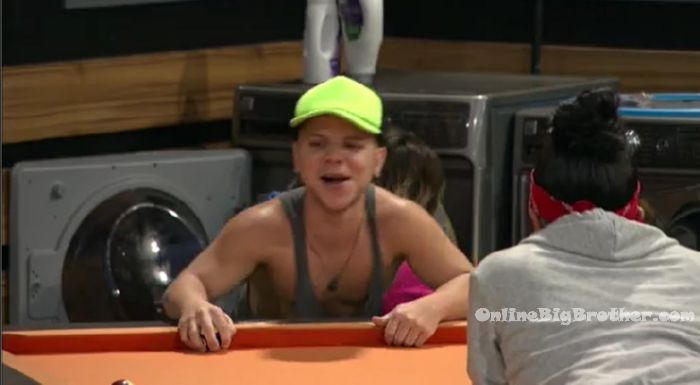 7:44pm Brett, JC and Tyler. Brett – who pissed all over the seat? Tyler – I said JC. JC – it was already pissed on when I peed. Tyler – its either me, Brett or you. I didn't even go in there. JC – the thing is I don't like touching my peepee when I'm peeing. So I just pull my shorts down and I pee. Tyler – the thing is .. I just can't aim. JC starts cleaning up the mess he made on the floor. JC – I don't know why I am cleaning this up .. Sam is the big brother maintenance girl.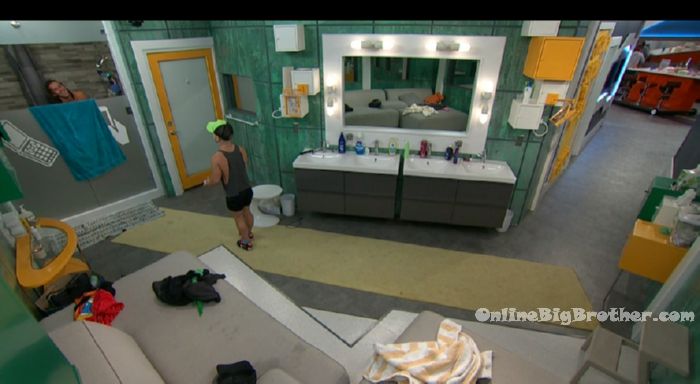 8:30pm Kitchen. Haleigh, Tyler, Angela, Kaycee and JC are hanging out chatting and eating.
One easy way to support the site if you are an amazon shopper is to make your purchases through our link. You pay the exact same thing but we get a small % commission. It doesn't cost you anything and helps us out.
Amazon Canada
Amazon USA
Rank the houseguests!
Easiest way to Rank the house guests use link below