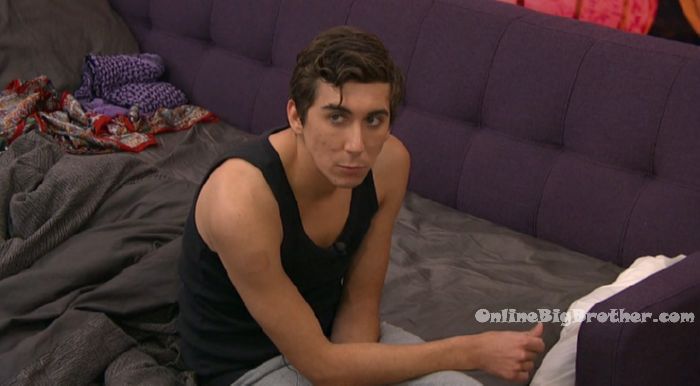 8:25pm Jason talking to himself. Okay, so whoever doesn't get nominated… HAS to win the veto. Like HAS TA, HAS TA, HAS TA! Thanks for the endurance comp that I asked for … that I tanked at! I should have know that do back flips over herself would have been able to stand on that sh*t forever. We've got to win the veto. f**king eh! I clearly can't win anything. Justin joins him and asks if he's okay. Jason – no, I'm f**ked. Justin – well I'm not too far behind you in the f**ked boat. Jason – hopefully the veto comp is something that we can help Kryssie win. Whoever isn't nominated we have to try and help that person win. Justin leaves. Kryssie joins Jason. Kryssie – whoever isn't on the block wins the veto. Jason – sh*t we couldn't beat them at a 1 in 4 chance, how are we going to beat them at a 1 in 5 chance?! Kryssie – we're going to go into it with a good attitude.. and pull it out. Jason – I went into this with a good attitude and I sucked. Kryssie – I really tried. Jason – I should have been great with my tiny a$$ feet. We just have to win the veto and hope that Justin doesn't play into their hands. Kryssie – he won't. I'm going to fight for you. We have to get that veto… it can't come down to you or Justin.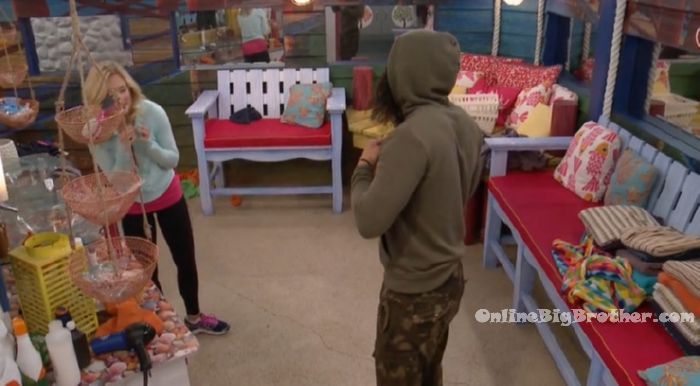 Bathroom – Justin asks Morgan – you're not going to throw me under the bus are you? Morgan – no, no, no… I want to carry out with what I originally said if possible. So no, no, no you're good. I am just so excited. I'm excited because everyone saw me as such a none threat in this comp. Now I feel like I'm in it! Justin – you're in it.. because you got yourself an HOH and you got two vetos.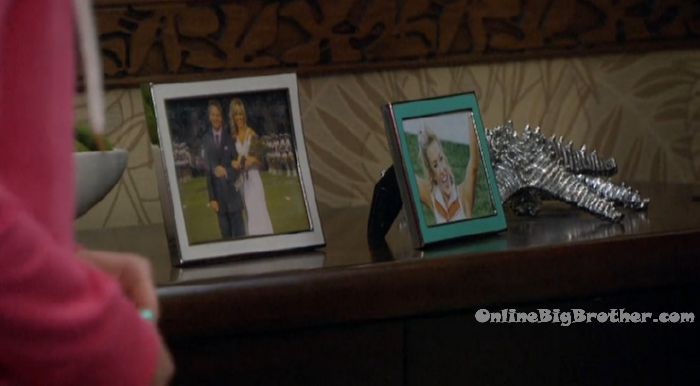 11:13pm Morgan gets her HOH room. All the house guests head up to see it. Jason looks at one of her photos and says – is this your date? Morgan – that's my dad. Kryssie – your dad is like really attractive. Morgan reads her letter from her dad and starts to cry.
Watch the BBOTT Live Feeds FREE for 1 WEEK!
Click here for your: FREE Trial!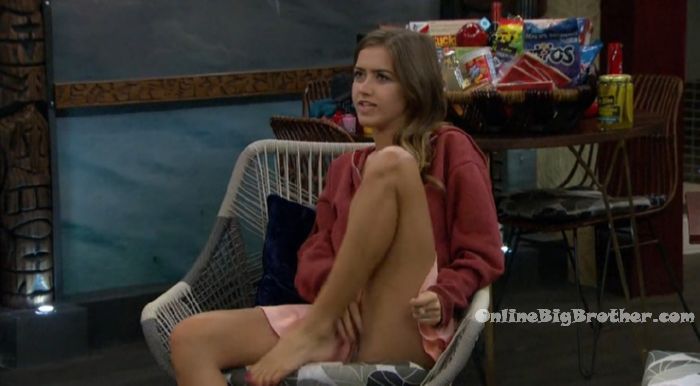 11:22pm All of the house guests but Morgan and Shelby clear out of the HOH room. Shelby – yay you're HOH! Morgan – we get the room back! We get the room back! We get the room back! Shelby – I get to sleep up here for 3 weeks in a row! Morgan – I'm so pumped! Shelby – I was down there and basically calling them out for trying to get me out the first week. You know that fight that Kryssie and Neeley got in .. it was about me .. because Neeley wanted me up. Morgan – she must have really disliked you then. Shelby – she hated me. Morgan – at the end of the day it just needs to be Kryssie & Jason together. Shelby – we might need to convince Justin to use the care package on me. It seems like they were trying to backdoor me this week from the way Jason was acting. Morgan – they definitely were. Justin joins them.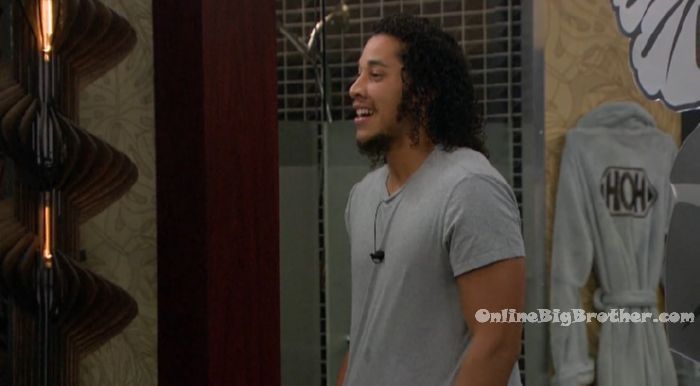 11:30pm – 12am Justin & Morgan. Justin – no matter what … I know that Shelby is going to try and change your mind at some point but I mean can I really count on you though? Morgan – yes. As long as we're HOH we control a lot of things. Shelby joins them. Morgan – we're talking about how we need to have Kryssie up on the block with Jason. Morgan – your care package.. Shelby – if you keep someone else safe it might have to be me so its not someone else that goes up. Morgan – we 3 just need to be on the same game plan that if Jason is up we have to vote him out this week. Shelby – I have no problem with that. Morgan – we have time. Your care package won't even come till Friday and we don't nominate people till Sunday. Shelby goes to the bathroom. Justin tells Morgan – I got you. Justin leaves.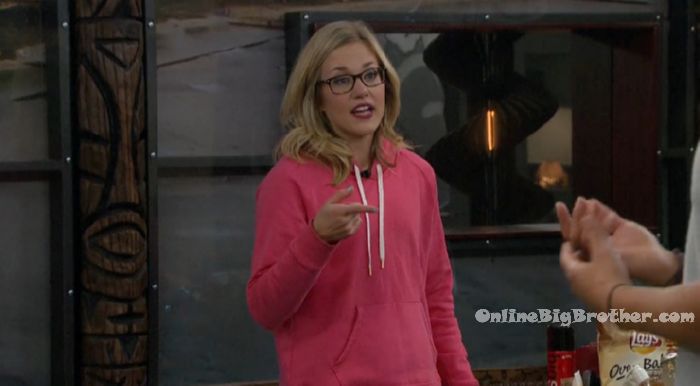 12:10am Bedroom – Jason, Justin and Kryssie are talking. Jason – your care package might protect you though depending on what it is. It might be a buy in to the final 4 for you. Justin – that means Kryssie and I would be automatically nominated. If you get immunity, she would have to put up Shelby and then you and I would vote her out… BOOM KAKA! The best case scenario is your care package is immunity. Justin – I will take whatever it is. Jason – I want to make them eat dirt this week. I want to run them over. I want to grind these girls faces into dirt!
FLASHBACK to any point in the season!
Click here for your: FREE Trial!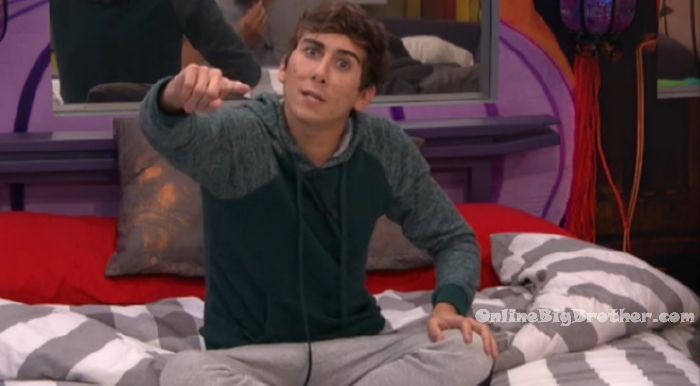 1am – 1:15am Kryssie starts crying. I had to relive the comp. (In the diary room) I just hate being reminded of how f**king close I was. If you (Jason) go home this week, its my fault. Jason – don't say that. Justin hugs Kryssie. Kryssie – unless your care package has a miracle in it, one of us is f**ked. Jason – its not your fault. Justin – everything is going to work out. Kryssie – I f**king hate this place. F**King nominate me, I don't want to do this bullsh&t any more! Justin and Jason say no. Justin – you've got to stay, you're my sanity. Jason – I can't control Justin. Justin – I don't even trust this bastard! Just kidding. Kryssie –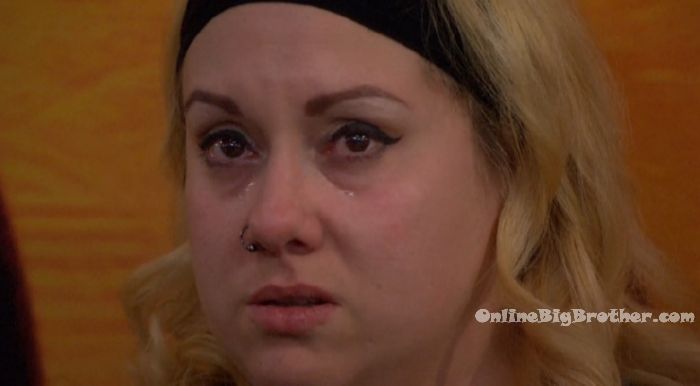 TIP JAR
Please consider giving a donation to help us keep the lights on. All donations go directly to helping cover the considerable costs associated with running this site. Any amount is greatly appreciated.