Quick Big Brother Spoilers
Head of Household: Cameron
Nominees: Felicia and Izzy
POV Players: Izzy, Cameron, Felicia, Matt, Jared, Jag
POV Winner: Jared
Veto Ceremony:
Havenots: Everyone except for Cameron is a havenot this week. Everyone is on Slop, Everyone takes cold showers, and they all take turns sleeping in the havenot room.
Lock your ranks in before midnight
The Situation Kaboom.. Izzy and Felicia on the block. Jared isn't using the veto. Felicia will likely go home.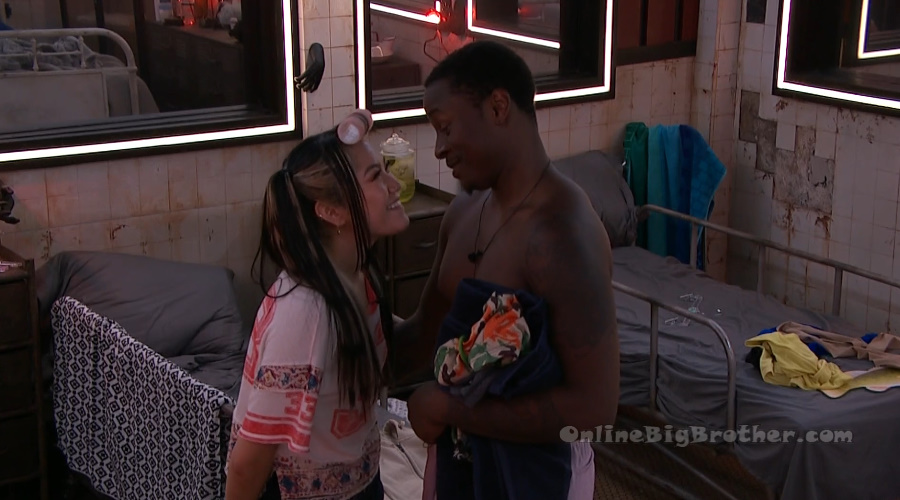 10:30am – 3:30pmThe big brother live feeds were blocked for the power of veto competition.
JARED WON the Power Of Veto!
* It was a prize swap POV competition
* Jag got the $5,000
* Cameron got the Europe Trip for two
* 5 costume punishments for 48 hours
* Matt costume has something to do with Josh Duhamel dinner (card board cut out or something)
* Felicia and Cirie have a Kayak Costume for two.
* Izzy and Cameron have to wear pig suits digging dirt for 12 hours LOL
Bedroom – Blue and Jared.
Jared – damn this sucks! Blue – this really sucks because its you two out of everyone. Jared – I know. I just couldn't take the G's. Blue – I don't know how you're going to talk to them but if you want to let down Felicia.. it depends are you going to let her know? Are you going to let her down easy? Because she is pretty confident that she has the votes. Jared – If I take you down, Cirie went up.. Cirie does not have the votes against Izzy. You've got the votes against Izzy so I am going to keep them the same. And honestly at that point, I am just going to let people pick but I just know that Cirie don't got the votes against Izzy like at all! Matt joins them. Blue – I wonder what your prize really means. Matt – I know. Blue – I bet you have to hang out with the paper cut out. Matt – I thought it would be the real deal. Blue – you did great though.
3:50pm Bathroom – Cirie, America, Izzy, Meme, Jared and Blue
They're chatting about the comp and how it was 3.5 hours long.
Living Room – Cory and Jag.
Cory – I don't know exactly how it plays out but it should be good. Jag – yeah I think it should be fine. Cory – If you were in any danger this is not how the week would have gone. It would make no sense. At some point we should have a Jag/Cory one on one. Jag – I'm down.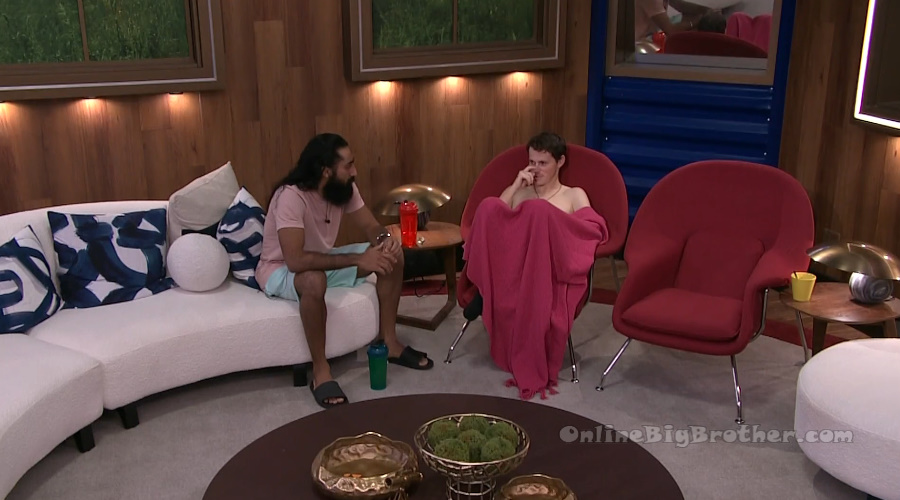 4:05pm Bedroom – Cameron and Jared.
Jared – Jag was going to let her keep it. Cameron – we'll talk later. Jared – yeah I want a convo. Cameron – You just let me know if you want to keep dropping grenades. Or if you want to be safe? Jared – let me know when you want to? Cameron – I got all day. Jared – probably later on tonight. Cameron – you know where I live. Jared – not with Matt, just with you and me. Cameron – no yeah it has to be. Jared – cool. Cameron – if we're going to drop grenades, I'm in!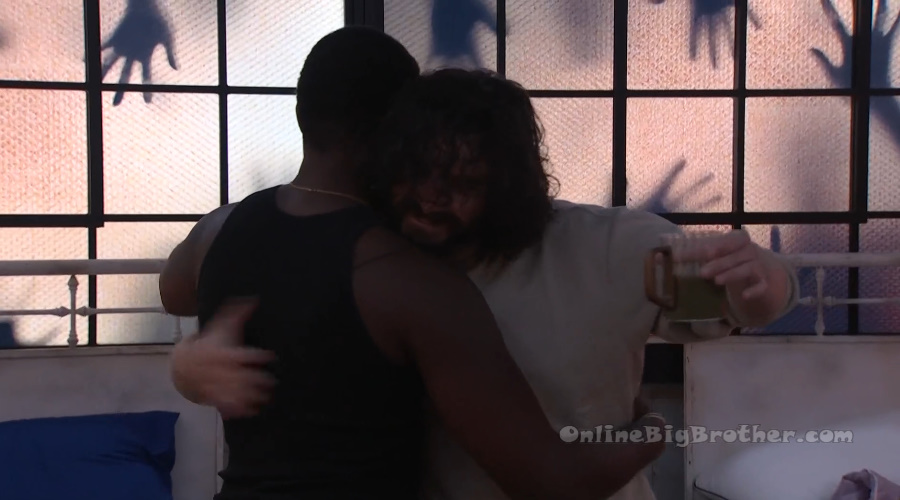 4:15pm Bedroom – Jag and Jared.
Jared – felt good to beat him. Jag – oh I'm sure. Jared – now he's got to do that sh*t one more time. Hopefully he doesn't even get picked. In the case where he does, we just have to beat him one more f**king time bro. Jag – you won the veto so are you planning to have one on ones or meet up? Jared – I don't know.. His plan is to backdoor Cirie. Jag – is it? Jared – yeah. If I use it on Izzy, then Cirie goes up against Felicia. At that point I guess its fair because I don't know who got the votes. Jag – exactly. That might be smart, that way you don't go against him because if he is telling you to use it .. that might be the best move. Jared – I need to pick his brain to see where he is at. I think he is going to backdoor Cirie.. I just don't know who to keep on the block. Jag – did he say if he wants Izzy of Felicia on the block? Jared – he didn't specify. He asked me if I want to drop another bomb. Who the f**k is that other bomb? It could only mean her (Cirie) or you. .. I doubt he is talking about Cory. He wouldn't be talking about Matt. Either Cirie or You. If you won it what would you do, keep it the same? Jag – yeah keep it the same. The power now is in your hands.. so you control the conversation and how it goes. What would you prefer to do? Jared – I would prefer to keep them the same. I know Izzy will stay. I just know it will HURT BRO .. I love Mama Felicia and I know she loves me too but I am not using it on her. Its basically who do we want to keep Mama Felicia or Cirie.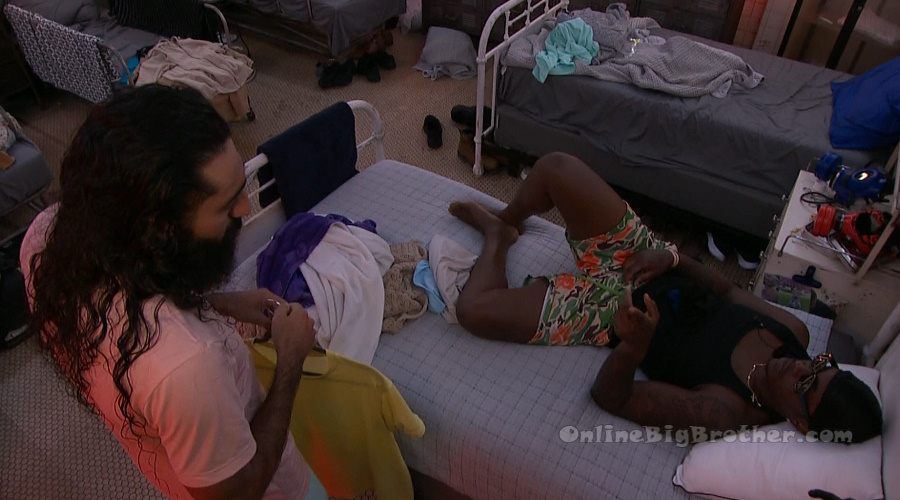 4:59pm Comic Bedroom – Matt and Cirie.
Matt – do you feel good about that? Cirie – yeah. Matt – yeah because I was seeing who was in and who was out. I knew we could keep it the same so we're chilling. Cirie – as long as he keeps it the same then I feel much better. Matt – yeah yeah yeah… I didn't even know what he was going to do. Cirie – I just hope it doesn't backfire on POO in anyway. Matt – like making him use it? Cirie – no, like I hope it doesn't affect his game. Matt – I don't think it will, I think he will tell him to keep it (the same). We'll see. Cirie – hopefully..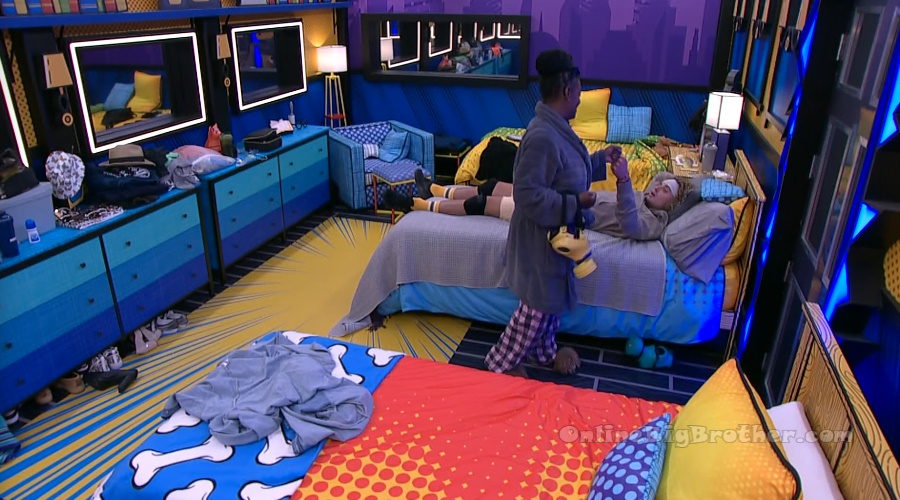 5:04pm Bedroom – Jared and Cirie
Jared – I had to. I had to. Cirie – Oh I know. Jared – he was already talking about letting her keep it. Cirie – I know especially after I heard what happened. I know, I know. Jared – I feel bad but. Cirie – but on our side there ain't going to be no repercussions its just what Cameron is going to tell you what to do. Jared – he already came in here and was like are you ready to drop bombs?! Cirie – WOW!! Oh my god! I love you. He is in a pig suit (Cameron & Izzy) with her digging dirt for 12 hours. They both laugh. Cirie – I love you.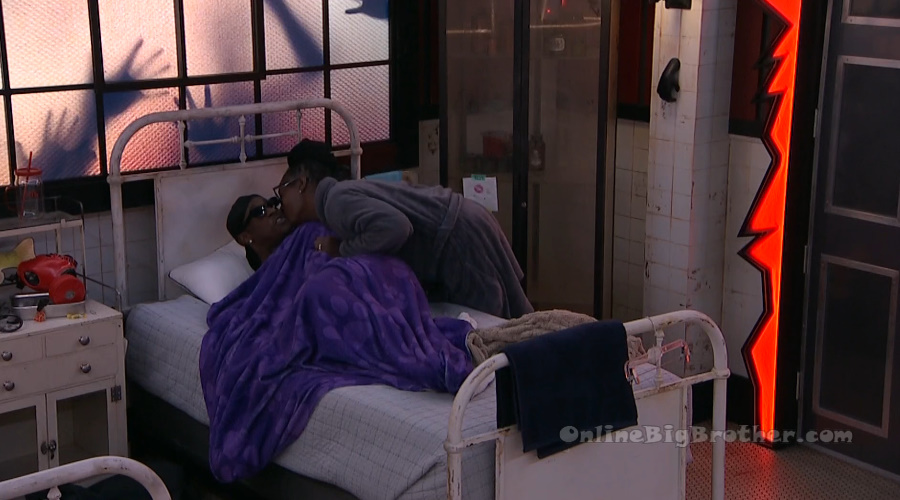 5:39pm Bedroom –
Jared – Dude wants to back door someone. Matt – and we probably won't know. I'm going to go move around a little bit. Jared – I'm going to shade tan (sleep with sunglasses on) for a bit and then come talk to you.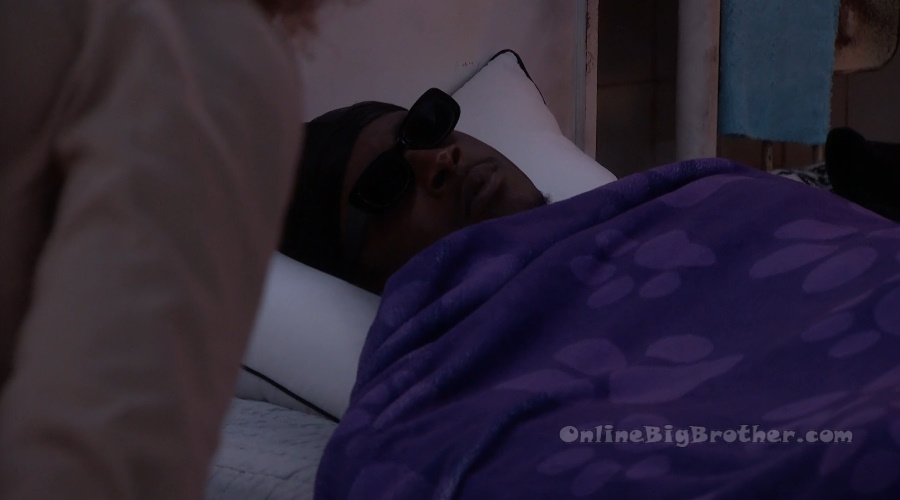 5:50pm Bedroom – Izzy and Jared.
Jared – I was happy as hell and wanted to celebrate. You know I got you bro! I did not want to take the risk of them letting her keeping it. Izzy – you're going to keep it all the same right? Jared – of course. Izzy – and we're going to be solid. Jared – of course. Izzy – and campaign. Jared – you just let me know if you get any feels that its different and I'll just take you down. Izzy – I know, but I feel good. BB switches the feeds.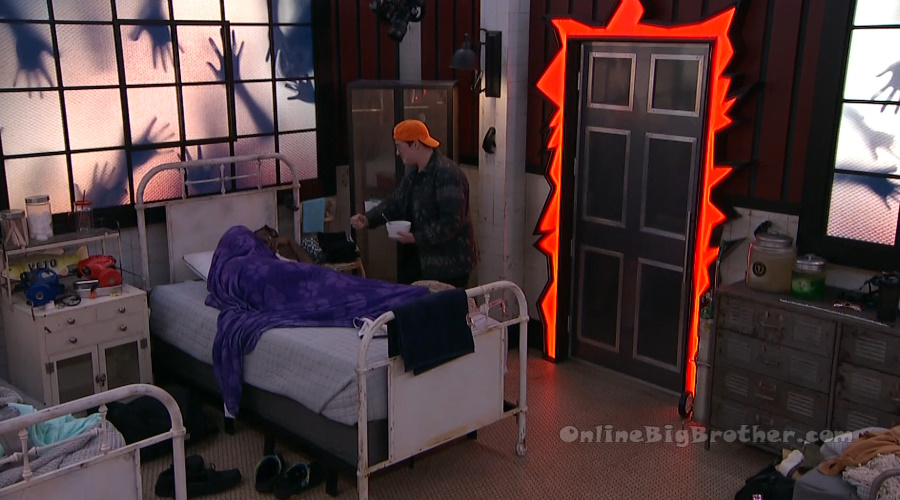 6:15pm Big Brother blocks the feeds.
6:49pm Still blocked.
7:01pm The feeds switch to the kitten cams.
If you've enjoyed our updates so far this season and want to leave a tip you can do so through PayPal. You don't need a Paypal account to do it.
Thank you in advance!