Quick Big Brother Spoilers
Head of Household: Jared
Nominees:
POV Players:
POV Winner:
Veto Ceremony:
Havenots: 
Lock your ranks in before midnight
The Situation: Welcome to Cirie's HOH I mean Jared's MOMMY – "we're going to put up Cameron and Red and Cameron is going home. Its already decided"
JARED WON Head of Household!!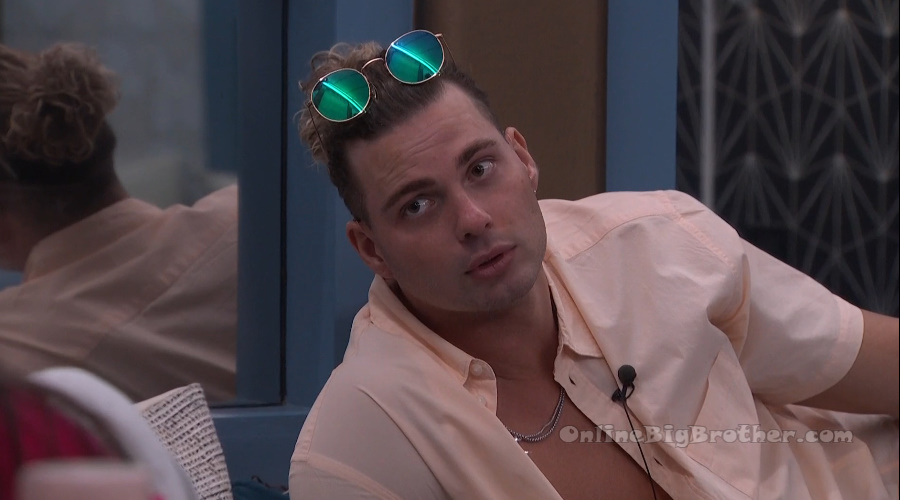 10:19pm /The live feeds return from being blocked for the live eviction episode where Jag was evicted but then saved by Matt with his super power. Everyone including the out going HOH Cameron played in the HOH competition.
Matt and America are in the bathroom chatting about New Orleans. Matt says he knows Swamp People. Matt – I was going to call people out and then I called Julie, JULIA. America – its okay, its okay. Its because I am thinking about what I want to say and then I am getting nervous. America – oh brother. Matt – next week I just have to get it right. America – I feel really good with Jared. I feel really good with Jared. Matt – I think a lot of people do. America – I think Red and Cam. I think Red is the target. Matt – okay. America – Which is good. Matt – I mean obviously that's the plan. I knew that was going to happen. Red really likes me. America – I know he does. He hates me. Has he told you? Has he talked about me? Matt – I think he is scared of anyone that is outside of his group. America – he said I hate America, I don't trust her. She's flirting with Cam. I don't respect that. Was he telling that to you? Matt – no, he just said he was ifffy about you. America – I don't know what I did. I haven't spoken to him. Matt – that's probably why.
Meanwhile the other house guests are chatting in the games room. Felicia telling Production that – Jared wants some seasoning pepper in his basket.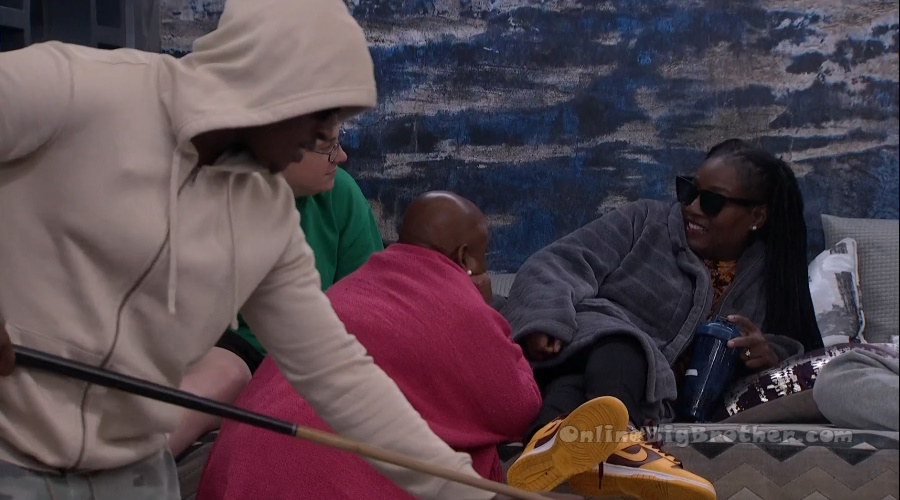 10:33pm Bedroom – Jag and Cirie.
Jag – my question is though .. what happened with the vote? Cirie – when I went up there and you left, I was like so ya'll good? And they were like no. Jag – oh sh*t? Cory and America? Cirie – nods. Jag – even under the assumption that ya'll were wanting to? Cirie – even under the assumption, yeah. Jag – wow. Cirie – I swear to god. And then America said today, should we just tell him? I don't want him to be shocked. Jag – America said that? Cirie – yeah. And then I said yeah lets tell him. And then she talked to Izzy and Izzy was like NA, we don't want him to like.. be upset or sad. So yeah that's what happened.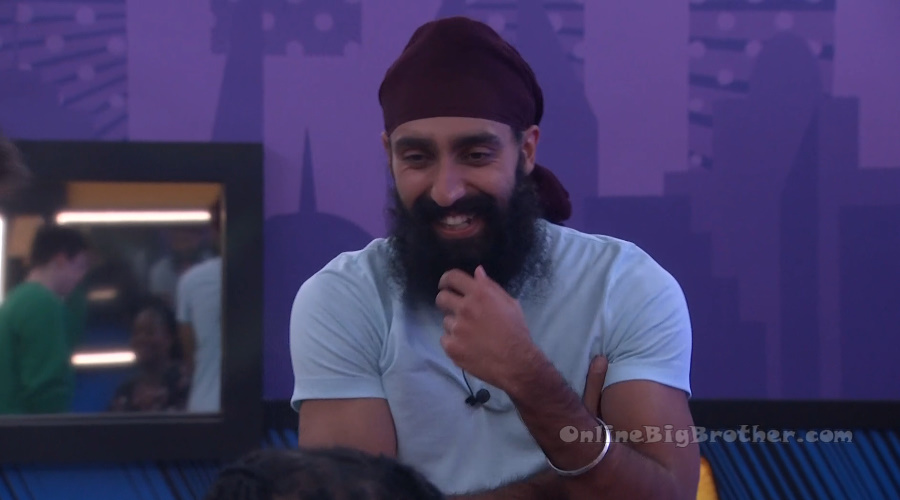 10:45pm Comic Bedroom – Izzy, Jag and Cirie
Cirie – that's why you've got to watch how you treat people. Red was like I don't think I was being an a$$hole!? I just wanted to know what time? You (Jag) played that good. Izzy – so good! Jag – I mean I wasn't going to say nothing. I am not going to entertain this. We don't got a relationship where we can be like that. He started off with the assumption that I played and then asked what time I had. Like in front of everyone. Cirie – well the tide has turned. Jag – The tide has turned! Life sure is sweet! Izzy – what a good day. Jag – today has been probably the best day. The craziest day for me personally. Izzy – I can't believe it has all just been one day. Jag – ALL of this happened in ONE day. Everything.. the tide just turned. Red comes into the bedroom. Red – I really hope you don't take offense to what I said. Jag – you're good. Red – it was a tense moment and maybe I shouldn't have asked that question because you just went through all those emotions. Jag – Its no hard feelings. I am chilling. I am blessed to be here. I am feeling mad grateful to be here. Red leaves. Izzy – he is freaking out. I can't wait to be so nice to them this week. Jag – think about this.. Cam won the pressure cooker .. he was in there for 14 hours.. this week went perfect for them until the very last hour.. not even hour.. minute. Red wins the veto.. I know they were like we are the dynamic duo. Who is going to stop us!? I got evicted!! Everything that you won and you won .. f**k you! I am still here. Izzy – this is good tv right!? Jag – this is great tv. OH MY GOD!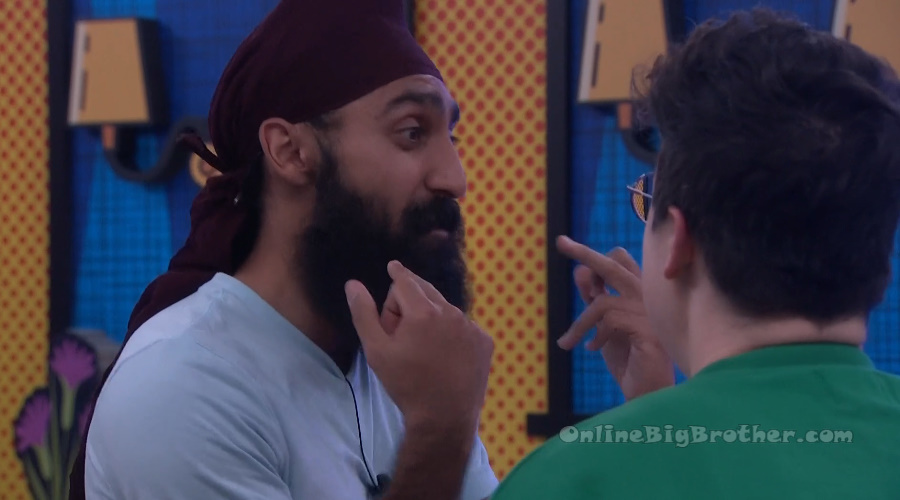 10:50pm – 11pm Comic Bedroom – Cirie and Matt.
Cirie – The only person that said it could have been Matt was Cory. Cory said it could be Matt. Felicia doesn't know that you won (the super power). Listen listen, she doesn't know that you won but she told Izzy that you played. I am glad you didn't tell her you won. Matt – she told Jag too. Cirie – but you didn't tall her that you won. I told you not to tell anyone. Its good that you didn't tell her that you won.. so nobody knows. She thinks Jag won. Matt – so I can't tell anyone. Cirie – you can't tell anyone. The only people that know is Me, you and Jag. Don't tell no one else because everyone talks. And then Jared WINS! Cameron already said to Jared, I wanted the week off but if I have to go up as a pawn.. I know the common room got to go. Cameron is already throwing Red under the bus. So we are going to put up Cameron and Red and Cameron is going home. Its already decided. Cameron got to go. Jared is going to make him feel real comfortable. So we don't want him to go for the veto. We don't want him to play in it. He is going to think that Red is going home and then he is out of here. Izzy and Felicia join them. Izzy – we have a good shot at veto.
11:25pm Living Room – Cory and Izzy
Cory – I am sure she will tell you if you ask but it was just like .. just like I can't control myself around you. Izzy – Gross! What the F**K! Cory – its just weird. Yeah. Izzy – Gross. Did she tell you what Red said to Blue? Cory – She might blow up on him. And I don't f**King care. Honestly it might gain her some trust. Izzy – Yeah. Cory – and honestly we're due. Izzy – yeah I know. Did she say while in the pressure cooker when me, Jared and Cirie dropped .. well good and they want us to do their dirty work for them? Cory – in the pressure cooker? No. Cory – She was complaining to me why the f**k are all our allies dropping immediately. And I was like well I don't think it was on purpose. But I think what pissed her off was everyone saying she made a deal, she made a deal .. and she was like I was in there for 14 f**king hours. Izzy – yeah. Cory – and you guys were in there for two ours like shut the f**k up. Which I do kind of understand even if she did take a deal which she did. Izzy – you have to ask you can't be mad that people are playing big brother. Cory – no yeah but that one thing I get it.. its like you're telling me I didn't do enough in the competition? But you're right. Izzy – I am good with America. Cory – NO one is ever going to be GOOD with America. The second she stops becoming .. at least to me right now she is extremely important to my game. I think to you she might not be extremely important but she is useful. And the thing is .. if Jag wins an HOH ..she might actually become really important. I tell you what he walked back into this house and he trusts her. I don't f**king know why because it was 10-0. But they hang out way more than I do with her. But BRO, this week is so good! Izzy – I know. Cory – we got so lucky. If either of them (Cam or Red) win the veto.. it doesn't matter (meaning the other then goes). I want Cam gone and mostly so that he is not here for Jury. Izzy – I want both of them out before jury and now we have a shot of getting both out before jury. Cory – one of them is guaranteed. And honestly next week I am just down for Bowie & whoever survives. In the veto I am going to gun for it. Cam is just gross.
11:40pm – 11:53pm Jared gets his HOH Room. Jared's HOH letter is from his brother. After he reads letter he said I am glad to share this with ya'll, this room is open anywhere between 11 to … just kidding I know my mom is watching so .. just kidding ma. I can't wait to share this with you. Blue you can move your bag up. I am going to get in trouble when I get home. MA just kidding.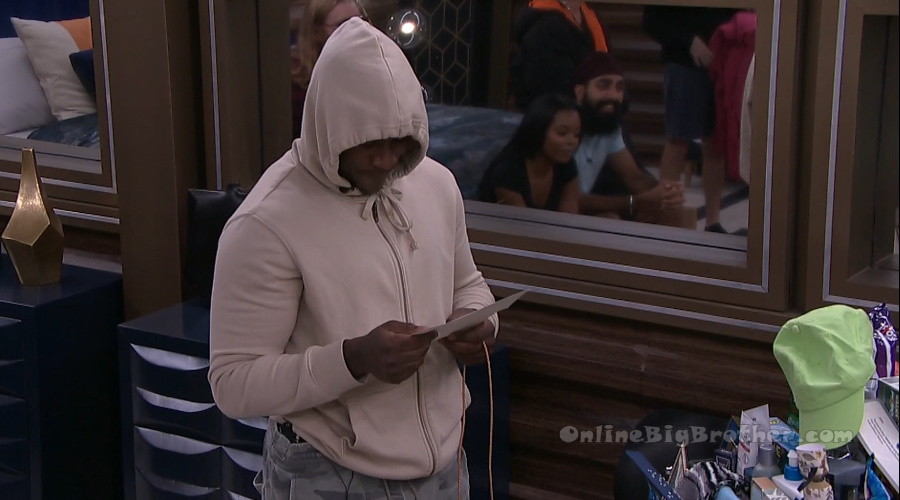 11:58pm Bedroom – Cory, America and Meme.
Meme – Like I don't think that is funny. America – I don't either.. Like I don't want to hang out with them. Meme – Like that is not fuuny. America – he did it last night, he did it the night before… for like the last week. Meme – Like it is actually very irritating. America – its weird. Cory – I am going up stairs. America – if you don't want to hang out with them.. you tell them. Cory – absolutely, if he comes up I am going to tell him. Meme – when he was sitting in my room I was like why are you planted here? America – I hadn't noticed until Cory said something a couple days ago. Cam like told him (Cory) that he gets really possessive. Meme – WHAT?! America – and then today what he told me in the lock.. BB switches the feeds.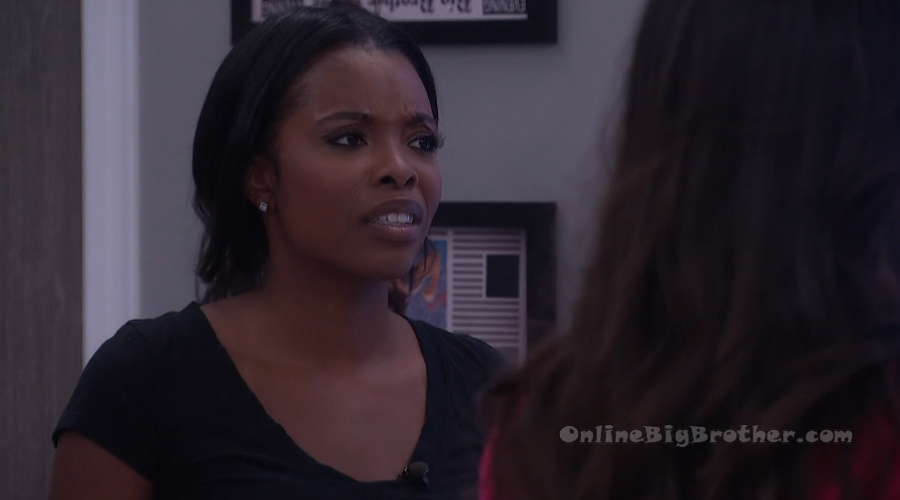 12am – 12:40am HOH room – Jared and Matt
Matt – I wanted to tell you but I couldn't tell anyone. Do you know why? Jared – no why? Matt – because I needed to know which way the votes would go because if the votes got f**ked it couldn't happen. If the votes were half this wouldn't have worked. Jared – you got lucky. Matt – not me but Jag and Blue. Jared – yeah they would have been f**ked. And I f**k with you.. and I knew that you would. I can't lie. Jared – honestly I am not even mad at you. I know I told you I would be pissed off .. I guess it came at a good rime also. Matt – and that's anther thing, You can't lie about the power.. if you could that would be so smart but you can't. Obviously it was called the invisibility and it was only able to be used this week or next week. And I could use it for my self but I am not a selfish person. Jared – one thing I will tell you can trust me my boy. One thing I want to tell you.. Jared – Now that its over I can say that if Cameron, Jag might as walk out the door.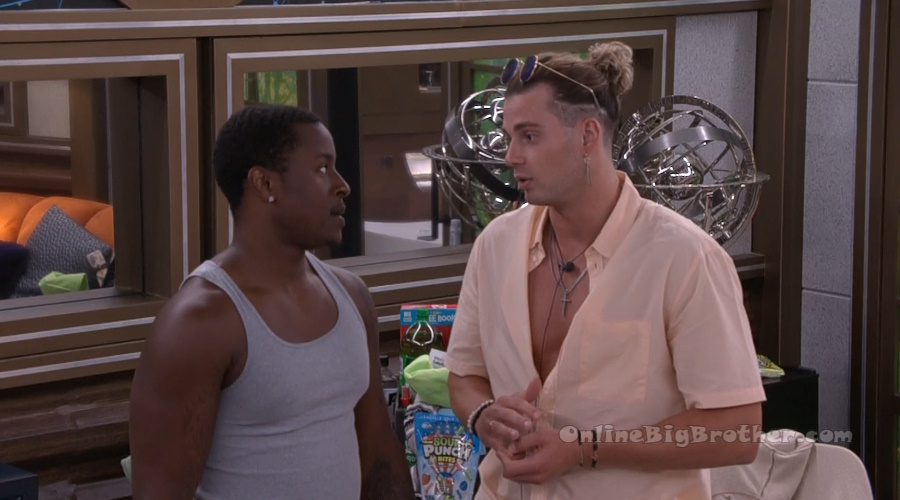 12:33pm – 12:45am BB opens the backyard.
If you like these spoilers and read this blog regularly please consider a donation to keep the madness going. We accept donations via paypal How to support OBB