POV Holder:
?
Next POV
April 23rd
POV Used
?
POV Ceremony
April 25th
HOH Winner:
Cassandra's Dad
Next HOH:
April 28th
Original Nominations:
? and ?
Current Nominations:
? and ?
Last Evicted Houseguest
Paige, Sharry, Christine, Kelsey, Loveita, Dallas, Mitch, Raul, Maddy
Have Nots
Family members decided no have nots
Watch the Big Brother Canada 4 Live Feeds anywhere in the world with HideMyAss VPN.
ALLIANCES IN THE HOUSE
There will likely be a lot of alliances during the season – keep track, read our alliance help guide.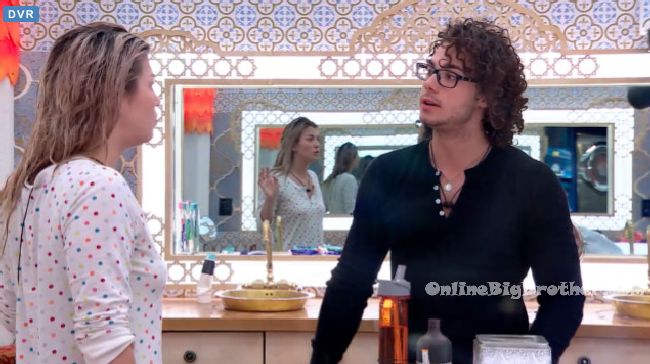 Jared and Kelsey arguing about what Kelsey wants to tell Cass. Kelsey wants to tell Cass that when the 3 of them are in the finals she would take her to the final 2. Jared thinks Cass will think why not get rid of Jared now then. How is screwing me over helping me?! Jared "What the f**K do you want me to do?!" Kelsey "I literally hate you right now! Can you just f**K off"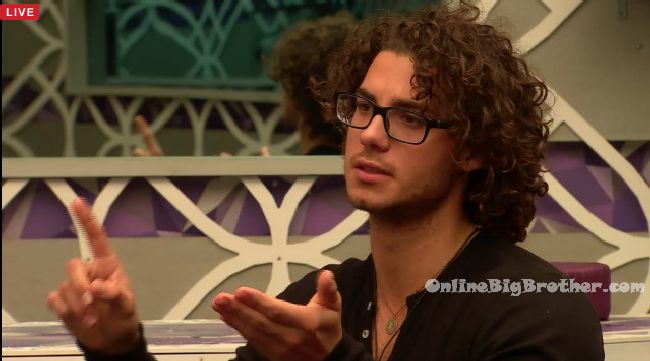 9:30am Hot Tub room – Kelsey says my brain hurts. We just have to keep her on track to get the brothers out. Kelsey says she needs to believe that at least one of us will take her to the final 2. I'm trying to get into her head a little bit. I get it, its a risk. But we need you to get to that point. But she also needs to believe that one of us will take her to the final 2. Jared says its going to be Joel, the brothers, Tim and you telling her that (Final 2). So she'll want to get rid of me, I'm the only one not telling her that. Jared says not to do it until after noms. Kelsey says if she thinks that neither one of us will take her to the final two she would try to get us out. I'm not going to throw you under the bus. If she's thinking about the finals, which everyone is… we need to get out the Brothers, Tim and Nikki. Jared says she's not so moronic that she would believe that you would take her over me. Kelsey says you need to go talk to her too. Jared says he's just telling her the consequences.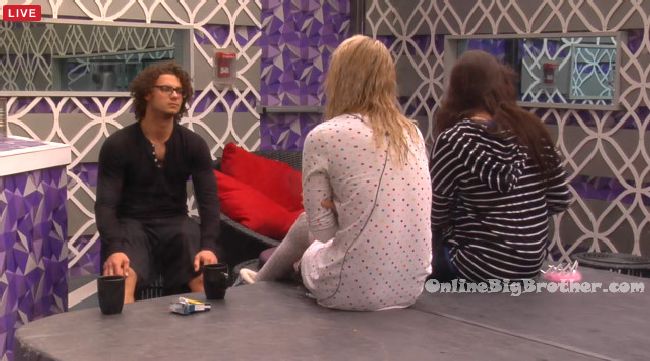 Cass joins them. She says her Dad told her to talk to everyone. He told her to listen more and talk less. Don't be like Maddy. I don't think he should have told me that he told me too much. Big Brother blocks the feeds. Cass says I need you and Tim playing in that veto because if I put Nikki up as a pawn then that is me and her that can't beat the brothers. Cass says we need to ensure the brothers leave. Cass asks what the brothers said about her. Jared says they said you're a snake playing the whole house. Kelsey says I think you put up Nikki and the brothers. If the brothers win the veto then we get out an international being Nikki. Jared says I would always put up the two people I want to get out. This week there's only 1 person that doesn't play (in the veto). Worst case if Nikki leaves then at least Tim only has you. Jared says then next week you have her, me and Tim who wouldn't put you up on the block, not even as a pawn. Cass says I wouldn't put you up. I want to go to the end with you guys. Jared says we want that too. Kelsey says I think you should just put up Nikki and the brothers. Cass says you guys have to know that I'm not a snake to you guys. I'm with you. Cass asks if I put a pawn up and they come off you would vote the brothers out over Tim? Or if The brothers come off and Tim goes up next to Nikki, I just have to make sure you would vote Nikki out. Jared and Kelsey say yes. Cass heads inside. Kelsey says she would want Tim out over Nikki. Jared says we'll deal with that when we get there. Don't say anything to Cass about Tim.
10:15am HOH room – Kelsey talks to Cass about how the brothers were campaigning to get Tim out. Cass asks why Kelsey never came to tell her. Kelsey says we were never considering getting rid of Tim. Cass says I want to to know exactly what the brothers were saying about me. Kelsey says they were banking on you not winning HOH. Kelsey then goes to Jared in the bedroom.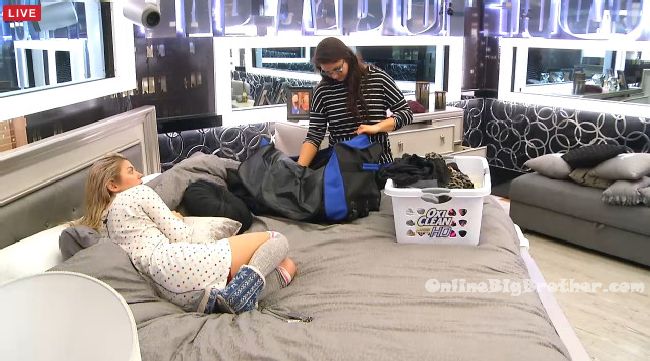 11am Phil and Nick talk. Phil says he wants to tell Cass that Nikki wanted her out last week and if she stays and wins HOH next week she will go up. Nick says if we go out, I can hold my head held high. Phil says if its a physical pov, I could dominate it. Phil says we have options and we can manipulate the house. I want to have Tim and Cassandra in the room.
12pm The brothers talk to Kelsey about how if they go on the block next to Nikki they are going home. Kelsey tells them that everyone loves them… you were Canada's HOH. Phil says him (Nick) and I were the f**king best players in this house. You just need to start listening to us. Who's taking you to the finals… what we said wasn't fake. If we're sitting next to Nikki who are you voting out? Kelsey pauses. Phil says you would vote us out. In a double eviction you and Jared are going up. Guaranteed.
12:30pm – 12:43pm In the bedroom – Phil and Nick decide to call out Cassandra. Phil says we're going on the block regardless. Joel joins them and them tell him they're going up. Joel asks how do you know, did Cass tell you? They say no Kelsey did. Joel says Kelsey doesn't make the decision. In the kitchen – Phil tells Nick we won't even talk to Cass and if she asks we'll just tell her to get ready for our speech.
2pm Big Brother blocks the feeds.
3:15pm The feeds are still blocked.
Watch the Big Brother Canada 4 Live Feeds anywhere in the world with HideMyAss VPN.