The Situation:
Jared and Cameron are living in the house as "Zombies"
No HOH, No Power of Veto, No Eviction. Jared or Cameron will get a chance to reenter the game.
Jared and Cameron compete in a week long comp to decide who gets to play in the puzzle comp to reenter the game
Lock your ranks in before midnight
9:13 am Cameron and Jag
Jag is giving strategy advice for the competition Cameron and JAred have to play.
9:30 am Cameron is showing off his Zombie costume.
9:38 am Cameron zooms into the Zombie memory walls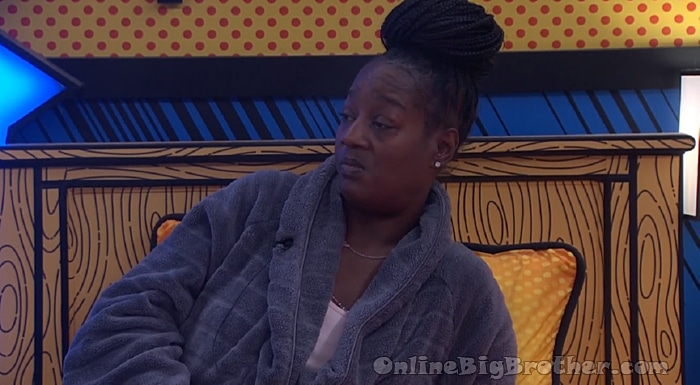 9:44 am Felicia and Cirie
Felicia – now all everybody is saying.. how are you feeling?
Cirie – we have to figure out this mess first
Felicia – I really hope Jared is the one that stays and not Cameron. Ohh my god
Felicia wonders who Cam will go after first
Cirie – no telling he was against us but now I don't know. He could be on a combination. I don't know.
They wonder if there will be another power. They seem to think there is.
Felicia says the house is trying to figure out if they've teams up again.
Cirie says she had a conversation with Corey and America where they agreed not to put each other up.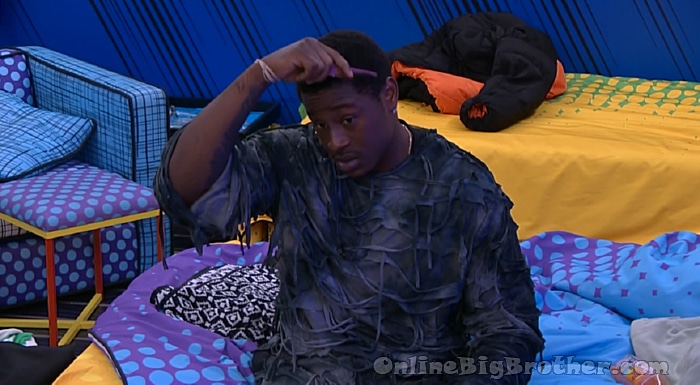 Jared joins them.
They start talking strategy in the competition Jared and Cameron have to play. There's something to do with "balls"
Felicia – what's everybody saying crazy?
JAred – the Normal, Sorry. America tried not to make it happen, Corey was hell bent on making it happen.
Felicia – trying to make what happened?
Jared – that happen. She supposedly didn't want us to go up.
Cirie – WHo you?
Jared – Yeah.. Told Corey that for some reason umm…
Felicia – she's lying through her teeth. Straight through her teeth.
Jared – everybody jumping ship so… yeah.. so… umm… I don't even care no more. I got to focus on this sh1t
Felicia – who did she tell Corey to put up?
Jared – she didn't specify.
Felicia – she certainly didn't tell her to put up Blue
JAred – that I know for a fact.. According to him he needed to so what he had to do. That's what makes me believe her a little bit I know she didn't tell him to put up Blue and he still did that. that's one thing I can believe.
Felicia says maybe corey was trying to stay true to what she said to Cirie "You don't put me up I don't put you up.. you know he's smart"
Felicia – trust me those guys told me they were putting up you two he flipped from that and put up you and Blue.
JAred – yeah but she (Cirie) was going up next regardless
feeds flip to the living room.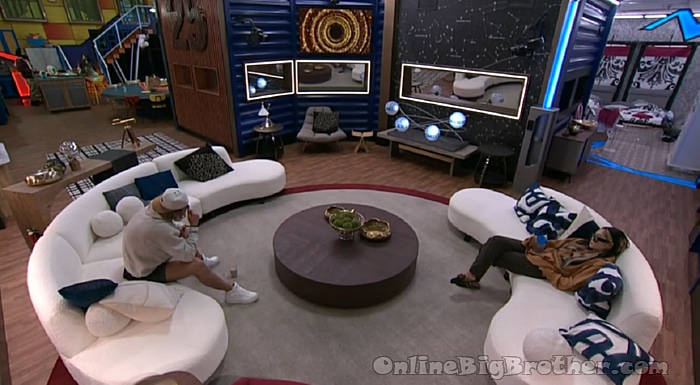 10:02 am Awkward chit chat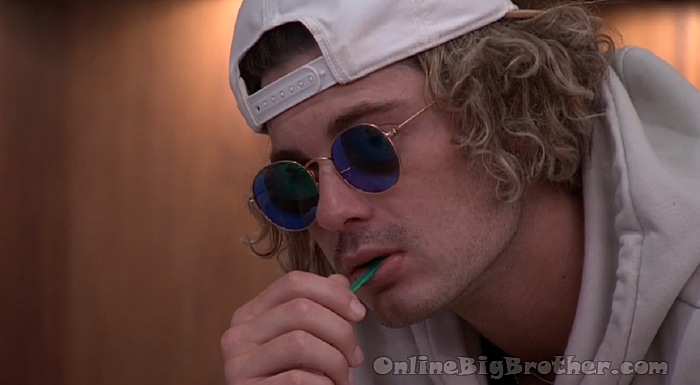 Matt chills…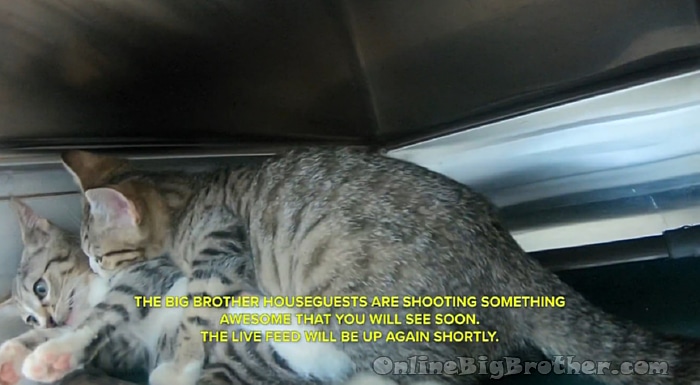 10:15 am Feeds cut to pound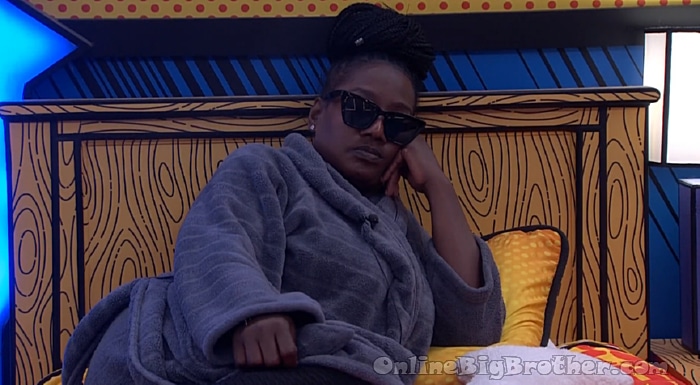 10:50 am Feeds return…. Nothing much being said
Cirie wonders if the next competition will be this evening.
Bowie – Three (comps) within 24 hours.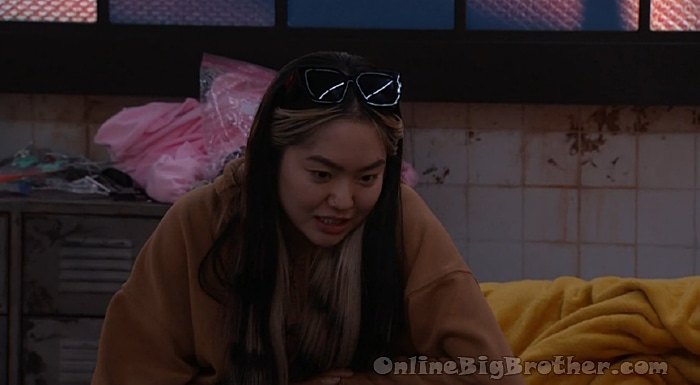 10:57 am Blue and Jared
Jared says he's adopted Cameron's strategy in the competitions.
JAred – he's got be beat by 4 .. I have to catch up
Jared – tonight's the night.. Regardless.
Jared – I can't be mad at nobody but my f***ing self.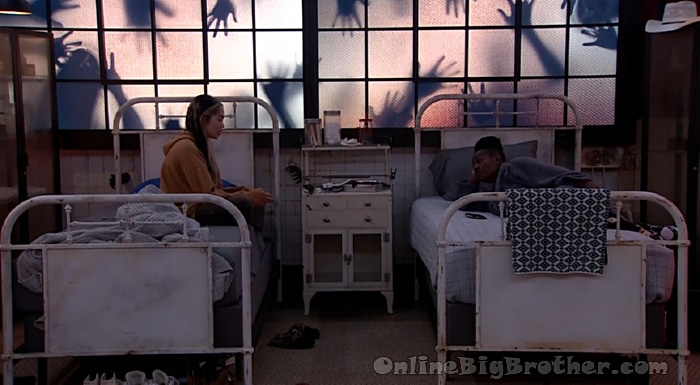 11:02 am Blue and Cirie chat about everything that went down.
Blue – I caught wind that you and Jared were going to be the next people on the block. I knew that from Corey and America which was the obvious play. I was getting a sense of that from Jag, Matt I truly had no idea. That's how is started. They were flirting with this Idea having you two on the block.
Blue says they came up to her and wanted to work with her. After last week's Corey and Jared "Fiasco" she thought she was getting played.
Blue goes on about how before this "Fiasco" she was solid with "Y'all"
Blue says what she decided to do last week was in flirtate a group and try to get their trust by not telling JAred "I really couldn't past him that he would not tell you"
Blue – It's not even the fact that I thin Y'all will blow it up whatever whatever. I just really couldn't risk any sort of slip up.
Cirie – only information I only got From y'all is from you. He's never given me any information from you that could have gotten out from me.
Blue – totally.. it was Izzy that said a lot of things and Blew up my game.
Blue talks about the HOH competition "I was never going to pick you.. If I knew Corey would put me on the block I would have kept picking Corey"
Blue says that yesterday she learned from Corey that no matter what Jared was going to be evicted even if he was on the block with Cirie.
Cirie – wow.
Blue says Bowie was in on the group to take out JAred and Cirie.
Cirie about matt during the Veto "poor Matt I feel like he was under so much pressure from every angle.. not to negate anything from Matt.. he just seemed so shaken yesterday" (Poor baby bird)
Cirie says from what she's heard the plan was Jared last week and her this week.
Blue – they did make it seem like they wanted to target the people around him which was you.
Cirie – me and you?
Blue- yeah.. at that point they were trying to work with me so that would have been you.
Cirie – I'm the scariest person here so that would be great.. Great strategy. A lot of Smart people that's a great strategy
Blue – they are saying the only person we need to watch out for is Cirie.. cirie … cirie … cirie… because I know Cirie is going to target us.
Cirie -cirie that hasn't won.. hasn't even played a veto and I'm the scary monster (you do have production)
Blue about JAred – I believe he will stay in this game if the script is scripting the way it's been scripting the entire season he's going to stay. Cameron is in a position where he has his back against the wall time and time again he's a good competitor but this isn't simply about the competition it's also about luck. We've been saying this time and time again and his luck is running out (LOL)
Blue- for Jared this is the first time TRULY his back is against the wall when he performs he's performs t. Sure BB odd Couple was a default but literally he is a competitor I see it in him…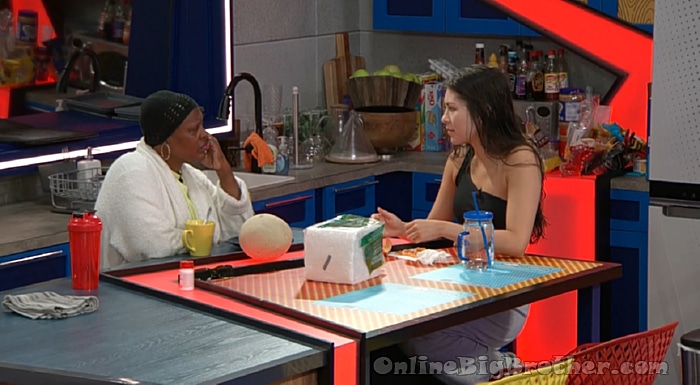 11:38 am Felicia and America
Felicia – what is people's perception of Cirie in the house? Do people trust her?
America – not anymore, not after that Thursday.. Everything Blew up and all she's been saying is it wasn't me.
Felicia – MMmmhmmmm
America – I feel like everyone can see through that
Felicia – what is everyone's perception of me?
America – Right now everyone can see that you were betrayed by them. That's the extent.
America – Cameron is on his own. No ones telling him anything for Jared it's a little more tricky.. CIrie never wronged him.. and Blue is.. Blue's blue.
America – there's apparently a final three that they have.
Felicia – Cirie, JAred and Blue
America – mmmmhmmm
Felicia – I heard about that
America – there was a final 4 they had with Matt. it was all down this week.
Felicia – Cirie, jared, Matt and Blue
America – yeah and a seperate one without MAtt.
Felicia – these guys just axed my a$$ a long time ago.
America – they've been doing their own thing creating groups and pockets .. you don't go around making final 2 ,3,4's with everybody people talk.
Felicia – who do you trust most in this house.
America – It really is just Corey and I feel lucky I have at least one person.. you can't tell anybody anything
Felicia agrees. "Just like Cirie telling me about the three then going to tell Blue that I said it. The bad part is Blue believes it"
America – I don't have a final 3 with anybody.. No final 4 none of that.
Felicia – you trust MEME
America – I've never worked with her in a group. we never met discussed anything I do want to and I have been talking to her. I don't know where she stands with everything.
America – her picking Corey in the HOH instead of Blue was sort of.. you know what I mean? Why would she prefer Blue to stay instead of Corey?
Felicia – Blue picked me.
America – Corey picked Cirie, Jag and Matt picked Cirie
America – out of MEME and Blue I trust MEME more.
Felicia – I'm going to talk to MEME because me and MEME are pretty tight I'm going to see if MEME, you, me and COrey can do a final 4. NObody can know about this final 4
America – I've been trying to find people that I can really trust. I know Corey really trusts MEME
Felicia – I'm going to talk to MEME today. DOn't say anything to her before I talk to her.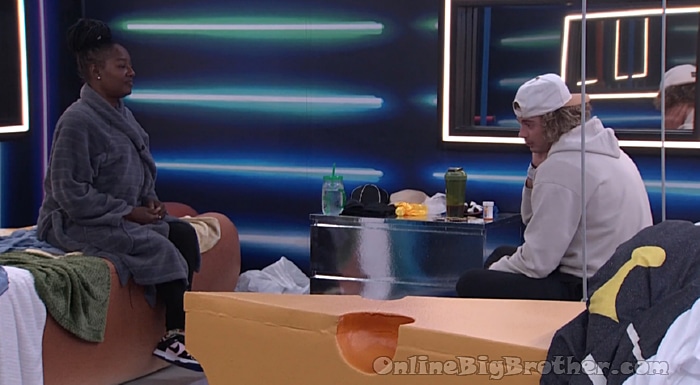 12:11 pm Matt and Cirie
Matt explains why he didn't use it. If he used it he would have had 5 people pissed at him. "I'm a competitor I'm not going to throw that shit"
Cirie – I don't want you to feel bad.
Matt – if I win HOH next week you are not my target you are not going up
Cirie – Yeah yeah .. I know that
Cirie says the decision to go after her and Jared was not started by MAtt so she's not going to hold him not winning the Veto against him
Matt says he was "Pulled in"
Matt – I wasn't the mastermind I don't think like that.. I will have a talk with Jared. I know he's pissed
Cirie – he trusted you
Matt – I trusted him too
Cirie – he trust you and Blue more than anybody including me
Matt – he should be pissed at Blue too she knew.. she was trying to defend him for sure. she wanted to protect him this week.
Cirie – she told me. I get it.
Cirie – I still love you
Matt – I love you to I feel really bad. This was not easy this was very hard.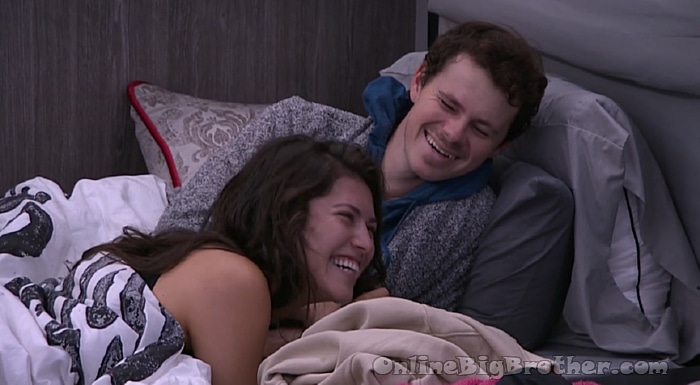 12:26 pm Bowie, America and Corey
America – Don't let them intimidate you
Bowie – I'm not gunna
America – Jared went up to Bowie this morning and was like
Bowie – what's you position in the game.
America – like where do you stand in the game
Bowie – I was like I don't know on my own.
Corey – you're like I don't talked to evicted Houseguests.
Bowie – I said what about you.
Bowie does a impersonating of Jag. They all laugh.
Bowie brings up a conversation she had with Cirie where she's trying to call her out on one statement she made about putting her up.
America – They all were wanting to put us up …
Bowie – I know
Corey – I asked her who she would nominate she said 'The middle people the floaters.. that's you;
Bowie – yeah
Corey – she was probably was lying she would have put up us two but that is her saying. She's going to say I didn't mean you.. Who did she mean? Felicia and MEMEM.. C'mon.
Bowie – this group is more fun. that other group is miserable.
Bowie – I've decided unless I can have a few drinks I don't want any drinks.. what's the point
America – exactly
Bowie – does nothing..
Feeds flip a bunch of times.
America – Blue and JAred. .if he's here..
Bowie – Yeah ..
America – if not Blue and Cirie
Corey says if Cam comes back he would do CAm and Cirie. "He's not gunning for us but The reality is he has way too good of a chance to win HOH than us I know we can beat Cirie"
Corey – I'm scared that Cam will get much further in this game. He's going to win HOH's and Vetos
Corey warns them about Blue she might put two of them up and she has a good chance to win "She's a competitor"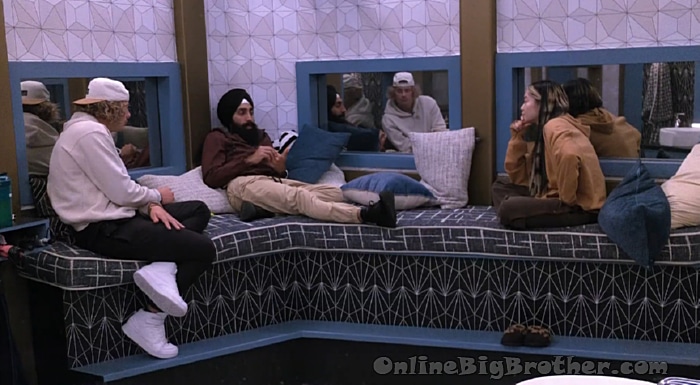 1:00 pm Jag, Blue and Matt
They are trying to figure out where Cam will go if he comes back in. They all seem that Cam will join the three of them over Ciri and Corey/America.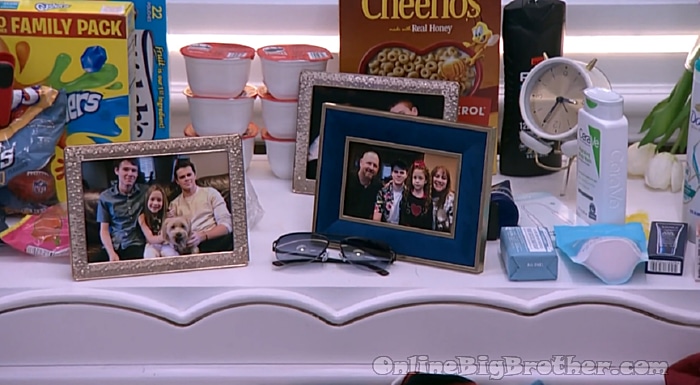 1:10 pm Corey's HOH basket from last night.
1:48 pm Feeds showing pound.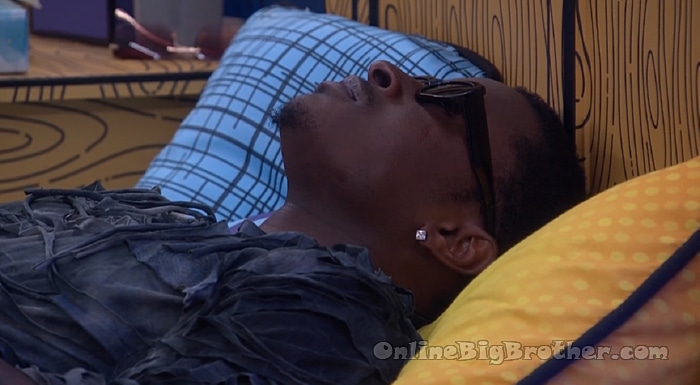 2:30 pm Feeds return. Jared crying. Jared lost the third part of the Zombie competition. Cameron will get the choice to play in the puzzle competition or not.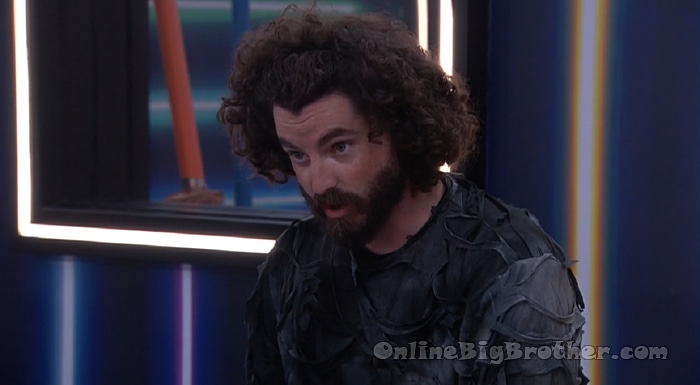 3:47 pm Cameron and Matt
Cameron is wanting to take out Corey.
Cameron – America by herself… not a problem .
Cameron does not want Felicia in the Jury house says she's too persuasive "that doesn't work for you and Jag either"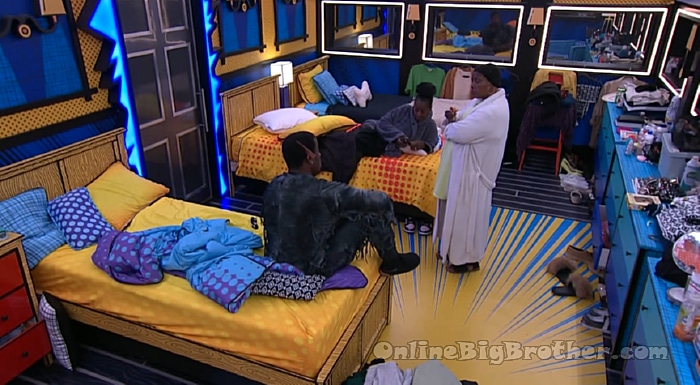 4:09 pm Jared, Felicia and Cirie
Jared says cameron did the nominations the way he did to get rid of Izzy. Anyone else with the exception of Matt would have gone home up beside Izzy.